Traveling is one of the best opportunities anyone can have, but there are so many attractive cities in the world, most people don't even know where to start. Seriously, the world is such a big place, with so many things to offer, it can be easy to get overwhelmed by all of the options out there. But no matter what your idea of beautiful is, there's a place that's perfect for you. Although most people will never be able to visit all of the places they'd like, sometimes it's just nice to know what's out there waiting to be seen. If you're looking for a new place to visit, or just looking for some extra motivation to get out and travel – you're in luck. Here are 20 of the most attractive cities in the world.
(Photo by Natalie Behring/Getty Images)
Vancouver 
Not only is Vancouver one of the most livable cities in the world, but it's also one of the most attractive. Over the years, Vancouver has become a very popular destination for people all over the world. The city has plenty of lovely scenery, largely thanks to the North Shore Mountain Range. Vancouver also has plenty of park space for those who love to enjoy the great outdoors.
 (Photo by Bruce Bennett/Getty Images)
Vienna, Austria
The city of Vienna is full of lots of great pieces of history. Vienna was once home to legendary musical geniuses Beethoven and Mozart, and the city is home to lots of beautiful museums. Vienna is also full of culture and beautiful architecture that will certainly blow any visitor away.
(Photo by Moni Fellner/Getty Images)
Barcelona
This beautiful Spanish city is easily one of the most attractive in the world. Barcelona has a little something to offer everyone, including beaches, warm weather, and lots of beautiful natural scenery. However, one of the most appealing things about Barcelona is its beautiful architecture. Full of architecture by the infamous Antoni Guadi, Barcelona has a design unlike any other city.
(Photo by Jasper Juinen/Getty Images)
London
London is one of the most popular cities in the world, so it should come as no surprise that it's also one of the most attractive. Let's face it, almost everyone would like to have the chance to visit or live in London. There's just something about the old British city that draws people in – despite its less than stellar weather. London is full of some of the most popular tourist attractions in Europe including Big Ben and Buckingham Palace.
(Photo by Richard Heathcote/Getty Images)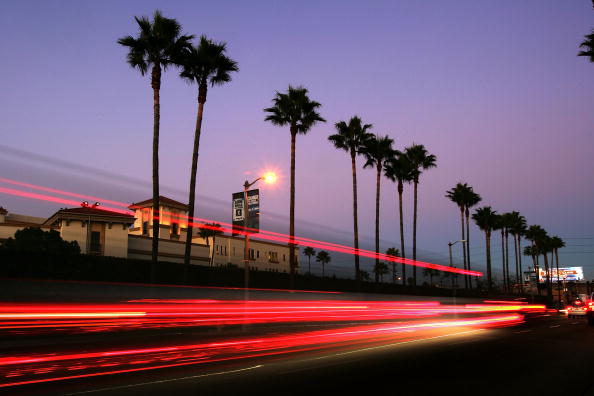 Los Angeles
Also known as the City of Angels, Los Angeles is easily one of the most attractive cities in the world. L.A. is not only full of great sites, but it's also full of attractive people. Anyone who wants to get a chance to be close to the stars will definitely be drawn to the city. But even if rubbing elbows with celebrities isn't your thing, Los Angeles has beautiful weather and beautiful beaches, both of which are great for just kicking back and relaxing.
(Photo by David McNew/Getty Images)
Athens
As the hub of ancient Greek culture, Athens is one of the most historic cities in the entire world. In face, if you love history, Athens is likely a city that is already on your list. However, even if you don't consider yourself a history buff, modern-day Athens still has a lot to offer. The city also has beautiful weather, and great beaches.
 (Photo by Oli Scarff/Getty Images)
Jerusalem
Despite turmoil, it's only right that the Holy City be included as one of the most attractive cities in the world. Even people who don't consider themselves religious are drawn to the city each year, and many are wowed by its beauty. For those not interested in history, Jerusalem also offers plenty of natural beauty and great weather.
(Photo by Uriel Sinai/Getty Images)
Cape Town, South Africa
Often considered "the world's most beautifully situated city," Cape Town is a real life paradise. Cape Town has more natural beauty than most people can imagine, and it is also full of lots of unique and captivating architecture. On top of that is "Cape Town's unparalleled biological heritage. The city is the world's most bio-diverse, and has more plant species than New Zealand. Table Mountain alone has more species than the UK." Now if that's not enough to earn a place on the list of the most attractive cities in the world, then nothing is!
(Photo by Dan Kitwood/Getty Images)
Buenos Aires, Argentina
Over the years, Buenos Aires has become a popular destination for travelers looking to visit a beautiful city. Once home to one of the world's most booming economies, Argentina's capital city is a true gem. Full of beautiful architecture, Buenos Aires is also home to "The World's Most Beautiful Bookstore."
(Photo by Alexander Hassenstein/Getty Images)
San Francisco 
California's city by the bay is definitely a sight to see. San Francisco is appealing for a number of reasons, mainly because of it's laid back vibe and cool attractions. San Francisco offers a chance for people to see a different side of California in comparison to Los Angeles. The bay area has a lot going on, and there are plenty of great places in the city to visit, including the Golden Gate Bridge.
(Photo by Justin Sullivan/Getty Images)
Sydney
Sydney might not be one of the first places that comes to mind when you think of the most attractive cities in the world, but that's about to change. The city offers 100 beaches, and has plenty of beautiful one of a kind views. There are also plenty of great chances to get outside and enjoy nature. Best of all; however, is that when it's winter in the United States, it's summer in Australia.
 (Photo by Eugene Tan/Hausmann Communications via Getty Images)
Amsterdam, Netherlands
Amsterdam is another city that is rich in both history and beauty. Once home to historical figures like Anne Frank and Vincent van Gogh, Amsterdam has also been able to grab hold of the modern world. The city has a lovely climate and is full of beautiful parks and recreational areas. On top of that, Amsterdam is also pretty good place to be for those interested in fashion.
(Photo by Mark Dadswell/Getty Images)
Singapore
In recent years, Singapore has become a booming city. But one of the things that makes it the most attractive is a quality that many other major cities are lacking: it's clean. That's right, due to serious penalties against littering, the streets of Singapore are very clear. Singapore is also a great place for those who like to shop, but if materialism isn't up your alley, you can still enjoy all of the beautiful sights in the city.
 (Photo by Suhaimi Abdullah/Getty Images)
Rio De Janeiro 
Whether you love beautiful beaches, or prefer breath-taking mountains, Rio De Janeiro has something to offer you. As one of the most attractive cities in the world, this slice of paradise is truly amazing. No matter how many times you visit Rio De Janeiro, there's no doubt that you'll be blown away each time. Each year, the city also hosts Rio Carnival, which is the biggest carnival in the world.
 (Photo by Mario Tama/Getty Images)
Hong Kong
For those who enjoy a busy atmosphere, Hong Kong is definitely the place to be. However, the city also offers a more laid back and natural side for those who need a break from the constant hustle and bustle. Hong Kong may have more sky scrapers than any city in the world, but it also has lots of beautiful natural scenery including lovely views from Victoria Peak.
 (Photo by Ronald Martinez/Getty Images)
Venice, Italy
Venice is one of the most popular tourist destinations in the world. Each year, countless people flock to the beautiful Italian city to marvel at its lovely attractions. Venice is home to world-famous places such as the Grand Canal and St. Mark's Basilica.
 (Photo by Ian Gavan/Getty Images)
Stockholm, Sweden
The lovely city of Stockholm is full of both beauty and culture. Comprised of just a little more than a dozen islands, Stockholm is the center of everything in Sweden. As a result, there is definitely something for everyone in the beautiful city regardless of how long you plan on staying.
 (Photo by Chris Jackson/Getty Images)
Rome
Rome is hands down one of the most attractive cities in the world. Full of rich history, and home to some of the most incredible sites in the world, Rome is a place that most people want to visit at least once during their lifetimes. Some of the most famous places in Rome include the Vatican, The Colosseum, and The Catacombs.
(Photo by Julian Finney/Getty Images)
Paris
Widely considered the most romantic city in the world, it's easy to see why Paris is also one of the most attractive. Paris is simply breath-taking, and it's well-known for its unreliable sights, great food, and great culture. Whether you're visiting Paris with a partner, or flying solo, there's no doubt that you'll fall in love with the city as soon as you see it.
(Photo by Mike Hewitt/Getty Images)
New York
Best known for its fast paced culture and constant movement, New York has proven time and time again that there is nowhere like it. Nicknamed The City that Never Sleeps, New York is always full of excitement, and it's never hard to find something to do. The city is full of great attractions, and also has lots of great food, art, and music.
(Photo by Afton Almaraz/Getty Images)