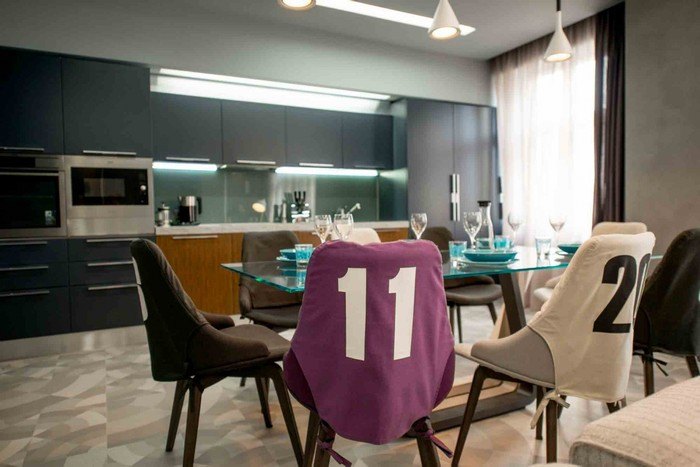 Welcome to an amazing gallery of a modern footballer's home by ARS-IDEA Interior and Architectural Design.  What might you ask is the ideal modern footballer's home?  Before we begin let me remind you all that we here at Housely are from the United States but let's be clear.  The football we're talking about here is soccer.  So when you think about this apartment, recognize that it's soccer we're talking about, not the NFL.  OK, let's move on.
When ARS-IDEA was approached about how to construct this 1300 sq foot apartment they were asked to create a modern, stylish apartment for a "young footballer."  The apartment is located in Lviv, Ukraine and was built in 2015.  Here's the description of the building process from the design firm
The main goal was to create stylish and functional apartment for young footballer. It was very important to adapt all the details to his life style as well as to make cozy and warm home While working on this project we had to change the planning of the apartment from standard two bedroom to an open plan studio by combining living room with the kitchen and making 2 small closets. We've decided to make some contrasts by using different materials and textures such as raw concrete on the ceiling. The numbers on the chair covers in the kitchen were created in accordance with the numbers on the owner's and his friends football shirts.
You can make a decision below as to whether or not the goal was achieved but judging by the modern, sleek look ranging from the state of the art bathroom with stand alone tub to the posters on the wall, to the amazing entertainment center, we think it worked out well.   We believe that they used the space extremely well and that not only would a young footballer call this home but any young person (especially male) would.    See for yourselves!