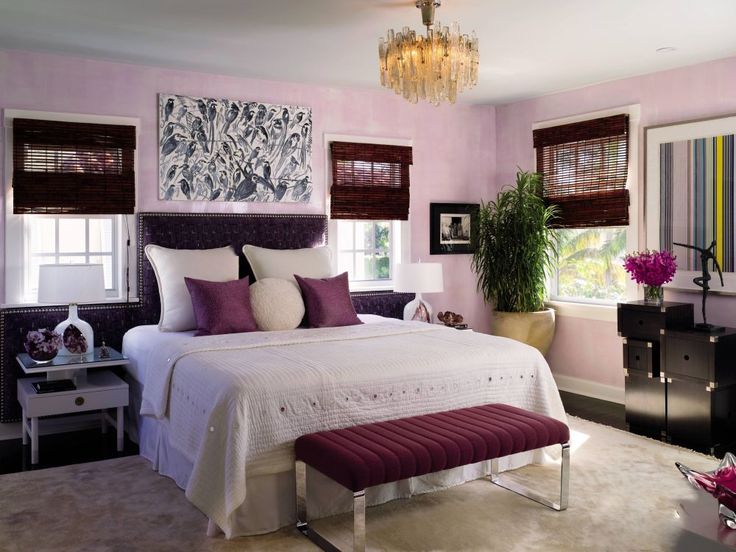 Most of us don't put a lot of thought into exactly what mood we want from a room. Colors we pick for our walls chiefly reflect our personality or are simply neutral. But room color can impact our emotional state and even our thoughts. Color can affect different people in various ways or to varying degrees according to age, gender, climate, and other factors.
But there are certain colors which studies have shown to have a fairly consistent reaction with people. This can be further intensified or lightened by going with deeper or more subtle tones, or even combinations based on a primary color. Lighter tones make rooms seem larger, brighter, and less formal; dark tones make rooms seem smaller, more intimate, and more sophisticated. It's important to select colors that not only give you the freedom to express your style, but to set the mood you want for each room.
Setting Mood with Common Colors
Red – Most people see red as an intense color, and it tends to raise our energy. Under stress, it can even contribute to raising blood pressure or prolonging anxiety. But in areas for entertaining, it can promote conversation and fun.
Yellow – This intuitively suggests sunshine and happiness so it's uplifting for most rooms of the house. Yellow that's too intense or overdone, however, seems to have the opposite effect. Studies show that babies cry more and teens and adults are more likely to feel frustration or even anger.
Blue – Blue suggests the open sky or beautiful ocean waters, and has a calming effect. It's a good choice for bedrooms. Very light blues, however, can call ice to mind, especially in rooms with little sunlight. That has a chilling effect on mood. Very dark blues, in contrast, lead to feelings of depression and should always be set off by natural light or contrasted with lighter trim or furnishings.
Green – This is generally the most restful color. Our eyes can pick out more shades of green than any other color, but in virtually all hues green is a calming, comfortable choice.
Orange – This color tends to create as much energy as red, but in a more positive, enthusiastic way. It can be a good choice for an exercise room or family room but a bright orange bedroom might be a little too exciting.
Neutral colors (Black, gray, white, or brown) – These can be either overwhelming or comforting, depending on how they're used. White may be too bright, or gray too depressing. Although a great many rooms tend to be entirely white or warm brown, most design experts recommend using these in combination with other colors.
Purple is a strongly mood-inspiring color. In lighter shades such as lavender, it creates a restful, contented feeling, while we still associate dark purples with royalty and luxury. Purple walls can both soothe and inspire.
Purple is one of those colors you can't go wrong with, particularly if you mix light and dark shades.  Here are 10 purple bedrooms that work
Here is a list of some successful master bedrooms that are at once restful and enchanting for their use of the magic color purple.
Andy Warhol's Montauk Estate
The acclaimed artist and designer bought this lavish beachfront New York estate in 1972 for $225,000. At that time it was a simple fishing cabin owned by the Church family behind the Arm & Hammer household products company. Warhol completely enlarged and renovated the place, and his more lavish tastes are evident in the color scheme of the master bedroom.
Paisley Park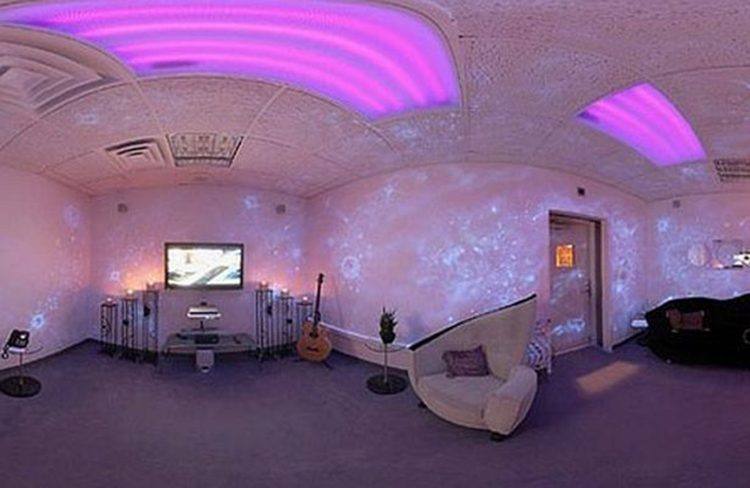 The musical artist Prince's fascination with the color purple was well known, and the master bedroom completely reflects it. The late performer's luxurious, uniquely styled home is expected to open up to visitor tours very soon.
The Great Barr Hotel
This is a stylish, highly rated hotel in Birmingham, England known for its modern décor and services, including big screen TVs and Wi-Fi. It's rooms are decorated in several different color schemes, but the purple-themed rooms seem especially inviting.
Historic New York Apartment
A 1920's apartment that overlooks Central Park has always been pricey real estate, but this particular building has been refurbished and redecorated according to the whims of the apartment owners. This particular bedroom was created by New York designer Stephen Sills and shows just what you can accomplish with some creativity and purple furnishings.
Duffy Townhouse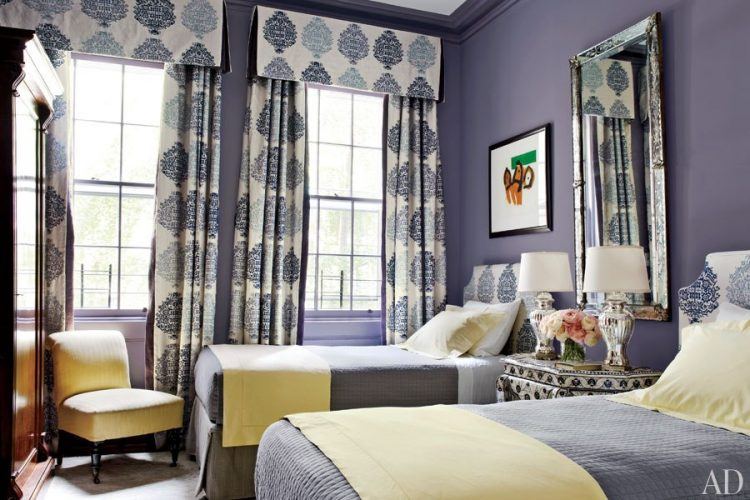 The president of the Mark Jacobs fashion company, Robert Duffy nonetheless hired decorator Richard McGeehan to transform this bedroom with the color purple. It's made all the more lavish with selected artwork and vintage furnishings.
1880s Boston
This historic New England home was completely redesigned by decorator Thad Hayes and lavishly remodeled. One of the highlights is the purple-themed bedroom that even features a fireplace in the sitting area constructed of purplish imported marble.
Palm Beach Estate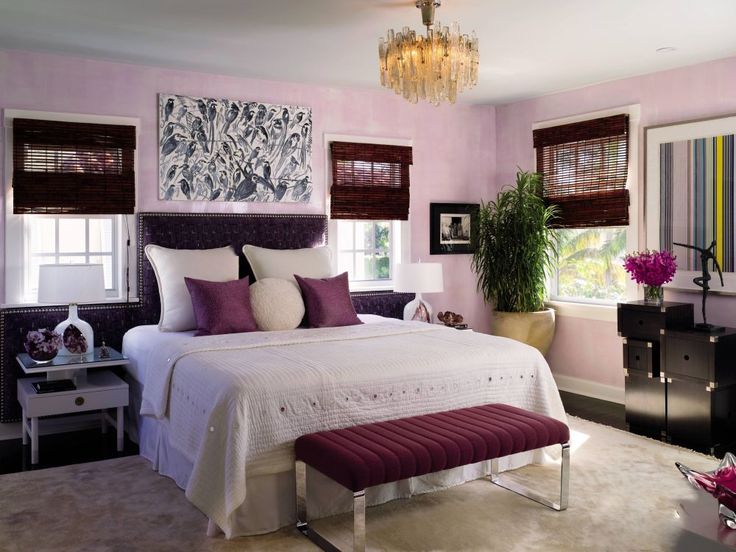 This famously upscale community in Florida has a year-round population of just over 10,000, but residents have luxurious tastes. This master bedroom in this particular estate is finished in Venetian plaster and custom light fixtures. But the main element – the color purple.
The Anderson House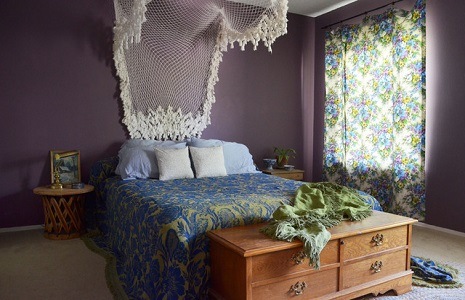 Scott Anderson, the Senior Advisor to the Environmental Defense Fund, maintains a posh home in Austin, Texas where he resides with wife Rachel. They came up with a stunning mater bedroom with some unique elements and yes – purple walls.
Block Island Ocean View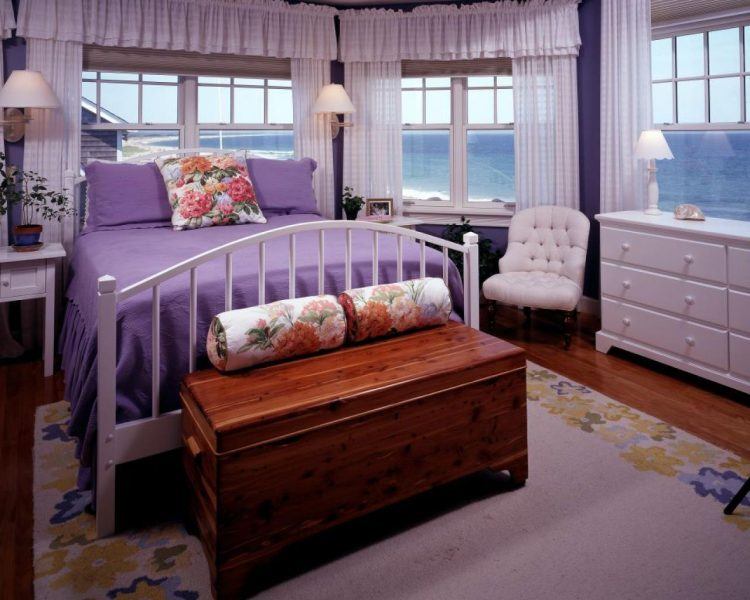 If you've never heard of Block Island, it's right off the shore of the state of Rhode Island, but features some pretty exclusive real estate. Among the homes there is one with a glorious 180-degree view of the waves. Designer Susan Symonds created a lilac-toned room with some luxurious trappings to compliment the beautiful view.
Selena Gomez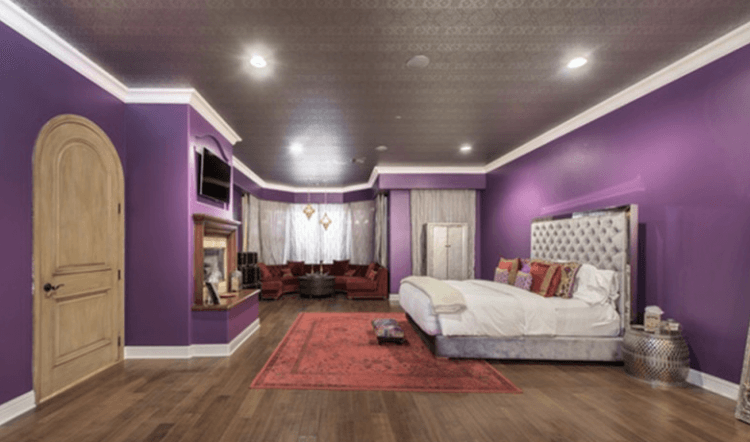 This entertainer got her start on Barney & Friends as a young child, but in adulthood has become a highly successful actress and recording star. The master bedroom at her 7,800 square foot home in Hidden Hills, California is a classic, eclectic look embraced by the rich hue of the purple walls.