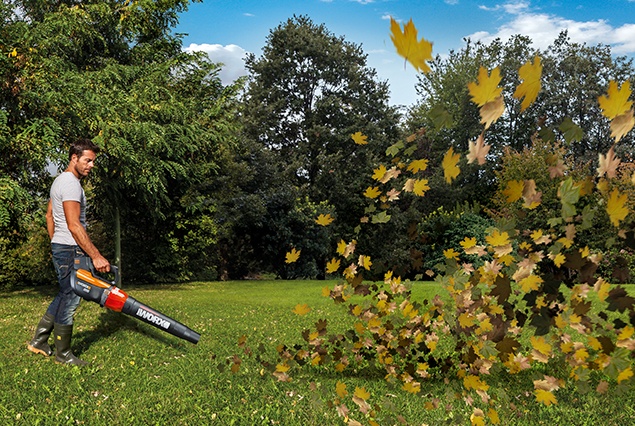 The autumn season is on its way, and that means trees and bushes will soon shed gorgeous multi-colored leaves all over your yard. Autumn foliage is quite a sight, but it can be a pain getting it off your driveway, yard, and the front of your property. Many homeowners go grab a rake and try to get a handle on the leaves, but owning a quality leaf blower can make the task of tidying your landscape much more efficient — there's really no need to hassle with a rake.
Here are five powerful leaf blowers that will make your life easier this fall.
1. Greenworks 24012 Blower – $27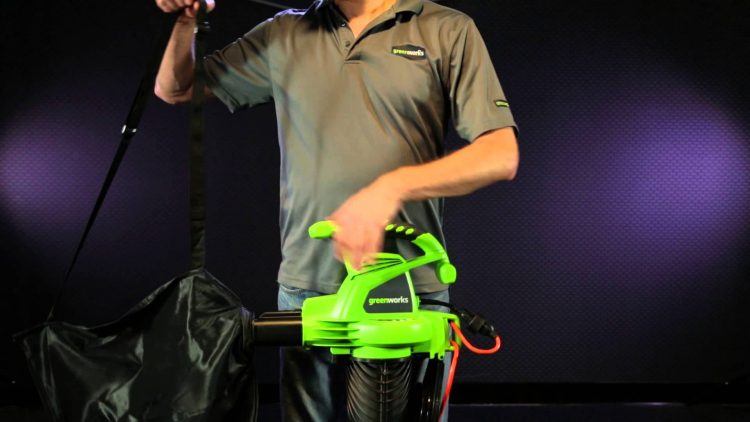 Leaf blowers that are inexpensive aren't all built with the same quality, but the Greenworks 24012 is a smart choice for those looking to save money. It costs less than $30, but it's well designed and has a seven AMP motor that's powerful enough for most jobs. The machine is lightweight, blows up to 160 mph, puts out up to 150 cubic feet per minute of air, and is ergonomically designed for comfort. In all, it weighs just under five pounds.
A great feature of this Greenworks model is its cord lock, which keeps the machine from unplugging while in use. Not only is this leaf blower easy to operate, it's quite easy to maintain. This electric model's design keeps vibration and noise to a minimum, and it can be used for indoor and outdoor tasks. Its motor has two speeds, and you can easily switch between the two depending on the job you're handling.
2. Toro 51621 UltraPlus Leaf Blower and Vacuum – $89
Variable leaf blowers are not only versatile, they're awesome tools to have if you frequently need to remove autumn leaves. The Toro 51621 UltraPlus is a variable speed blower that's available with many options. This model has an air velocity that can reach speeds of up to 250 mph.
Not only can you use this machine to blow leaves, it also has the ability to operate as a vacuum. The variable speed options can be used in both blower and vacuum modes. Included with this Toro blower is a zippered bag that attaches to its bottom, shred ring, oscillating tube, vacuum tube and storage hook for the cord.
The 51621 is able to shred leaves to reduce the space they take up, and because the machine automatically sweeps air in both directions it saves work on the arms and wrist. Both wet and dry leaves and debris can be taken care of with this blower and vacuum combo.
3. Hitachi RB24EAP Leaf Blower – $129
Hitachi's RB24EAP is one of the more powerful leaf blowers in its class. It produces an air volume of 441 cubic feet per minute to ensure that outdoor tasks get taken care of quickly and efficiently. It's great for getting fall leaves out of your yard, but can also remove grass clippings in a snap. When the blower's taper nozzle is attached, its air velocity is boosted up to 170 mph.
The 23.9 cc two-stroke engine in this blower is professional grade and built to last. Though it's a great performer, the Hitachi RB24EAP is relatively lightweight and comes in at just 8.6 pounds. Because its design provides for great balance and comfort, fatigue while using the blower isn't as likely.
This leaf blower is gas powered, and its engine is low emission for safer operation and fewer fumes during operation. Some of the handy features included on this model are an automatic return stop switch and large, easy to reach two finger throttle. Those looking for CARB Tier III leaf blowers will be able to use this one, as it is compliant.
4. Worx WG546 Cordless Blower – $90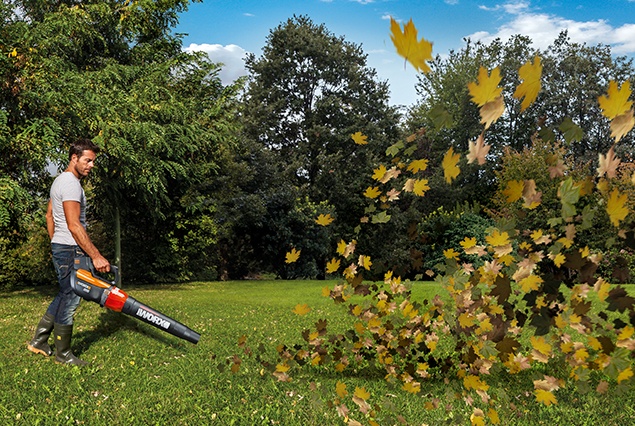 Many people prefer the convenience of cordless blowers, and one of the easiest to use is the Worx WG546. Even assembling this machine before its first use is simple and doesn't require any tools. It weighs 5.7 pounds, is ergonomically designed, and can be operated with one hand instead of two. If you have a really tough job to tackle with this blower, the stream of air from its nozzle will make short work of it.
The Worx WG546 has two speeds allowing it the flexibility to be used for a variety of tasks, whether you're dealing with a huge pile of leaves or snow that needs to be blown from your car's windows. The brushed motor of this machine puts out 225 cubic feet of air per minute and runs at 60 mph on its low setting. On the high setting, the Worx WG546 blows 340 cubic feet of air per minute and runs at 90 mph. As a bonus, this leaf blower runs quietly compared to larger models.
5. Dewalt DCBL720P1 Brushless Blower – $179
If you prefer brushless leaf blowers, this Dewalt model will suit your needs. The DCBL720P1 brushless blower has a highly efficient motor that's durable and made to last for years, making it perfect if you plan to put your blower to frequent use during the fall. It has an ergonomically designed grip for optimal positioning and comfort. The blower also has an axial fan that puts out a high volume of air — up to 400 cubic feet per minute — making your job easier and faster. Its variable trigger and speed lock allows you to better control the power of the machine for various types of outdoor tasks, and you can get good use of the blower year round.
As far as lightweight leaf blowers go, this one is an excellent choice as its compact design weighs just over seven pounds. This Dewalt model comes with the option to buy it with or without a battery. If you opt for the latter, the cost for the blower will be about $128. For $170, the blower will come with a 20 volt 5.0Ah lithium ion battery and charger.