Kid bedding has recently become more fun and creative than ever.  The bunk bed with a slide is the hottest trend in children's bedroom design. These fun and functional pieces are not only attractive but safety minded as well. They come in a variety of colors and styles to match just about any taste. Most assemble easily and will give years of enjoyment. The prices ranges greatly depending on how large and detailed you decide to go. In some instances, they can be designed with a particular theme in mind to make your child's dreams come true.
These are just a few examples of some of the most fabulous slide beds available on the market.
Princess Bed
Spark you little girl's imaginations with a princess bed complete with a play area underneath and a slide from the top of the bunk where the bed is located. The bed can be reached via a small ladder located on the opposite side of the slide. This canvas bed is fun and practical. Your little one will be entertained for hours pretending to be the princess of her own castle. This pink and white designed bet will give you child many nights of peaceful sleep and fun dreams. This bed cost an average of $570 and some assembly is required.
Fort with a Cabin Area
This colorful fort design is complete with a cabin area on both levels where the beds are located. The blue and red fabric give this natural wood bed a fun look that does not make the design bulky or difficult to assemble. There is access to the top bunk by a metal ladder with a rail for safety. The opposite side of the bed has a fun slide that is sturdy. Your little one will have tons of fun pretending they have their very own fort. The bed is functional and cleans easily for those little messes. This bed goes for around $1600.
Adjustable White Wooden Bed
This versatile white wooden bed can be dressed up any way you like to please your child's tastes as they grow. This sturdy bunk bed with a slide also features a study table for all of those homework assignments he or she will be bringing home from school. The bed is a generous size which allows it to grow with your kid and because you can change the design you will get years of use from this quality piece of furniture. This child's bunk bed averages $1600.
This bed can be purchased on Amazon
Twin Loft Tent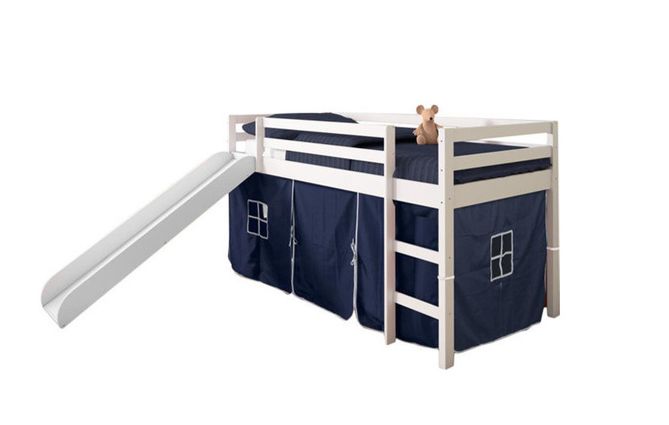 This fun and functional bunk bed is great for any child. It is convenient and well made and can be modified through decoration to fit just about any child's specific tastes. The bed also come with a fun slide and a ladder to access the top bunk. The bottom half of the bunk bed is in the style of a fort and closes all four sides. The lightweight material prevents this bed from becoming too heavy. The price for this bed is also a deal. It goes on average for about $320 on Houzz.
Tropical Surf Shack
If you don't mind going all in on your child's dream bed then this is the one for you. This tropical surf shack bunk bed with a slide will keep your kid dreaming of living on a tropical island where having fun is the goal every day. This bed is made of quality materials and has a fun design that an entire bedroom can be designed around. This beautiful and functional bed includes a slide and careful attention to details. There is access to the top bunk by ladder. There is a thatch roof over the top bunk to give a feeling of authenticity. Your child will get years of fun with this amazing bed. This bed goes for $16,000.
Calvin and Hobbes Castle Bunk Bed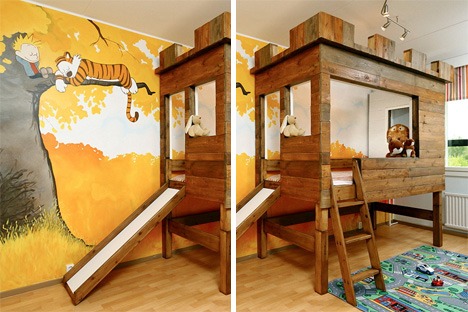 This beautiful castle inspired bunk bed comes complete with a ladder and a fun slide. It is made of sturdy wood and has a variety of safety minded features. The details of the bed include turrets at the top to give the bed a castle look. There are open walls to give your child a sense of space without detracting from the element of fun. This bed is a special design and runs several thousands of dollars to create.
Twin Loft bed with Slide and Tent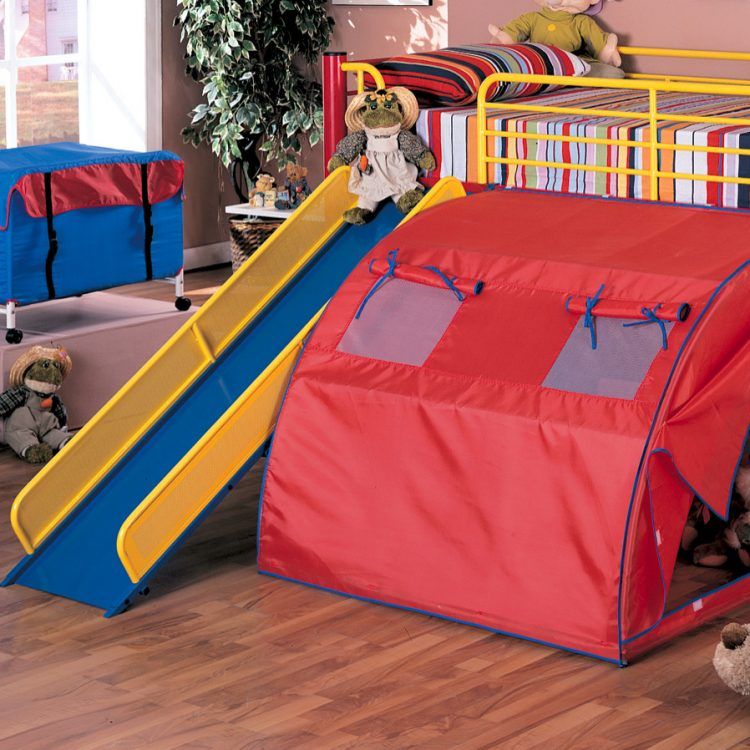 A camping inspired bed just begs to be occupied at all times. The bed is made of sturdy material and converts to a play space inside the tent in addition to the super fun side and bright colors. Children will be occupied for hours pretending to be out in the wilderness camping out. The layout for this bed is space efficient and will give your child a place to get away and dream about camping in the woods. This slide bed runs around $400.
Best bang for your buck bed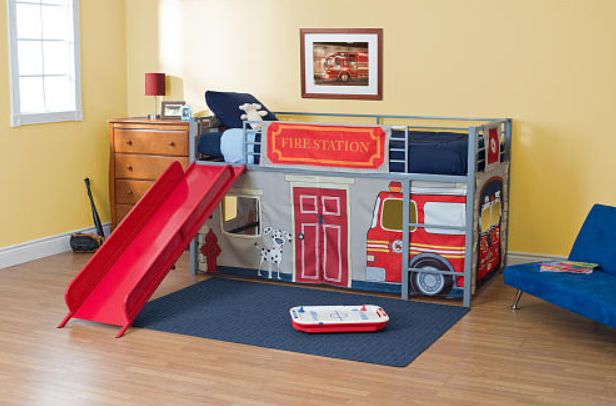 If you are looking for bang for your buck and fun that will last your child for many years, then this model is perfect for you. It is designed in the fashion of a fire house and fire truck. The bold colors and fun designs make this a sought after kid's bed. The best thing about the bed is the fact that it is priced around fifty dollars. This is proof that you don't have to spend a fortune to have a fun kid's room.  It retails for $49.99.
Pink Castle
This pink castle inspired bed has it all. It has turrets and towers with pink and white details. This canvas material bed also features a ladder and a slide to provide kids quick and easy access. There is an enclosed tower and open areas for kids to play. There is an enclosed play area below. This could be the ultimate bed for a little girl's room. The castle also features curtains in the windows and a ladder for easy access. This deluxe bed goes for around $1,500.
Pink House
This fun little bed resembles a little pink house. When your kid wants to get away from everything, then this would be the spot. The bottom part of the bed is a canvas clubhouse. Your child will love the sense of privacy they get by spending time away from everyone from time to time. This lovely little bed will provide hours of enjoyment and restful sleep. The bright colors are conducive to learning and growing.