Whenever people go inside an IKEA there's always a few that think to themselves, "wouldn't it be awesome if we could sleep here?"  After all you're surrounding by these elaborate bedroom, bathroom, kitchen, and living room setups that seem so incredibly cozy.  Who wouldn't want a night's stay? It turns out that those fantasies have become a reality, for at least one lucky evening.  Not only that but the reality will be experienced on a boat.
IKEA is creating what it calls "The Harbour Home," converting a Sydney Harbour ferry into a functioning houseboat, fully decked out with an IKEA interior.  The furniture behemoth will be re-designing an Australian Ferry's sleeping quarters, dining, and living areas which will allow one lucky winner to stay the night.   Here's a model picture of what the boat might look like.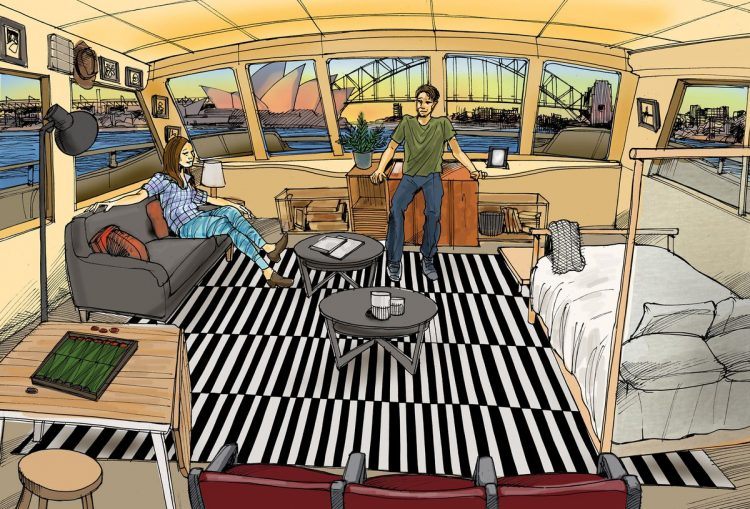 This is only a concept picture since the houseboat doesn't technically exist yet.  But one can only imagine that a night in Sydney's Harbor courtesy of IKEA wanting to show off their design skills should be a memorable night.   By the way did you know that in 2014 you could have actually slept in an IKEA store for only $12 a night?  That's right.  Two year's ago Airbnb had some available space in one of the stores.
Here's the specific message on their Facebook page.   The contest expires on October 5th.
IKEA is offering you and a friend the chance to experience the ultimate IKEA Harbour Home. This is a once in a lifetime opportunity to sleepover on an iconic Sydney ferry, that has been transformed into an amazing home away from home, especially for you. For a chance to call one of the most iconic neighbourhoods in the world your home (for a night at least), share a snapshot, video, or simply tell us what you love about your life at home.