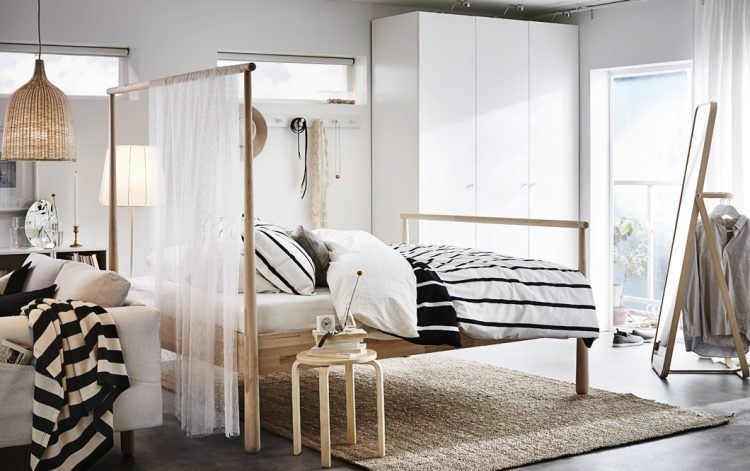 If you're looking to create a fabulous bedroom but are on a tight budget, IKEA is the place to go. Whether you have just rented your first apartment, moved into a college dorm, or bought your first home and don't have a lot of ready cash, IKEA sells trendy, flat pack furniture kits that you can assemble yourself, for far less than you might imagine. IKEA sell high-quality, economical furniture that looks as lovely as it is functional.
Furniture Tip: Rather than going for a variety of colors, keep your choices to brown or black pieces if you are building a bedroom for adults. Lighter wood tones show imperfections and wear and tear more obviously than brown. Rich wood tones are easier to match if you are buying different IKEA brands plus darker tones portray a richer look and they can be accented with white lamps or other accessories like colorful bed spreads. When on a budget, stick to the basics and you can find IKEA items that look like they have always belonged together. By choosing items from each style sold by IKEA you can construct a coordinated, yet individual look that is all your own.
Here are the essentials that you can purchase from IKEA to build an entire bedroom for under $1000. All prices are listed USD before tax and shipping.
The Bed
Every piece of furniture in the bedroom revolves around the bed, so having a durable, attractive bed frame is a must. With a BRUSALI Queen Size Bed Frame, brown you get an adjustable frame,(including head and foot boards) that can accommodate a thick or thin mattress for just $199. An important fact to know is that if you order online, the SKORVA center support beam is included in the purchase price, but is picked up as a separate item.
If you purchase it in the store, you have to also purchase the required support beam. You can also add on BRUSALI bed boxes to increase storage space as you need them. Having ready to order extra accessories is part of the beauty of the IKEA brand. As your budget grows, you can add the extras. If your room can't accommodate a queen sized bed, try a full-size bed, for a cheaper price.
Whatever the size, be sure to place your bed where you will have room for an end table or nightstand on each side of the bed and so that you have plenty of room to maneuver around the bed to get to doorways and other furniture items. Placing items like beds against walls not only helps support large items, it helps create an illusion of more overall space in your bedroom.
Mattress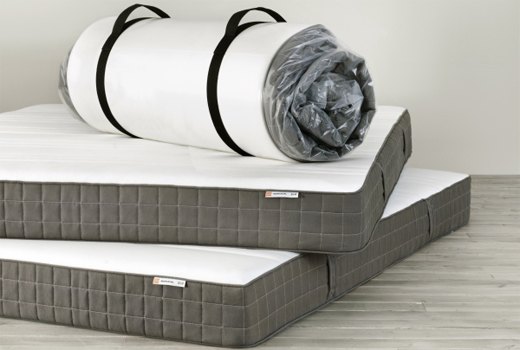 When funds are tight, a generous portion of the bedroom budget should be spent investing in a good mattress. Many people don't know that IKEA sells mattresses as well as bed frames so you can get this MORGEDAL medium firm memory foam mattress, from IKEA, Queen Sized, grey for just $299, which is quite cheap for a memory foam mattress. It comes roll packed, but once out of the packaging, it will regain its shape and provide you with a comfortable, body conforming night's rest.
Lack of Closet Space?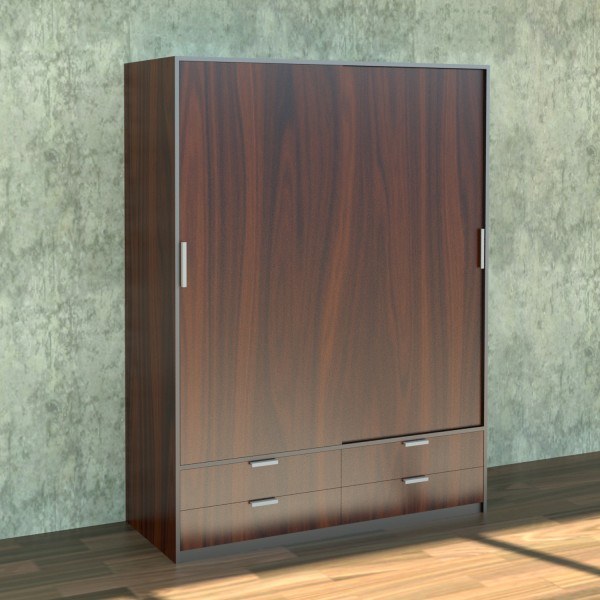 Many older houses and apartments come with less than desirable closet space, but that is no problem, with this TRYSIL Wardrobe, dark brown, with space saving sliding doors and a built-in full-length mirror. It has adjustable shelves, is 79 3/8″ tall and 31 1/4″ wide to store plenty of items. Not having to invest in a large bedroom mirror saves money too. At $199.00, it's a great IKEA bedroom budget buy. Like all furniture with mirrors, take care that children do not play in or around these items, as a tall wardrobe of any sort can be a tipping hazard.
Economical Wide Dresser
This KULLEN 6-drawer dresser, in black/brown measures 55 1/8×28 3/8, so it has plenty of space for folded items At only 99.00, you get a wide hotel sized chest of drawers for one person or big enough for two to share. Place the item against the wall near your wardrobe so it's easy to try on clothing on busy mornings.
Nightstands
This BRUSALI Nightstand, brown comes with a door cabinet that can open either way you like and has inside room for a charger outlet. It makes a handy space on each side of the bed to recharge your phone or tablet with enough room for a couple of books and personal items. At only $49.99 each, you can place one on each of the bed for around $100.
Lighting: Add the perfect ceiling accent with this MASKROS
Get a pendant lamp and enjoy watching relaxing patterns light up your ceiling and walls for just $59.00. Use the soft overhead lighting for every day and just add table lamps for reading or working on the computer at night. This light adds a bit of brightness and whimsey to the overall modern furniture style.
Don't forget the reading lamps: Add a reading lamp to each end table for $19.99 each with SVIRVEL
Table lamps. As the rest of the furniture listed is dark-hued, these bright white reading lamps will add contrast as well as directed light just where you need it.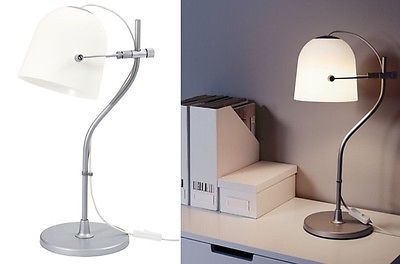 Total IKEA Bedroom Lighting Cost: Less than $100.00!
As with any furniture, particularly light weight items, it's important to follow safety instructions to secure each piece to the wall to prevent tip-over accidents. There are attachment and weight limit instructions included with each IKEA bedroom piece You can also add bumpers and coasters to the pieces to protect your rugs and walls. Not all pieces are available in all stores, so shopping online gives you the widest selection, often at the lowest price.
To Recap these Items for An IKEA Bedroom:
BRUSALI Queen Size Bed Frame: $199.
MORGEDAL medium firm memory foam mattress: $299.
TRYSIL Sliding door WardrobeWardrobe with long mirror:$199
KULLEN 6-drawer wide Dresser: $99
BRUSALI Nightstand, 49.99 each, 2 for 99,98
MASKROS Overhead Pendant lamp, $59.00
SVIRVEL Table lamp, $19.99 each, 2 for 39.98
This full IKEA bedroom furniture setup comes to under $1000. at $994,96!