Whether you are a professional chef or enjoy cooking and baking in your own kitchen, one thing you should always have is a quality measuring cup and spoon set.  While some people prefer plastic it's not nearly as precise or long lasting as a stainless steel measuring set.  Ultimately, if you want the greatest chance of success in creating the perfect home cooked meal, accuracy in measurement will determine the success that you will have with your recipes.
While every cook has their own preference when it comes to style and design of any kitchen utensil, none can deny the right amount of each ingredient is essential to making your food taste just right.  If his weren't the case then there wouldn't be countless brands out there offering the same products.   We here at Housely decided to create our own brand of kitchen products.  And it begins with utensils.  Today we'd like to introduce you to the Housely 10 piece measuring cup and spoon set
Description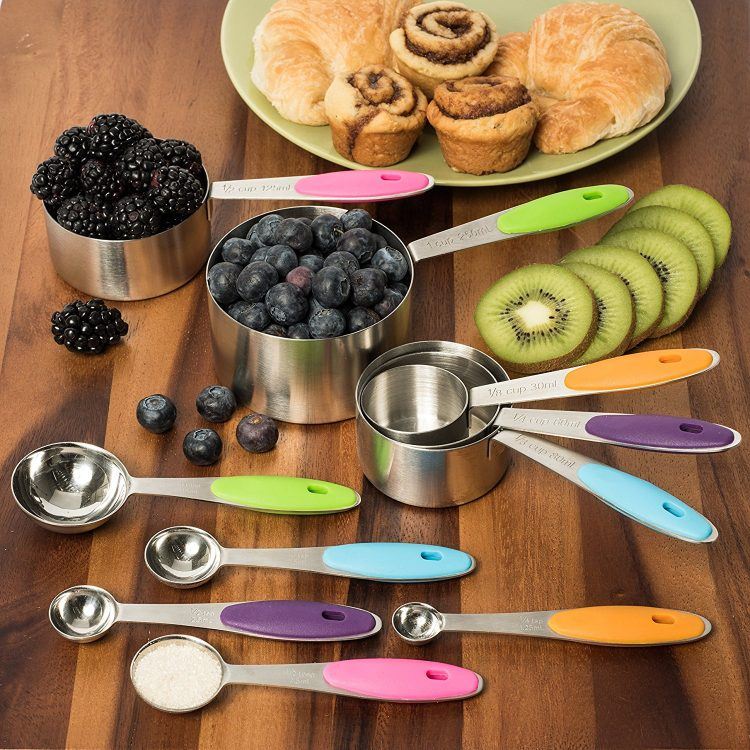 This package includes five cups with the following measurements
1 Cup
1/2 Cup
1/3 Cup
1/4 Cup
1/8 Cup
Also included are five spoons with the following measurements:
1 tablespoon
1/2 tablespoon
1 teaspoon
1/2 teaspoon
1/4 teaspoon volumes
This combination package comes with two detachable rings for conveniently keeping them in place when not in use. The high quality steel makes them durable for extended life and quality design creates comfort for use for better gripping and less chance of spillage during precision ingredient measuring.
Durable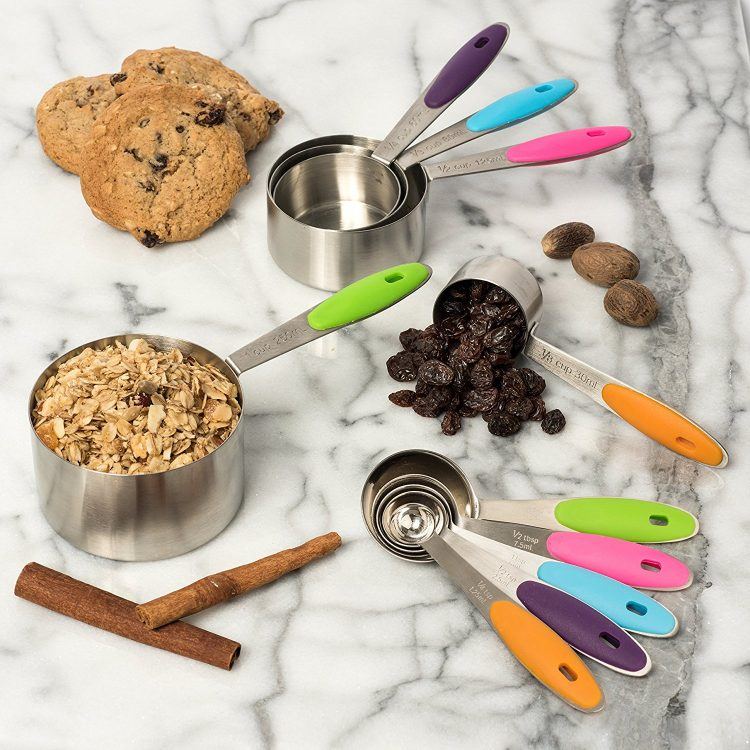 The individual parts of each grouping is made with high quality stainless steel and 100% grade safe plastic for the handles. When you feel these cups and spoons it's easy to discern that they are heavier than some of the cheaper brands.  While heavier doesn't always mean better, when it comes to these kind of set, it's a good sign for durability.   When you're making a purchase like this it's nice to know you may never have to buy another measuring cup and spoon set again.
Versatile
Each individual spoon and cup is clearly engraved with measurements in both US and metric capacities which makes them compatible for use with a variety of different recipe types. Engraving is superior to printed measurement indicators which can rub off after a few uses.  The units are clear and do not wear out after dishwasher use.
Dishwasher safe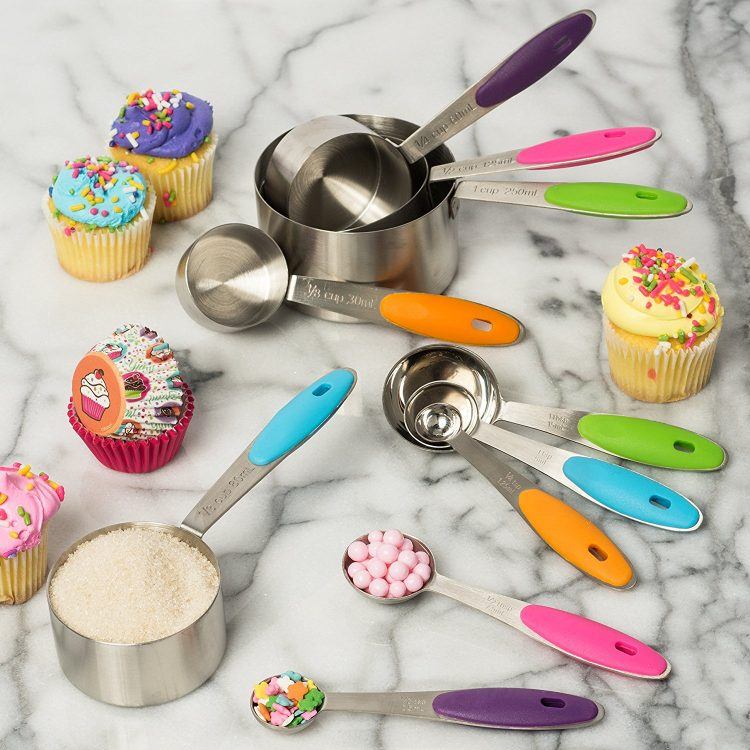 Each utensil can safely be washed in high heat dishwashers. Materials are also durable enough to hold up under heat. This means that sterilization is possible without warping, bending or melting them.  Be sure to always wash utensils before use.
Comfortable to use
Each measuring cup and spoon is equipped with handles made of silicone which give them a soft and comfortable extra grip.  They are also each uniquely colors so that size differences are also more recognizable.  Grips are easy to take off and put back on. Materials are durable and resistant to wear and the colors include orange, green, pink, blue and purple. Cups feature lengthy handles which makes them easier to use when dipping in ingredient containers.
Designed for efficiency
Cup units feature flat bottoms which help in avoiding spills. Each is accurately designed to provide precision measurements.  Also, the edges of the stainless steel are sharp and almost razor thin making them that much more precise when taking measurements.  While adults can safely use these materials, be sure to approach children with safety as the edges can be sharp if handled improperly.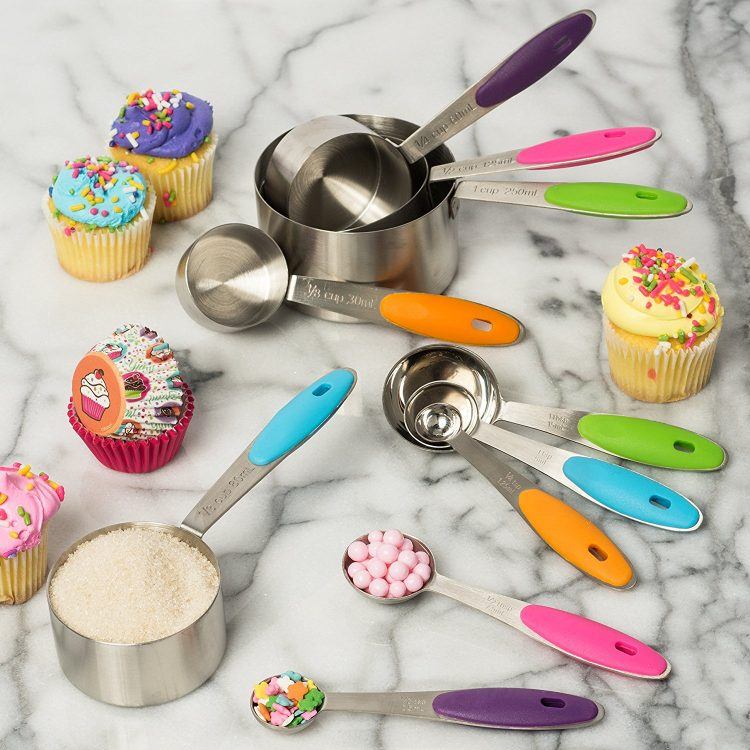 Superior packaging
There are no stickers on utensils so you won't have to exert effort removing paper tags and adhesive that is used to stick them on. These units come neatly packaged inside a box that shows detail of each item included.  There is also a plastic sleeve inside the box that ensures that no utensils become scratched before use.   The efficiency rating on Amazon is an amazing 99.7%.
Customer reviews and ratings
People who purchased and used the Housely measuring cup and spoon set
give it a well above average score of 4.7 out of a possible five stars,  landing it as a top pick in its category. Here is what some consumers said about it.
I was in need of some new measuring pieces for my kitchen since my old plastic ones are getting gross and I hate using plastic. I had tried some silicone measuring cups but they easily came detached from the plastic piece holding them together. These stainless steel cups/spoons seemed like a good buy and solution to my problem. I just opened up the package and I'm very impressed with the quality. Nice, bright steel! I love how they have both measurements on them…US standard and metric. The ring holding them all together is nice and sturdy also, so I don't foresee these deteriorating any time soon! Very happy with these! Going to throw out all my other measuring devices and clear up some drawer space in the kitchen.
Should have done this some time ago, but this one is way better than any past ones we've had. Well made feel to them, great colors to match other things in my kitchen. Solid purchase.
I was in need of new measuring utensils since the old ones are getting worn and I don't like using plactic. Had tried some silicone types but those broke easily. Was impressed with it from the start. Both measurements on them including US standard and metric.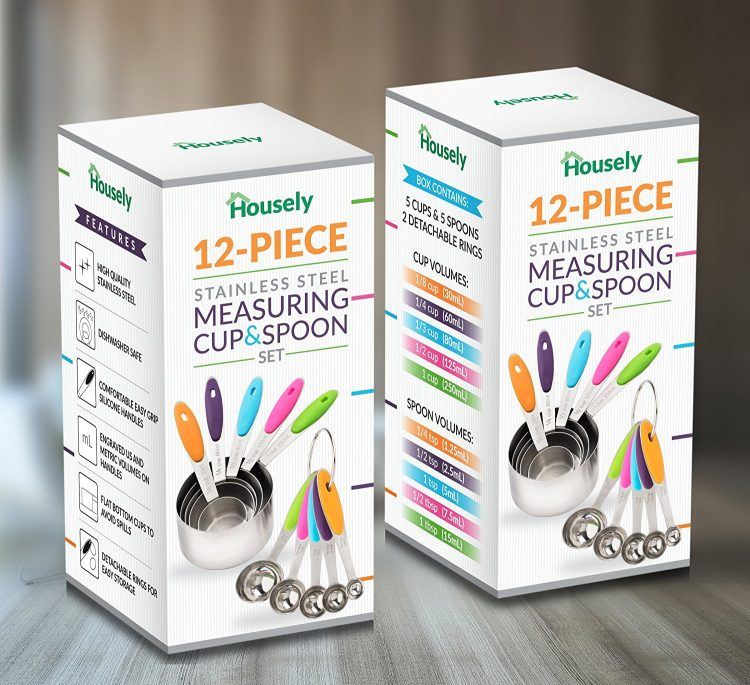 You can order yours today on Amazon
.