KNQ Associates was built through the hard work and passion for art by its founders Kusnin Tan and Stanley Tham. The company had its first beginnings as a chic interior design studio in 2004, by starting with re-creating living spaces from its lifeless state to become a fresh and exquisite one. As time passed, KNQ Associates has become better and more skillful in incorporating color, style and functionality in every living space they reinvent.
Now, KNQ Associates has projects in different countries such as Indonesia, Malaysia and Singapore, and has been featured in different home interior publications from different parts of the world. Furthermore, the firm has already put up a subsidiary that specializes in apartment interior design as well as covers a more diverse scope, since it also specializes in interior designs involved in office, hospitality and retail sectors.
Becoming one of the best firms in interior design, KNQ Associates does not only put style and elegance as the top priority, but the firm balances design, elegance, and functionality in every project they handle and keeps a keen eye on its every detail. In addition, KNQ Associates incorporates the client's taste and preference to plan and design an interior space that is both practical and exquisite even in the years to come.
Here are five gorgeous home design project by KNQ associates:

Namly Place
Namly Place is one of the best interior designs of KNQ Associates. Its exquisite, light and refreshing interior design has an ambience a homeowner will surely look forward to going home for. Namly Place interior design involves putting art and functionality together by situating the furniture and sculptures in the right places to create an exquisite, refreshing and a practical interior design.
Namly Place's ground floor living room serves as a lounge for visitors. The dry kitchen area serves as a place to prepare food, and it comes with an elegant counter made of quartz and drawers big enough to store pots, pans and appliances. Namly Place puts functionality and peace a top priority in the bedrooms. The master bedroom has a lounge corner where one can do his reading. Furthermore, the room is colored with lilac, maroon and purple tones to create a tranquil ambience conducive for resting and unwinding.
http://www.knqassociates.com/projects/namly-place/
Tampines Avenue 1
Another gorgeous home design created by KNQ Associates is the Tampines Avenue 1. This interior design puts tranquility and relaxation into a remarkable design plan that creates a calm and peaceful home ambience. This interior design utilizes simple materials, color tones and surfaces to keep a spacious feel and a truly relaxing place for the homeowner.
Tampines Avenue 1 uses simple color tones such as brown and beige, and white brick tiles. The rooms have bright-toned colors to give them a lift and a merry atmosphere. The master bedroom has a cool ambience and utilizes wood components in it. It is lightly colored and allows you to dim its lighting down, to create an exclusive but elegant ambience and space.
Aside from the master bedroom, this living space also has a male child's bedroom and a study room that is exquisitely and practically designed. These rooms offer a big amount of storage through the cabinets in it.
http://www.knqassociates.com/projects/tampines-avenue-1/
Robin Road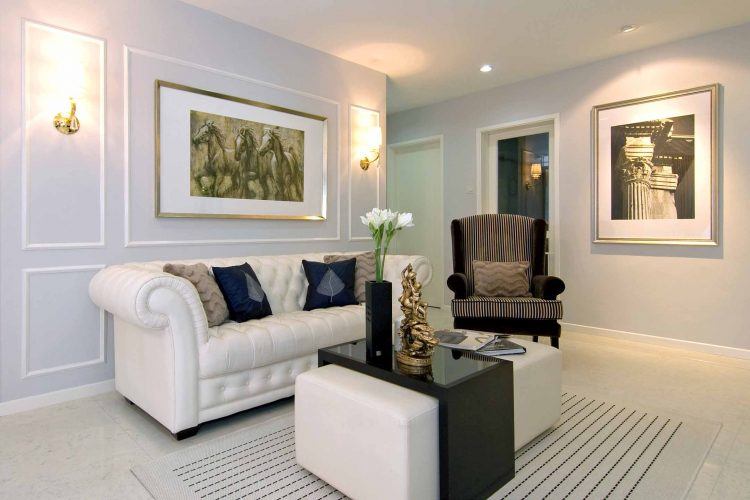 Apartments can be challenging to revamp because of its limited space and compact structure. However, KNQ was able to successfully pull of an exquisite apartment interior with its Robin Road home design. Robin Road was designed with playful color tones to give it a lift and an elegant look. Furthermore, this interior design has a sophisticated ambience because of its French-inspired interior.
Robin Road was simply designed by balancing monochromatic colors with decorative elements. It has white walls and comes with exquisite sets of accessories and furniture, which add light to the living area and space in it. This interior design might put elegance a priority, but it has not compromised its storage ability with the white cabinets it has. Thus, Robin Road is an exquisite interior design with a minimalist look but a relaxing and an elegant atmosphere.
http://www.knqassociates.com/projects/robin-road
Seletar Green View
Seletar Green View is one of the most exquisite interior design projects KNQ Associates has worked on. This interior design mixes contemporary art elements with elegance, which creates an exquisite home ambience. The living space is complemented with elegant furnishings and glamorous accessories to create a royal feel.
Seletar Green View has a living room beautifully designed by matching grey and white tones with bright colors to add life to it. It also features a sofa in black and white colors with a black-coated steel coffee table. Furthermore, it has a mirror wall that adds a spacious feel to the living room. Other rooms use different color palettes to create a distinction between each of them. The master bedroom is designed like a hotel suite, and the children's bedrooms are more functionally-designed with enough book storages to offer the kids an environment conducive for studying and reading.
http://www.knqassociates.com/projects/seletar-green-view/
Depot Road
Depot Road is designed with a young, exclusive and an intimate feel. It is designed with simplicity but is complemented with interior elements that add life to the living space. Furthermore, this interior design is a mix of warmth and relaxation with its wood surface and complementary furnishings.
Depot Road has an interior design that usually uses simple color tones like white, brown and beige. Thus, these colors add and allow a clean and a spacious feel in the living space. The living space involved in Depot Road has a lot of large columns in it, but it is creatively used as a décor to create a simple but a modern feel on the space. Thus, the living room's columns are suited with the window's design, and the master bedroom's column is where the television is placed.
http://www.knqassociates.com/projects/depot-road/
Conclusion
These KNQ Associates' very own gorgeous home design projects are surely a joy and inspiration to see. These are exquisitely and practically designed which balances the living spaces' design and functionality. In addition, these interior designs are testaments that the limit is your imagination, and once you add beauty to your imagination, you can produce a beautiful finished product as well.