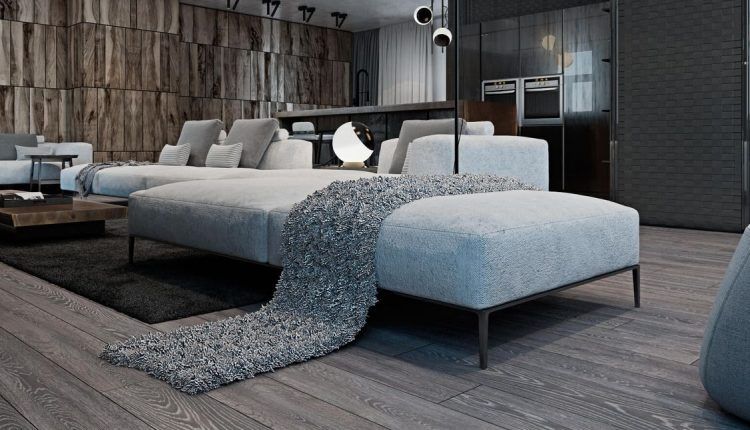 Two amazing young designers founded Studio Diff in 2015. They are located in Kiev, Ukraine and their names are Irina Dzhemesiuk and Vitaliy Yurov. They are 2012 graduates of Kiev National University of Construction and Architecture (KNUCA) where they both majored in Interior Design. They have been garnering major attention from popular international media outlets and it took them barely one year to do so. They've also been featured on the pages of several architectural publications.
Irina and Vitaliy's goal is to create unique spaces that have very distinctive character. They accomplish this with a combination of functionality and aesthetics. They have worked internationally on a number of projects both public and residential and have distinguished themselves by their special combination of high-end quality and accuracy in their designs.
Each and every Diff Studio project is a singular space with a special dose of impeccable execution and plenty of character. They specialize in cutting edge designs with enrichment from amazing materials, unique form and differing styles. Their knowledge and experience combined with their flair for the unusual are responsible for Diff's comfortable yet inspired interiors.
Here are five of their works that we admire:
Roof Apartment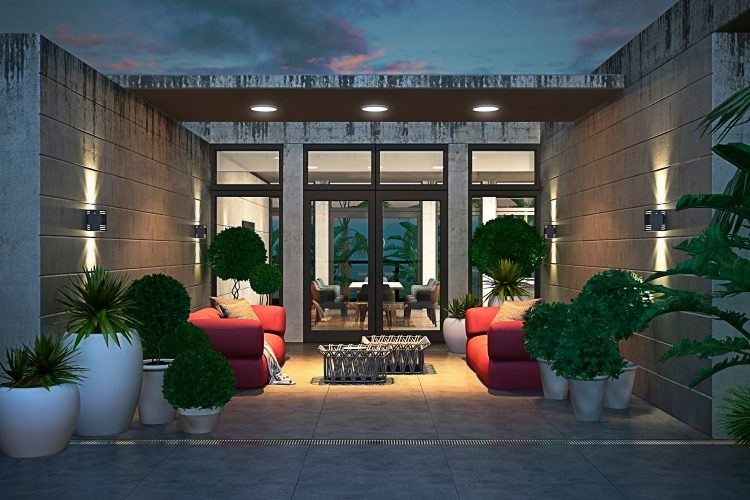 Perched on the very topmost floor of a multi-story residential building, this apartment is high on style, as well as supreme comfort. With massive panoramic windows and high walls in combination with the best in natural materials like wood, concrete and stone paired with glass for creating a comfortably reliable space. The simple minimalist lines add to the spacious feeling of this elegant apartment with lighting by Delta Light, Diva, Flos, Gubi, and Secto Design and amazing furniture from a local workshop.
For a feeling of convenience and simplicity, Diff Studios utilized all-natural materials. And, for a feeling of truly balanced temperatures, they used plenty of warm lighting and cool trimmings. The designers' use of lush potted plants makes it almost seem like this roof apartment is in the tropics. In addition, the massive dining room can easily seat eight or more guests while also offering a gorgeous view through the french doors to the balcony.
And, the sleek modern vessel soaking tub in the master bath perched in front of the big window with a view of the trees on the terrace and the gorgeous skyline is the icing on the cake.
http://www.diff-studio.com/work/13-roof-apartment/
Paris Apartment
Conveniently located in a beautiful historic building, this duplex apartment retains all the unusual character of the building, but with a wealth of stylish modern touches. By composing the space with dark colors, the designers have produced the quintessential backdrop for some special pieces of furniture, as well as gleaming brass accent pieces. And, the amazing chandeliers seem to have been crafted by nature itself and add a touch of whimsy to the apartment.
It is a truly luxurious place with marble-topped tables and amazing sculptural pieces that accent each room. And, the beautiful sleek modern staircase is so open that it seems to be floating on air. Add to all of that the magnificent potted palm tree across from the staircase and your have an atmosphere that is both sleek modern and gleaming while also being soft and lush at the same time.
Through the mixed use of dark glass, brass, oak parquet, Portoro marble, and black gloss, the designers achieve the perfect mixture of elegance and comfortable function. The furniture is from Arketipo,Busnelli, Cane-line, and Poliform paired with lighting from Baxter, Delightfull, Delta Light, Luceplann, and Vibia.
http://www.diff-studio.com/work/05-paris-apartment/
Cozy Flat in Kiev Center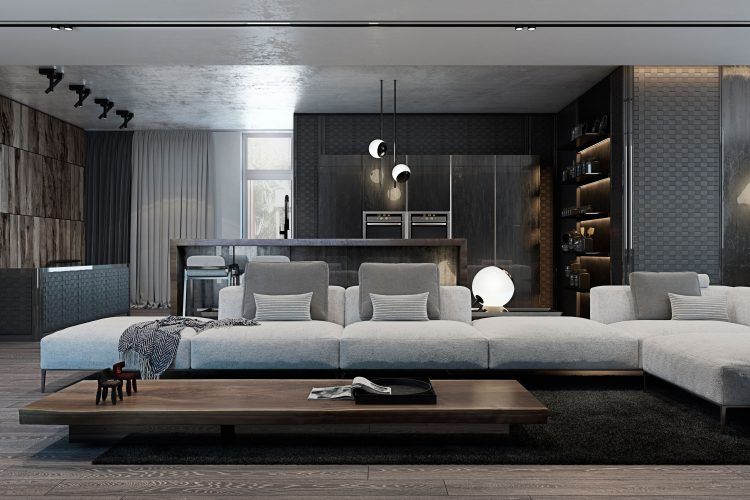 This beautiful designer flat features a really open floor plan on the second level. Neutral tones and warm textural touches add special interest to this space. And, the use of numerous differing wood types on the walls and in the furniture give it a singularly unique charm. Hand-woven fabric panels on other walls really soften the effect, making it feel not only cozy and comfortable but inviting for guests and residents alike to engage in friendly conversation with ease.
Furniture in this cozy flat is sourced from Arketipo, B&B Italia, Lema, Moooi, and Rimadesio with lighting from E15, Davide Groppi, Delta Light, Fontana Arte, and Northern lighting. The kitchen components are from Poliform. This flat offers something that is very popular everywhere and that is an open floorplan. The comfortable living area is completely open to the sleek and functional kitchen with adjacent wet bar.
Tt makes it possible for the host and/or hostess to be cooking up hors d'oeuvres or a meal in the kitchen while still keeping in touch with guests and watching the big screen television. And, the massive dining room table with the amazing wooden pedestal base awaits all of those guests for a beautiful meal.
http://www.diff-studio.com/work/04-cozy-flat-in-kiev-center/
House in Casablanca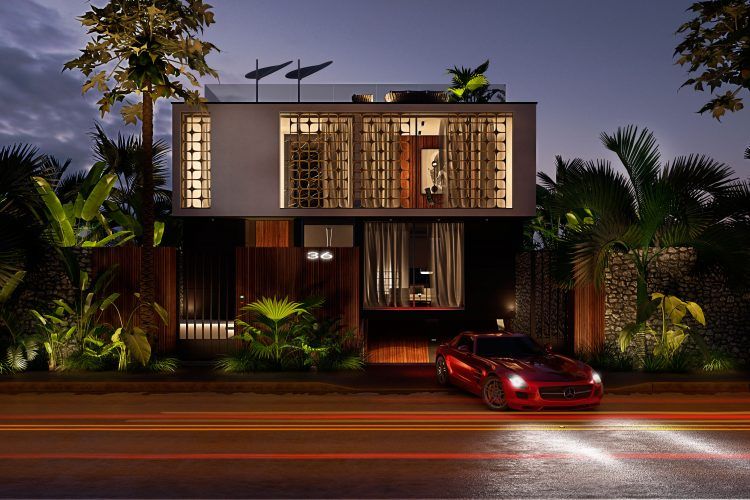 The designers faced a real challenge with this property because it called for a massive house and pool area on a small lot. The home itself offers two floors and a roof terrace plus underground parking. The outdoor swimming pool and a comfortable lounge area are in the back yard. And, through the use of lush landscaping front and back, this beautiful home feels very beachy, giving the owner and their guests the feeling of communing with nature.
The poolside lounge area has a wooden pergola plus a very grand marble wall behind the comfortable sectional. Paired with the gleaming wood decking and towering palm trees, one would swear that this area is on a tropical beach. The furniture in this home is from Gervasoni, Paola Lenti, and Poliform with lighting from Vibia, as well as Delightful.
http://www.diff-studio.com/work/03-house-in-casablanca/
Residence in the Italian Countryside
In this beautiful country residence, the designers combine both contemporary with classic style. They used a great deal of white paired with brightly colored accents for creating an airy feeling. The combination of superior functionality and amazing aesthetics makes this the perfect countryside home. The atmosphere here is totally unforgettable thanks to furniture by Kristalia, Minotti, Poland trona Frau, and shelving systems from Amuneal.
The lighting is from Hive, Delightfull, and Flos with an amazing kitchen from Valcucine. Add all of that to the gorgeous old architecture and soaring ceilings and you have an atmosphere that is truly unforgettable. And, what can we say about the chandeliers? Only that they are as whimsical, original, and floaty as they are gorgeous, and the perfect complement to the grand marble fireplace that is the focal point of the beautifully comfortable yet elegant living room.
http://www.diff-studio.com/work/02-residence-in-the-italian-countryside/