For some of the best home decorating ideas that you'll ever see, look to celebrities for a bit of inspiration. Sure, they have plenty of money to spend on decor and often have professional help to pull their spaces together. However, some celebrities like to do their own decorating and have spaces that beautifully reflect their lives, personalities, and are full of fun and style.
When you let celebrity spaces serve as design and decorating inspiration, remember one important thing: don't worry about mimicking their exact looks. You'll drive yourself crazy if you try and will end up spending an arm and a leg. Instead, think about the elements you like and make it work for your budget and digs. You don't have to spend big to decorate your home like a star.
Here are 20 home decorating ideas from celebrities that you can easily adapt to fit your space.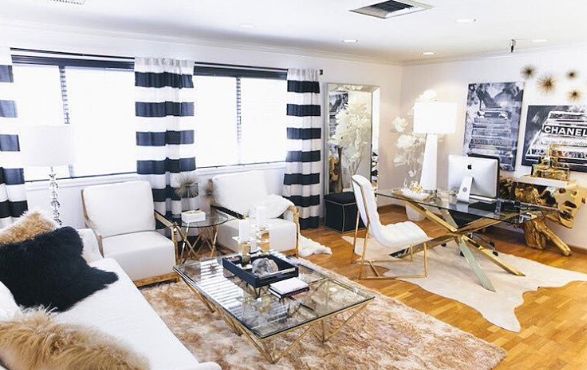 1. Ashley Tisdale
If you're looking for home decorating ideas for your office space take a cue from Ashley Tisdale, who went big and glam with her office. Everything from the gold accents to the rich textures and bold stripes all make one fabulous room without going overboard or looking like a random mess. When you want sophistication and style, you can't go wrong with a gold, black, and white color palette — this particular color scheme works well in every room. If you prefer silver, swap it out for gold and your room will still have a lavish touch.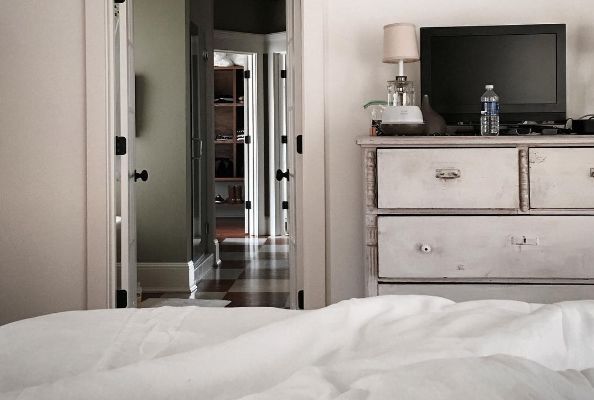 2. Zoe Saldana
When in doubt about color, opt for a monochrome palette. It's one of the easiest home decorating ideas to implement and looks chic, refined, and well put together. Take a look at how Zoe Saldana used a calming combination of whites to make her bedroom a relaxing retreat. From her view, the room looks cozy, serene, and perfect for binge watching TV after a long day. Whites, creams, and grays are easiest to work with and are virtually foolproof.
3. Alyssa Milano
Here, Alyssa Milano shows that using pieces you love is the key to having a home that reflects your personality and provides inspiration everyday. She used a vibrant Bradley Theodore painting to infuse her space with color and serve as a muse, but you may prefer an art print, quilt, statue, or vase of flowers. Use whatever makes you feel happy and boosts your mood, and don't worry too much about whether its colors perfectly coordinate with the rest of the room.
4. Jesse Tyler Ferguson
If you're not afraid to experiment with textures and patterns, take a design cue from Modern Family actor Jesse Tyler Ferguson and mix up your bedding. Each of the patterns that he chose is bold, but he makes a smart move by including solid neutrals to balance everything out. The result is chic, a bit playful, and doesn't overwhelm the bedroom at all. If you try this, choose three prints and at least one fabric that's solid and neutral.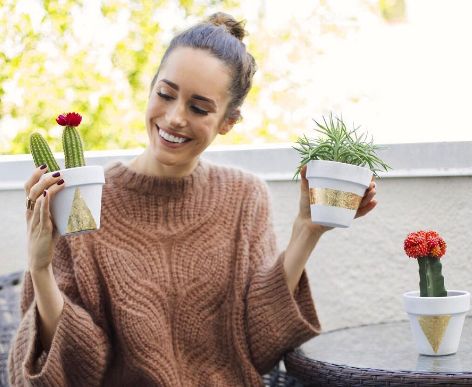 5. Louise Roe
Even celebrities know that DIY decor is not only fun, but an excellent way to make sure your space reflects your style. Fashion maven Louise Roe embellished plain white planters with gold leaf, filled them them with succulents, and the result was a set of fabulous housewarming gifts. If you want to make your own, check out her crafty instructions on her blog [http://louiseroe.com/2016/02/26/succulent-pots/]. Going the DIY route is one of the best home decorating ideas to use if you're on a budget or have a hard time finding items in stores that suit your tastes.
6. Kaley Cuoco
Wallpaper can be far from boring and serve as art and a point of interest in a room. For her dining area, Kaley Cuoco chose a bold designer wallpaper from Hermes that's both fun and stylish, and she used it across the entire space.
7. Molly Sims
One of the most time tested and true home decorating ideas to liven up a space is to use fresh flowers. It doesn't matter what color or kind you pick, they're guaranteed to bring a touch of class, refinement, and joy into the room. Molly Sims displays gorgeous orchids in her living area, and the simple arrangement perfectly suits the space.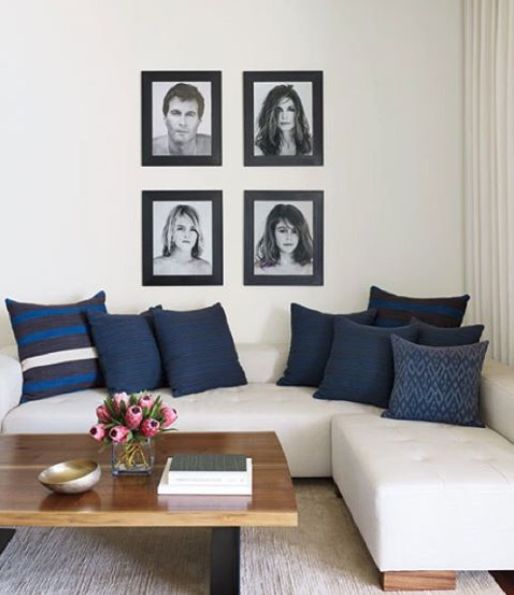 8. Cindy Crawford
Simple gallery walls can be the most meaningful, as evidenced by the lovely living space in Cindy Crawford's home. She opted to decorate the space above her couch with four large pictures of herself, her husband, and kids in classic frames. Not only do simple gallery walls like this serve as art and decoration, it's a great way to personalize a space. The rest of her living room looks gorgeous as well, and the gallery perfectly fits in with the mood of the room.
9. Ivanka Trump
In her home office, Ivanka Trump employs a brilliant tactic: add color by getting a traditional piece of furniture in an unconventional color. The bright blue desk is functional and serves as a stylish centerpiece. If you can't easily find the color furniture that you want, always remember that you can buy a bargain piece from an estate sale, garage sale, or thrift store and repaint it to your liking. Going this route is usually cheaper than splurging for a ready-made statement piece of furniture.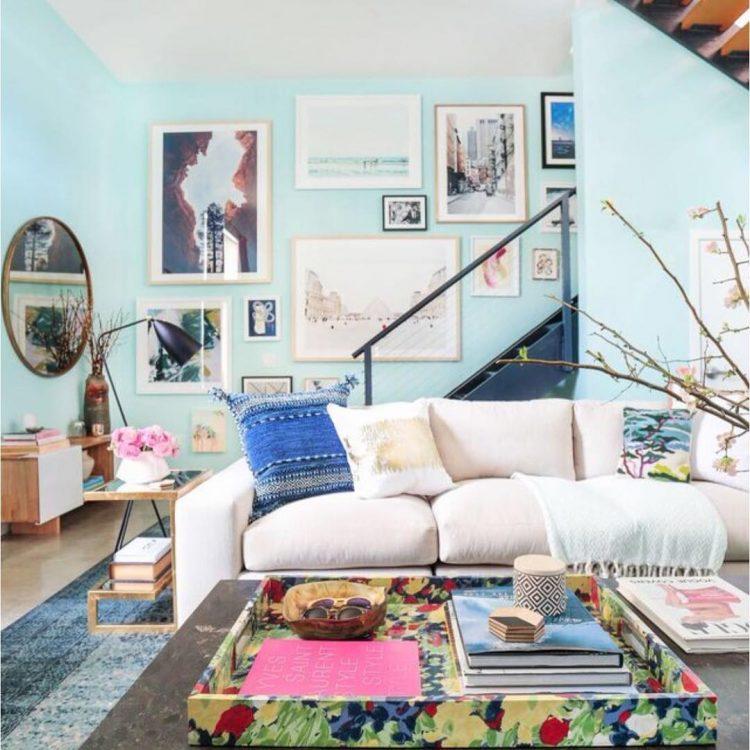 10. Whitney Port
Color can be a wonderful way to bring visual interest to a space, and you don't have to choose a super loud or bold hue. Whitney Port picked out a sky blue color that's not at all imposing, but blends into the space and gives it a relaxing, laid back vibe. The wall paint in her living room simply brings all of its decor and elements together.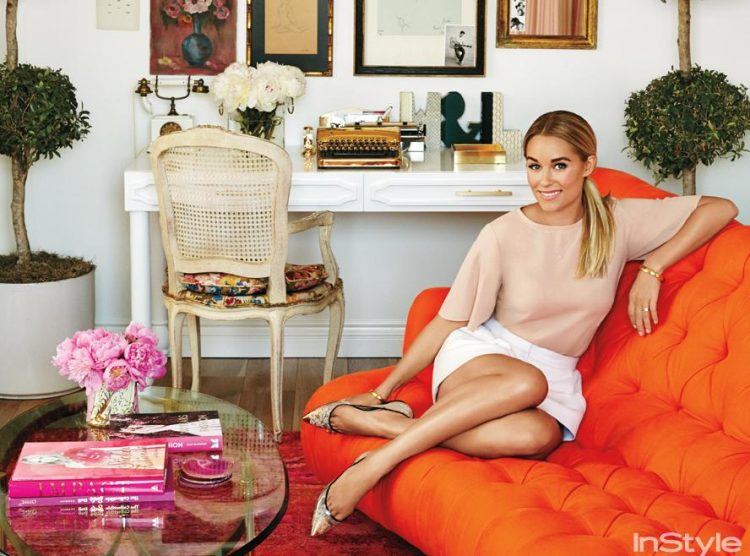 11. Lauren Conrad
Have a coffee table that you think looks boring? Do like Lauren Conrad does and put a stack of interesting coffee table books with vibrant covers on it, along with a simple arrangement of flowers. In an instant you'll have a table arrangement that looks effortless, stylish, and will bring a touch of color and decor to an otherwise uninteresting area of the room.
12. Kat Dennings
Throw rugs add textural interest and a punch of style without going overboard. Throws also also keep spaces from looking too sterile and add a touch of warmth and a lived-in, cozy factor. Just take a look at what Kat Dennings did here with a simple white throw in her living room.
13. Beth Behrs
Few people think of adding design twists into their dining areas, but it can work beautifully. Here, 2 Broke Girls actress Beth Behrs put dramatic floor to ceiling bookcases in her dining room and they provide a wonderful bit of decor. You don't necessarily have to use bookcases, but do feel free to bring the unexpected into your dining space.
14. Ellen Pompeo
Plush and huge headboards are often seen on Pinterest and home design sites, but there are more affordable ways to frame a bed. Ellen Pompeo opted for a large Egyptian wall hanging for her bedroom, and it looks stunning. You can do the same with any textile of your choice, from an heirloom quilt to a few yards of a fabric in a print that you love. Hang it behind your bed, and you'll easily transform the space and add a pop of color, texture, and visual interest. This is one of the simplest home decorating ideas to implement on a budget — be on the lookout for sales and discounts in the fabrics section of your local craft stores.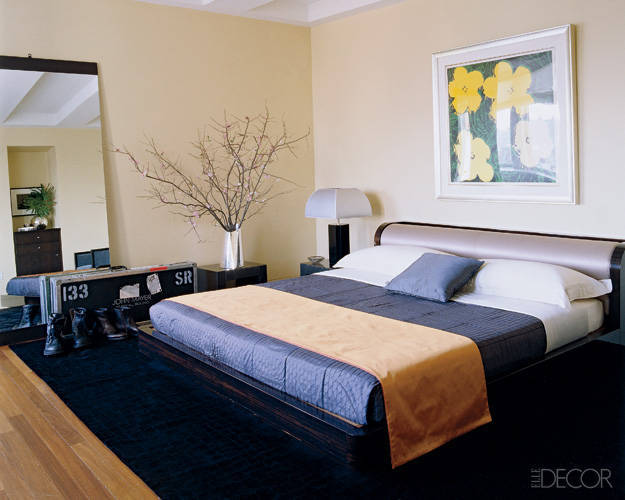 15. John Mayer
Gallery walls are all the rage these days, but some people simply don't like the look or want something a bit simpler on their walls. If you want the same type of decorating impact without a cluttered collage, try doing what John Mayer does in his bedroom and use one large, colorful print. The yellow in the print that he chose adds a bright touch to the room but also manages to help pull its other colors and elements together. Pick art that you personally love and won't mind looking at each day — this print will be one of the focal points of your space, so you need to make sure it suits you well.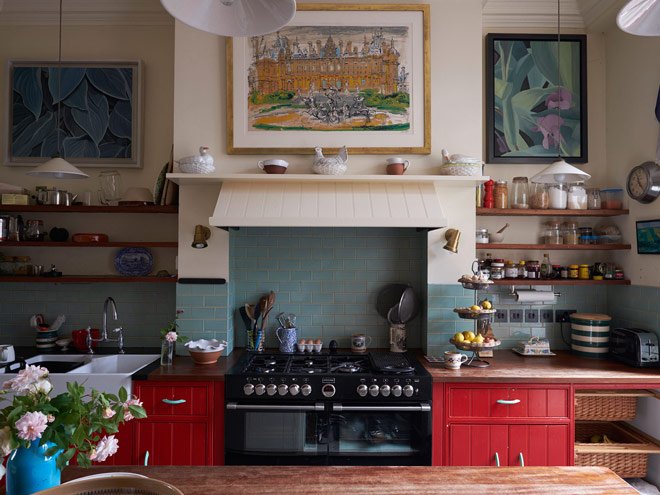 16. Dominic West
Actor Dominic West's kitchen proves that open shelving is always a good idea. When homes with open shelving are displayed in magazines and on design blogs, they typically have perfectly matching dinnerware, mugs, and vases that coordinate on display. It looks well done, but very staged — it doesn't seem to match up with real life.
Dominic West, however, has a space that's obviously lived in and still looks great. Don't worry about constantly keeping your items perfectly straight or tidy to a fault when you have open shelves. Instead, insert a few items that are near and dear to you among your everyday kitchenware and dishes, and you'll create an area that's full of personality and charm.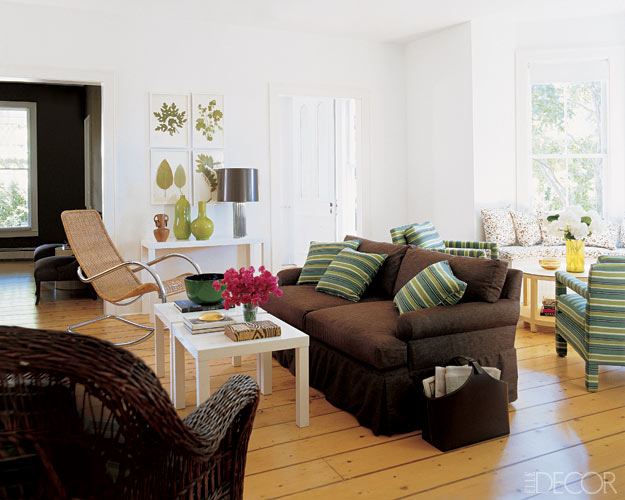 17. Sarah Jessica Parker
Adding color to a room intimidates many people, but keeping it simple is a foolproof way to style your room beautifully without making it look to busy or uncoordinated. Here, Sarah Jessica Parker picked one color to infuse throughout her living room: green. It's in the pillows, vases, pictures, and accent chairs, and it looks great. To do the same, choose a color that you love and use it here and there throughout the room — on picture frames, lamps, prints, throws, pillows, and other elements. For the larger pieces such as sofas, tables, bookcases, and large fixtures, go with neutral colors to pull the look together. Sarah Jessica Parker choose browns and whites to accent the green in her space.
18. Megan Mullally
In spaces that are clean and simple, it doesn't hurt to add one piece that brings color, vibrancy, and fun into the room. Actress Megan Mullally's kitchen leans towards being minimalist, and it has a rather plain look overall. However, the bright purple rug that she put into the center of the kitchen perks it up and keeps it from feeling stiff and boring. You can do the same in your kitchen, but this decorating idea works well all over the house. Have a bathroom that's feeling blah? Put down a slim, colorful, absorbent rug. Have a colorful room that lacks cohesion? Go with a rug that's neutral with a bold print, such as one with wide black and white stripes.
Aside from being easy to use, rugs are also versatile and easy to switch out for different seasons, occasions, and moods. It's a lot less expensive than constantly changing out all of your home's decor, window treatments, and furnishings.
19. Rachel Bilson
Furniture with bold, bright prints has been making the rounds in stores, and you can see a ton of such pieces on popular design blogs and websites. The problem: committing to a major piece of furniture, such as a couch or table, in an eye-popping design is a bit scary. What happens if you don't want the print dominating your space next year? Will you have enough money to buy a new couch if you stop liking orange so much? To solve this problem, stay with neutral large pieces and get an ottoman in a fun print, just as Rachel Bilson does in her living room.
This is one of the many home decorating ideas that's easy to DIY. Get enough yards of decorator weight fabric from a craft store that you like, and cover the cushion of your existing ottoman. Tuck and staple the fabric to the bottom of it, and you'll be able to easily change out the fabric whenever you want something new.
20. Kimora Lee Simmons
Kimora Lee Simmons lives a life that most would consider anything but simple, but her office shows that less really can be more, especially in large rooms. A color palette of plum, white, and deep brown looks fabulous with just a few accessories sprinkled about. In your home, whittle your decor down to a few key items in each room — a vase of flowers, small stack of books, or a favorite painting. Keep this theme going on your bookshelves, too, and you'll find that they look less jumbled and crowded.