Hawaii's capital city, Honolulu, has tons to do including water sports, lounging on the beach, world class dining, and a fantastic nightlife scene. Though Honolulu is vibrant, fun, and has incredible natural beauty, living there doesn't come cheap. Hawaii on the whole is more expensive than living within the contiguous US, and housing costs in Honolulu can be outrageous. It's not uncommon to find renters there spending thousands of dollars per month for small one bedroom apartments without any bells and whistles. Just in case you're curious, here are some examples of what $2,000 a month gets you in Honolulu.
1. A furnished apartment near Waikiki Beach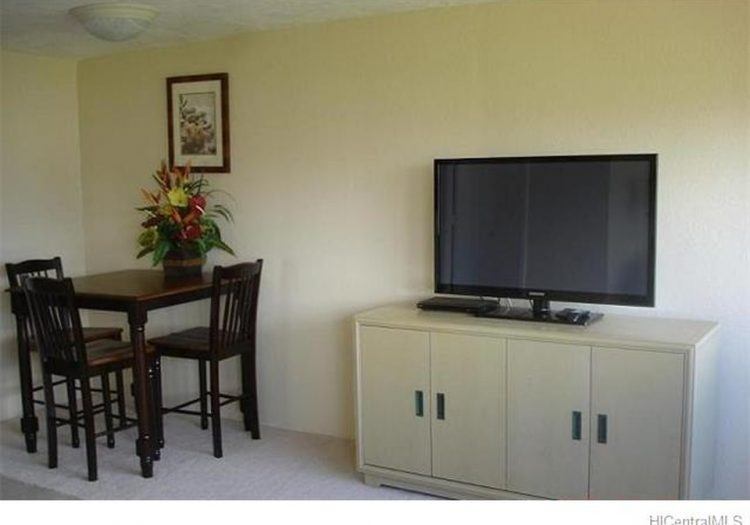 Waikiki is known for its crescent shaped beach, towering high rises, and fabulous scenery, and you can be right next to it if you have $2,000 a month to spare for this rental. This one bedroom, one bathroom, 563 square foot apartment isn't very large, but with so much to do right outside your door you may as well take advantage and hit the beach, hike at Diamond Head, or get some retail therapy at nearby Royal Hawaiian Shopping Center.
This apartment is furnished with one sofa, a queen size bed, drapes, an entertainment center and television, and a dining set. The kitchen comes equipped with a fridge, stove, mounted microwave, and a coffeemaker. Yes, it sounds like a hotel room, but it's a residential apartment with a minimum six month lease. Utilities — hot and cold water, basic cable, internet service, and electricity — are included in the rent, so this is one of the better values in Honolulu. The apartment complex has barbecuing stations, an outdoor pool, and a sauna in the common area.
2. Three bedrooms and an eat-in kitchen near Ala Moana
Judging from the outside, this rental isn't anything spectacular. The inside isn't a stand-out as far as design goes, either, but it's not a terrible value if you take into account all of its space and convenient features. The three bedroom, 1.5 bathroom, 1,100 square foot house comes with some furnishings and you won't have to worry about vacuuming since the flooring is all tile.
The bathroom is a decent size, and the kitchen has tons of cabinets. There's also a dining area within the kitchen. Fans of open concept homes may not fancy this house, but its layout is far from intolerable. There's no backyard, but it's not far from the water and great parks.
A washer and dryer are included inside the unit. This apartment also comes with two parking spaces and it's on the upper floor of the building. If shopping if your thing, you'll be happy to know that the building is located close to Ala Moana, the largest mall in Hawaii, seventh largest mall in the US, and the biggest open air shopping center on the planet. $2,000 isn't a bad price to pay per month considering the apartment's location and proximity to some of Honolulu's best entertainment options.
3. A cute one bedroom penthouse
There are many furnished rentals in Honolulu, and this is a nice one. The one bedroom, one bathroom, 730 square foot penthouse comes with its own parking space and it's furnished with not just a couch, seating, and bed but dishes and kitchenware as well. The kitchen has a stove and fridge, both in black, and the counter has three bar stools complete with floral seating pads. Take a closer look around the kitchen and dining area and you'll see a knife block and set, coffee maker, utensils, toaster, flatware, and dinnerware — you truly don't have to buy anything extra to move here, and it's all set up and ready to occupy.
The living room has a cushy chair and television, and the entire unit has a breezy, casual feel to it. In the bedroom is a contemporary set including a full bed, nightstand, dresser and mirror combo, and there's even pillows and a bedspread. The bathroom of this penthouse isn't very large, but the style of the vanity, sink, and glass shower give it a chic flair. Outside of the penthouse, the high rise complex has a deck, patio, pool, and other common areas. The rent is $2,000 per month.
4. Cozy quarters with a pool and lanai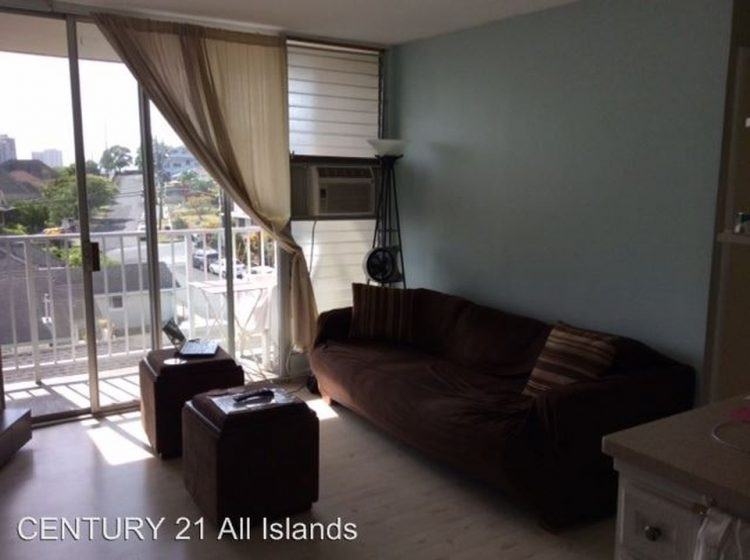 This rental is fairly small for a two bedroom and has just 544 square feet of space. Some may feel that alone makes its $2,000 a month price tag too expensive. However, the apartment community itself has some nice features including a secure entryway and a large pool. The "lanai" attached to this apartment is a small patio-like area, but you can get a great view of the city if you stand out there.
Inside the apartment is two bedrooms and one bathroom. The kitchen is revamped and has a lovely tile back splash, modern appliances, and plenty of cabinets and storage space. It's one of the best looking parts of the apartment and anyone who frequently cooks will likely enjoy its features. No, it's not a huge gourmet kitchen but it is laid out well and you could do a lot worse in the area.
The bedrooms are small, but each can hold a queen size bed with a bit of room to spare. If you only need one bedroom, use the other as a walk in closet, modest library and media room, or small office area and take advantage of the extra space. The bathroom has just one sink, but it looks nice and was smartly designed. If you want to bring your own furniture into this rental, you can. Otherwise, you can get this apartment furnished with living room and bedroom furniture. There's a washer and dryer inside the rental, which is definitely a bonus.
5. Lovely views from a two bedroom home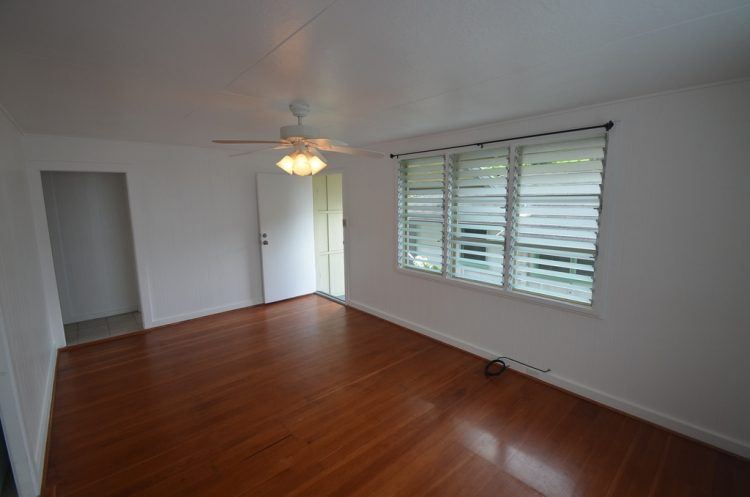 This complex is nice enough on the outside, but on the inside it's a true gem. Great flooring, re-finished walls, granite counter tops, and premium features make this rental feel a bit luxe. That's a good thing since it costs $2,000 a month. The unit has two bedrooms, one bathroom, 1,000 square feet, and a private parking area.
If you want your place in Honolulu to have good views of the area, this rental will fit the bill. Inside are great features and fixtures, built-in storage, and a really nice bathroom. Those who prefer efficient organization will appreciate all of the storage space put into this apartment.