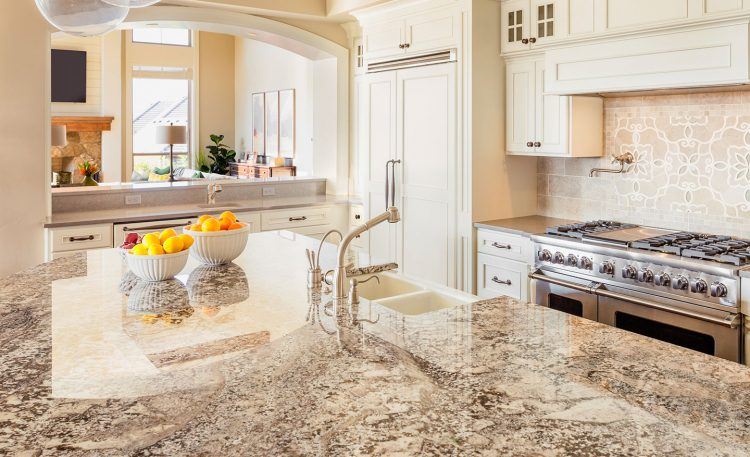 Selecting a granite countertop for your kitchen can be overwhelming.  Considering the amount of colors and styles granite offers, it seems as though the choices are endless, which leaves many reeling at trying to narrow it down.   However, once you understand the process and are able to break it down into parts, choosing the right granite countertop can be a fun process.  In order to break it down for you we'll walk you through some important things you need to know about granite countertops.
What is granite?
Granite is a natural material that is both distinctive and durable for a beautiful kitchen. Granites may have some white in the background, but mostly they are found in colorful shades with striking flecks – reds, greens, golds, creams, rusts, blues, silvers and even blacks are colors you can find in granite. Granite has a lower porosity than some natural stones, and many types of granite do not need to be regularly sealed. Some types of granite may need to be sealed at the time of installation.
Pros of using granite
Aesthetically, granite is one of the most beautiful looking surfaces you can use for a countertop.  Few surfaces match its beauty and it's often considered the highest level of surface with only quartz as an exception.   The beauty of granite often levels up a kitchen and creates a focal point of a room that other surfaces fail to do.   Not only is granite a beautiful surface but it comes in what can feel like an unlimited amount of colors.
While colors usually fall into your beige, blue, black, brown, burgundy, cream, gold, gray, multicolor, off white, red, salmon, taupe, white, and yellow, these are just starting points of the decision making process. Some companies offer over 250 colors of granite to suit your taste.  The surface itself is also of great benefit.
Granite is a very hard substance and is not susceptible to scratches. While not ideal to work on because it will dull knife blades, it will take normal wear and tear very well. Granite resists heat too, so its use near a range or cooktop is ideal. When you have to set down a hot pan fast, granite can take the heat without being damaged or weakened. In the bathroom, placing a hair tool on it that is still warm won't be a problem.
Granite can be very resistant to stains and won't absorb liquids when it is properly sealed. A good professional installer will be able to seal it correctly so that it maintains its attractive good looks indefinitely, or you can do it yourself.
Cons of granite
While the pros of granite generally outweigh the cons, there are some weaknesses you need to be aware of.  The biggest concern with a granite countertop is the sealing process.  If a granite countertop is not sealed correctly or the sealant wears off there can be major issues.   Given how porous is, if it's not sealed properly the material can absorb liquids like wines, juices, and oils which will produce a stain that's close to impossible to remove.  In addition to stains, bacteria can form inside the pores and it's extremely difficult to remove.
Another issue in the sealing process is that many granite countertops have to be resealed on a yearly basis which you have to take into account when analyzing costs.   If this process is overlooked, a granite countertop can show signs of staining very quickly.
Also, despite the fact that these counters are very durable, they can and will chip if something heavy enough is dropped on the surface.  While this isn't common, it does happen.
Lastly, while granite countertops are generally of the highest quality of surfaces, they can come at a cost.    While many surfaces like wood, vinyl, or concrete can cost between $10-$50 a square foot, in some cases you can expect to pay up to$100 a square foot for granite and in some cases as high as $250.   However, as time has gone on, prices have in fact gotten lower and we've created a pricing guide below.
Granite countertop edge styles
Granite is tough, but projections and sharp corners chip more easily than a smoothed edge. Before your countertop is delivered,  an edge is prepared by machining it into a silhouette you desire.  In general the following edge styles are offered:
Straight Edges – examples of straight edges are bevel, extended bevel, straight with apron, and radius.  Straight edges are great in any style kitchen. They are especially appropriate for clean designs.
Curved Edges – examples of curved edges are pencil, demi bullnose, full bullnose, tuscan curve, and O'gee. Curved edges can be basic or fancy. They soften the feel of the room and work just as well in a contemporary design as they do in a classic design.  They're also very easy to clean
Fancy Edges – examples of fancy edges are Versailles, Chiseled, Roman Ovallo, and others.  If you really want to make a statement with your countertops, a fancy edge will draw the attention you are looking for. These edges combine simpler edges into a whole new design or create something completely unique.
Maintenance
How to clean on a daily basis
Clean the counter top with warm water and a few drops of dish washing detergent or antibacterial detergent using a soft cloth.
Rinse the surface thoroughly with clean water and dry with a soft cloth.
If you spill something on your counter top, blot with a paper towel or soft cloth immediately. So do not wipe the area as this can spread the spill.
Flush the spill with warm water and detergent and rinse thoroughly.
Dry the area with a soft cloth. Properly sealed stone will repel most stains if the spills are cleaned promptly.
Other steps to take care of:
Keep the stone surface clean
Avoid prolonged exposure to temperature extremes.
Use trivets or mats under ceramic objects that can scratch the surface.
Know when to use a sealer – Not all granite counter tops require a seal according to the Marble Institute of America but may benefit from a quality sealer product. Most manufacturers place a resin treatment on granite at the factory.
The sealant product should last ten to fifteen years and be of an oleophobic (resistant to water and oil or fat based stains) type. Once properly sealed, the stone will be more resistant.Alongside these instructions, be sure to refer to the specific manufacturer's instructions.Make sure your work area is well ventilated before proceeding to seal the counter top.
Ready to Decide?
Now that you have a better understanding of granite, its pros and cons, as well as maintaining it, below you'll find a gallery of 50 different granite countertops that will give you an abundance of styles and selections to choose from.
Here are 25 beautiful granite countertops ideas and designs:
1. Mix of brown and black granite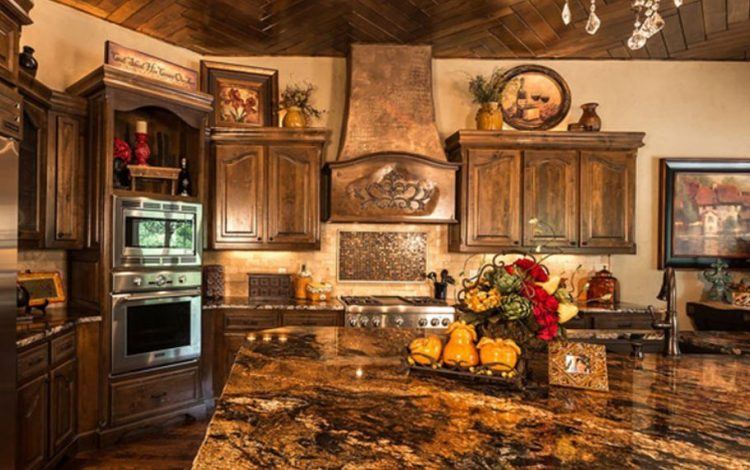 The owner of this kitchen used a great mix of browns and black for their granite countertop that has straight edges.
2. Granite countertop from Cardello Architects
Beautiful straight edge design using a nice mix of white and gray.
3. Two different edges in all white kitchen
As you can see here, there's both a straight edge and fancy edge design here which spices up an otherwise ordinary white kitchen.
4. Round Multi-Edge color combination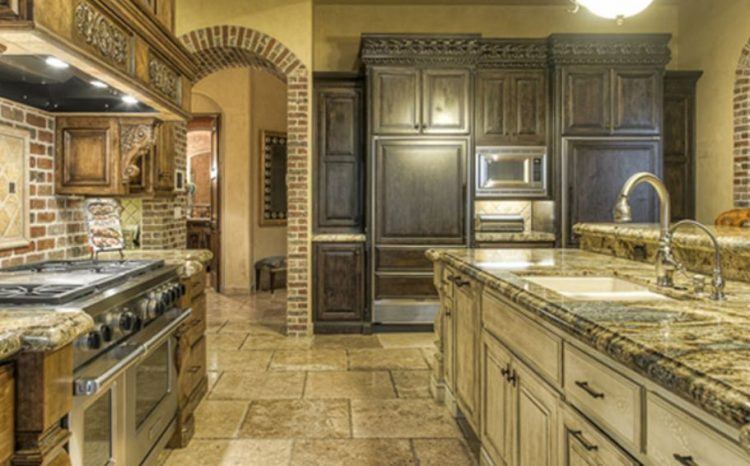 These granite countertops are something you cannot accomplish with quartz.  You're looking at 3 colors here.  A beige, gray, and brown combination highlighted by both round and fancy edges.
5. Contrast kitchen with gray granite countertops
This is a custom kitchen that uses a lot of contrast to create depth.  Here the granite matches well with the backsplash by the stove.
6. Natural wood and bullnose edge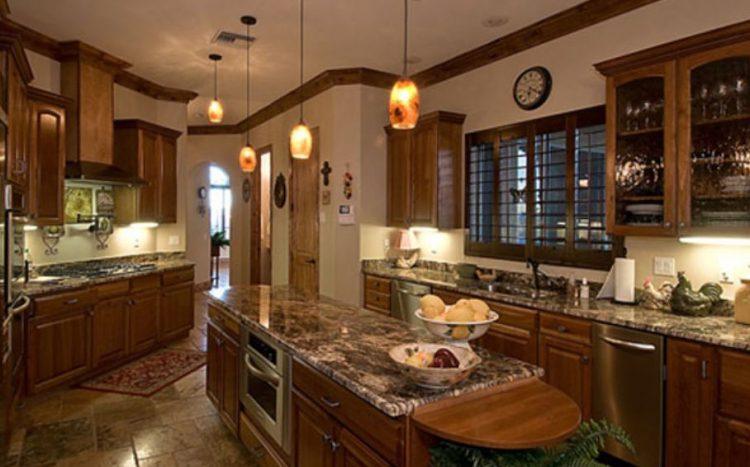 Mixing natural tones of wood with a granite countertop isn't common but it works here, as does the bullnose edge.
7. Fancy granite countertops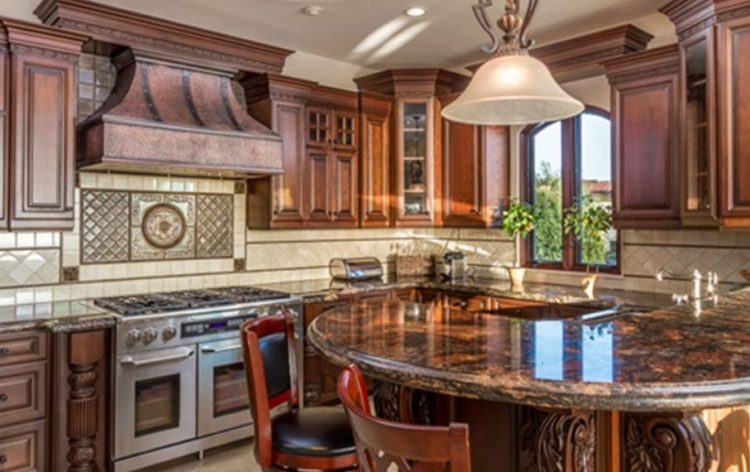 We're looking at a fancy edge and full granite countertop.  You can be sure this is an expensive build.
8.  Tuscan curve green granite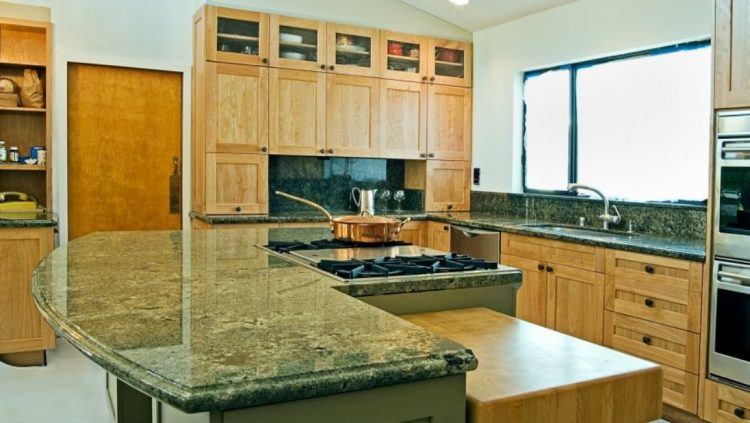 Alluring contemporary kitchen with green granite table top and unfinished wooden cabinet
9. Dueling islands fancy edge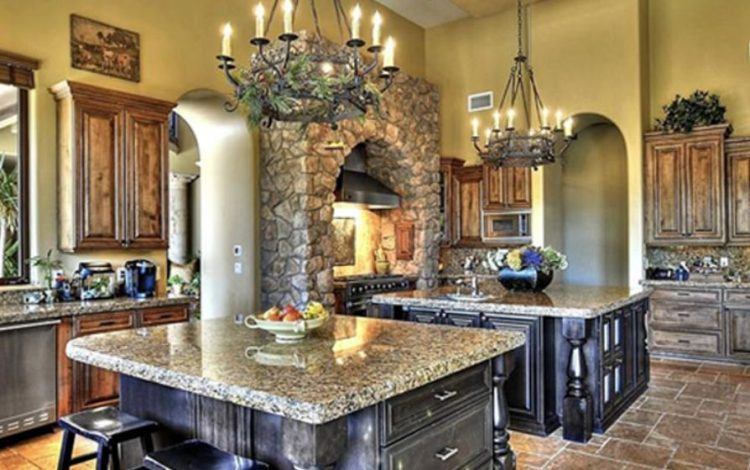 If you plan on entertaining an entire family you'll have no problem with these two beautiful duel islands fitted with granite.
10. Double thickness stacked edge
It's a much "heavier" look but also extremely high quality with you can have an island with double thick granite.  The vase is a nice touch.  Photo via
11. Beige granite with brown veining
Combined with dark cabinetry and black seats, this beige granite brown veining (and some grey) looks great.
12. Dark brown granite large kitchen island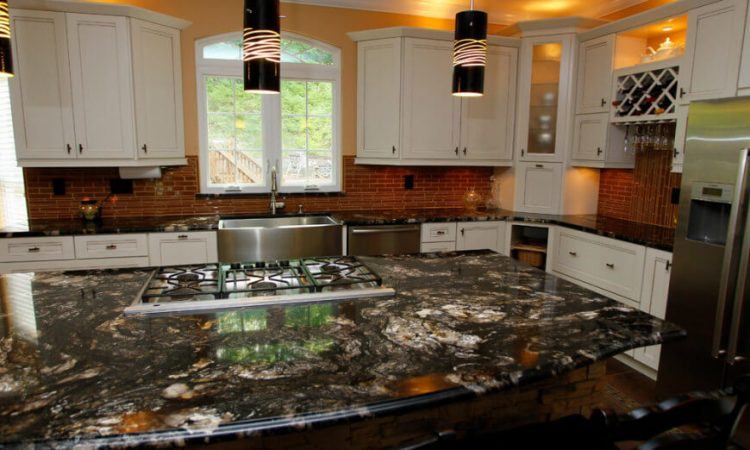 Adding a red tile backsplash brings out the granite color (dark brown) even more in this kitchen.  Contrast that with white cabinets and it's a unique look.
13. Two tiered beige granite
This is a two tiered beige granite set up and there's even a backsplash of the same pattern added.
14. Dark granite with lighter streaks
The oak cabinets bring out the steaks in this granite.
15. Gray granite with circular spots
Cream colored kitchen makes use of beautiful gray granite featuring circular spots.
16. Dual layered island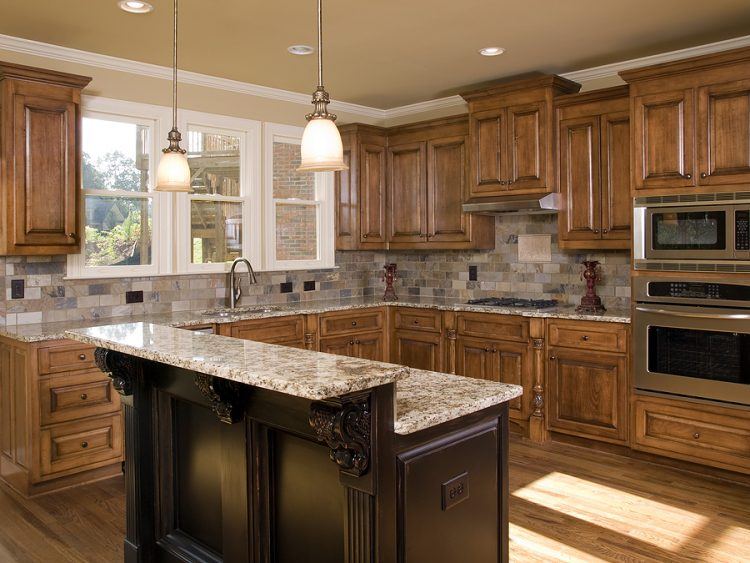 Beautiful kitchen island with roman column integration on the wood.  Hardwood flooring and gorgeous backsplash.
17. Bootstrap kitchen island granite design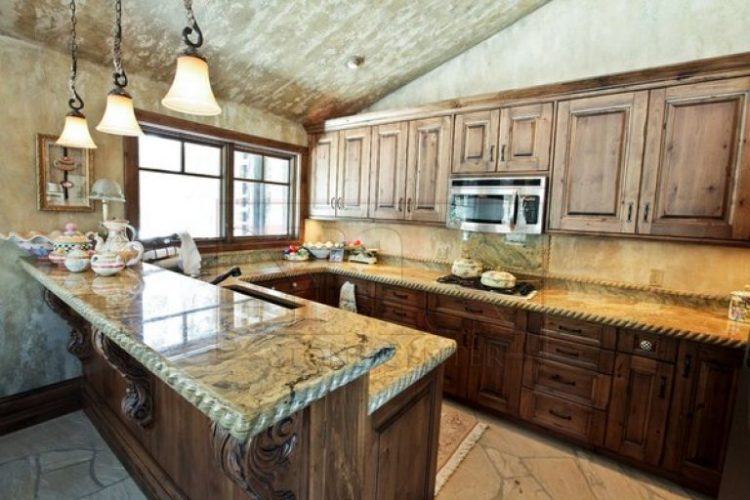 This is a custom kitchen utilizing a gray granite counter.  However, the edges have a rope textured design which is not seen very often.
18. Green subway tile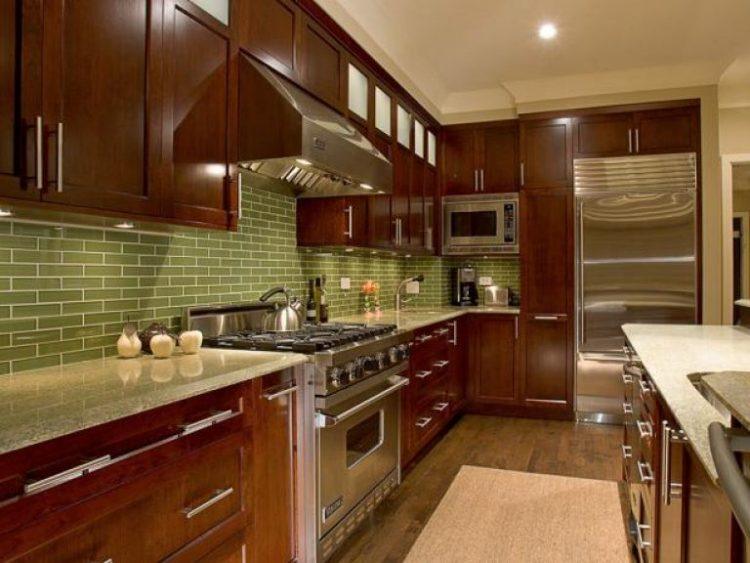 An off white granite countertop scheme blends in perfectly with the green subway tile commanding the color of the room.
19. Granite countertop with seating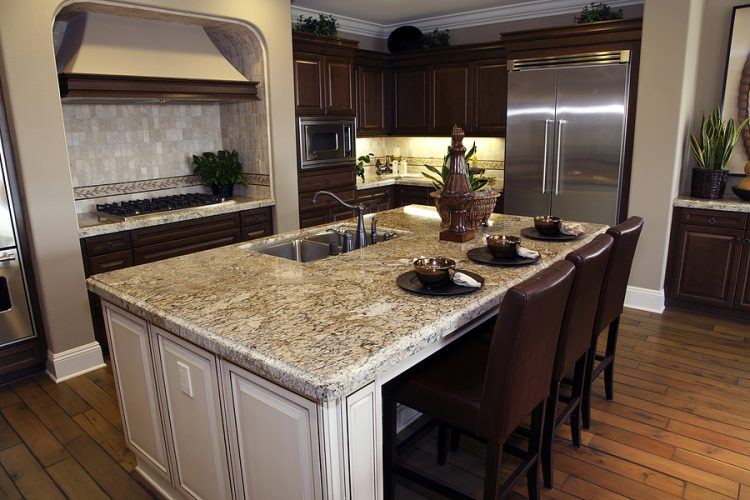 20. Green Granite Countertops
21. Curved granite countertops
22. Multi layer and colored granite countertop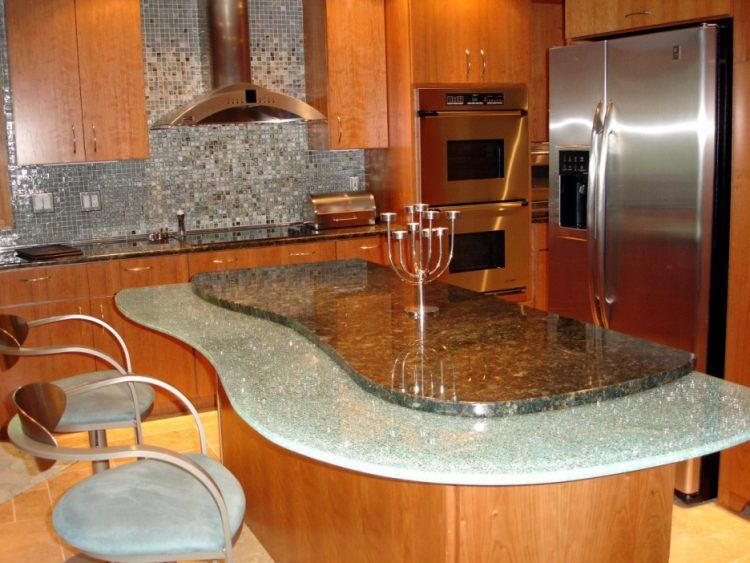 23. Kitchen island dining space with gray granite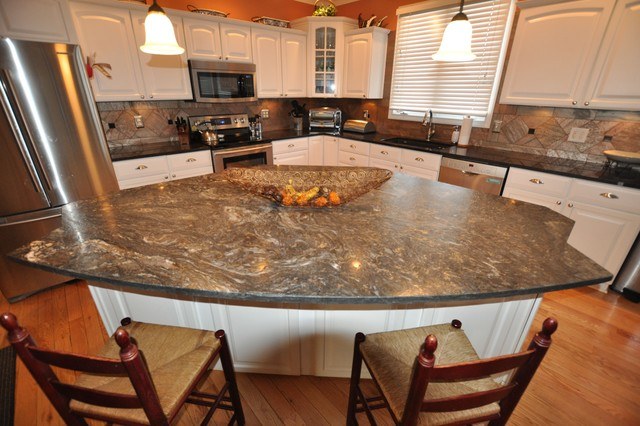 24. River white granite countertops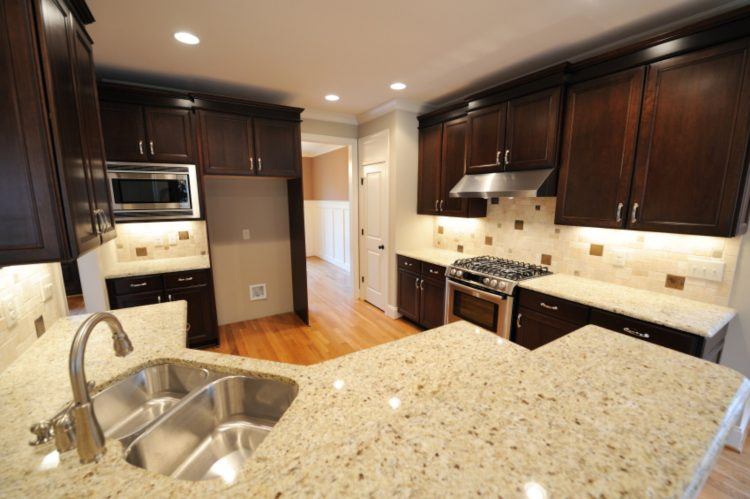 25. Sleek granite countertops
Costs
Tiled Granite – expect to pay between $4-$19 per square foot. DIY kits that contain the tiles and a matching backsplash are available for about $150 each section.  Using several kits to complete the job, you should expect to pay between $500 and $1400 for the entire kitchen. Of course, the kits don't include mortar or the tools you'll need to complete the installation. Expect the cost to increase by $100 to $400.
Modular Granite – with modular granite, look to pay between $25-$100 per square foot. An average sized counter should cost between $750 and $3,000 if you install it yourself, depending on the rarity of the color you choose, along with any added customization. Modular granite slabs typically come polished, sealed, and with a standard edge, and may also come with a matching backsplash.
Slab Granite – as the most expensive option, slab granite should cost you between $60-$100 per square foot. The pricing depends squarely on the rarity of the color or pattern you choose, the edge option you choose, the level of customization, and thickness. The price may also change depending on backsplash, custom cuts, sealing, finishing, or fitting for an undermount sink.
Completely installed, a 30 foot slab should cost around $1,800-$3,000, with larger kitchens, of course, costing more. Be wary of companies who advertise ultra-low prices, as those prices probably don't include sealing, backsplashes, or edging. You will always get exactly what you pay for with granite.
How to DIY Seal Granite Countertops
Although your countertops come sealed, every now and then you should seal them again to ensure they stay looking great. The best part is, you can do it easily in about 20 minutes.
First, remove all objects from your counters and clean them with a soft cloth. Make sure that all debris are removed from the countertop. You can use your hand to feel the top.
After the counters are clean, put on kitchen gloves and spray the stone sealer on the granite. Be generous with the spray and make sure there's a good layer of the liquid on your counters, as it will need to penetrate the pores of your granite.
After about 15 minutes, wipe off the excess with a clean, dry cloth. Should you get any hazy spots after wiping, pour a small amount of sealant on the spot and wipe off the haze.
After 24 hours the sealer will be in full effect. You may repeat the process once more after 2 to 3 days to get the maximum stain repellent effect.
Check out this video to see instructions on how to seal your granite
List of Popular Granite Colors:
Ubatuba
Black Pearl
Fantasy Brown
Antartica
Labrador Antique
Jewel Toned
Beige granite
Brown granite
Color Chart

Save