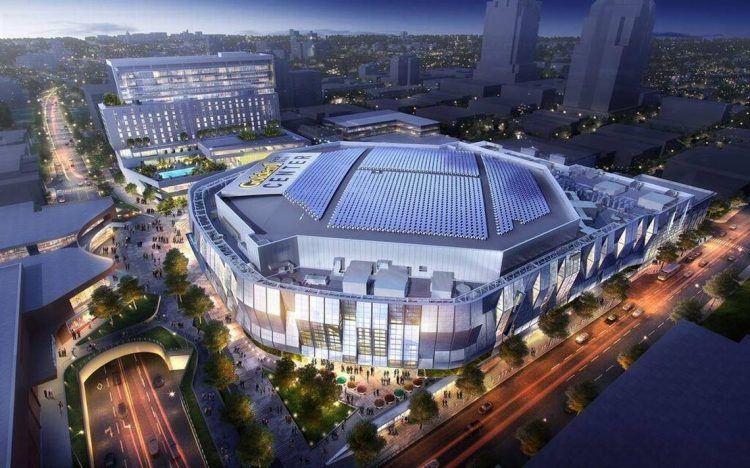 Sacramento is home to the newest major stadium in the USA, and it is a marvel of technology and design. While it will often house the Sacramento Kings of the NBA, it is a multi-purpose stadium designed to attract and host concerts, sporting events, and even activities of the future like drone racing.
For basketball, it has a capacity of 17 500, but can increase to 19 000 for concerts and events that require less floor space. Construction on this stadium began in 2014, and cost well over $500 million to complete. Its opening was kicked off by a Paul McCartney concert on October 4, 2016.
While it does not stand out in terms of capacity, this is a unique and forward-thinking stadium. It pushes the boundaries of technology and design, making it an exceptional arena for guests to be connected to every aspect of an event. Further, and perhaps most impressively, it is a remarkably environmentally friendly stadium, especially considering its size. There are three main aspects of the stadium that deserve specific attention: technology and connectivity, design, and its environmentally friendly status.
Technology and Connectivity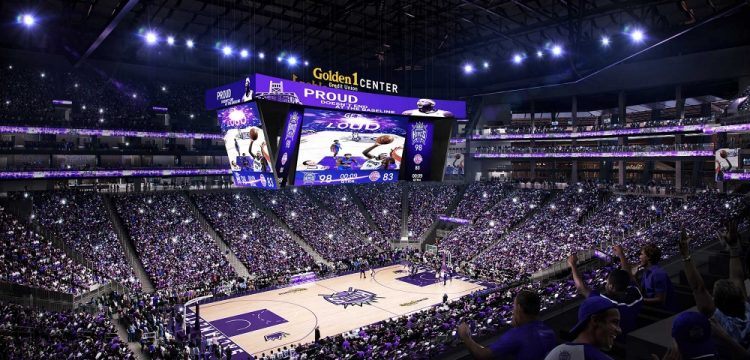 The use of technology is what makes this stadium stand head-and-shoulders above others. It is intended to provide not merely a venue for spectators to watch events, but a completely immersive experience that allows the audience to connect with the event, the stadium, and each other.
Connectivity
Firstly, it is jam-packed with technology. There are 650 miles of fibre-optic cable running through the building, and Wi-Fi connection points scattered all throughout. In fact, the Wi-Fi connectivity is so well-designed that it is supposedly 17 000 times faster than a home Wi-Fi connection. It is reportedly enough to handle 500 000 snapchats being sent every second.
Those who still worry about connection issues with large crowds should be put at ease knowing that the staff engineered the building not to handle the current technological needs of today, but the needs of years down the line. They have an almost excessive amount of bandwidth, in order to be prepared for future needs.
Customizing the Experience
Most importantly for the individual going to this stadium is how a person can connect with the hectic and varied experiences of a large event. There is often so much going on, a person misses a great deal of the event.
Through the stadium's app, every individual is connected not only to live streaming videos of the action, but also concession lines, bathroom lines, parking availability, merchandise deals, and more. In fact, the app also caters the experience to the individual by remembering past food orders, for example. All of this is possible because of the massive data center located in-house, where staff are watching and updating information on lines and deals. This app does more than show scores and stats; it tailors every event to suit every guest.
The Screens
There are several gigantic screens which give an optimal view of the event. Their size and location will be discussed later, but what makes these screens industry leaders is their resolution. With 4K resolution, watching the action is incredibly clear. All of the cameras located throughout the arena also broadcast in 4K, giving viewers multiple angles that are all crystal clear.
Design
The stadium is not only impressive in its technological capabilities, it also features a striking and creative design. It is meant to make the most of Sacramento weather, while complementing its environmentally friendly status.
The Stadium
With a seating design featuring a vertical design provides spectators with a better view, while also increasing the noise of cheering (or booing). It also features a 360-degree view from a walkway which has a wall of windows circling the stadium several stories up. This design encourages people to move about the stadium and enjoy it fully while being able to see the event.
Its design allows the stadium to be converted to an indoor-outdoor venue by opening its airplane hangar front doors. With these massive doors are opened, people outside will be able to see the screen in the stadium to watch the action. This is because the screen is an enormous 84 feet. There are also two 25-feet screens at the front of the stadium. With open doors, the breeze from outside will help to cool the venue, helping lower its carbon footprint.
The City
While created to be a nationwide leader in technological and architectural design, the Global 1 Center also aims to be an integral part of its city. It was built low in the ground, so the stadium floor and some of the seating are actually lower than the streets outside. This, plus the system of tunnels devised to connect it for deliveries, make it less of an obstacle and more of a common ground for Sacramento residents.
Further, it is located dead center in the city. It is a part of a downtown area that will also feature hotels, shopping, and other attractions. While it is a massive and progressive stadium, it also a building that reflects some of the best attributes of its city.
Artwork
Outside the stadium, on tree-lined streets, artwork is placed to ensure that the stadium is a cultural venue as well as entertainment. In fact, it is home to an $8 million "Coloring Book" sculpture by Jeff Koons. It also features work by local artist Gale Hart, whose "Missing the Mark" piece includes giant darts that have all missed a target.
Environment
The stadium is impressive in its ability to simultaneously connect thousands of people to an app that can customize a person's experience at the stadium, as well as its design that can transform the stadium into an indoor-outdoor venue. However, its most impressive feature is that it does all this while remaining "green."
The building is entirely solar powered. It uses roof panels and a nearby solar field for power. As well, heating and cooling occurs beneath the seats, which is more efficient than attempting to cool the entire building. The hangar doors also help moderate the temperature without using energy. It also features low-flow toilets.
Another aspect of the Golden 1 Center that is both environmentally-friendly and creates a bond with Sacramento is that its food is almost entirely locally sourced. Not only is the food mostly farm-to-fork, the food waste is also treated and then sent to local farms.
These features, and the fact that a third of the materials used to build the stadium are recycled, have earned the stadium LEED Platinum certification, which is the highest honor for green buildings.
Conclusion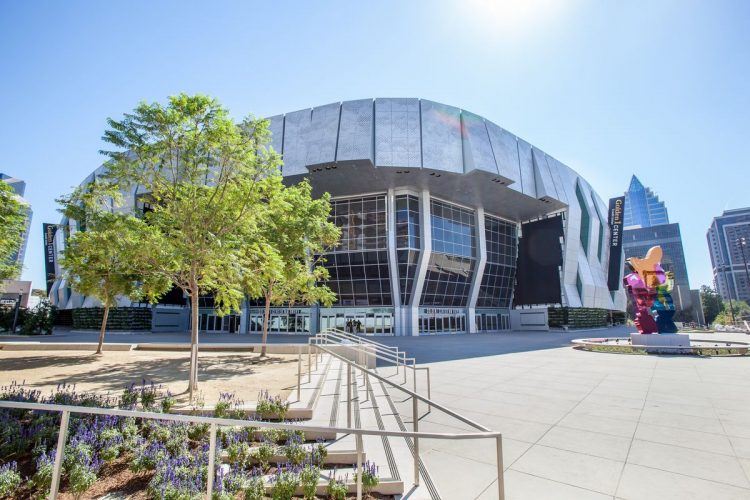 This stadium took years and over half a billion dollars to construct, but it made the most of those resources. It embodies a progressive and thoughtful design, exceeding the technological, structural, and environmental standards of most stadiums.
With an immense technological infrastructure, the stadium is less a venue than it is a completely interactive experience. The building is versatile and makes the most of its downtown Sacramento location. Best of all, it delivers this excellent quality while being friendly to the environment. It may be used for hosting events, but the Golden 1 Center is an attraction in itself.