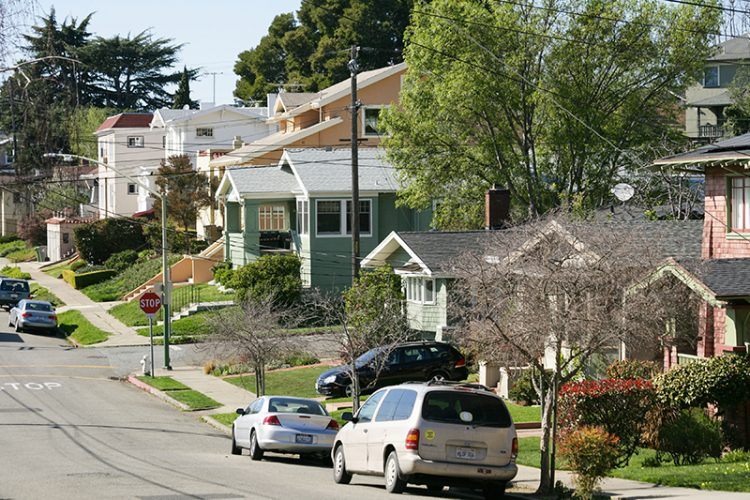 Glenview is a neighborhood in Oakland, California. Located in the lower Oakland foothills, the area has the charm and atmosphere of a small town. It's actually nested into the center of the Oakland and is favorably compared to the more affluent Rockridge area. Current and former residents brag about the quiet, friendly ambiance. The largest age range is 30 to 55 years old. Glenview is proud of its family friendly status and lifestyle for those who desire a little distance from the city.
Leimert Bridge with its panoramic view of the Oakland Bay contributes to this eclectic section. The bridge, which spans Sausal Creek, has been a City of Oakland landmark since 1980. It was designed by George Posey for realtor Walter H. Leimert to develop Oakmore Heights in 1926. The Key System Park Boulevard #18 street car line crossed over the bridge until the 1940's. The streetcar power lines were later converted to street lighting.
The main street, Park Boulevard was once a route for transporting redwood trees, logging and lumber operations were prominent in and around the area in the mid-19th century. Nowadays, businesses are growing and thriving in the Park Boulevard commercial district. Local businesses provide fresh produce, baked goods, and other foods at the Saturday Farmers Market. Convenience stores and shops are available to suit every taste.
The Area
Dimond Park, a lush wooded area, provides one border of Glenview and features the relaxing, stress-free Dimond Canyon Trail and Sausal Creek. Additionally, toddler play equipment, green spaces and the Lion swimming pool, which offers summer swimming programs. Tennis courts and picnic areas abound. Biking and dog walking are encouraged. Birthday parties are often held in the Park. The annual Renaissance Faire is another event to look forward to.
BART (Bay Area Rapid Transit) conveniently stops in Glenview. Local and transbay bus lines are also available. There is also quick access to Highway 580, the spur route of east-west Interstate 80 that runs from San Rafael in the San Francisco Bay Area to Interstate 5 in the Central Valley. The city of San Francisco, with its legendary Golden Gate Bridge and Fisherman's Wharf, is less than an hour's drive from Glenview.
Income
The median income in Glenview is just over $90,000. Regarding crime, the neighborhood is considered to be a green and safe zone, rated 33% safer than other cities in California. Most businesses and homes have state of the art surveillance equipment. This close-knit community prides itself on its walkability, from Point A to Point B doesn't always require getting in the car. Neighbors leave welcome baskets for new comers and the annual block party is a summer highlight.
Presently, Glenview covers 0.69 miles of well-maintained gardens and lawns. The population is just over 6,000, with a diverse mix of homeowners and renters. The land was originally occupied by German immigrants. Today, residents appreciate the laid back atmosphere and many amenities of this streetcar suburb.
Housing
California bungalows and mission revival style houses with views of the city and the Oakland Bay are available in Glenview. The curving streets also showcase many Tudor, Spanish Colonial, and Mediterranean style homes. The average price of houses is $500,000. Prime rentals start at about $1,200 a month. Condominiums, Townhouses, and a variety of rental options are available. For investors or start-up businesses apartment complexes, office buildings, and retail centers may be available also.
Schools
Glenview School District 34 is known for its highly rated schools. The Whole Child educational approach is applied to a diverse cadre of students. The district consists of 2 primary and secondary schools. Glenview Elementary School consistently held an excellent reputation with a rating of 7. Replacement of this school has been approved, actual construction of the new facilities began in June, 2016 and will be completed in June, 2018. There are also several nearby high schools to accommodate those students.
Entertainment
Once you're settled in, it's time to take advantage of Glenview's strip of restaurants. These eateries are affectionately called "Gourmet Ghetto" by locals and are receiving favorable reviews from the East Bay foodies and critics. Blackberry Bistro is pleasantly mandatory for breakfast or brunch, and serves as a gathering spot for the community. A more upscale alternative, Bellancio Restaurant and Wine Bar features Italian cuisine and a selection of wines. Bellancio accommodates tasting menus for lunch, brunch, and dinner. Bellancio is affiliated with San Francisco's popular Aperto. Rumbo Al Sur offers an exciting change, its menu consists of Latin American specialties. Enjoy taco nights and other delights at Rockridge's A Cote's sister restaurant.
Marzano, a neighborhood favorite from 2008 to 2014, has reopened with much acclaim. It's a win-win maneuver that includes new owners and 70% of the former wait and other staff from the glory days. The offerings still include pizza, meatballs, and pan-roasted octopus. The current owners plan to jazz up the menu while continuing the high quality food, service, and atmosphere the location is known for.
Final Thoughts
All in all, if you are new to the Bay area or just looking to relocate, Glenview is the right choice. The spirit of the community is contagious and welcoming. More importantly, the members of this community are dedicated to maintaining their countryside ambiance. For example, the Glenview Elementary Construction Project is committed to adopting additional noise mitigation measures after issues were raised at a community meeting. These actions include installation of a noise barrier on the school yard behind nearby homes. The project contractors have consulted with acoustics, noise, and vibration specialists to address these considerations.
Glenview is attractive for first-time buyers or those looking to upgrade to a larger living space. As one of the most up and coming locales in the United States, it provides the peaceful tranquility of country living minutes away from life in the city. Rest assured that this is an ideal, very safe location to raise children or enjoy a quieter single life. Choose what works for you – three bedrooms and three baths or eight bedrooms with 6 baths. Single-family homes, multi-family homes, sleek condos with amazing views, and split levels are for sale through reputable agents who will work with your concerns and budget.