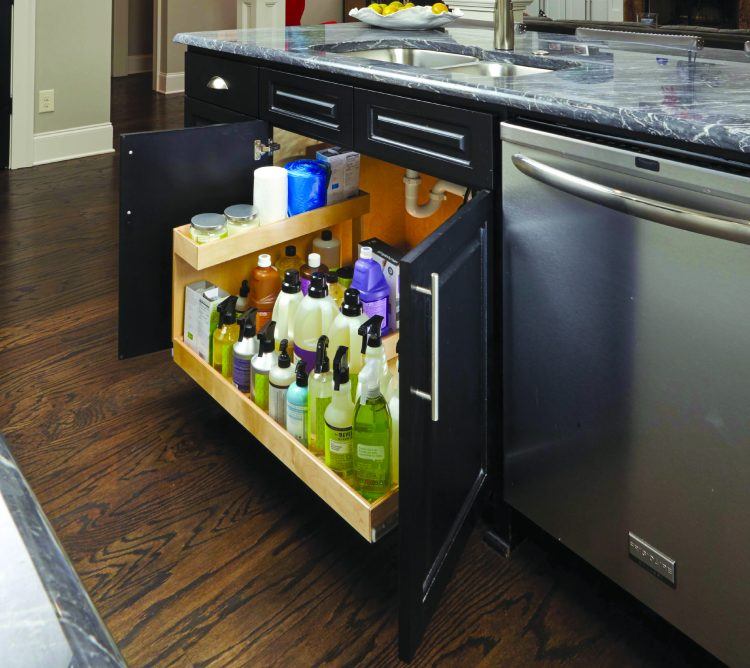 When your guests begin to dig into a beautifully prepared holiday feast, they aren't thinking about the amount of work that went into making it happen. However, for the host, the days and hours leading up to the perfect holiday meal can be a lot to handle– and that stress increases when struggling to find where you hid the pumpkin pie spice, or where you stored that serving dish for the Christmas ham.  In the days leading up to the holiday cooking frenzy, there's no need to overhaul the entire kitchen. Instead, take a few moments to organize and take inventory of key zones within your kitchen space that you'll be using more often and follow these four simple steps.
Cut down on repeat items
There are a lot of items that we have stuffed into our living spaces over the years. It can make looking for stored items more difficult and it can lead you to buy more of something that you already have but can't find. Before you hit the store to buy an expensive ingredient or appliance, go through all your cabinet and drawers – shine a flashlight in the back of cabinets and you may be surprised what you find. If you find that you have eight cans of tomatoes, keep what you can use before it expires and donate the rest to a local food bank. These repeat items take up lots of space and often go to waste.
Create zones in your kitchen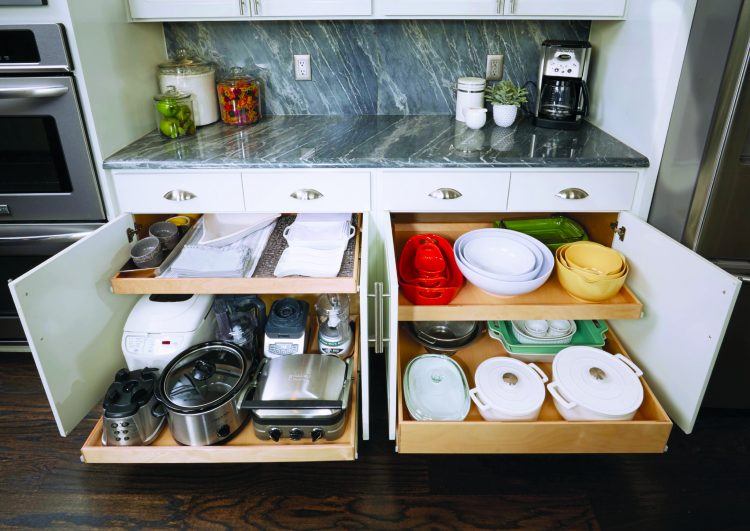 Being able to pull off the perfect holiday feast requires being able to work more efficiently, juggling preparation for appetizers, sides, the main course and dessert all in one area of the home. Helpers can be a welcome sight until they cause more confusion by scrambling all over the kitchen trying to find the right items. Zones can help simplify the process by making it easier for you and your helpers to locate the items they need. Claim separate cabinets for bakeware, kitchenware, countertop appliances, dishes – you name it. You should also have designated drawers for utensils, knives, etc. By creating zones, it'll be easier to remember exactly where to find the pie slicer or the grater – which means cooking, cleaning and unloading the dishwasher will be quick and simple.
Tackle the pantry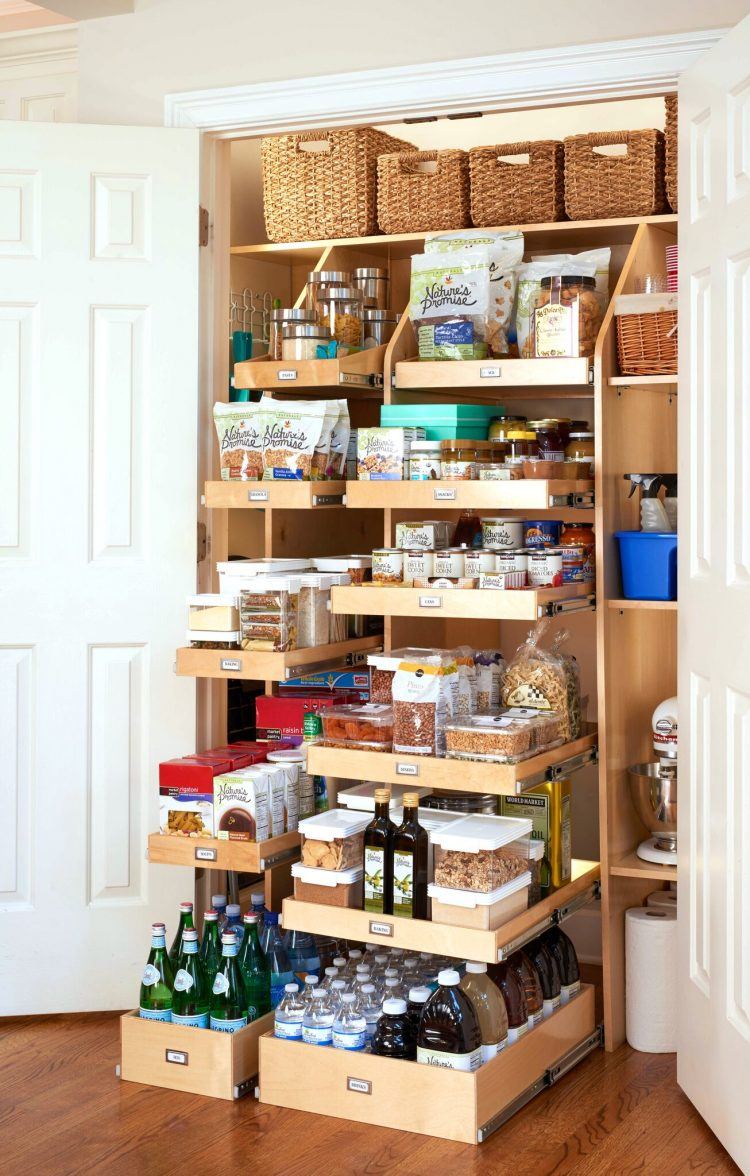 The pantry is sure to get the most use during the holiday season. This can easily be the most frustrating part of the kitchen especially when your pantry is deep and narrow. It makes seeing the items in the back of the pantry nearly impossible and it results in overbuying food items you already have. You can set up an organization system in the pantry in a few simple steps:
Put less commonly-used bulk items on the lower cabinets
Place shorter items (ex. cans) at eye level where the labels are easier to read
When purchasing new items, put those items in the back and move forward existing food items for instant rotation
For a more permanent solution, consider the installation of a customized pantry system, like ShelfGenie Glide-Out shelves which allow for all the various depths and height clearances needed to store pantry items.
Store appliances and cookware strategically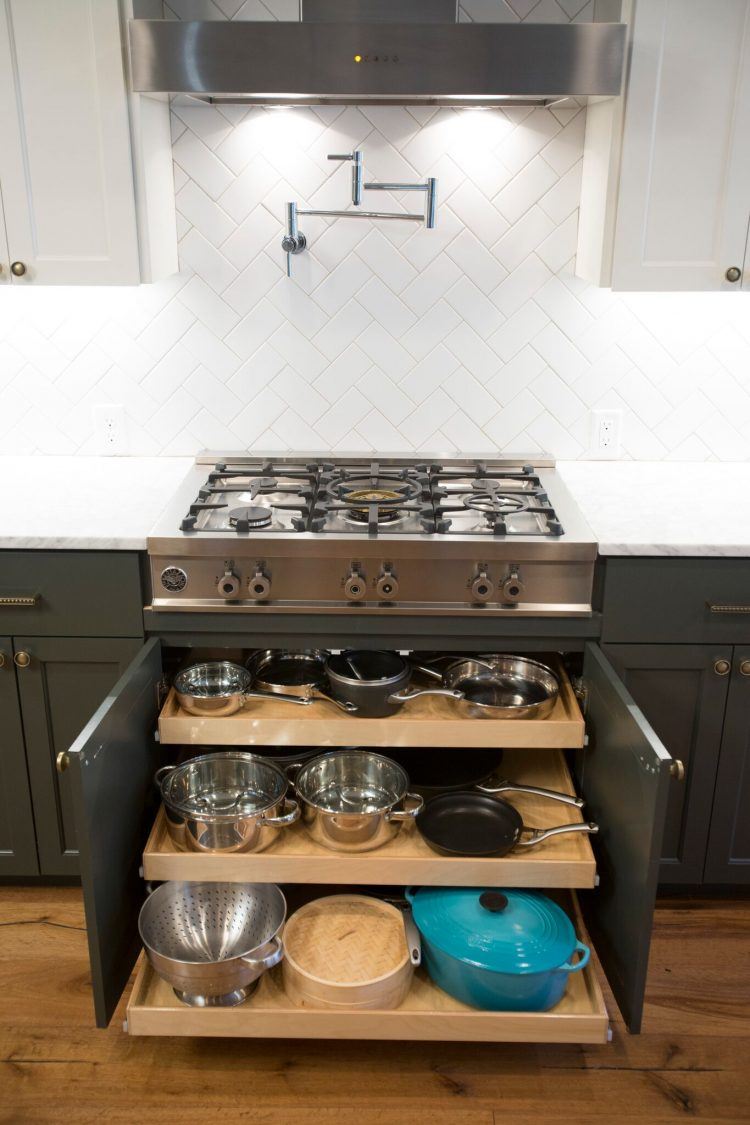 Throughout the year, we tend to rely on only a couple of pots and pans to accomplish meal prep. But with more complex meals being prepared during the holidays, it's a good idea to take inventory of your cooking dishes before diving into cooking. Divide your items into categories: pots, pans, baking pans, and small appliances. Items that are missing their lids or attachments will need to be stored in another area. Once you've taken the full inventory, items that you won't need during the holiday period can be pushed to the back of the shelves and the most needed items along with their lids or attachments should be easy to reach toward the front of the shelves.
Whether you're hosting a small or large group for the holiday meal, taking the time to prepare can go a long way.  Organization should be approached as a lifestyle choice and reflect your interests and activities. When you create your organization wish list, look at how you can enhance your daily routines. The result will be less stress for you and your guests. And with a few simple steps, this holiday can be even more festive when your mind is on enjoying the time with family.
Nina Ward is a designer for ShelfGenie, a leading provider of customized storage solutions for the kitchen, bathrooms and more. To learn more about ShelfGenie's customized pull-out shelves, visit shelfgenie.com