Although HGTV's "Fixer Upper" has only been on the air since April 2014, it has certainly made an impression on viewers. In fact, HGTV considers it, along with "Flip or Flop" and the "House Hunters" franchise, to be one of their powerhouse shows. Of course, it is easy to see why this show is such a fan favorite. You have a gorgeous mom and a handsome dad of four who just happen to absolutely adore each other (and their equally beautiful children) and have a knack for rescuing houses often meant for destruction and transforming them into homes anyone would want to live in. What's not to love?
Sure, you may tune into the show week after week and as a result, think you know everything there is to know about this show and its stars, Chip and Joanna Gaines, but you just might be wrong. From the truth behind the stunning reveals to how the couple first met, here are 20 things you didn't know about "Fixer Upper."
1. All that amazing furniture you see at the big reveal is not really yours.
Many hardcore Fixer Upper fans will probably be saddened to learn that the absolutely gorgeous furniture you see during the reveal is nothing more than loaner furniture. After the cameras leave, so does the furniture, though owners do have the option of purchasing any pieces they want to keep as their own. Unfortunately, most budgets are so tapped out at this point, this is not a real possibility.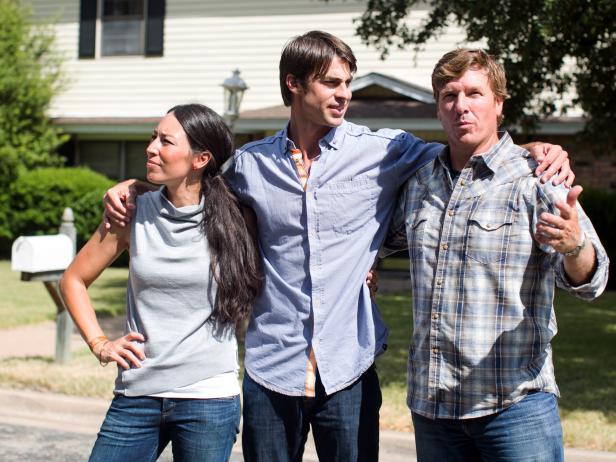 2. On the plus side, they do make over the complete house.
During the big reveal viewers usually see just a few rooms (kitchen, living room/ dining room master bedroom, possibly an office or playroom. and a bathroom or two), but in all actuality the entire house gets a much needed facelift. For example, every room that needs it gets a brand new coat of paint, along with new flooring and even new fixtures, which all hardcore viewers know the rooms are usually in desperate need of. Long story short, you may not get all the fabulous furniture, but at least the walls and floors are in pristine condition.
3. You can buy the furniture you have seen on the show.
All of the furniture showcased during the reveals is on loan from Magnolia Market, Joanna and Chip's business. If you see a piece or two (or fifty) that you can't live without out, you may be able to find it at Magnolia Market online. If that is a bit out of your price range, don't worry, there is plenty of other stuff for sale on the website, including apparel, bath and body products, and even books. The site has plenty of great stuff to choose from, so it is worth taking a minute or two to check it out.
4. Although they both have a degree from Baylor University, that is not where they met.
In 1998, Chip graduated with a bachelor's degree in Business Administration, while Joanna finished up three years later with a bachelor's degree in Communications. (While she was growing up, Joanna dreamed of being a broadcast reporter.) However, they never ran into each other during the short length of time they were both on campus. Instead, Chip happened to see a picture of Joanna at her dad's auto body shop and immediately fell in love. In addition, he caught sight of her in the various TV ads she starred in for her dad's business. He finally got to meet her one day when he stopped by to have work done on his brakes and she just happened to be working behind the counter. The rest, as they say, is history. The couple married in 2003 after dating for a little over a year.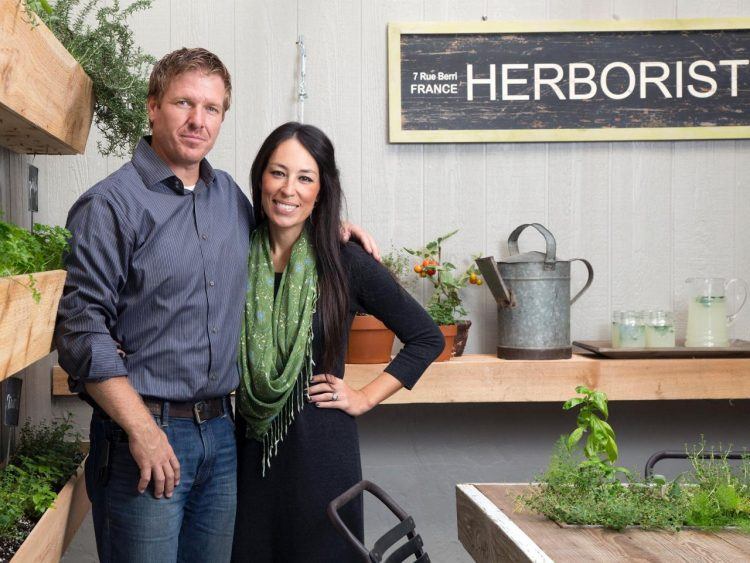 5. Here is what you need to know about their children.
The oldest is Drake (10), who was followed a little over a year later by Ella Rose (9). Two years later, Duke (8) came along. Bringing up the rear is the baby, Emmie Kay (6). Yes, it is boy, girl, boy, girl. It doesn't get any more perfect than that, right?
6. They have too many animals to name (and this doesn't stop Chip from bringing home more from time to time).
With forty acres of land, the Gaines have plenty of room for animals. At last count, they had more than sixty animals, including dogs, cats, chickens, cows, turkeys, horses, and goats. Want proof that Chip is forever bringing home new pets? Check out this quote from season 1 when he brought home a bottle calf. "Baby, listen to me. Any moron can raise four kids, 8 and under, do 14 remodels and — did I say raise four babies? Anybody can do that. We need some cows to keep us, you know, to fill up the dull time." Of course, they kept the calf. By the way, Joanna's favorites are the goats because they are so playful.
7. HGTV first approached them about their own show after stumbling across pictures of a house they had flipped.
HGTV just happened to run across pictures on the blog, Design Mom. After seeing their work, HGTV used the blog to contact the Gaines and before too long a show was in the works.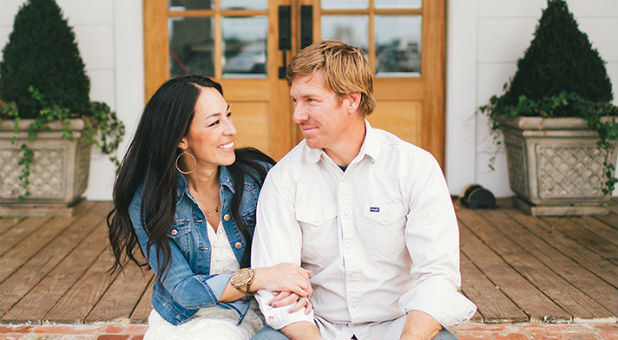 8. They are missing the one thing they need in their own home to watch their show.
Interestingly, the Gaines' home does not have a TV in it. In an interview with Country Living magazine in late 2015, the parents admitted that their home is a TV-free zone. Joanna admits that they never bothered to buy a TV after they got married and still have not got around to purchasing one. However, they were also quick to point out that they do have a great treehouse, which keeps their children occupied for hours at a time. (Of course, they have seen the show. To watch their show, they head over to a close friend's house.)
9. They both have favorite rooms in their own home and they could not be more different.
While Joanna loves the kitchen because it is the "heart of the home" and allows her to look out at the animals while she works, Chip's favorite room is their boys' bedroom. Why? Well, in addition to having a basketball hoop, it has four custom made bunk beds and an Adventure sign. Overall, it is just a fun room that he enjoys spending time in.
10. They share a common design style and philosophy.
Joanna has said on numerous occasions that she prefers a style that is a unique mixture of "simple, clean, and unexpected." Chip admits that he likes "whatever Jo likes." Perhaps what is most interesting is the fact that Joanna has no background in interior design.
11. Chip got the business started, while Joanna just followed him into it.
Chip, actually, flipped his first house while he was still a college student. After graduating, he continued on buying and either flipping or renting properties to college students. Joanna has said, "Once I caught on to the concept of buying something that is undervalued to then put value into it and sell it for a profit, I was hooked, too."
12. They each have a unique hidden talent.
If you are an avid fan of the show, you may already be privy to this information. Joanna can execute a flawless back handspring, while Chip is an expert juggler. They have both displayed their talents on the show.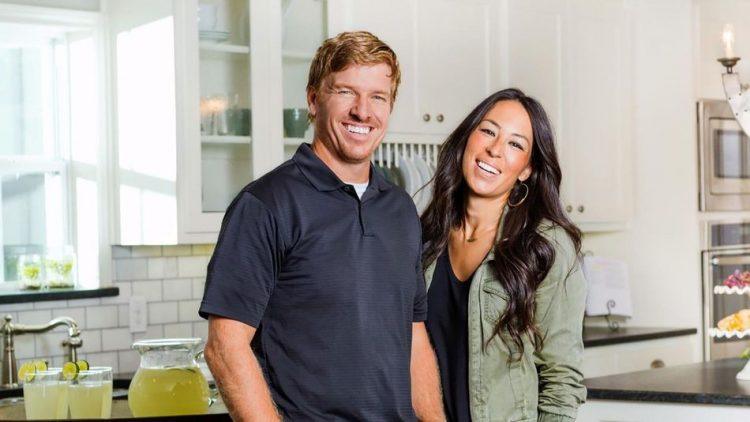 13. They also have unique secret indulgences… hers more so than his.
While Chip's secret indulgence is buying stuff at auction, Joanna is a sucker for all-you-can-eat buffets. Despite her tiny stature, she loves to eat and can apparently put away quite a bit of food. So, what is her favorite thing to see on a buffet? She has admitted that she loves any kind of pasta. Chip, on the other hand, prefers a good chicken fried steak.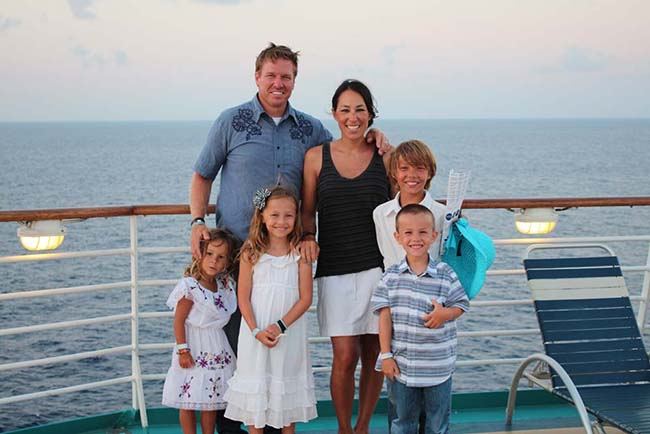 14. Are you wondering what happens to those giant before photos? Obviously, you are.
The photos, which happen to be 12 foot by 12 foot each, for a grand total of 24 feet by 24 feet are folded up and given to the homeowners are the big reveal. While we are at, the posters were a last minute addition to the first show. After sitting around and trying to come up with an interesting and unique way to get the owners to their new home without blindfolding them, the idea was born.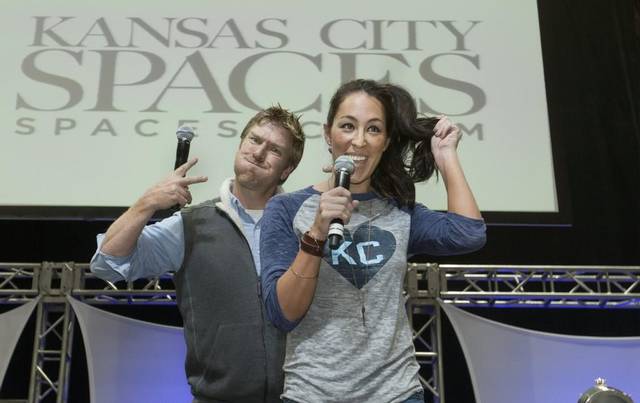 15. Clint has a show of his own in the works.
Clint, you know the incredibly talented carpenter who brings most, if not all, of Joanna's brilliant ideas to life, just may be getting his own show. Currently, he is talks with the DIY network regarding several possible spin-off shows. While the couple would love to keep partnering with him for years, even decades, to come, they have admitted that they know he may eventually want to spread his wings.
16. It kind of goes without saying that they probably won't be expanding their own wings anytime soon…at least outside of Waco.
With four kids, a huge array of animals, and a thriving business in Waco, TX, Chip has said that it would be almost impossible for them to branch out. However, it is not completely out of the realm of possibility. While he may not be able to travel, Joanna could potentially design outside of Waco and use an area contractor to implement her plans. Of course, if this does happen, it will not be in the foreseeable future.
17. If you are thinking to yourself, "I know I have heard of Waco before,"you are right.
From February 28, 1993 until April 19, 1993, Waco was all over the news for being the site of a compound siege belonging to the Branch Davidians, a separated sect of the Seventh-Day Adventist Church. The 51-day siege finally ended with an FBI assault that led to the compound burning down, killing 76 members of the sect, including David Koresh, the infamous leader. Now, two decades later, that is just a distant memory. In fact, the Gaines are committed to investing in the Waco area, while promoting its positive image and making it a great place to live.
18. If you must know, Chip and Joanna do not always agree on everything.
While it is easy to assume, based on how loving and easy going they are on the show, that the couple never argues, that is not the truth. Like every single couple in the world, they have their occasional spat…they just take the time to work through it.
19. The couple makes a good $30,000 for every episode that is filmed.
When potential homeowners agree to be on the show, they agree to invest a minimum of $30,000 into the project. This money is given to Chip and Joanna, who are also paid a talent fee by HGTV. In addition, HGTV pays for the cost of one bonus feature in every episode.
20. If you are wondering just how much the powerful duo is worth, your guess is as good as anyone else's.
Unfortunately for inquiring minds, their net worth is kept a highly guarded secret, at least on the internet. However, it is safe to say, that they are financially stable.