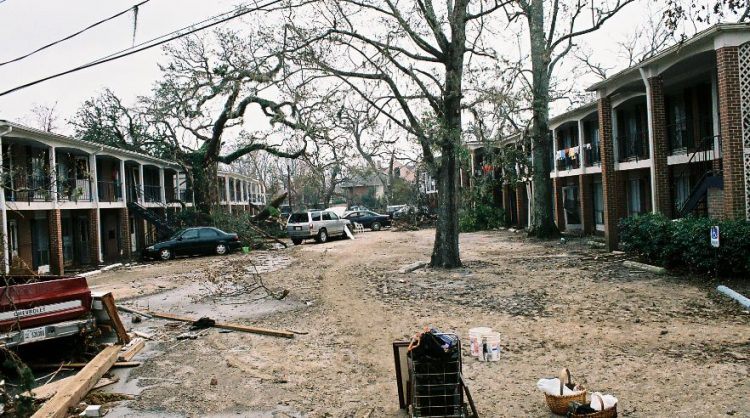 With Hurricane Matthew recently impacting much of the East Coast, many people were scrambling to get their houses and apartments ready for the storm. This included dealing with long lines at the gas pump and empty shelves at grocery store, highlighting the importance of hurricane preparedness long before the storm becomes a threat. This is especially true for apartment complexes with residents on multiple levels, battling strong winds at higher altitudes.
Before the threat of a possible hurricane becomes too real, apartment dwellers should enact a safety strategy to protect themselves using these five tips:
Know your evacuation plan.
Have you looked at an evacuation plan for your apartment building recently? Generally posted in resident common areas, these plans map out your options for getting to safety in the event of an emergency. Take a picture of the map with your phone for easy access or ask your leasing office for a paper copy you can keep with your emergency supplies.
It's also important to reach out to your property management team to see what their plan is for an upcoming storm. Ask how they will keep residents informed during any severe weather, as well as their contingency plan in the event of a power outage.
Meet your neighbors.
Before you have to rely on your neighbors for a match or a spare can of food, consider hosting a small get-together before there is an immediate threat of a storm so everyone can meet and mingle. This is a great time to exchange emergency contact information and ensure everyone has the supplies they need.
You can also discuss an emergency meeting place in advance in case you are asked to evacuate the building due to strong winds. Be sure to note any senior neighbors living alone and check in on them before and after the storm.
Prepare and buy emergency essentials.
Water should be your first priority in an emergency situation, as a person can only live about three days without it. Stock up on water jugs or fill empty two-liter soda bottles with enough tap water for your household and pets. For food, pick up nonperishable items such as canned meat, vegetables and fruit. You can also get rice, pasta, beans or oatmeal if you have access to a camping stove or outside grill for when the storm passes. Other essential items to buy include: flashlights, battery-powered radio, extra batteries, first-aid kit, pliers or wrench, can opener, whistle (to signal for help if you happen to find yourself trapped), solar charger, garbage bags, pet food, hand sanitizer, paper products and local maps.
Remember to also take out cash for these emergency situations, as most card readers and ATMs will not be working if the power goes out. As soon as severe weather alerts start, aim to get cash as quickly as possible to avoid a shortage. Stay prepared and you will avoid long lines and chaos.
Maximize the utility of your space.
Small apartments offer less space to store essential emergency items. One way to solve this problem is to organize and clear up some space by selling, donating or discarding items you no longer use. Consider storing your emergency items in a hall closet, under the bed or behind the couch.
You could even store items underneath a dining room table and hide them from sight using a table cloth. Have an empty suitcase? Utilize that space to store canned food items. Just be sure to keep track of where you keep your supplies in the event of a disorienting power outage.
Consider buying renter's insurance.
If it's not already required by your leasing office, consider purchasing renter's insurance to protect your rental home and belongings. While your landlord is responsible for structural repairs, they will not be held liable for your personal items. Luckily, renter's insurance is relatively inexpensive and the payments can be broken up over the course of a year. Plus, if something happens to your TV or laptop during an emergency, you'll be glad you made the investment.
While this list is a great start, be sure to check with your apartment community for any additional safety measures they recommend. It's also essential to keep a constant eye on the changing weather and be ready to evacuate your apartment home if necessary. Don't wait until last minute to prepare for a hurricane. Start preparing at the start of summer by picking up a few essentials at a time. Remember that the most important thing to protect during a hurricane is yourself and your loved ones.
By: Lynn Edmondson, Regional Manager, Wendover Management, LLC