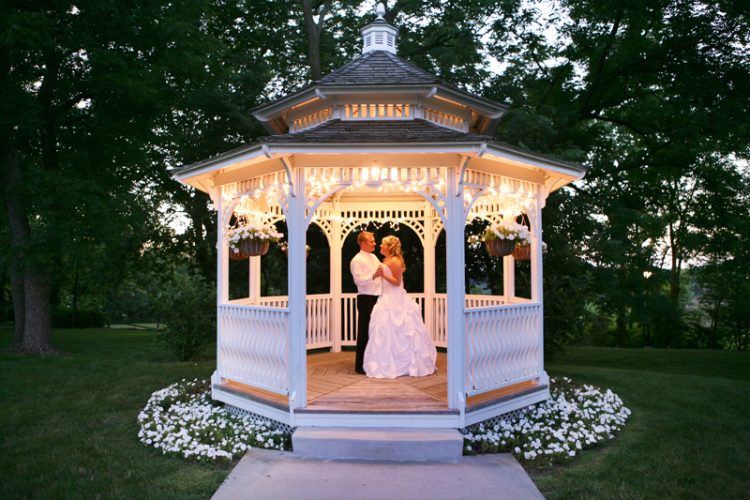 A gazebo is an outdoor structure that is a popular addition to any garden or patio for either decorative or functional purposes. Covered with a roof of some sort but open on all sides, gazebos are perfect for relaxing with friends, a romantic evening outdoors, as the backdrop to a perfectly landscaped yard, or even as an enclosure for a hot tub. Depending on the type of gazebo, it can be accessorized with benches and tables, flower boxes, or insect screens.  Gazebos may be either freestanding or attached to a building or garden wall, so there are a lot of options when it comes to choosing the gazebo that is right for your property.
With a table inside, a gazebo can also be an enjoyable place to eat dinner with family or friends on a balmy summer evening. During the day, a gazebo is a relaxing place to read a book outdoors, watch children play, or soak in the flowers blooming in your garden. Some types of gazebos are purely decorative, meant to be enjoyed from the outside only.
Construction
There are many styles and brands of gazebos available. Depending on what you want to use it for, the amount of space you have available in your backyard, and your landscaping or decorating preferences, you will want to look at different designs and materials for your gazebo.
Gazebos can be constructed from metal, wood, or vinyl. Metal, particularly steel, is often used for gazebos in public areas but is not usually suited for a gazebo in the backyard for both aesthetic and practical reasons. Metal gazebos are heavy, difficult to assemble, and prone to rust after being exposed to the elements. For an at-home gazebo, aluminum can be substituted for steel, which has the benefit of being lighter weight and affordable. Aluminum gazebos often have a fabric roof or canvas canopy.
Wood is a better choice for the backyard, as it is strong enough to handle wind and snow but more elegant than metal. The wood is also treated for weather and insect resistance, so wood gazebos are long-lasting. The most common types of wood used for gazebos are cedar and redwood.
Gazebos can also be made of vinyl, which is capable of creating the same intricate designs as wood gazebos but tends to look like plastic. The choice of material for a gazebo is a matter of personal preference, as each type of gazebo can be constructed from each material. Whatever the choice of gazebo type and material, you can add a gazebo to your property either by hiring a contractor or by buying a precut gazebo kit to assemble yourself. Despite being the budget-friendly option, gazebo kits come in a wide variety of styles and elaborate designs.
Here are the 5 main types of gazebos:
Folly Gazebo
A folly is a building constructed for ornamental purposes only. Follies originated centuries ago on the estates of the wealthy, often with extravagant designs or made to look like ancient ruins. Similarly, a folly gazebo is intended for decoration only, not to be used. This type of gazebo is added to a garden as ornamentation, to look at from afar. Despite being purely decorative, folly gazebos come in a range of sizes and designs. Delicate and often extravagant, they accentuate the landscaping and can provide an elegant backdrop to your flowerbeds.
Rotunda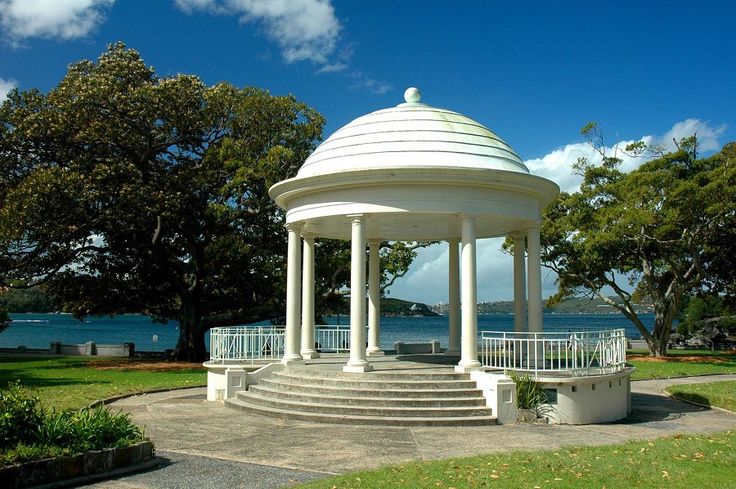 A rotunda is a large, circular gazebo. Rotundas typically consist of a ring of simple pillars that support a domed roof. This gazebo style originates in Europe, and the rotunda has become a typical architectural style for buildings as well. The rotunda in a building refers to a circular room with a domed roof. The same is true for a rotunda gazebo, except that it has no walls and stands on its own.
Pagoda
Pagodas originated in Japan as large, wooden buildings for religious purposes. Wooden gazebos in the pagoda style have a intricate design that serves as a beautiful garden ornament. Pagoda style gazebos can also be functional, however, not just ornamental. In any case, pagoda gazebos are marked by their oriental style, most noticable in the curving, pointed roof. The roof may even be two- or three-tiered, mimicking the many-tiered roofs of pagodas in Asia. In addition to pillars supporting the roof, pagoda style gazebos often have intricate, lacy woodwork designs on the sides, often up to about knee- or waist-height.
Pavilion
A pavilion is an open-sided, relatively simple type of gazebo. This open-air gazebo is often rectangular, supported by only four columns. The roof is also typically simple, more functional than ornamental. A larger pavilion may have more columns out of necessity. Pavilions are often located close to a main building and are typically used as a gathering place for events and parties, as they tend to be quite large and can easily be filled with furniture or have a lot of standing room. This type of gazebo is perfect for outdoor parties where the guests would appreciate the combination of fresh air and having a roof over their heads.
Pergola
A pergola is a framework for supporting climbing plants, often with a lattice roof. The pergola is long and functional, and the focus of this structure is on the vines or other climbing plants that cover it. The roof, which may either be open or closed, is supported by simple, sturdy pillars for the plants to climb up. A pergola can be used as a sitting area, to relax in the shade of the plants climbing up its sides and roof, or it can form a shaded walkway or passageway. In public gardens, pergolas are often used to create flowery, shaded walkways and can be quite large. A pergola is similar to an arbour, the main difference being that arbours are generally smaller with integrated seating. A popular use of a pergola is as an extension of the house or terrace, or as a walkway between pavilions.