Most people take for granted just how useful desk lamps can be, but use a poorly designed one and you'll start to appreciate the ones that were thoughtfully made. Lamps are essential for studying and work spaces, and they can also be useful anytime you want extra task lighting, have a desire to create a reading nook, or if you prefer decor that's as functional as it is appealing. These days desk lighting can be found in a wide range of styles, and they also come equipped with some neat features. Here are five top rated desk lamps with a price tag under $50.
1. Normande Desk Lamp with Outlets, $24
This desk lamp from Normande is handsome, has a sleek profile, and it's versatile. It could easily fit into an executive's office, a home library, or a dorm room. What's nice about this model is that it's energy efficient and uses CFL bulbs. The lamp also has two electrical outlets integrated into its base — if you need to plug in your phone, tablet, or laptop charger, with this lamp you won't have to go hunting for an outlet.
The lamp is operated via a rotary switch, and it's weighted for stability. When the gooseneck is stretched tall the lamp measures 18 inches, and its brushed steel finish looks quite attractive. The finish of the design is what makes the lamp an easy pick for just about any decor style — it's an easy way to add an effortless touch of style to your work space. For even more convenience, this Normande model comes with a bulb, so you can get started enjoying it right out of the box.
2. TaoTronics Elune Desk Lamp, $28
The TaoTronics Elune looks a bit different from the typical desk lamp, and it definitely has a modern profile. If you're looking for a lamp with some awesome tech features included, but you don't want to spend a ton of money, this one is a great pick. It has four mood lighting modes and five levels of brightness, which is an excellent range of customization for a lamp at this price point. It also uses energy efficient LED lights and has a touch sensitive control panel.
A USB charging port is integrated into the design, and one of the stand out features of the lamp is its one hour auto timer. The timer, awesome features, and style of the lamp all combine into a great office accessory that you'll wonder how you did without. This particular model is available in deep black or white, so there won't be any problems incorporating it into the look of your room.
One of the complaints that many have about desk lamps is that they can be harsh on the eyes. This is especially true of lamps that still use traditional light bulbs, but TOZO's LED desk lamp seeks to change that problem. It's a portable, folding lamp that's great for reading, task lighting, and it's also nice to have around in the office.
Because the light doesn't flicker, it's gentle on the eyes and makes for a more effective lighting solution. Its foldable design and small size allow this lamp to fit into just about any space, and the style is attractive. The lamp includes three different lighting modes and five levels of brightness — simply dim it to your desired level using the touch control panel, and you'll be good to go. Because it's so easy to use and compact, this TOZO desk lamp is a favorite of college students and those with modestly sized digs.
4. Tomons Wooden Swing Arm Desk Lamp, $35
Let's say you're someone who is very conscious about the look of every accessory in your home, and you want nothing to do with a desk lamp that doesn't verge on being a piece of decor itself. The lamp for you would be the Tomons Swing Arm lamp, which comes in three gorgeous colors: soft mint green, white, and black.
What's great about the design is that it incorporates wooden arms instead of the typical metal gooseneck. Solid wood lends this lamp ample sturdiness, and the color choices are ideal for rooms with a modern, contemporary, or eclectic style. You could even fit this lamp into a transitional, farmhouse, or rustic space with no problem due to the wood elements.
It's easy to adjust the height and angle of the light, and storing the lamp is a cinch. While this model doesn't boast the tech that others do, remember that it's an option for the design conscious person who's seeking attractive task lighting. It does what it was meant to do exceedingly well, all while looking great.
5. Ledgle LCD Screen Desk Lamp, $36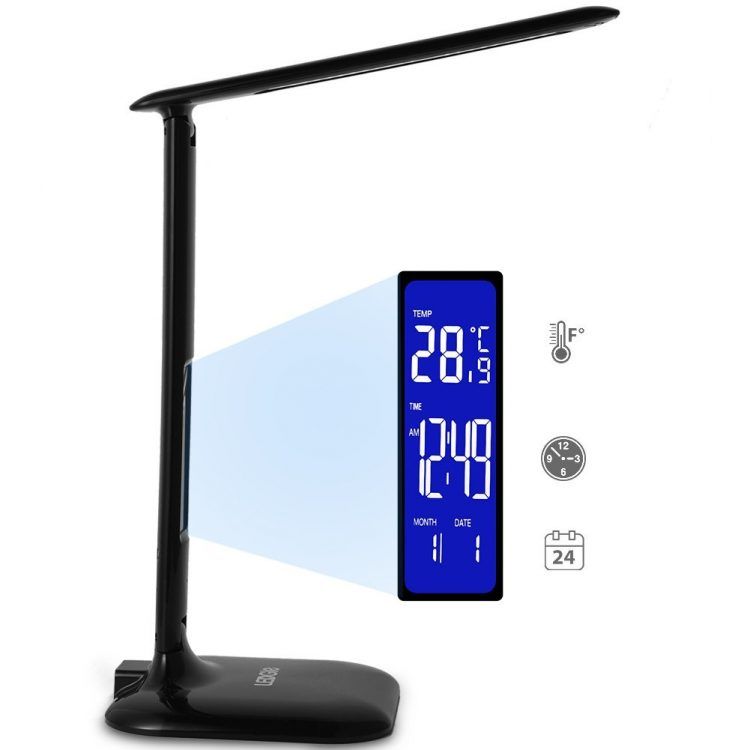 Desk lamps have gotten increasingly feature packed, and one of the more impressive tech filled models on the market is the Ledgle desk lamp. It combines the best of all worlds into a sleek, compact light that you can take just about anywhere. The LED light that it uses is eye friendly, adjust able to five levels, and reduces the chance of eye strain.
There are three color modes available — warm white, natural white, and cold white — and each is suited for the specific tasks of working, reading, or relaxing. Going towards the base of the lamp is an LCD display with a digital clock, alarm and timer, temperature display, and the date. You can set a morning alarm with it, use it to time yourself for higher productivity, or simply eliminate your desk clock. This desk lamp performs so many functions that it can replace a variety of office gadgets. The touch sensitive controls are another plus that makes this an excellent desk lamp.