If it's winter, you should be preparing your arsenal for coping with the dreaded snow. Some people have to add snow blowers to their assortment of equipment but this depends on the kind of terrain and average snowfall. The price for this equipment varies with factors such as heaviness of the snowfalls contributing to the amount you will part with in the end. A point to note is that the ideal snow blower in the market can deal with different amounts of snow, ranging from a precipitation going several feet to just a light powder.
When buying a snow blower, some people think that it will always operate at an optimum. This is not always the case as well-maintained snow blowers encounter problems as well. In such cases, you should have some extra items with you for optimal performance of the equipment when you need it the most. Some of these items include a drive belt for the single –stage machine and two drive belts for the two- stage models.
You will also need shear pins for two-stage models to ensure that the transmission and engine do not get any damages in case they hit something hard. Fuel stabilizers are important as well because when the equipment sits idle for some time with gas in its tank, carburetor and fuel lines break down and thicken Stabilizers help to slow down the above process. Some of the important considerations when buying a snow blower include its ability to remove snow, maneuverability, and ergonomics, features, and price. Below are the five quality Snowblowers you can buy this winter for your home.
The Poulan PRO PR270 is gas-powered and comes with an electric start. It stands 27 inches in width and 23 inches depth. This equipment is ideal for those living in regions with moderate to light snowfall. The Poulan Pro PR270 weighs 240 pounds, making it extremely efficient at doing substantial work. Its handles are ideal as far as ergonomics are concerned. There are also a good and efficient drive system and large wheels that will give you six forward speeds. You can use reverse as well with this model.
The Poulan PRO PR270 has a pull-start mechanism which is standard with gas-powered snow blowers. Additionally, there is a push-button which is optional for electric starting. You can access all the main functions through its control panel that is mounted between its bars. The snow blower also features a skid plate that you can adjust when you are working on different surfaces. The Poulan PRO PR270 is currently priced at $1041.
The GreenWorks 26032 has a 10 inches depth and 20-inch clearing path. It can move 850 lbs every minute, while its throw distance goes up to twenty-five feet. It is a corded machine as well. GreenWorks 26032 weighs 37 pounds, making it easily maneuverable. It feels just like mid-sized lawn mowers. There is also an adjustment feature for the handle height, which provides extra comfort. It is ideal for lighter snowfalls.
The GreenWorks 26032 is eco-friendly because it does not create any emissions. It also features an easy to start push button and a cord for safety. If the area you want to work on is big, you may need to buy another cord. The average price of this model is $179. If you have minimal needs for snow blowing, the cost is ideal.
When it comes to clearing snow, the Toro 38381 will offer you an 18-inch clearing path as well as 12 inches depth. The snow blower can go up to 750 pounds of snow every minute using a 30 feet throw distance. The ability of this model to remove snow will depend on the weather condition because it uses electricity to power. The Toro 38381 does not have powdered drive on its wheels. Weighing 25 pounds, this model uses Power Curve technology to remove snow faster as compared to the others.
Air pollution is not a problem when using the Toro 38381 because it does not have any emissions. It features a power curve system that helps to remove as much snow as possible with one pass and contributes to reducing any cloggings. If you want maximum efficiency, you may have to invest in a good extension cord. There is also a zip deflector that will adjust the snow throwing height as well as a handle that will let you change direction quickly. The Toro 38381 model will cost you $363, on average. The model is rated as light to medium duty.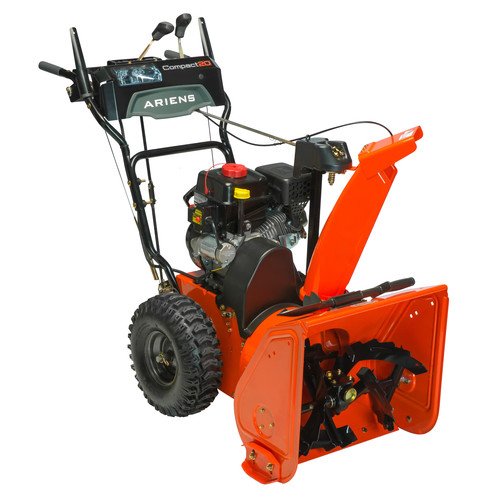 Ariens 921030 Deluxe is a two-stage snow blower that can remove a wide oath of 28 inches and 21 inches depth. You can throw snow at a 50 feet distance using this model. The Ariens 921030ia a heavy machine weighing 275 pounds. It offers two reverse speeds and six forward speeds. This snow blower is two-stage equipment that moves on tracks and not wheels like the other machines. This gives it superior handling whenever you are working on hard surfaces.
Among the prominent features of the Ariens 921030 is a Briggs & Stratton engine which is very reliable. This is despite it being less powerful with just 254cc unit. Other features include a control panel, electric starting, and a halogen headlight for enabling users to remove snow whether it is night or day. The price of the Ariens 921030 is $1187.
The Husqvarna ST224 will offer you a clearing of 24 inches while its depth stands at 23 inches. The machine can throw snow up to 65 feet. The Husqvarna ST224 weighs 240 pounds with impressive overall dimensions. The machine comes with hydrostatic power drive that will enable you to go anywhere, thus letting you control through variable reverse and forward speeds. Considering its ability to clear snow, most people do not mind its size.
You have a choice of power steering as well. The machine features a 208cc LCT motor and electric start option. There is also a control panel, ultra-convenient LED headlight and comfortable heated handles. The average price of the Husqvarna ST224 is $969. It is ideal for harsh winters.