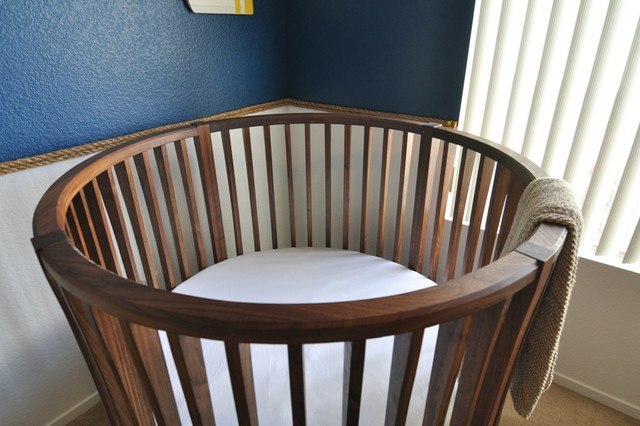 While preparing for your baby's arrival, one of the most important purchases that you'll make is a crib. There are a seemingly endless number of options in stores, from those with orate designs to minimalist styles and cribs with classic profiles. One type of baby bed that's becoming increasingly popular is the round crib. As opposed to traditional infant beds that have a rectangular shape, round baby cribs have a smaller footprint and are circular or oval. If you're looking for a crib with a unique look and safety features, a round baby crib is well worth considering.
Round Crib Advantages
It's amazing how much changing the shape of an object can alter its function, and that's the case when it comes to circular baby beds. Round cribs are still less common than square and rectangular ones, but their unique design gives this type of baby bed key benefits. Compared to traditionally shaped cribs, round cribs have some significant advantages.
Smaller Size
Round cribs have a more compact footprint than traditional cribs and are a lot less bulky. Round options tend to be more sleek and don't look heavy at all, while that's not the case for most square and rectangular cribs. It's easier for rectangular cribs to visually overwhelm a space, especially smaller nurseries. If you need to fit your baby's crib in a small room or in a corner of your own bedroom, a round bed is a good option.
Design Flexibility
Rectangular and square cribs are best placed against a wall, but round baby cribs can fit anywhere in a nursery, from a corner to the center of the room. Whereas a traditional crib can look bulky and awkward when placed anywhere other than along a wall, round cribs fit into a wide range of decorating styles and room plans. Round baby beds also work well in shared rooms with older siblings.
Less Risk
Much of the risk of traditional cribs lies in their sharp corners — this is why parents often choose to outfit rectangular cribs with bumpers, corner guards, and rail guards. Because they have no corners, round cribs pose less of a hazard and it's less likely that your baby will get injured with one in the room. Round baby cribs also eliminate the risk of your baby falling into one of the bed's corners and getting stuck.
Easier Access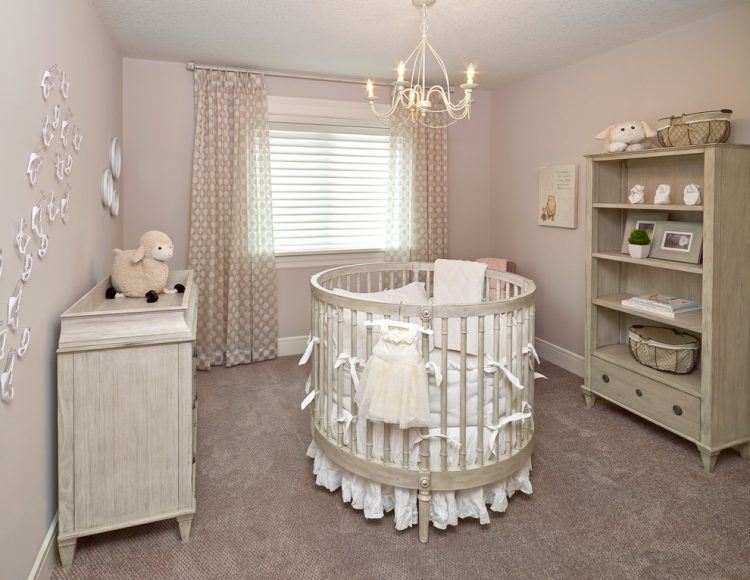 When you need to get to your baby in a traditional crib, you typically only have access to one long side since rectangular baby beds are usually placed along walls. With a round crib, you don't have to worry about quickly getting to your baby as you'll be able to get into the crib from any angle.
Gorgeous Aesthetics
This advantage isn't about practicality, but your newborn's room should be an eye-pleasing space and round baby cribs certainly have a unique, beautiful look. The craftsmanship that goes into this type of crib is typically very high quality and most round cribs are heirloom quality. It's a lovely piece of furniture that can be used by your baby and then passed down through several generations. Round cribs are also perfect for parents who want to add a unique focal point to their baby's room.
Shopping for a Round Crib
It's important to carefully shop around before deciding to purchase your baby's bed, and quality is key whether you're looking for a traditional or round crib. If you're aiming to get the most value, choose a round crib that can transition into a toddler bed — just like traditional cribs, there are circular and oval models that will grow with your child and can be used from infancy through the preschool years.
One concern that some parents have about circular cribs is the smaller size — if you think you'll have a particularly long baby, you may be wary about investing in a round crib only to have your child outgrow it within his first year. One solution is to opt for an oval crib. Oval cribs are a circular variety that combine the best of oval and traditional rectangular baby beds: you'll get the high end look and safety features of a round crib with the longer length of a rectangle-shaped crib.
Price is another concern that many people have when shopping for round baby cribs. It's true that this style of crib is typically more expensive than regular ones, but you have to consider what's most important to you. If you're worried about style more than value, a round crib may be worth the splurge. Also, if you plan to have more children in the future, the quality of a good round bed will last through several babies without showing much wear or loosing its stability. Your baby's crib is one thing that you should invest in, and compared to well-crafted rectangle and square cribs, circular baby beds aren't much higher in price. One way to make round cribs less costly is to ditch the extra options. You'll notice that round cribs often have the option of including canopies, lower shelves for baskets, and other decorative add-ons that aren't necessary. By choosing the base model that has no decorative accompaniments, you'll save a considerable amount and the price of owning a circular crib will become more affordable.
For safety's sake, ensure that the round baby crib you choose has a snug mattress. Tightly fitting mattresses significantly decrease the chance that your baby will fall between the crib rails and the mattress, which can cause suffocation and injury. You also want to make sure that the design of the round crib is deep enough so that your child won't easily fall out of it once he or she starts pulling up and trying to walk.
The many benefits of owning a well-made round crib make them a joy to own. If you want to save space, would like to add a special decorative element to your baby's room that's also functional, or you prefer to buy heirloom quality furniture, a round baby crib may be the best option for your nursery.