FormaFatal is a design firm based in the Czech Republic that focuses on product and interior design, architecture, and exhibit installation. The company was founded by Dagmar Stepanova, a visionary architect who brought five more designers onto his team to create a collective of talented individuals who have worked on a number of stunning projects. Their work has been featured in several major architecture, lifestyle, and industry publications and FormaFatal has been recognized for how well the team's designs meld practicality with artful elements and a clean aesthetic.
Some of the work that FormaFatal does is for private residences, while other projects are for retail companies and public interior spaces. Each project is thoughtfully designed and built for function first — the firm believes that every environment they design should support the daily activities of the people who will live and work there. There's plenty of beauty in each home, office, and interior that this studio has developed, and the team's enthusiasm for their work shows in their completed projects.
Here are five of the most gorgeous spaces that FormaFatal has created.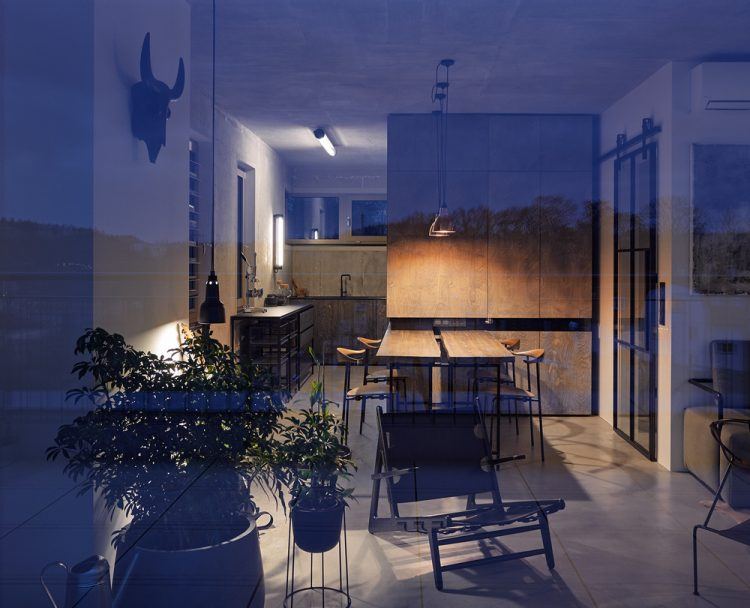 Loft Hrebenky is a private residence in Prague that was designed by FormaFatal in 2015. The space is very well appointed and well put together — it looks like something that could easily earn a spot in a top interior design magazine. The team selected a neutral color palette that's warm enough to keep the space from feeling sterile. A smattering of green plants makes the home more welcoming, while the choice of interior decor gives it a masculine and playful edge.
FormaFatal's choices for the furniture in this house are interesting, as they're obviously of high quality but are also understated in their style. The furniture and storage are also smart and multi-functional, which is important to maximize space and make the interior feel more open. FormaFatal also did an excellent job of using light in the space and bringing in natural elements.
Czech chef Dita P. is a celebrity in Prague, and FormaFatal designed the set for her gourmet television show in 2013. It's the perfect background for her creations and it embodies the personality that she exudes. The color scheme of light cream and black makes for a classic and attractive combo, while using decorative motifs throughout the set gives it a feminine touch. FormaFatal obviously paid attention to functionality when creating this space, and they perfectly nailed the kitchen work triangle while ensuring the area is optimal for filming. Using quality appliances that not only look good but perform well is also a key element of the project.
What's notable is that this TV set is quite smaller than those used for American cooking shows, but it's so well planned that it packs a ton of efficiency and style into a small area. There's a place for everything and plenty of storage, yet the set doesn't look cookie-cutter or boring at all. There's even a dedicated area to display Dita P.'s collection of dishware.
Tucked onto a street in Prague is Gran Fierro, a restaurant and cocktail bar that focuses on serving authentic Argentinian steak. FormaFatal created its distinctive interior in 2014, which is at once modern and a great backdrop for the eatery's menu. There's also many elements within the design that reflect Gran Fiero's overall vibe and its clientele, which explains why the look of the restaurant is so popular with those who dine there.
There are rustic and industrial features in the space, and the faux bull's head in particular is a nice touch that adds character to the restaurant while not detracting from its modern appearance. A host of neutral colors is seen throughout the restaurant, including gunmetal gray, walnut, tan, and cream, but the one bold color that stands out is sky blue. FormaFatal used it as an accent on the walls, furnishings, and light fixtures — there's just enough of the color to bring visual interest to the dining space.
The cork apartment was designed by FormaFatal for a private client in 2015, and it's an excellent example of how best to make organic elements the highlight of a space. The apartment gets its name from the fact that cork is used throughout the home — it's incorporated into the wall, used for furnishings, flooring, light fixtures, and decor. The key to making this work is moderation. Instead of seeing one huge expanse of cork, you see bits and pieces of it throughout the apartment so it's not overwhelming or tacky.
Aside from the cork elements, the space is attractively designed and has a minimalist aesthetic. Those who are keen on this type of modern style will appreciate the kitchen in particular, which veers towards being stark. Here again, the cork comes in handy and brings enough warmth to the area to keep its lack of decorations and color from being too extreme.
FormaFatal designed the distinguished interior for the reception area of Prague's Millennium Plaza in 2015, and it was completed in 2016. One of the highlights of the space is a custom designed chandelier that FormaFatal worked with Studio Dechem to create. This one piece is sleek, futuristic, and embodies the vibe of the office building. Millennium Plaza's reception area shows that a professional setting can be attractive and modern without being a distraction. If the look of the space could be summed up in one word, "upscale" would be the best fit.
Using polished metal accents throughout the reception area gives it a luxurious look and feel, yet it's not at all pretentious. The clean lines that dominate the space were softened by inserting a bit of color throughout the room in the form of vases of flowers, rugs, and seating. The result is a reception area that's appealing, welcoming to visitors, and highly functional.