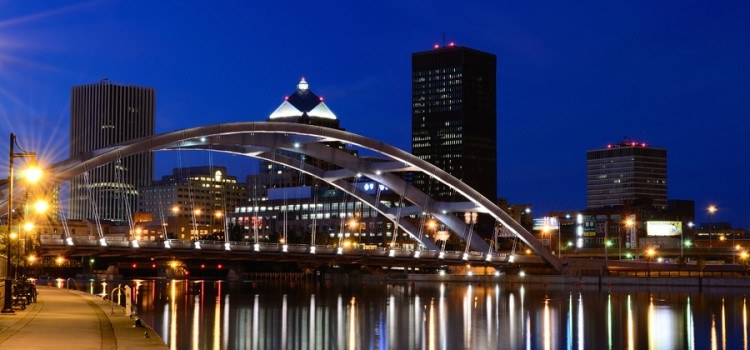 Rochester is one of the biggest cities in the state of New York. However, if you're not from the area, you may have never even heard of Rochester. In fact, like every other place in New York that isn't "the city" Rochester is often overlooked by the five boroughs that millions of people call home. But despite not being a popular tourist attraction, Rochester is an interesting place with a cool history. Sure, it may not be as busy at the Big Apple, but it's still got some interesting things going on. If you ever find yourself in the area and are looking for some cool things to do, you won't have to look too hard. Here are five fun thing to do in Rochester NY.
High Falls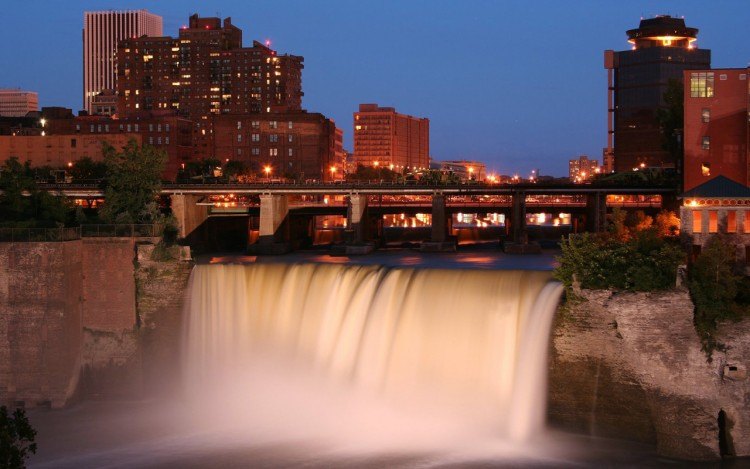 If you love spending time outdoors — and even if you don't –, you'll definitely want to make a stop by High Falls. Located on the Genesee River, High Falls consists of three beautiful waterfalls that flow through the entire city. During the city's early industrial days, the falls played an important part in Rochester's development. These days, the falls serve as a popular attraction for countless residents and visitors, and it's very easy to see why.
image via www.newyork-wallpapers.com
Rochester Public Market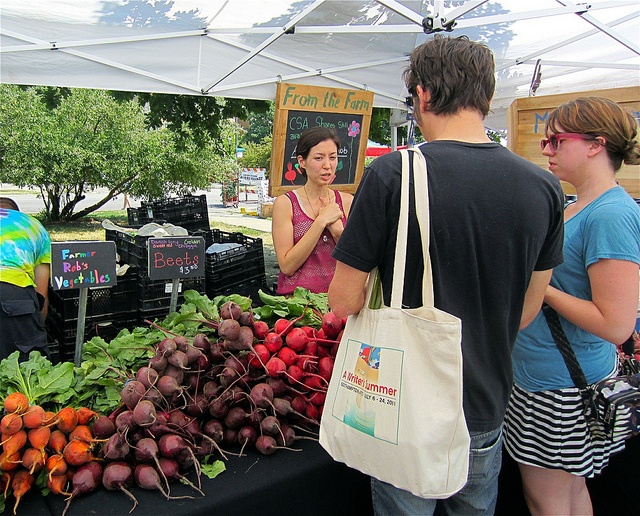 With people constantly becoming more and more health conscious, farmers markets are becoming even more popular. Rochester's Public Market is one of the most popular in the country, and if you're looking for a great way to spend a beautiful day, stopping by is a must. According to the city of Rochester's official website, "Rochester's City-run Public Market has served the community at its 280 N. Union Street site since 1905. Bargains and local goodness abound Tuesday, Thursday and Saturday, 52 weeks a year. Vendors–over 300 on Saturdays!–offer fresh produce, ethnic delicacies, specialty items, general merchandise, and so much more. In addition, an array of independent local businesses–cafes, food stands, coffee shops, florists, specialty food purveyors, breweries, and more–can be found on Market grounds and in the surrounding Market District." The market is open year-round on Tuesdays and Thursdays from 6AM to 1PM and Saturdays from 5AM to 3PM.
image via www.zagat.com
Artisanworks
You may have been to plenty of art exhibits in your life, but you've never seen anything like Rochester NY's Artisanworks. This incredible art-friendly space consists of thousands of pieces that are hosted in a 40,000 square-foot space. Visitors can enjoy various forms of art, and may even get the chance to watch several artists work on their pieces live. Admission for adults is just $12, and Artisanworks is open Fridays and Saturdays from 11AM-6PM, Sundays from 12PM-5PM.
image via www.twintravelconcepts.com
The National Museum of Play
Let's be real, museums aren't always something that people would consider fun. However, The National Museum of Play is a completely different story. Opened to the public in 1982, the museum is "devoted solely to the study of play," and the museum features several interactive exhibits that give visitors a chance to have a little fun. Although this is technically a children's museum, it's a pretty exciting attraction for people of all ages, and if you do have kids, then you'll have even more of a reason to go. The museum is $14 for guests 2-years-old and older, and is open Monday-Thursday 10AM-5PM, Friday and Thursday 10AM-8PM, and Sunday 12pM-5PM.
image via www.havingfunrightnow.com
Seabreeze Amusement Park
Amusement parks are always a good time, and Rochester's Seabreeze is no exception. Opened in 1879, the park is the 12th oldest amusement park in the world and the fourth oldest in the United States. The park's Jack Rabbit rollercoaster is the fourth oldest operating roller coaster in the world, and the oldest continuously operating roller coaster in the United States. Over the years, it has become the park's main attraction, and Seabreeze has proven to be a great place for the whole family to enjoy. If you love the thrill of rides and are looking for a fun activity for the family, make sure to add Seabreeze to your list.
image via bigshot.cias.rit.edu
lead image via www.brightonreserve.com