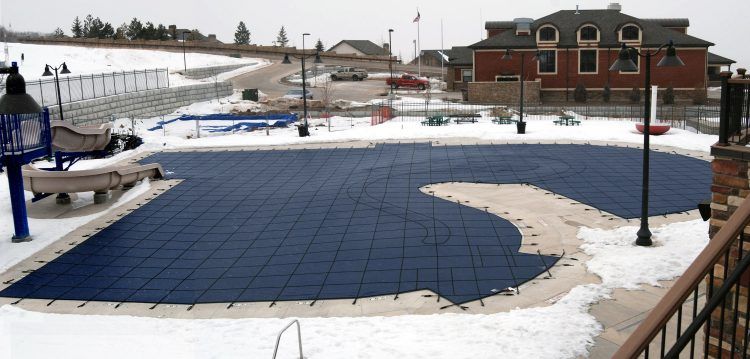 The weather is getting cooler and soon it will be time to cover up the pool. Your swimming pool is an investment that needs to be protected when it's in use and when it's not. With this in mind, not all pool covers are equal in strength and quality. The ones that are made from inferior materials or manufactured too thin can break and lead to water contamination from debris and moisture from the weather. If you're not sure where to get high quality pool supplies, here are five companies who make the best pool covers.
1. Pool Cover Center
This company offers all types and sizes of covers for pools including above ground and in ground models. What makes them so special is that they are up front about the grades of materials used for each cover. While some companies make you request a quote, Pool Cover Center has a handy chart that gives you all of the specifications including the price. Here are some of the quality pool covers that they have to offer.
Robelle Value Line Solid Winter Cover (Solid polyurethane)
Robelle's value line covers come in a choice of midnight bue or azure. They feature 7×7 threads per sq in and the cover comes with a cable and winch. The 15 sq ft size is regularly $49.99 and on sale for $27.98 with an 8 year warranty.
Robelle Dura Guard Solid Winter Cover for 12′ Round Above Ground Pool (Solid Deluxe Polyethylene cover)
The Dura Guard features 8×8 threads per sq in available in green, silver and blue. Cable and winch included. The 16 ft cover is regular priced is $49.99 on sale for $29.99. It comes with a 10 year warranty.
Robelle Platinum Solid Winter Cover for 12′ Round Above Ground Pool(Solid Heavy-Duty Polyethylene Cover)
The Platinum features 12×12 threads per sq in and is available in green, sand and silver colors. Comes with cable and winch. Regular price is $54.99 on sale for $34.98. 12 year warranty.
This company has received a 4 out of 5 star rating by customers.
http://www.poolcovercenter.com/
2. National Discount Pool Supplies
This company provides high quality HPI safety pool covers. Features of the covers include American made manufacturing by HPI with straps running on bottom and top of each cover to strenthen the integrity of the cover, tight scrim count and use of the most heavy weight materials available. Quality checks are performed throughout the entire manufacturing process, reinforced webbing and triple stitching add greater strength. Each safety pool cover comes with springs, anchors, an installation bar and a storage bag. Covers may be customized to fit pool size. The prices start at $679 regular but are currently on sale for $329.99.
http://www.nationaldiscountpoolsupplies.com/
3. Mighty Covers
Mighty Covers offers swimming pool covers for multiple pool styles with custom covers available. The price range varies along with the quality of the cover. Choose from winter pool covers for above ground or in ground pools, solar pool covers for additional warming, safety pool covers, mesh and solid pool covers.
Prices start at $414.99 regular, on sale for $311.95 for the Arctic Armor Mesh Safety Cover in the 12×20 size. It comes with a 12 year warranty.
4. Pool Zone
Pool Zone specializes in all types and sizes of swimming pool covers. This includes mesh covers, solid covers, safety covers, solar covers and winter covers. The prices start at $373.99 for a 12 x 20 Mesh rectangular safety pool cover by AquaLock and go up depending on quality and type.
http://www.poolzone.com/Safety-Pool-Covers
5. Doheny's Custom Pool Covers
Doheny's specializes in providing custom pool covers for residential and commercial pools.
They offer winter covers, safety covers, solar covers, inground leaf nets, above ground leaf nets and more. Their prices start as low as $22.00 for economy smaller above ground pool covers and go up with the quality and type of cover offered. They are a full service pool cover company and their prices are set to meet the requirements of any budget.
http://www.doheny.com/swimming-pool-covers.html
Which type of pool cover is the best choice?
The best cover is the one that will come closest to meeting your needs and preferences. Aside from getting the right size and shape, you must consider the purpose. Mesh covers keep debris out of the pool. Solar covers help to keep your pool warmer and heat the water as cooler weather begins. Safety covers provide additional protection against heavy snow loads and do a decent job of keeping debris, water and moisture from weather out of the pool. Automatic covers do a great job of keeping debris and unwanted guests out of the pool. They also double as solar covers because they help to keep the water warmer in cool weather.
There are quite a few choices availably with regard to brand, styles, quality, durability, warranty status and pricing. The most expensive is not necessarily the best, nor is the cheapest option likely to be a long lasting cover. Consider what is the most important to you and how much you are planning to budget for the product. This will help you to decide which pool cover will work the best for you.
Conclusion
The five Pool companies in this list are included because of their versatility and the range of cover types and prices that are offered. Each company has established a reputation for providing quality services and an assortment of pool covers each with varying degrees of strength, size and quality. Some of the companies offer budget pricing and the quality of the cover is usually commensurate with the length of the product warranty. More expensive pool covers generally come with longer warranties of up to 20 years. These are the most likely to be made from top quality materials that will hold up through the years.
Fall is the best time to purchase a quality pool cover. Each of these five pool companies are offering fall sales which represent a considerable savings on purchases. Now is the time to ensure that you purchase the most appropriate pool cover to protect your valuable asset.