Wi-Fi smart thermostats are an affordable method of keeping your home comfortable and having complete control over the internal climate of your home. By selecting the right thermostat, you can ensure you do not waste money on unnecessary energy. Consuming less energy helps the environment and could even qualify you for additional financial government incentives or from your electric company.
The best thermostats can keep your home comfortable and learn your habits and preferences all while saying you money on power. With that being said, there are hundreds of thermostats on the market that are customizable, flexible and easy-to-install. Like any other type of product, some are better than others and more expensive. The following is a detailed list of the five most advanced Wi-Fi thermostats which are available on the market right now.
Aprilaire Wi-Fi Thermostat
Indoor air pollution is a common problem in many households and poses a major risk in energy-efficient homes. According to the Environmental Protection Agency, indoor air pollution is one of the top five environmental dangers. Surprisingly, in many homes, the indoor air can be two-to-five times more polluted than some of the worst air outside. This is primarily causes by toxic fumes emitted by dust, pet dander, building materials and chemicals from cleaning products. Aprilaire has listening to their consumer and understands the importance of indoor air quality. As a result, they have been manufacturing a variety of air purifiers, humidity controls and ventilation systems for more than 50 years.
To align with the modern homeowner, Aprilaire has introduced a variety of Wi-Fi Automation Thermostats that allow homeowners to manage the entire home climate using a simple mobile app. This new thermostat monitors the following:
Air Purity
Pollutants like allergens, dander, dust and viruses can make for an uncomfortable living space for those with asthma and allergies, The Aprilaire Wi-Fi thermostat monitors these pollutant levels.
Fresh Air
Although modern homes are tightly sealed to keep in heat and cool air while conserving energy, they also trap toxins and odors that contain contaminants like formaldehyde, carbon dioxide and other types of chemicals. This thermostat can detect these toxins in the air and notify you.
Humidity Control
When humidity levels get out of sync, you may feel cold and clammy or static shock. High humidity levels are an incubator for mold and mildew. The Aprilaire Wi-Fi Thermostat can adjust the humidity levels in your home to remain optimal.
Temperature
This is the most basic and standard factor for comfort. This thermostat can automatically keep temperatures at a specific level or you can adjust them from the app.
Additionally, the Aprilaire thermostat is compatible with a variety of other home automation systems so it can be programmed to operate with lights, motorized window shades and security systems.
Ecobee3
The Ecobee3 jumped immediately into the nominations category following launch, and for good reason. This thermostat is a Wi-Fi enabled, learning thermostat that utilizes remote sensors to improve motion control throughout the house. For instance, in order for the thermostat to change the temperature when you are away, it must know whether there is someone in the house. If you do not have this thermostat centrally-locate, it relies on remote sensors.
The Ecobee3 supports the Apple HomeKIt to help it learn to change the temperature based on you specific activity, when you are awake, when you are asleep, when you leave and when you arrive home from work. The Ecobee3 even goes as far as promising to lower your energy bill by making temperature adjustments for you. This Wi-Fi thermostat even boasts a mobile dashboard allowing you to view the temperature at any time as well as your savings. The Ecobee3 is an excellent option for those who love serious data, times, temperatures and programming different zones.
Honeywell Wi-Fi Smart Thermostat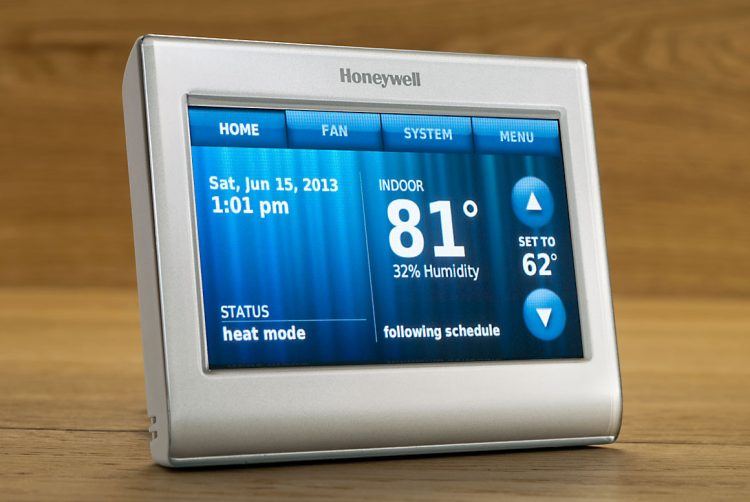 Featuring a bright and beautiful screen, Honeywell's Wi-Fi Smart Thermometer has an easy setup and flexible programming. With only a few simple questions during setup, this thermostat can have a seven-day schedule automatically programmed for you down to the hour while notifying you of any indoor climate changes. The colorful LCD can be customized to suit your tastes while giving you the basic information: relative humidity, indoor temperature, humidity, outdoor temperature and much more.
All functions of the thermostat can be controlled via mobile app and learns about your activities. It will also notify you of extreme temperature changes and when to change the air filter in your furnace to improve operational efficiency. This is one of the most advanced systems on this list.
Nest Learning Thermostat, 3rd Generation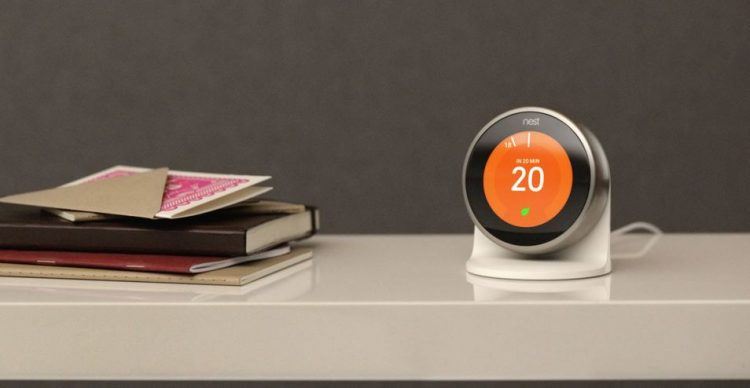 The Nest Learning Thermostat started it all as a customizable, high-tech and self-programmable unit. This thermostat continues to learn your habits and preferences and now knows when you are home and away. Installation is simple and, once installed, the unit can immediately begin to learn based on the temperatures you set over time. Within a few days, you will completely stop touching it as the Nest automatically raises the temperature when you wake up in the morning and lower it at night.
This thermostat is so advanced, it even automatically adjusts for the seasons. You can easily control the Nest from your couch or when you are away from your home via mobile apps. When away for a long period of time, the Nest will automatically set to provide you with energy savings which affects your monthly bill. The Nest can provide energy savings reports on the mobile app for cost savings tracking.
Sensi Wi-Fi Smart Programmable Thermostat
The Sensi Wi-Fi thermostat is a super easy-to-install unit, even in those homes where you may have difficulty installing other thermostats. The Sensi boasts a bright screen, with many programmable settings and is intelligent, reliable and saves you money. If you are the type who loves to customize temperature settings then this is the ideal thermostat. The thermostat can be controlled via mobile app and receives automatic updates via Wi-Fi. The screen or app also displays a dashboard with a multitude of data such as average temperature and how much energy you have save.