Although the United States is often criticized for being extremely unhealthy, those living in the fittest cities in America know just how serious some people take their health. That's right, in cities all over the country, there are millions of people who are serious about their fitness, and it's actually become a huge part of the local culture. It's actually kind of refreshing to know that there has been a push to see people get their lifestyles on the right track. Apparently, the stereotype that all Americans are lazy just isn't true, because these cities definitely know a thing or two about living healthy lifestyles. If you're thinking about relocating, or simply wondering how your current area stacks up, here are 20 of the fittest cities in America.
(Photo by Bruce Bennett/Getty Images)
Cincinnati 
Each year, it seems like the city of Cincinnati gets just a little bit healthier; however, it still has a long way to go. While the city is certainly ranked above many others in the country, it still has a long way to go as many residents reported not being as active as they should be.
(Photo by Scott Olson/Getty Images)
Providence
Providence may be located in the smallest state in the country, but that does hasn't stopped it from becoming one of the fittest cities in America. According to the American Fitness Index, people living in Providence are healthier and more active than people in many other areas of the country. Providence also has lots of parks for people to enjoy outdoor activities.
(Photo by Peter Macdiarmid/Getty Images)
Baltimore
Almost a decade ago, Baltimore was actually voted the fittest city in the country. Although it has lost it's number one spot, it's still hanging in there. Baltimore has easy access to parks and paths for exercising and also has an above average number of local farmers markets which allow residents to get fresh foods. Baltimore also has some serious potential to climb back towards that number one spot.
(Photo by Denis Doyle/Getty Images)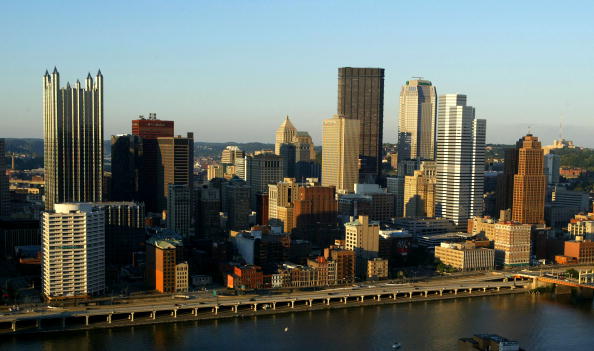 Pittsburgh
When it comes to the fittest cities in America, Pittsburgh may be one that you never saw coming. After all, Pittsburgh doesn't always get the recognition it deserves, and is often overshadowed by the much larger city of Philadelphia on the other side of the state. However, Pittsburgh residents will be pleased to know that their city is one of the healthiest in the country. Pittsburgh has an above average number of farmers markers, high requirements for physical education classes, and plenty of parks. The city is also outfitted with bike lanes which encourages residents to ride their bikes to work,
(Photo by Chris Hondros/Getty Images)
Austin
With the statewide phrase being "everything is bigger in Texas," you probably wouldn't expect to see and of the state's cities being considered among the fittest in America. However, Austin is the fittest city in Texas, and it definitely isn't afraid to stand out. According to this year's health index report, "Austin's total score has ranked among the top 20 metropolitan areas since 2009. Strengths include a high amount of acres of parkland, a low death rate for cardiovascular disease, as well as a high percent of parkland as city land area."
(Photo by Justin Sullivan/Getty Images)
San Jose, CA
San Jose may not be one of the most well-known cities in California, but it's one of the fittest. The city, which is known for its 'hippie' culture, has more "healthy weight" people than anywhere else, and studies also show that San Jose residents have the highest well-being. Although they might not be trying to be fit or happy, it looks like the people of San Jose are definitely doing something right.
 (Photo by Joe Raedle/Getty Images)
Virginia Beach
It should come as no surprise that a city near the beach is one of the fittest cities in America. After all, people who live close to the water are more serious about their beach bodies than anybody else. Virginia Beach has been ranked one of the fittest cities in America since 2009, and it has its high number of parks, recreation facilities, and farmers markets to thank for that.
(Photo by Brendan Hoffman/Getty Images)
Atlanta
With all of its fine southern cuisine, you probably would have never guessed that Atlanta is one of the fittest cities in America – but surprise, surprise. According to reports, Atlanta "has seen an increase in the number of parks and recreation spaces, such as the Atlanta Beltline project and the renovation of downtown and midtown parks." However, Walt Thompson, Dean at Georgia State University says that the city also as plenty of room to improve. He stated, "We still need greater access to fresh fruits and vegetables by inviting more farmers markets into the city. We need to get physical education back into our middle and high schools by requiring that each student get 30 minutes of structured physical activity every day, and we should consider broadening smoking bans."
(Photo by Ben A. Pruchnie/Getty Images for lululemon athletica)
Raleigh, NC
For years, Raleigh has been one of the fittest cities in the south. People in Raleigh have a high life expectancy, good mental and emotional health, and great hospitals. Raleigh also holds another pretty cool distinction: it's one of the fittest cities for baby boomers.
(Photo by Sean Gallup/Getty Images)
Salt Lake City
For years, Salt Lake City has been ranked one of the fittest. Although it may seem like an unlikely candidate, Salt Lake City actually had a lot to offer in the health and fitness department. Aside from plenty of opportunities to ski, Salt Lake also has great areas for biking and hiking, and there is a pretty active outdoor community.
(Photo by Pablo Blazquez Dominguez/Getty Images)
Hartford, CT
If you're not from the area, you may not be familiar with the relatively small city of Hartford. However, you might want to get familiar after learning that it is one of the fittest cities in America. According to the health index report, Hartford earned a  "64.8 out of 100 with areas of excellence including low death rates for cardiovascular disease and diabetes, high percentages of parkland and recreational amenities like ball diamonds and golf courses, and the state requirement for physical education in schooling."
 (Photo by Stefan Rousseau – WPA Pool / Getty Images)
Boston
The city of Boston is easily one of the fittest and healthiest in the country. The majority of the population reports exercising on a regular basis, and a high number of people prefer to walk or bike to work. Those who don't walk or bike are also more likely to use public transportation than people in other cities.
(Photo by Mass Communication Specialist 2nd Class Kathryn E. Macdonald/U.S. Navy via Getty Images)
Sacramento
The city of Sacramento has built up a pretty good reputation for being healthy. Each year it seems like Sacramento only continues to rise to the top of lists like this. Being active is just part of the city's culture, and residents take pride in knowing that they live in one of the fittest cities in America.
 (Photo by Jonathan Moore/Getty Images for Tone It Up)
Portland, OR
Portland is quickly becoming one of the most popular cities in the country. To put it frankly, life in Portland just seems good, and the cities overall health probably has a lot to do with it. Portland has plenty of parks for people to use, and a large number of residents walk or bike to work.
(Photo by Matt Cardy/Getty Images)
Seattle
The weather in Seattle may not be great, but that hasn't stopped residents from staying heathy and fit. The number of people in Seattle dying from things like diabetes and heart disease is decreasing, and people who live in the city really enjoy walking and biking to work.
 (Photo by Stephen Brashear/Getty Images)
Denver
Denver is another city that has gained a reputation for being a great place to be. As one of the fittest cities in the country, Denver has invested lots of money in parks to allow its residents to have an outdoor outlet to exercise. Denver also has a high number of farmers markets.
 (Photo by Doug Pensinger/Getty Images)
San Diego
As one of California's most popular cities, it should come as no surprise that San Diego is also one of the fittest. People in San Diego enjoy a pretty high quality of life, and the number of deaths from diabetes and heart disease have been significantly lowered. The city has also invested a lot of money into local parts, giving plenty of opportunity for residents to get outside and get active.
(Photo by Ian Gavan/Getty Images)
San Francisco 
Being able to exercise right on the beach is something that many people can only dream of. However, for people living in San Francisco it is a beautiful reality. With that being said, it's very easy to see why an Francisco is one of the fittest cities in America. Over the last several years, the number of farmers markets in the city have doubled, and residents are very active and healthy.
 (Photo by Mario Tama/Getty Images)
Minneapolis 
When it comes to staying healthy and fit, the city of Minneapolis has a lot to offer its residents. Not only is there a high number of farmers markets, but people who live in Minneapolis are very active and tend to walk more than people in some other places. Also, most people living in the city stay within a 10 minute walk of a park.
(Photo by Tom Dahlin/Getty Images)
Washington D.C.
This year, Washington D.C. has officially earned the number one spot on the list of fittest cities in America for the second year in a row. The nation's capital boasts a healthy lifestyle that includes lots of public parks and low death rates from illnesses such as diabetes. D.C. also has plenty of great places to walk, and residents love to get out and be active.
(Photo by Alex Wong/Getty Images)