Shades and blinds can dramatically change the way that a room looks and make it more functional, and there are a wide variety available. Shopping for the perfect window treatment can be a real challenge — if you think picking out wall paint is tough, window shades take that stress to a new level. In addition to picking a specific type of shade or blind to buy, it's important to consider the size of the window, decor of the room, and the room's purpose.
Choosing Window Shades
The first thing to consider when choosing shades is the size and shape of the window. Some windows are better suited for different types of window treatments. The purpose of the room is also a key factor that will determine which window shade is best. For instance, a small window in a kitchen would do well with a woven shade that lets in plenty of light or a pleated shade that can easily be positioned as needed. For the bedroom, you may want shades that let in a minimal amount of light or a solar shade. For a casual living room or family room, shades that are functional but complementary to the area's furnishings and decor are ideal.
Custom vs. Ready Made
Unless you have a standard size window, you may find it necessary to buy custom shades. If you're dreaming of shades that are made of exotic materials or that will perfectly match the fabrics in your room, opting for custom treatments is also best.
For convenience and practicality, go with ready made window shades. You won't have as many options as far as length, width, and material composition go, but you can still find quality window treatments at an affordable price going this route. Those who want windows shades that look good but don't come with a huge price tag often turn to ready made Roman, pleated, or roller shades.
Here are ten of the most popular types of window shades to consider.
1. Roman Shades
Roman shades are very popular and are made of one long, continuous piece of fabric. Horizontal folds along the length of Roman shades allow them to be raised and lowered. The look of these window shades is like a combination of a traditional blind and a fabric drape.
2. Pleated
Like Roman shades, pleated shades are also made of a single piece of fabric. The difference is that pleated shades don't have the same drape, and they're pulled more taught and look like slats due to having many more horizontal folds.
3. Cellular/Honeycomb Shades
Looking for a way to increase your home's energy efficiency in an attractive way? If so, cellular shades will probably suite your needs. They're made of fabric configured into honeycomb cells that work by trapping air between the window and its room. In the winter time this results in heat gain, while in the summer cellular shades help your home give off more heat and stay cooler.
4. Motorized Shades
Motorized shades are the ultimate in convenience. If you've ever wanted to avoid the hassle of tugging at a blind or shade cord to open and close your windows, this is the perfect option. Motorized shades are mechanical and operate with a simple push of a button. There are some models that have elaborate features or remote controls that allow the shades to be tilted without you having to physically adjust them.
5. Solar Shades
Solar window shades, also known as window sunglasses, are designed to filter sunlight and allow a greater degree of light control. At the same time, while these shades limit the amount of light coming in, they also don't block your view of the outdoors. The more light that the shades filter, the more opaque they'll be.
6. Roller Shades
Roller shades come in a huge variety of fabric choices and lifting systems, and some of the best known companies that produce them include Hunter Douglass and Smith & Noble. This type of window treatment is often used in combination with drapes or valances, and it's very effective at filtering and blocking light.
7. Sheers and Semi-Sheers
Sheer and semi-sheer shades are best used in rooms that don't need a ton of privacy, but do benefit from having natural light. The composition of the fabric used in these shades allows a room to be brightened up during the day, and sheer shades can also serve as a decorative element.
8. Bamboo and Bali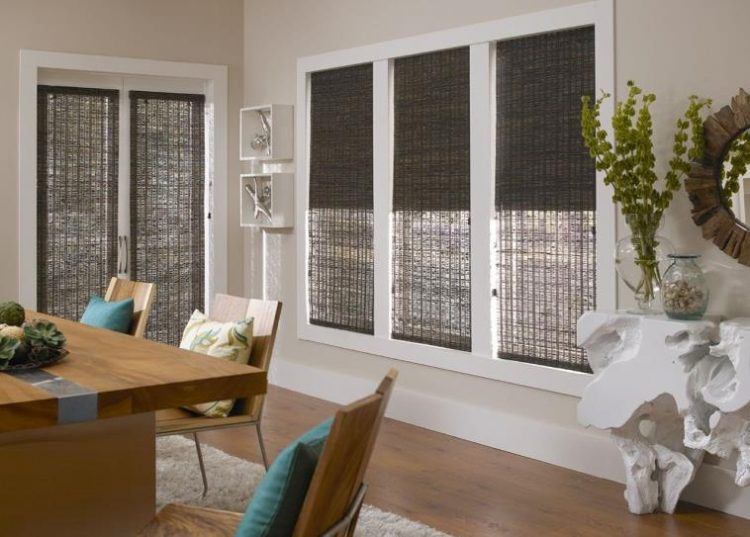 If you've ever seen a sushi rolling mat, imagine one that's large enough to cover a window — that's a good approximation of what bamboo shades look like. They're also called Bali shades, sold by a company named Bali. These window shades work beautifully with global, Asian, and African decor, as well as rooms where you want a casual look that's stylish. Bamboo window shades are sturdy, versatile, and less expensive than other types of exotic woods. You can easily find bamboo treatments ready made for a reasonable price.

Get 15% off All Bali Blinds at BlindsExpress.com! (Use Coupon Code: 1005).
9. Natural Woven Shades
If your room is casual or you want to bring an organic element into a space, consider natural woven shades. They're often made of reeds, grasses, or sustainable materials and are effortlessly stylish. Those looking for more privacy often use natural woven shades with a liner or roller shade underneath. Horizons Natural Woven Shades is one of the most well known producers of this type of window treatment, and they offer well over 100 patterns and fabrics.
10. Panel Track
If you like the function of vertical blinds but want something that looks more attractive, panel track shades are a great alternative. They're comprised of several panels that are covered with fabric, and you can easily slide them around to cover up or unveil your windows. When it comes to privacy and light control, few options beat panel track blinds. It's common for panel track treatments to be placed in living rooms, dining rooms, and areas with long windows. You will typically need to have these window shades custom made, unless you opt for a standard fabric that's readily available. Levolor, Century Shade & Blind Co., and American Blinds offer extensive selections of this type of window treatment.
How To Save Money On Shades
BlindsExpress.com Coupon Codes
Get 70% Off All Real and Faux Norman Wood Blinds at BlindsExpress.com! (Use Coupon Code: NM244).
Get 15% off all Graber Products at BlindsExpress.com! Use Coupon Code 1115 at checkout. Offer expires 10/31/2011.
M&B 15% off real woods at BlindsExpress.com. COUPON CODE: 589
Get 10% off all Kirsch Products at BlindsExpress.com! (Use Coupon Code: 3010).
Get 22% off All Comfortex Products at BlindsExpress.com! (Use Coupon Code: 2010).
Get 15% off all Graber Blinds at BlindsExpress.com! (Use Coupon Code: 4015).
Comfortex 20% off all Products at BlindsExpress.com. Coupon code: 2010