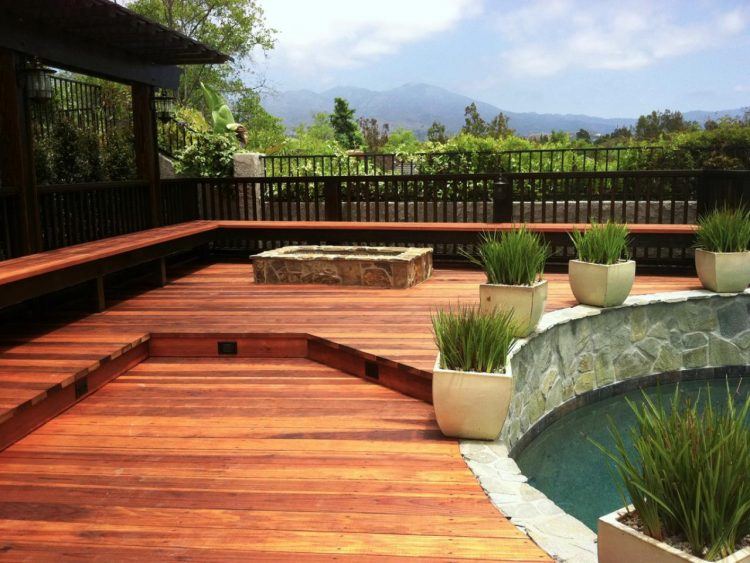 When you are selecting material for a deck, you will want to consider how hot the material you are purchasing will be. On a hot summer day, you just might burn your feet without shoes. Having a deck that is uncomfortable on your feet can be quite inconvenient especially if you have a pool and plan on walking on the deck while using the pool. There is no reason to purchase decking that is going to be scorching hot during the summer. It is so much easier if you stick with a material that will resist heat and allow you to walk barefoot.  So we've decided to share with you the five deck types that absorb the most heat.
Aluminum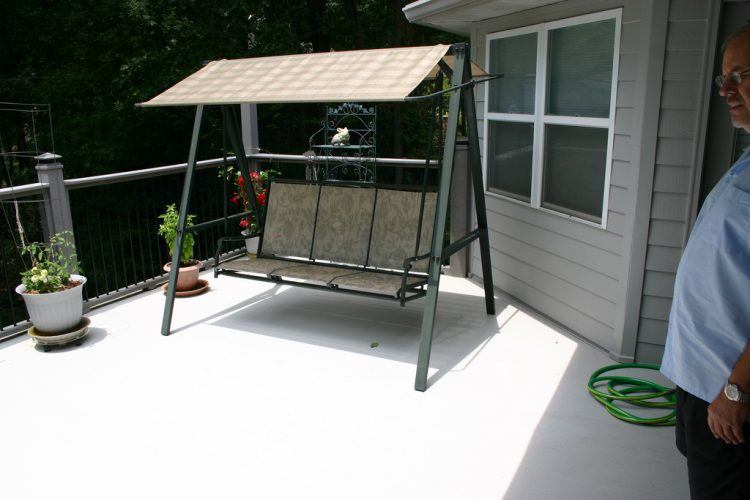 Aluminum is not a conventional choice, but it has a lot going for it. It is durable, it doesn't rust, it can handle full sun and not become weak or warp.  Best of all it stays cool to the touch. No longer do you have to dread walking on a super hot deck any longer. If you go with aluminum, you will have a deck that will last for years and stay cool throughout the Summer months. It also resists fire and bugs and will help keep the area below the deck dry.
Aluminum is becoming increasingly popular for these reasons. You may have trouble finding aluminum decking in your area. Most big box retail stores can order the material for you. They may even offer assembly in some cases. Aluminum decking tends to be on the pricey side, but you might end up saving money in the long run without having to replace your deck after a few years of wear and tear.
Ipe Decking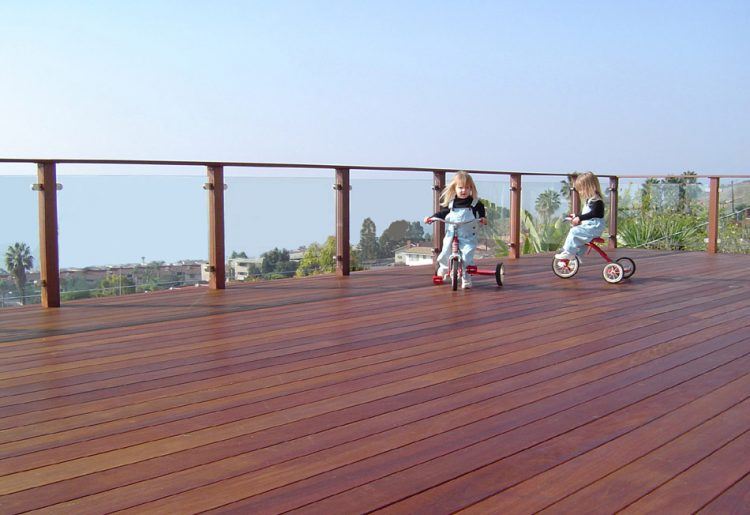 Ipe Decking is considered by some to be the best decking material in the world. It is wood that grows and is harvested in Central and South America. It has a beautiful look and superior quality. If you want your feet to stay comfortable in the summer, then this might be the best bet if you are trying for the wooden look. This deck building wood is super durable and looks great. There are all of the positive aspects and none of the drawbacks of other types of wood with Ipe Decking.
Concrete
Concrete is one of the best materials to use to build a deck. It doesn't get as hot as many of the other surfaces and can sit in the direct sunlight for longer periods of time than other surfaces. There are several great things about concrete. You can pour it into any form you want. You can add texture or have a glossy sealed finish. This is probably the best all-around deck material because it is relatively inexpensive and will last for years.  The only drawback to having concrete is that it may crack due to settling of the ground and prolonged exposure to moisture.  If you can stand those risks, concrete is your choice.
Vinyl Rail
This type of decking has an aluminum core with a vinyl outer covering. This decking makes for a more formal look. It is fire resistant, resists bugs better than other surfaces, it doesn't rot, and most importantly it doesn't hold heat that will burn your feet. This type of deck is easily cleaned with an occasional scrub using soap and water. It falls into the mid-price range and can wind up being a cost saver in the long run because it will last for years and there is no costly maintenance to worry about.
Pressure Treated Wood
This is probably the most common option for deck material and thus our lease favorite choice her.  However, there are a few reasons that most consumers choose this option. It's cheaper and  and easy to find. Most home improvement stores carry a good supply, so you don't have to wait for it to be shipped. It is resistant to bugs and fungus because of the chemicals used to treat the lumber.
It is also easy to assemble because the wood is soft unless you happen to be using southern yellow pine. Yellow pine is a bit harder and adds a bit more difficulty to assembly. Pressure treated wood is a soft wood and when you assemble it generally it is still swollen from being treated with chemicals. With exposure to the sun, the wood will dry and shrink. This can cause warping and cracking.
Pressure treated wood also requires a great deal of upkeep. In most climates, you will need to completely replace the deck every couple of years because of the effects of the sun and moisture.
Composite Decking
Some composite decking can do a fabulous job at keeping your feet cool whereas others will scorch them like bricks can. If you decide to go the composite decking route, you will have to do your homework to figure out which ones resist heat and which ones will burn your feet. It is common knowledge to choose a light color if at all possible. This will prevent some heat absorption. There are tons of variety of composite decking.
Composite is made of plastic and is meant to mimic real wood. The nice thing about this material is that it resists bugs, mold, and rot. It is easy to clean and looks authentic in most cases. Something to consider is that eventually the direct sun will take its toll and cause warping and cracking. This material is relatively inexpensive and is very easy to assemble. Just keep in mind that it may only last a few years and then have to be replaced.