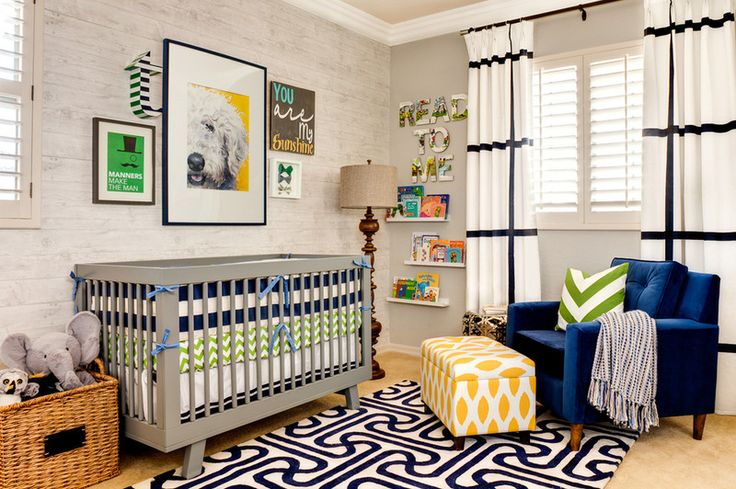 It happens in pretty much every Hollywood film about a couple expecting a baby together. There's the obligatory 'painting the nursery' scene. We see them pick the colors, tease each other about silly design ideas, and get flustered trying to assemble a flat pack crib. Yet, one thing that we hardly ever see is any mention of how much this all costs.
Having a baby is an extremely expensive thing to do and having to decorate a whole room, on top of all the other expenses, can be a strain. However, it doesn't have to be. Even if you're working with a tight budget, it is possible to create a nursery that thrills and excites. It isn't about lavish furnishings or antique cribs. It is about the love and creativity that you pour into the project; that is what will make your nursery special.
This guide to creating a gorgeous nursery on a low budget will give you some inspiration.
Forget Complex Murals
Not only will your baby have no time or care for the detailed Maurice Sendak mural that you lovingly picked out, it will likely cost you a lot of money. Professional muralists are amazing at their job and create truly wonderful designs, but let's face it, they're not really for the baby. You could save yourself some cash by sticking with simple decorating ideas. For instance, chunky horizontal stripes in a bold color look fresh and funky. Plus, you can create them yourself, even if you're not much of an artist.
Invest in a Convertible Crib
If there is one thing that you don't want to skimp on, it is a safe, comfortable bed for your new arrival. On the other hand, babies grow very fast and planning for the future is important. Don't splurge on a vintage crib that you'll have to throw out in a year. Pick something classic and beautiful with convertible features. With a few minor adjustments, convertible cribs can be upgraded from newborn to toddler. They are secure, multifunctional, and great for thrifty parents on a tight budget.
Get Crafty with Mobiles
It is surprisingly easy to create beautiful DIY mobiles. All you need is some colored felt, an old lampshade, and some string or plastic wire. You can create a customized mobile in the space of an afternoon, for less than $20. You can cut the felt into any kind of shape or pattern that you want. Pinterest is filled with great ideas and inspiration for expectant mothers. Ultimately, a handcrafted piece will always hold more meaning and significance than any store bought product. Going DIY is something that all parents should experiment with.
Build a Changing Table
Brand new changing tables can be expensive and they aren't really any different to the surfaces that you've already got in your home. They just seem more suitable for baby, because they've got the word 'baby' on their price tag. In reality, any broad, flat surface that you can stand safely in front of it fine. For instance, if you have a dressing table, you could re-purpose it by fitting a changing mat to the top. Then, when the baby is a little older, the mat can be removed and the dresser restored to its original condition.
Upcycle Tired Pieces
Upcycling is very trendy right now because lots of parents are realizing the value of getting crafty. Oftentimes, you can pick up a high-quality dresser, table, chair, or wardrobe from a second-hand seller and fix it up to look brand new. Most pieces only need a lick of paint or a fresh coat of varnish and they look as good as they did in the shop. Just make sure that you always inspect wooden items, in person, before buying. Check thoroughly for signs of woodworm and other insects.
Add Bright, Cozy Area Rugs
Rather than splashing out on a brand new carpet, you could always add colorful area rugs to the floor. They'll brighten up the space and keep it nice and cozy throughout the winter. You'll be able to lay baby down safely on the floor and play as they get older. Pick materials which are fluffy and very soft, so that your own feet will stay warm when you're dashing back and forth for feeds in the middle of the night. Area rugs are affordable, cheerful, and a wonderful addition to any nursery.
Opt for a Chalk Wall
You can pick up safe, high-quality chalk paint at surprisingly low prices. If you only paint one wall, you'll only need one tin too. The benefit of a chalk wall is that you can change the look and design of the nursery whenever you like. Also, as the baby gets older and starts to draw and create for themselves, they'll get a lot of joy out of the feature. You can draw flowers, farmyard animals, mythical creatures, alphabet words; the possibilities are endless and they all come from one tin of paint and some pieces of chalk.
Steer Clear of Baby Bedding
This is one of the biggest faux pas that expectant parents can make. You do not need fancy baby sheets, bumpers, sleep positioners, or wedges. In fact, not only are they unnecessary, they can be very dangerous. Newborn babies are at risk of SID (sudden infant death syndrome) if you fill their cribs with extra items. All they need is a firm, fitted mattress, a waterproof mattress cover, and 1-2 thin sheets. If you are worried about the temperatures in winter, a safety approved swaddle wrap or sleep sack is fine. However, don't let baby stores or anybody else tell you that you must buy extra bits and pieces for the crib.
Why Budget Is Best For Your New Nursery
If you want to save money while creating your nursery, the first thing to remember is that your little one won't get any direct enjoyment out of fancy designs and lavish furniture. As long as the room is warm, cozy, and comfortable, they'll be happy. It is only as the baby gets older that it will begin to appreciate more complex décor and accessories. So, don't put any unnecessary pressure on yourself at a hectic time in your life; paint, get crafty, be creative, and build the nursery that works for you.