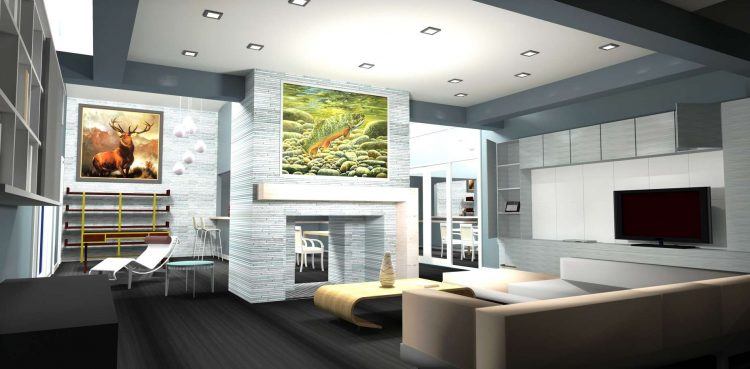 There are times when you are going to want to redecorate your space completely, or you might be moving to a different location. Perhaps you want to update your look in your house. Whatever the case may be, there are times when you are going to want a professional opinion. It is always a good idea to at least get a consultation about your game plan or you may want to get a complete redesign. This will determine whether you need the help of an interior designer consultation or if you need the complete services.
What's the difference?
There are a few differences where the two distinctions are concerned. An interior designer can offer services to include advice and a plan of action up to a complete set of services the start with a concept and end with a finished look. The scope of their range of services is vast, and you will have to determine exactly how much help you are going to need with your project. If you have a good sense of style and only need help to put into action the design, you may need a consultation. If you are looking for the complete package from initial planning to execution, then the full services interior designer may be the best selection for your needs.
So what are you going to get if you hire an interior designer for a consultation? The answer to that question can vary based on your needs. A consultation will be able to assess your situation and determine what you practical needs are. The designer will then incorporate your needs into a particular style. The finished product should be a blend of function and form which should be pleasing. A designer can point out flaws in your plan that you may not otherwise consider until it is too late. Designers are going to be able to perfect your layout as well. A great design can be useless if the placement of the design elements is off or awkward. The point of the consultation is to optimize your use of the area and to incorporate elements that work for your lifestyle and give you the best use of your personal space.
Using the full services of an interior designer can be a very good idea for some, but if you know you can tackle the majority of the project, a consultation can save you time and money in most cases. In the case of decorating or designing a large business then you will want to use an experienced interior designer. The reason for this is that your personal style or what you see as a fitting scheme may not be same as other customers. You need to get a professional on board to guide and direct the overall scheme. When it comes to a professional setting, then it is best left up to a full-service interior designer. They can anticipate the overall reaction of the general public and make decisions that will appeal to the majority. In a scenario like this, you should only tackle interior design if you have a great deal of experience in this area. Personal design and professional design are two different things. No one wants to incorporate their personal style if it is not going to be appealing to other customers.
When you redecorate your home or a new home addition it is a great idea to bring in a consultant to help you fine tune your ideas and to give you up to date advice regarding your plan. In some cases, a design that you feel is modern might not be as accurate as you initially thought. A consultation will help you avoid some of the pitfalls that people typically encounter when taking on a redesign or decoration project. Whenever you are planning on spending a substantial amount of money on an update or redesign, then you should be wise and receive a consultation. An interior designer is trained to point out any inconsistency in personal design plan and will fine tune the overall scheme. It is unfortunate that some people spend thousands of dollars on a project, and it ends up not being cohesive or suffers from critical design flaws that could have been avoided if a consultant had been brought into the project.
There are many reasons to use an interior designer to get a professional consultation. A consultation is a smart move for those that know a professional can bring elements to the overall look that you may not be able to do on your own. Interior designers are trained to incorporate ideas that will give an impact and give results that may not be had if you tackle the project without a consultation. It is highly advised that you do not move forward with your plan without at least seeking the advice of a trained professional. Before you tackle that project, be sure to consider exactly how much help you are going to need. If you feel that you want to be hands-on with the project, and have a particular design in mind, then be sure to enlist the help of an interior designer for a professional consultation.
Whatever path you decide to take, in the end, either selection will ensure that you have the very best style for you money, and your interior will have a good flow and cohesive look. Avoid having a choppy or odd feeling in your indoor spaces by taking on the services of an interior designer. Be sure that you do a bit of homework before settling on a particular designer. You will want to use someone that has experience and good customer feedback. Select someone that has samples or documentation of their previous work. You can also go online and look for reviews. This can give you some insight as to what to expect and will alert you to any issues that you should be on the lookout for. Never use someone that has very limited experience. If you do not have any samples or photos of their past work, then you may want to stay away. This can limit the amount of funds that may be wasted on a bad design job.