Workers who sit at a desk all day seem to have more back complaints than those with more physically active jobs, like package handling. This is because they are usually sitting in a chair that is not comfortable and does not give proper spinal support.
The chairs provided by many employers might be good—or they might be a broken down old plastic model from basement storage. You can take control of your back health by purchasing your own ergonomically safe and comfortable chair. Whether you work in a cubicle farm, or in your own home office, getting the best chair for your back is a must. Having the right desk chair can make or break your workday, and have you spending your money and off work hours at the chiropractor for adjustments.
The best chairs deliver the best comfort, and many super expensive models have more show than go, with silver siding and stitching that don't add much comfort value for the price. There are many office chairs on the market; however, these five models are the ones custom designed to give your aching back a break.
1. ErgoFlex Ergonomic Mesh Office Chair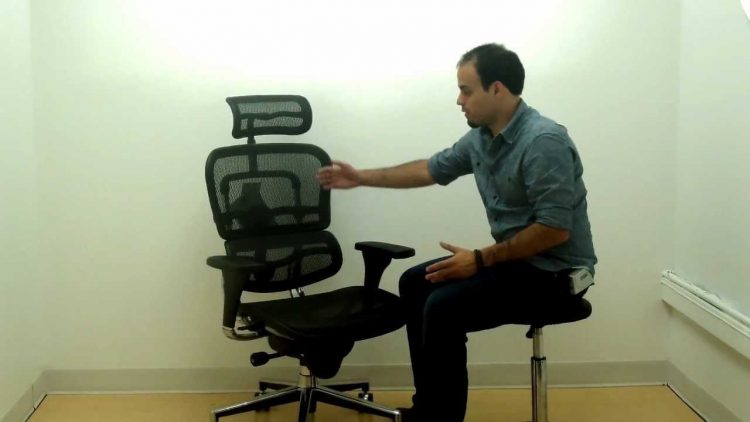 The secret to this outstanding chair's comfort is the strong, yet flexible elastic mesh seat. This chair keeps you cool, while providing amazing lumbar support. It has a fully adjustable lumbar panel, padded contoured arm rests and can be adjusted.The adjustable headrest takes pressure off of your neck and keeps your body in alignment. This seat can be adjusted for users up to 250 lbs. For a larger sized chair, visit Modernoffice.com where you can find the same chair for folks up to 350 pounds marked down to $499 each. This seat measures 21-1/4″W x 20″D. Back is 23″W x 27″H for 29″W x 27″D x 41″-44″H complete. Whether you are average size or need a bit more width and height, Ergo-Flex makes a super comfy mesh office chair at a reasonable price to fit the bill.
2, High Back Presidential Synchro-Tilter
You don't have to get elected president to sit like one. The Concorde Presidential Office Chair is so named as it is President Obama's favorite chair, according to All About Chairs. This chair is sleek and sophisticated, yet a plush and comfy treat for any hard working executive. It is operated from push button controls located on the armrest so you can adjust the chair for ultimate comfort and support. It measures W28.5 x D27 x H50 inches. On the Global Furniture Group website you can choose your color and fabric as well as where which distributor from whom you would like to purchase this awesome chair.
The list price for this luxurious seat is $4,723.00, so don't expect your company to reimburse you for it, unless you are the CEO. Concorde also makes other styles of chairs including Big and Tall Chairs in case you are not in the same good shape as President Obama and need a roomier seat. The Concorde Presidential chair was mentioned as being a very good choice for durability and comfort by Techzilla. It's also noteworthy to mention that former President Bush used the Concorde Presidential model office chair as well, so it's bipartisan approved.
3. The Boss Black Leather Office Chair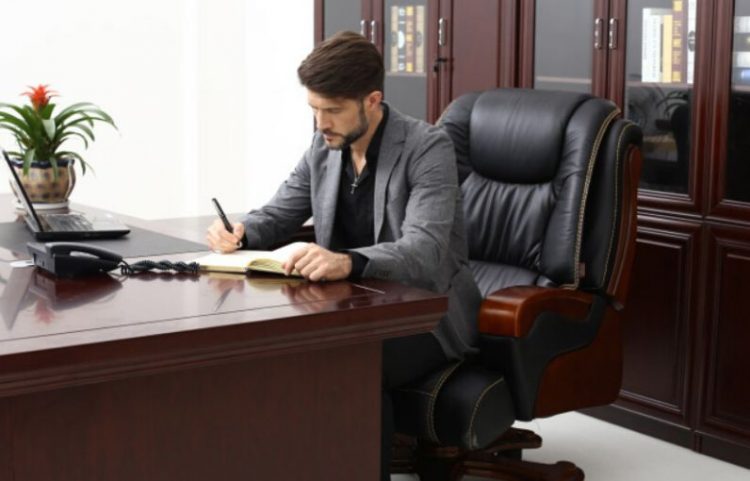 Boss Office Products makes a chair so comfortable it won a Best Product award from Consumer Reviews. The chair features 5 caster wheels, a waterfall seat design to help eliminate leg pain, and pneumatic height adjustment with tilt. It measures 28 x 26.5 x 48.5 inches, and is make for users up to 250lbs. and is sold on Amazon for less than $200.  For office workers on a budget who spend much of their workday sitting, this chair can't be beat. You can handle your business"Like a Boss" sitting in a cushy office seat made by Boss.
4. Aeron Chair By Herman Miller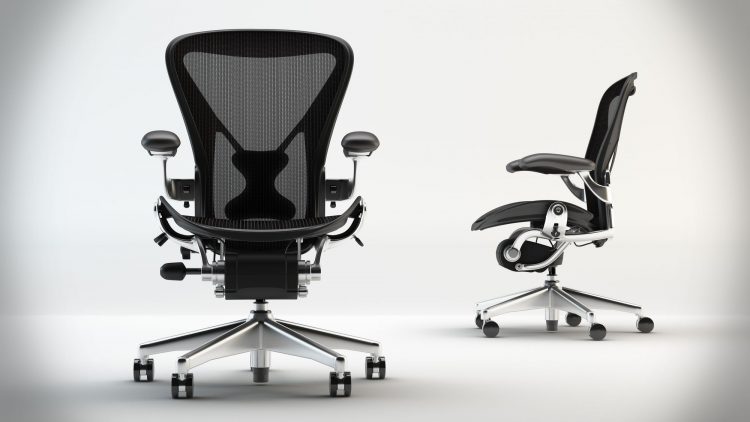 This chair was the first design to replace fabric with breathable, flexible suspension membrane. The Pellicle seat and back evenly distributes weight to lessen strain and friction. It easily reclines to a perfect position for comfort. The Herman Miller website lets you design your chair by picking out the color, arm rest style and seat size. Priced at $729, it's a good compromise between an ultra expensive model and a cheap one, which makes it a popular choice. This chair was also positively reviewed by Techzilla.
5. The Ares Line Xten by Pininfarina
This chair was listed on MostExpensive.com for a reason, as it cost $1.5 million dollars. This amazing work of technology was made by the car designers who make Ferraris. It features a synchronized Tilting system which allows you to tilt the back of the chair and and seat separately, so it basically mold to the user's body with the aid of Technogel padding. The chair is made from an expensive fabric called Dynatec, which is used to make equipment for Olympic athletes. Unfortunately, you can't find this beauty at your locals Staples. It's only sold in the United Arab Emerites; however, if you are ever in Dubai with lots of cash to burn, you may be able to score one.
Runner Up: Ergohuman Me7Erg-W09-01W09-01 Black Mesh Hi Swivel Chair
This chair is sold on Amazon.com for $616.00 and has the popular Synchro-tilt Backrest and seat tilt.It is made for people who sit at their desk for more than five hours per day. It is made from cool, comfortable mesh and has a headrest to keep your body aligned while working. Ergohuman's website says that their chairs are favored by Fortune 500 companies as well as government and military offices, as they are ergonomically designed for comfort and durability.