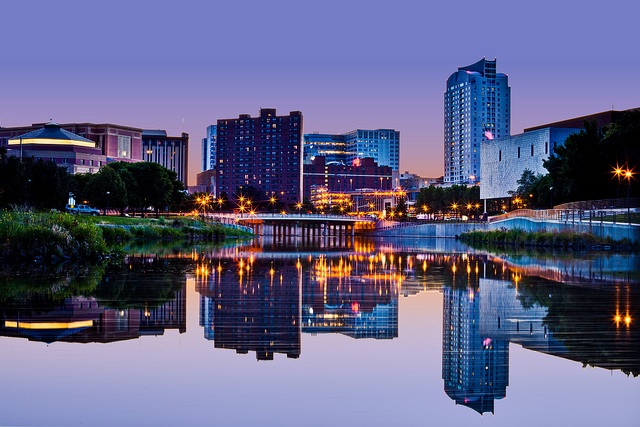 Rochester, Minnesota is becoming a topic of conversation in circles eyeing the most livable neighborhoods in the United States. It started from humble beginnings and has shown an amazing evolution with development in technology and industry which would only have been dreamed about in the last seventy five years. The city is well worth taking a closer look at because it is definitely rising to the top at a rapid pace.
History of Rochester
The city is located in Olmsted County along the banks of the Zumbro River. It served as a popular stopping place for stagecoaches headed from Saint Paul to Debuque. In the early 1860s, the railroads built their networks and opportunities began to open up for Rochester. An influx of new residents bringing thriving businesses and employment opportunities flooded in, changing the face of the town. One resident in particular would put Rochester on the map as his dream evolved into one of the most beneficial assets still in existence today. Dr. William Mayo became a resident and founded the now world famous Mayo Clinic.
Living conditions today
Rochester is a thriving city with a lot to offer current and new residents. It is home to some of the most miraculous medical inventions and technology in the world. In addition to premium medical advantages, it is home to several health and fitness facilities. Good health is highly valued in this area. Rochester is currently ranked as the #6 best place to live in Minnesota and #2242 in the United States for its generous supply of local amenities, low cost of living, low crime rates and high income averages per capita.
Climate
Residents take advantage of four full seasons complete with snow in the winter time and sunshine and warmth in the summer time.
Crime rate
Residents of Rochester enjoy a low crime rate. Statistics show that it is fifteen percent lower than the rest of the nation on average. There are just over six crimes that happen daily for every one hundred thousand people and residents have a one in forty two chance of becoming the victim of a crime. This city is deemed to be safer than over fifty percent of all other cities in the United States combined.
Education
Just over forty percent of the people who live in Rochester have completed a bachelor's degree or higher. Over ninety percent of the population have completed high school. Many of the residents have earned professional degrees and certifications which qualifies them in many cases for higher paying jobs. There are forty four public schools within the Rochester area with average testing scores of sixty seven percent. This is five percent higher than averages for the state of Minnesota. The average student to teacher ratio is fifteen to one. In addition to the large number of public schools there are also thirteen private schools and four post secondary schools.
Employment
The median household income is $63,472 annually which reflects a nineteen percent higher rate than the national average. Unemployment rates are also forty one percent lower than the rest of the nation coming in at 3.4 percent. The poverty level has been assessed at 9.7 percent which is remarkable for a larger area. The statistics for Rochester show us that the city is blossoming with opportunities for employment and people in this town are doing very well when compared with other areas around the state of Minnesota, and of the United States as a whole for that matter. It isn't difficult to attain employment in Rochester.
Home prices
Rochester is an excellent place to purchase a home. The median home price of one hundred sixty three thousand four hundred dollars is seven percent lower than the national average. The price of rent asked is eight hundred and one dollar on average and is thirteen percent lower. There are about ten percent fewer people occupying an average household and statistics show that a greater percentage of the population in Rochester own their homes versus paying rent. This shows a good measure of affluence in the community overall.
Cost of living
An overview of the average cost of living for Rochester shows an index of ninety two. This means that the cost of living in this city is ten percent lower than it is when you average all of the cities in Minnesota together. I is one of the most affordable cities to live in the entire state.
Amenities
Rochester is filled with amenities which make it even more attractive for new residents. There are ample shopping opportunities with full access to health care clinics, hospitals, great public transportation options and several different types of retail stores. There are also multiple entertainment resources for people of all ages. You can attend concerts, sporting events, movies or plays among community sponsored events. There are also excellent venues for eating which range from fine dining establishments to fast food or quaint small diners.
The area also has a number of local parks and recreational areas nearby. If you want to escape the hustle and bustle of the city you can take a leisurely stroll in the park or take a walk through one of the several walking trails. There are designated hiking trails in the Carley State Park or walk through the Douglas Trails. You'll also find several grassy areas which are designated for picnicking.
Concluding thoughts
Rochester, Minnesota is a remarkable place to live and until recently, it has been one of the nation's best kept secrets. This thriving community is filled with all of the services, recreation and other amenities that residents could possibly want or need. The cost of living is lower than most neighboring communities and housing is affordable. With low crime rates, good schools and plenty of employment opportunities, it is an oasis for anyone who is looking for an up and coming place to settle. We're keeping our eye on Rochester, Minnesota because it has all of the earmarks of continuing to grow and prosper. We view it as one of the most up and coming neighborhoods in the United States today.