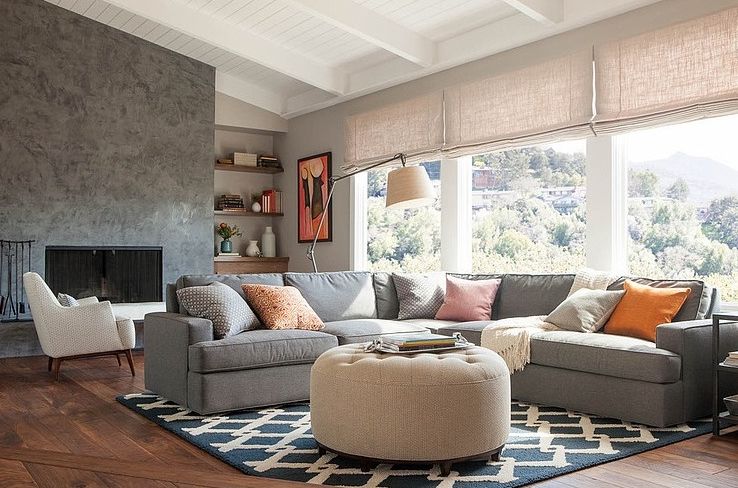 Ottomans have become quite popular over the last several years, and they're now used in all types of rooms. When it comes to the living room, choosing the right ottoman can drastically change the look of a space. What's more, your ottoman doesn't have to be restricted to being an extra seat or a place to prop up guests' feet — this versatile piece of furniture can also be used as a coffee table. If you're thinking of getting a new ottoman, here's a guide to choosing the perfect one to complement your sofa.
1. Decide on its purpose
Before shopping for an ottoman, decide whether you want to use it as a coffee table, to sit at the end of a sectional, or to fit in front of your sofa. If you decide to have it be a coffee table, you'll need to pick an ottoman with a fairly flat and sturdy surface that's made of a durable material such as leather. In this case, you'd also do well choosing an option with higher legs to make it comfortable to reach.
On the other hand, if your ottoman will be used for seating, it's best that it match the height of your sofa and be comprised of the same material. Those who want an ottoman as an accessory or to have something to put their feet on will need an option that's either slightly lower than the height of the sofa or the same height, regardless the material that it's made of.
2. Set a budget, and stick with with it.
There are so many different styles of ottomans on the market that setting a budget will significantly narrow down your options, which is a good thing in this case. This doesn't necessarily mean going for a low target price, but nailing down a range so you can better focus your search for the right piece of furniture. For example, you may set a budget of less than $100 or between $500 and $750.
When setting a budget for shopping, consider the cost of your sofa itself. A high end sofa would look best paired with an upscale ottoman, while a sofa that's moderately priced can look great alongside an inexpensive or pricey ottoman.
3. Consider the decor style of your room and sofa.
This is where many people get caught up when shopping for ottomans, because it's not enough to simply pick out a model that you think looks good on its own. The ottoman should look good alongside the sofa. This doesn't mean it has to be the same color or have the same features, but there should be some cohesiveness. For instance, if you have a brown contemporary sectional, choosing an ottoman that's rust red and contemporary would work if you want to keep the same decor style.
4. Decide whether you want the ottoman to match the room's style or bring something new to it.
On the other hand, if you want to put a twist on your current decor, branching out is necessary. The great thing about using an ottoman to give a room a new style is that it's both affordable and easy to switch out when you want to do something new. In the above example, to give the room a more transitional feel instead of a contemporary one, the right ottoman for the brown sofa may be a traditional style ottoman with a floral print.
5. Ask yourself if your room could use something extra in terms of design.
If your living room mostly contains neutrals and you'd like a bit of color, a new ottoman provides the opportunity to jazz things up. Likewise, if your room lacks visual or textural interest, choosing an ottoman with a fun print or texture that's different from your sofa can elevate the style of the entire space. Let's say you have a black leather sofa in a living room that has other black furniture and a black TV stand. You think you've been a bit heavy handed with the one color, and you'd like to add something more vibrant to the room. The solution could be picking an ottoman that's a sunny shade of yellow, cobalt blue, or one that's multicolored with a print that has black in it.
On the flip side, if you wanted to keep your black color scheme going but you think your living room looks a bit flat, pick an ottoman that's black but covered with a faux fur. Alternatively, one with tufting or other interesting details that differ from the look of your other furniture would work.
6. Remember to consider scale.
The scale of your furniture will affect how well the room's look comes together. If your sofa is on the smaller side, a huge ottoman would dwarf it and look odd. However, if you have a big sectional that takes up a large portion of the room, choosing an equally large ottoman would be too much — in that case, one that's smaller with a rounded shape would provide the right contrast.
7. Play around with shape.
The majority of ottomans are either square or rectangular in shape, but don't be afraid to branch out and choose one that's round. There are also ottomans shaped like hemispheres that tend to work well for propping up feet and adding more seating at the end of a sofa. Another benefit to choosing an ottoman with a shape that's different from your sofa is it will provide good contrast. As long as the scale is right, there's nothing wrong with picking a non-conventional shape while shopping for ottomans to go with your sofa.
8. Be practical if you have kids or pets.
With kids or pets in the picture, you'll need to choose an ottoman that's durable in addition to looking great next to your sofa. For instance, if you know you haven't bought that white couch you've admired for years because it would end up with marker, juice, dirt, and other stains from your kids, don't pick a white ottoman because the same may happen to it. Fortunately there are ottomans available these days with removable and washable covers, so that may be the best option if you have little ones and four legged friends in the house.