If there's one thing cats are known for, it's needing their independence. Unlike dogs, who get a lot of entertainment and pleasure from interacting with their humans, many cats prefer to entertain themselves. This is exactly why activity trees are a must for anyone who has an active cat. Activity trees give your cat his/her own special place to play and hangout when they feel like doing their own thing. These trees come in all sorts of sizes and designs, which makes it easy to find one that can accommodate you, your space, and your cat. Here are 10 activity trees your favorite feline will love.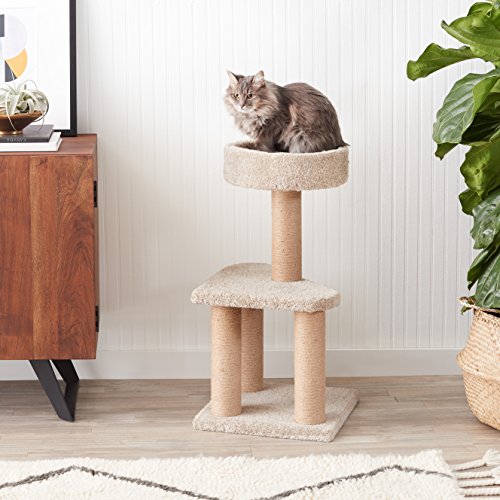 Made with a simple design, this medium-sized activity tree is perfect for people who don't have a lot of extra space but still want their cats to have their own special space.
If you have more than one cat, this item could be perfect for you. This tree is designed to keep your cats occupied so that they won't be scratching your furniture and damaging other things in your home.
This 6-tier activity tree has plenty of scratching posts and ropes to ensure that your cat will never get bored.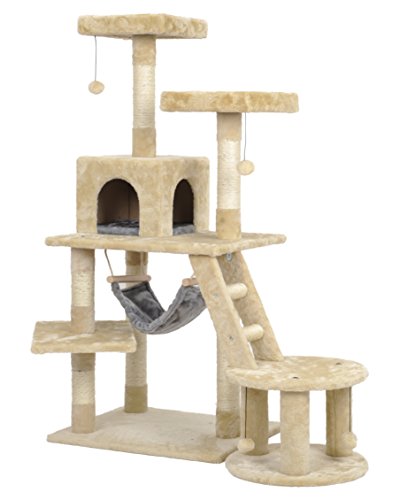 Made of compressed wood and faux fur, this tree was designed to be durable and fully functional. This item also features "a ladder, 2 hanged balls, a hammock."
It goes without saying that some cats are more active than others, and because of that, some cats need more things to keep them occupied. This awesome activity tree is sure to keep your cat(s) entertained all day thanks to a large design that features several scratching posts, balls, and wands.
Advertised as being "sturdy and safe", this playhouse is perfect for any cat. The item has seven scratching posts and a multi-level design that offers plenty of space.
This simple activity tree is perfect for people living in a small house or apartment. However, even though it's small, this item still has plenty of things for your cats to enjoy.
When it comes to activity trees, this one is definitely taking things to a new level. This item "gives your cat 6 different levels to scratch, play, and sleep in. It features two condo bedrooms, flat platforms and nine scratching posts."
This item boasts a high quality design that features scratching posts, platforms, balls, and a condo for your cat.
This activity tree may be small, but it packs a pretty big punch. A plush design ensures your cat will be comfortable while it hangs out in the condo and the scratching post is sure to keep your furry friend busy for hours.