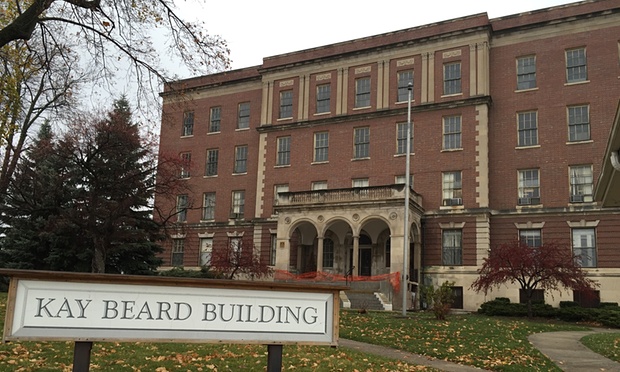 With the popularity of fear filled TV series like American Horror Story, properties that have been deemed 'haunted' have received newfound fame. There's something about being scared to [almost] death that people just can't seem to get enough of, and the more shocking back story a person or place has, the more people are drawn to it. At least that's what one realtor Michigan is hoping for after placing a haunted former mental asylum on the market for $1.5 million. According to legend, the property, which was  once housed the Eloise Hospital, was originally established in 1839 as a farm and poorhouse that grew to include more than 900 acres, and 70 buildings. At one point in time, there were 12,000 people living on the property, and it was considered its own town – complete with a zip code.
As time went on, many people left the area, and some of the land was sold off and used for other purposes. Some of the land was purchased by Ford Motor Company, while other plots were turned into an 18 hold golf course. However, when many of the buildings were torn down during the 1980s, rumors began surfacing that many strange things were found inside, including body parts, and bizarre pictures of former patients. Now, only 50 acres remains, and only one building on the property is still operating, and it houses Wayne county's senior services program. The county hopes that selling the property will help ease budgetary issues.
Although the Eloise Hospital is widely considered one of the most haunted places in the area, realtor, Mike Deighan, says that the property won't have any trouble selling because when it comes to the scary stories, "nobody believes in it." But despite his confidence in his opinion, others beg to differ. In 2014, a horror film that has yet to be released, was shot on site, local teenagers have broken onto the property in search of ghosts, and last, but certainly not least, "some have reported hearing strange moans, screams, and roars on the old grounds." In fact, a current employee says that paranormal interactions happen quite frequently, and that people have even claimed to see "a guy sitting on the steps." According to the employee, "He was in bermuda shorts, and he was just sitting there. They saw him, we didn't see him. But there has been some shadows, you know – that's it. I would love to talk to them." Also, the floor above where the employee works, which was once a ward for patients, a "creepy" vibe is present, and there are old materials and desks that were left behind when the psychiatric ward closed in 1984.
Despite all of the strange things that have supposedly taken place on the property, Deighan says the "It's a great opportunity for somebody." He also believes that there are many potential uses for the property in the future including senior housing. Hopefully he's right, and hopefully there's someone out there who's willing to spend $1.5 million on a pretty scary piece of property.
images via theguardian.com