One thing that many new parents don't anticipate is just how easily toys can take over the entire house if left unchecked. Even within the first few years of a child's life an overwhelming number of toys can accumulate. The key to maintaining your sanity is investing in a toy organizer that will work well for your family's needs.
Toy organizers are different from toy chests because the latter is best for storing large toys and things that are infrequently used — chests don't do a great job of actually organizing toys. Organizers come with multiple compartments and make keeping and categorizing toys much more streamlined. If nothing else, having an efficient toy organizer will keep your children's' books, blocks, and other playthings off the floor and in a designated area.
Before you buy a storage system, there are several things you should keep in mind to make sure you get the most value for your money.
You'll come across a huge array of organizers in stores and online, and each is best for different types of toys, rooms, and situations. For instance, smaller rooms do well with hanging storage that maximizes space, while families with multiple kids would do better with a larger free standing or cubby style system. It's common for most parents to opt for more than one type of organizer, regardless whether they have several children or not.
Here are the main types of toy organizers available on the market. Each is available in a variety of colors and materials, and most offer collections that feature popular cartoon and movie characters.
Cubby Style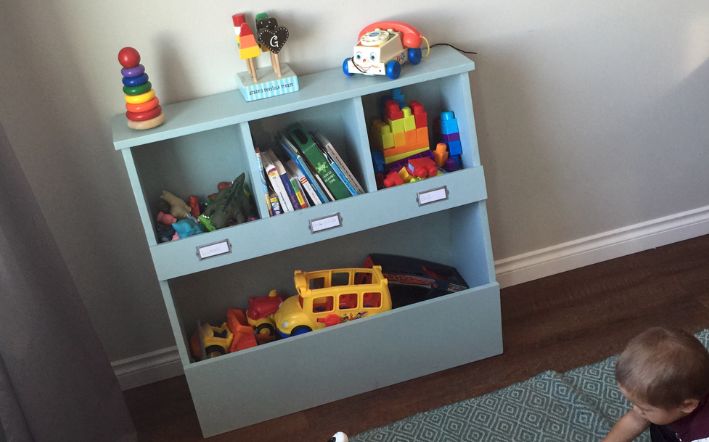 Cubby organizers are frames that allow you to use optional drawers, fabric and plastic bins, and doors. Most cubby systems are scalable, and they work well for siblings of different age groups. If you want to color code your kids' toy storage, have many types of toys to keep track of, or have more than one child, cubby organizers are a good idea. Cubby organizers are also great for books, and they look good in living rooms and other common areas.
They come in a variety of finishes and styles and the prices vary significantly. For instance, a 6 cubby wire rack with no bins can cost less than $20, while a 9 cubby system made of sturdy wood with doors and accompanying bins can cost well over $100.
Free Standing
This type of toy organizer is one of the most common, and it's often bought for toddlers and younger children. It comes with fabric or plastic bins that can be moved around, taken out, easily slipped back into place, and it's suitable if your child has smaller toys. The models with angled bins are easiest to remove and put back. Larger items have a difficult time fitting into free standing storage, as do stuffed animals.
If you opt for this system, you will likely need to add in another type of organizer unless your child has a small amount of toys. Free standing toy organizers are only suitable for board books — hardbacks and soft covers will easily get worn out and won't be well protected. You can buy this type of system for about $50.
Hanging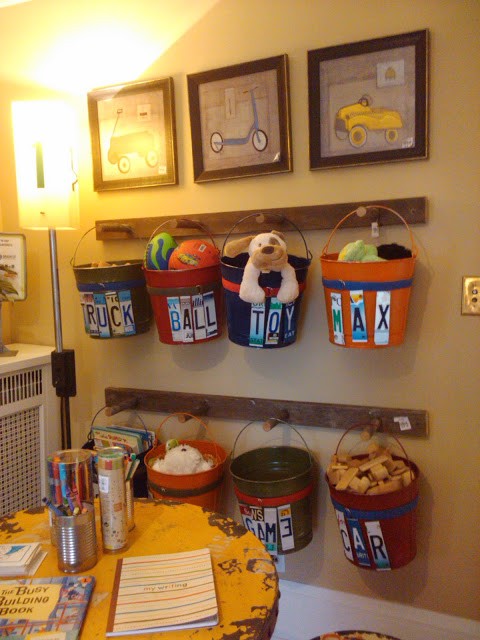 Hanging toy organizers are great for maximizing space, but since you will need to secure it to your ceiling or wall it's best for children who are mature enough not to try and play in or hang on it. Stuffed animal hammocks, rod-mounted bins, and systems that hang over the door are just a few examples of this type of organizer.
These are usually very affordable and can easily be found for less than $20. It's also easy to hack this type of system and make a DIY version. Larger, heavier toys aren't appropriate for this hanging systems, and most parents who get a hanging organizer use it as a complement to other types of storage.
Book Storage
Children should be taught early on how to care for and properly store their books, and most organizers for toys aren't suitable for non-board books unless they include a shelf. The one exception is the cubby style, which is a great way to store a small amount of books. If you have a large children's book collection, a short bookcase is the best way to go. You can buy one inexpensively at big box stores for less than $30. A book hammock is another option for younger kids, and you can also choose to hang ledges low on the wall and store books with the covers facing outward.
Stuffed Animal Bags
Aside from hanging hammocks, stuffed animal bags are a good way to keep track of the fluffy critters. They zip, tie, or button open and closed, allowing your child to take out the toys for play and then stuff them back in when it's time for cleanup. Most bags have a transparent window so your child can see her favorites, and they can also double as floor seating when full. Stuffed animals bags cost between $10 and $40, depending on the size.
The Right Fit
Size and how well your chosen toy organizer will fit into your home is just one thing to consider. The most important factors are your children's ages and personalities. While you may love the look of a certain system, if it's not suited to how your child plays or the type of toys he has, it won't work. For instance, a one or two year old child can't be expected to categorize books or always put them away with the spine facing outward — a book hammock or low ledges would be best in this case. On the flip side, a child who mostly plays with dolls and stuffed animals won't find much use in a free standing toy organizer with small bins.
The goal should be to find something that will comfortably fit into your living space, is developmentally appropriate — meaning your child will be able to easily use the system — and safe. Avoid buying heavy organizers that can easily tip over if you have a baby, toddler, or preschooler.
Also remember that as kids grow older, they tend to have less toys and more gadgets and hobbies. Therefore, unless you buy a toy organizer that adapts with your child's age, you'll need to eventually replace it with a more appropriate system.
Multiple Children
The good news is that the vast majority of toy organizers can be used with multiple children. No matter the gender of your kids, you have to think first about their ages, the types of toys they have, and how well they share. If your kids battle over toys, having separate bins that can be clearly marked is best — it may even be more peaceful to have one small toy organizer per child. Siblings who get along most of the time may find having just one large system easiest to keep up with, plus they can help each other organize the toys and clean up at day's end.