Steampunk style is much more than just elements of design. Steampunk is a culture and an aesthetic which fans embrace in many areas of their lives. The essence of this trend is the mixing of Victorian age fantasy with modern science fiction technology. Anyone who has seen Disney's versions of the Jules Verne classic writings 20,000 Leagues Under the Sea or Around the World in 80 Days will have an automatic visual reference for steampunk. The materials used to construct products in the Victorian times, such as copper, brass, engraved pieces, mechanical works such as those inside watches, wood and ornate glass are what gives steampunk its style. What makes it completely contemporary is the attention to every detail and the inclusion of layers upon layers of complications.
Where a Victorian gentleman would be happy with a fine suit of clothing, a modern steampunk gentleman would wear a vintage Victorian suit with the addition of lavish numbers of mechanical watch dials or inner works sewn onto the material as focal points. Where a Victorian lady would be pleased to wear a dress with intricate pleats, ruffles and lace, a contemporary steampunk lady would probably add layers of jewelry hand made from the inner mechanical works of a watch, clock, or pistol. The best dressed steampunk fans will be outfitted from hat to gloves to boots, with stockings, corsets, suspenders worn on the exterior as fashion statements.
There are no set rules for designing with steampunk, but most items worn or used as décor are painstakingly made from hand. Craftsmanship and artistic focus are highly sought after. The more mechanically complex or vintage Victorian an item, the better.
What's fascinating about the aesthetic is that it has spread from clothing to artwork, and is now beginning to fill the homes of those who crave the beauty of the Victorian age, and even extending into the Edwardian era. Homes of steampunk fans include nostalgic pieces such as flying goggles, opera glasses, compasses, world globes, stained glass windows and lamps, brass bathroom fixtures, and antique timepieces. They also embrace dystopian ideas of future societies which operate on broken technology or retrofitted devices. There is a fascination with steam trains, old laboratory vessels, light house lamps, spies, explorers, floating air ships, and the romantic notions that the past or a better future will bring stability. Making things by hand goes right along with technology that has a retro appearance.
Adding steampunk to a home can start out simply: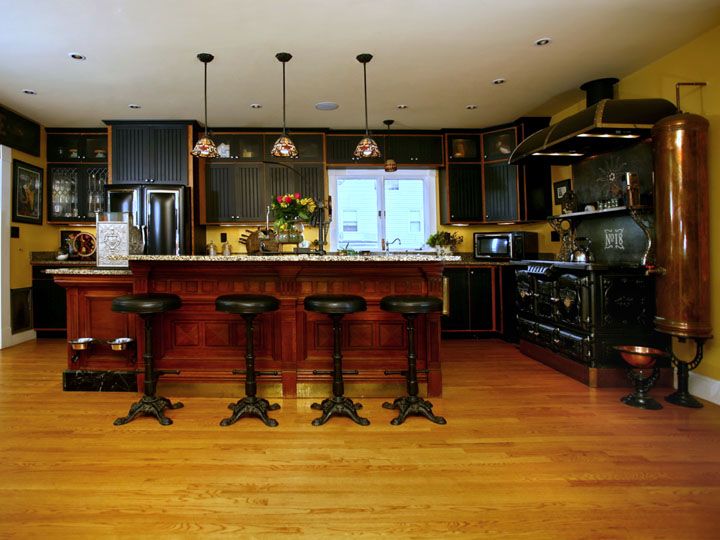 Design a Gear Sculpture
The appeal of the Industrial Revolution, with all its gears cranking and steam spraying out of busy apparatus can be reproduced by adding a sculpture made entirely of re-purposed gears. Combining a wooden ship's wheel, an iron wheel from an old machine, and the metal dial from a no longer working grandfather clock to make a sculpture hung on the wall or ceiling is one popular idea. The sculpture can be as large or as small as the parts reclaimed to make it.
Adopt a Color Scheme Completely Steampunk
An interior design scheme featuring leather seats with buttons, dark woods on furniture pieces, copper, bronze and metallic cabinets or bookcases, rich browns and deep reds in vintage Oriental rugs and metal candlesticks with warm colored candles can combine the industrial with Victorian by using and combining items already available.
Add Antique Maps as Wall Coverings
Maps which detail the world as it was in earlier times are perfect for changing a room's appearance. Using flat ones as wallpaper is an easy way to add the look of yesteryear. Antique globe maps which stand on ornate stands is another.
Use Victorian Furnishings in New Ways
An old upright and very ornate piano could be re-purposed as a computer workstation by removing the keyboard, and adding decorative gear pieces to the surface. Pieces such as reed or pump organs will do the same job, and can become things such as bars, or new desk spaces. The idea is to take the basic piece and then cover it with pipe fixtures, clock faces, or luxurious leather or parquet insets to upgrade it into something fantastic.
Salvage Rusty Metals and Old Factory Parts for Accessories
Old gauges and gadgets can be added to metal or wooden lamps to hint at steam-powered function. Adding old factory parts or rusty metal to encase modern items such as a microwave or toaster is a way to build steampunk style onto modern technology. Some fans replace handles with older ones, and add decorative metal feet on items which originally came without them.
Change Out Light Switches and Doors
To create a Jules Verne worthy room, add salvaged ship items such as an 1800s ship binnacle, a wooden ship wheel post, a collection of spy glasses in brass and a few Victorian top hats with flying goggles attached. Use wood flooring in the room to recreate the appearance of a ship's deck or captain's cabin and the look is complete.
Develop a Steampunk Kitchen
Invest in black appliances, and a black hardwood floor. Choose copper pans, utensils, and brass or copper hanging racks. Replace contemporary handles and knobs with Victorian era fixtures for a kitchen that's on its way to becoming steampunk. Adding a clock with visible inner workings, antique shelves for a pantry, and re-design a set of copper containers by adding decorative screws from the hardware store in varied sizes.
Revamp a Guest Bathroom
Exposed copper pipes, black tiles, a hammered copper sink and old fashioned light bulbs on wall sconces can go a long way toward creating a steampunk guest bath. Use wallpaper in Victorian patterns, keeping the colors dark, the designs elegant and luxurious, plus adding black switch plates can bring all the right elements into this often mundane space.
Integrate Exposed Pipes on the Ceiling
Adding a series of exposed, recycled factory pipes to a ceiling can instantly add a steampunk vibe to a room. Most ceilings are bare, so adding pipework, plus circular handles along the way to imply that the steam inside can be controlled, is a great way to fool the eye and bring in some retro-technology to the space. Painting the pipes copper and then burnishing with black metal paint is a good way to create the desired antique look.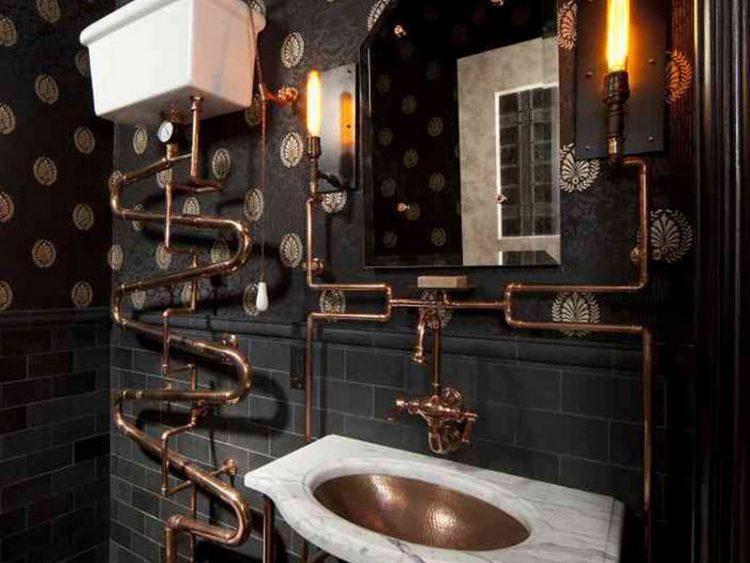 Create Your Own Gear Insects
Insects with intricate sets of wings and gears and tubes to depict and decorate their bodies are highly popular in the steampunk world. Create your own using retro watch workings, and insect parts purchased from an educational supply store. Display inside a curio cabinet filled with a collection of opera glasses, goggles, and beakers from a scientific supply company.
Build a Hypothetical Something
The fun of creating steampunk contraptions is that any kind will do as long as it has tubes, some kind of wooden or leather case, gauges and gears that prove it is operational and all kinds of knobs and brackets to hold the tubing in place. The thing doesn't have to work at all. But, it does have to look as if it could. Many creative types buy old suitcases or wooden cases and outfit them with a myriad of anything that reeks of technology gleaned from the plumbing area of a local hardware store. The more tubes, gears and knobs, all painted in copper or brass paint and assembled into a thing, the better.
Display a Collection of Steampunk Clothes
Many steampunk fans started out by participating in cos-play events. These are costume play events where the dedicated gather to show off their creations. Some wear their latest human flying wings contraptions. Others build and display replicas of flying machines popularized by Golden Age science fiction. But everyone who calls themselves true to the ethos of steampunk will wear clothing they have made themselves. These items range from top hats to corsets to suits, dresses and boots. The items often represent huge investments of time and money. One great way to use these finely crafted pieces, and they are artwork, is to display them in a collection. Use a nice curio cabinet or a salvaged metal or wooden bookcase for an extra steampunk touch.