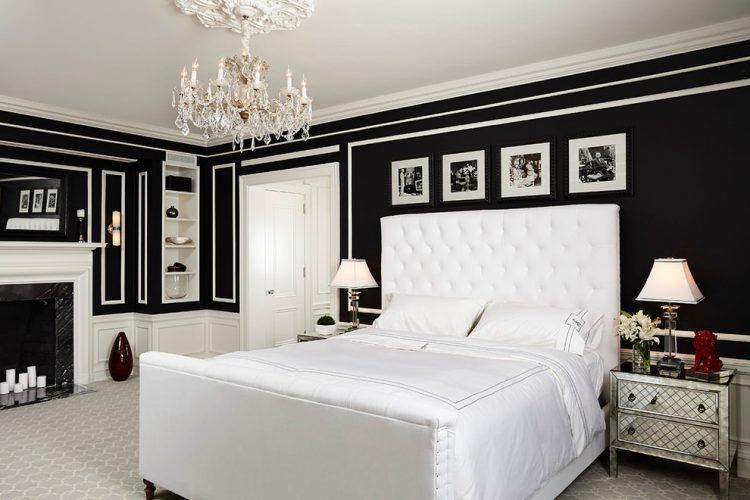 Black is a color that never goes out of style, and outside of white, it's one the most commonly shades used in decorating and home design. It's usually relegated to being an accent color because of its boldness, and rarely is one daring enough to outfit an entire room in black. However, when used as a dominant hue black can take on a whole new light, especially in the bedroom. If you're looking for decorating ideas, here are ten well-designed black bedrooms.
1. Fashionable and glamorous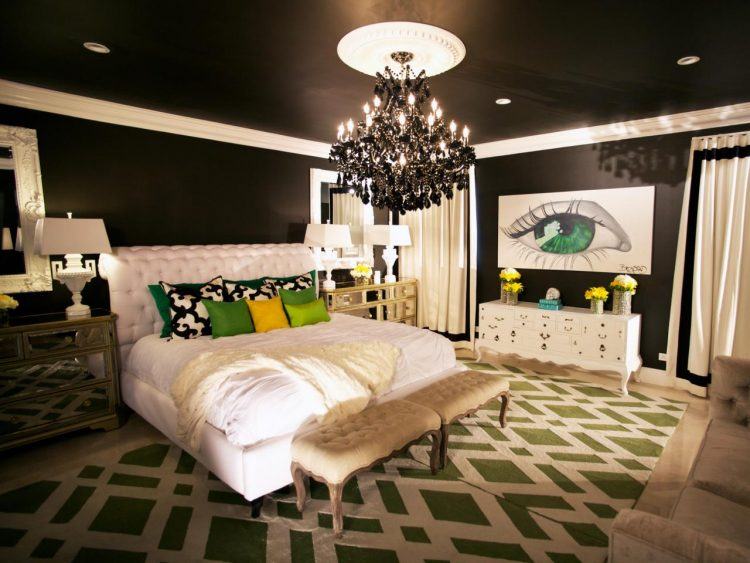 Black and green make an unexpected, but fashionable and chic combination in this bedroom. The walls and ceiling are black, as is a luxurious chandelier and many of the room's decorative accents. Alongside pieces covered in emerald, peridot, and lime, the black is far from overwhelming and gets a refreshing update. To add cohesiveness, the large bed, most of the bedding, and the dresser were chosen in white. White trim around the ceiling, walls, and chandelier not only define those features but keep the black paint from making the room too dark. A large modern art print helps tie the entire design together, as it contains the room's green, black, and white tones.
2. Upscale and lavish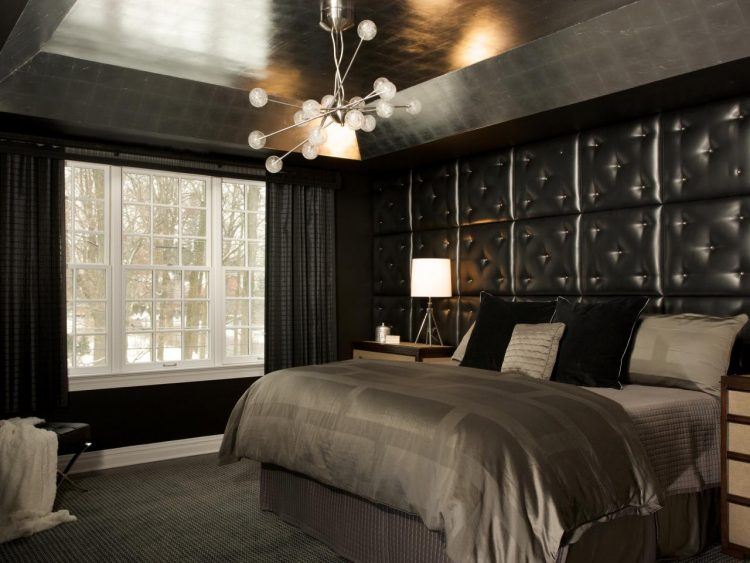 This black bedroom is a custom creation that's unlike any other, and it's stunning. There are so many different textures, patterns, and fabrics in the room, but the modern style of each element brings everything together. One of the most distinctive part of the bedroom is the ceiling, which provides a background for an avant-garde light fixture that hangs over the bed.
Another stand out feature is the padded accent wall. Padded headboards are common, but this is an entire wall that's covered with tufted leather-like cushions. Elsewhere in the room are sleek curtains and bedding, and carpet that complements the color and pattern on the ceiling.
3. Elegant simplicity
You can have a fabulous black bedroom without painting your walls black. This space is attractive and well put together, and the highlight is the black furniture, bedding, and black and white art prints. Because it's a smaller area, keeping the walls neutral to prevent the room from feeling closed in was a great choice. A light and airy white floor covering makes the room appear more spacious and adds a bit of glamour. For visual interest, bedding was used that contrasts with the texture of the area rug.
4. Gorgeous black and gold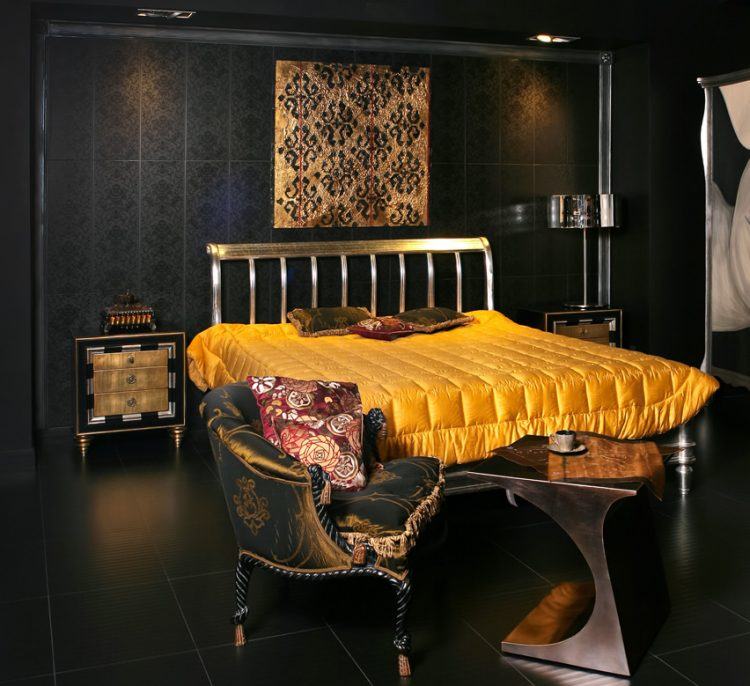 Black and gold paired together can look exotic, opulent, and lavish. This bedroom is the definition of all three, and the wall, floor, and ceiling are covered in black. The nightstands, bedding, and seating all feature gold, as does the art piece above the bed and the headboard. It's a bold and dramatic look, but this black bedroom is also fashion forward.
5. Brilliant traditional style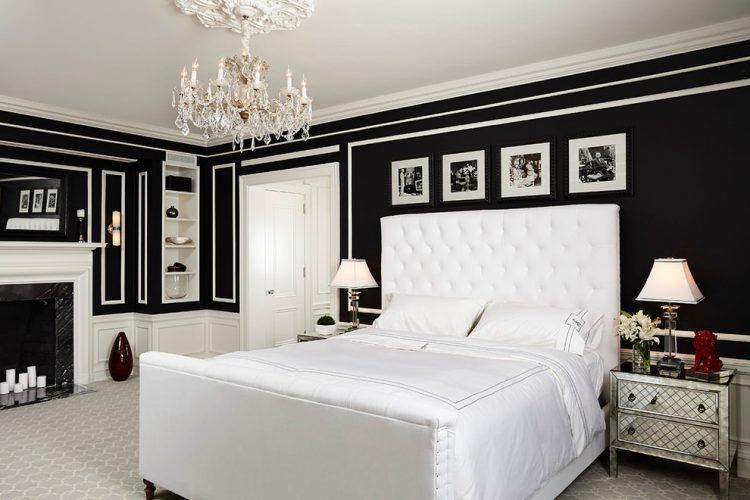 The traditional complement to black is white, and it's the most classic color combination that you can use when decorating. Here, a black bedroom has heavy doses and white that provide a great contrast and also serves to highlight the textures in the decor and the architecture of the space. A lovely chandelier hanging over the bed is an elegant decorative element, while the other decorations in the room are subtle and unobtrusive.
6. Modern appeal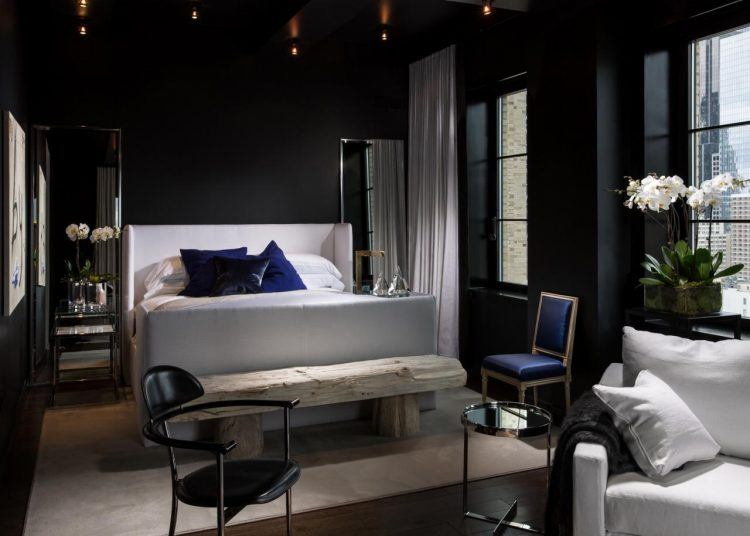 Black is ideal for bedrooms when you want to create an atmosphere that's sensual or sultry. However, that doesn't meant you have to go over the top, and this modern black bedroom exemplifies how gorgeous and sleek the color can be. The ceiling and walls are a deep ebony, and pops of color are added by neutral floral arrangements and cobalt blue pillows and a chair. The aesthetic of the space is comfortable and relaxed, but still very stylish.
7. A bevy of textures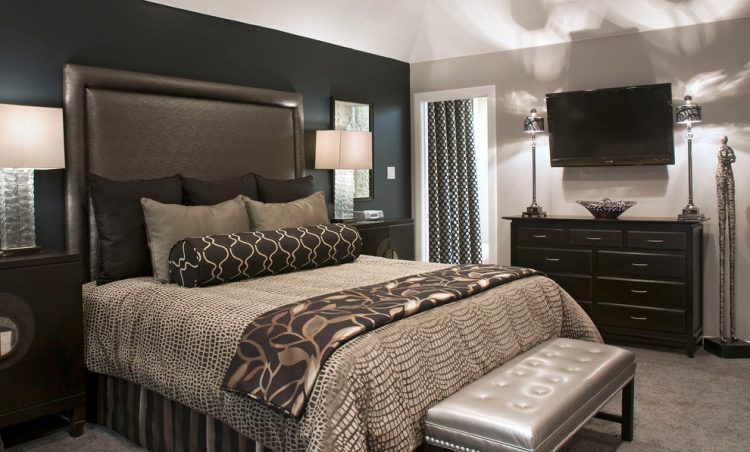 Transitional decor is typically in the middle of being contemporary and traditional, and black suits the style well. This transitional black bedroom is full of bold textures and patterns, all set against a black feature wall and huge black headboard. Though the patterns seen on the bedding and leading into the other room are all different, because they share the same color palette it all works together beautifully.
8. Small space, big impact
One of the biggest challenges with using black as a prominent color is preventing rooms from feeling smaller. This black bedroom solves that problem by placing panels of mirrors along one wall — use this technique in your own home if you want to use dark colors but have modestly sized rooms. With the illusion of more space given by the mirrors, the black flooring, curtains, and bedding don't look or feel too imposing. A plush area rug and tasteful chandelier add touches of class and elegance to the design.
9. Trendy and masculine
When it comes to putting together a masculine design, black is one of the best colors to choose. Here it's used to create a bedroom that's stylish and decidedly manly. Black covers just about every inch of the space, from the ceiling and walls to the black carpet, furniture, and bedding. Incredibly, instead of looking too dark and heavy, the overall appearance of the room is trendy, modern, and sleek.
10. A relaxing retreat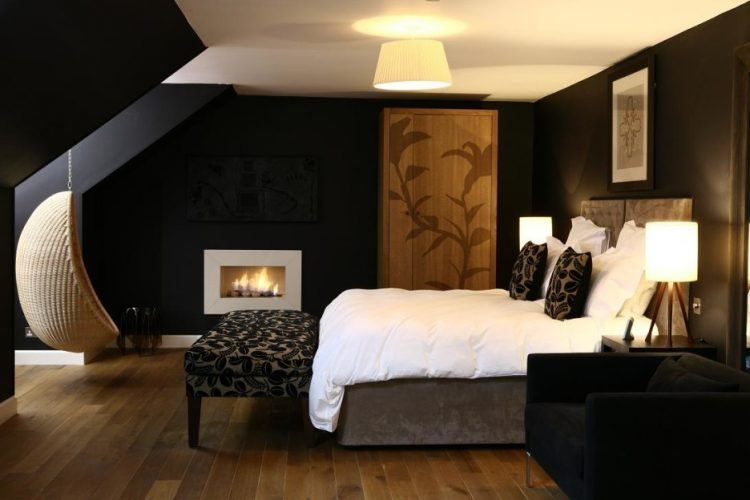 Many think of black as being dark and brooding, but it can actually be a relaxing color. This black bedroom combines natural elements, simple lines, and calming decor to create a space that would be perfect to kick back in. The floral motif is subtle, and how awesome is the hanging chair? The fireplace definitely helps add coziness to the room, and because of the flood of natural light, black walls don't make the space look too closed in at all.