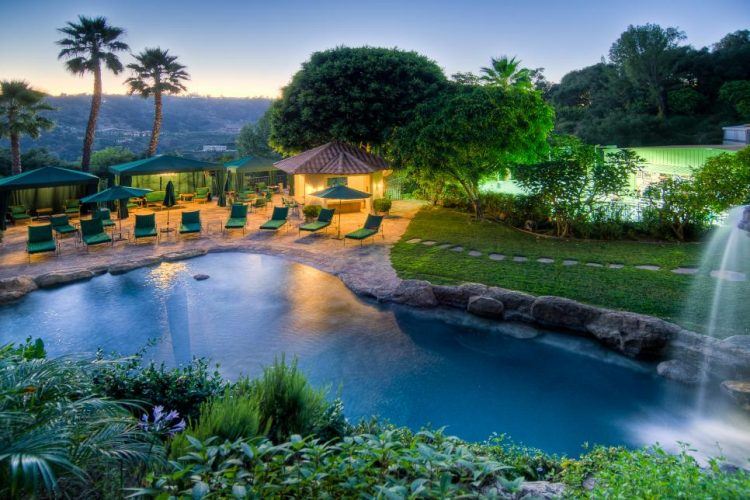 Beverly Hills, LA is known for a being a wealthy enclave full of exclusive restaurants, high end boutiques, celebrity hang out spots, and insanely opulent mansions. While some of these houses are on lots that aren't all too impressive, many have backyards that rival the look of the houses themselves. They're not just picture worthy, but provide the ultimate in outdoor living, comfort, and luxury. Here are ten beautiful backyards that are located in Beverly Hills.
1. The epitome of exclusive
This is the backyard of the mansion located at 420 Trousdale Place, part of the highly sought after Trousdale Estates. It's the definition of a trophy property with nearly two acres of land, a spacious motor court, and panoramic views spanning from the Pacific to the city's downtown area. Having a lighted deluxe pool that winds like a maze makes this outdoor space look even more incredible at night.
2. A celebrity retreat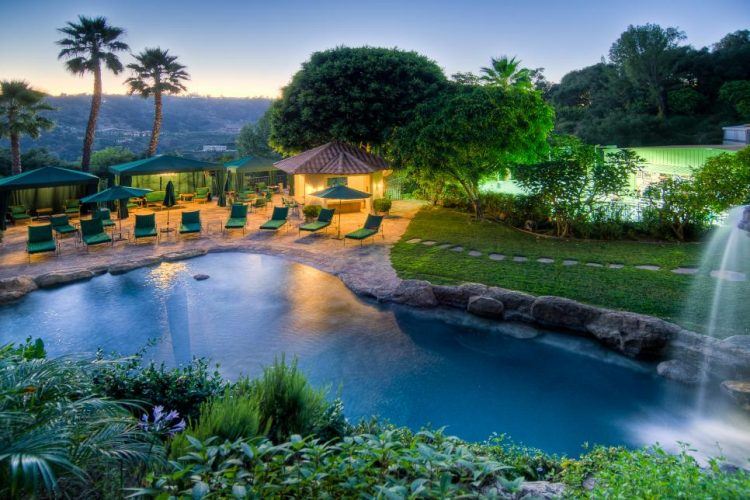 Inside of this mansion owned by actor Mark Wahlberg is a full gym that covers two stories and has its own boxing ring — that's seriously impressive. Outside in a veritable oasis complete with a resort style pool, plenty of space for lounging, and an impeccably manicured backyard. It's one of the most calming and peaceful Beverly Hills backyards, and it would also be an ideal place to hold an intimate gathering.
3. Chic sophistication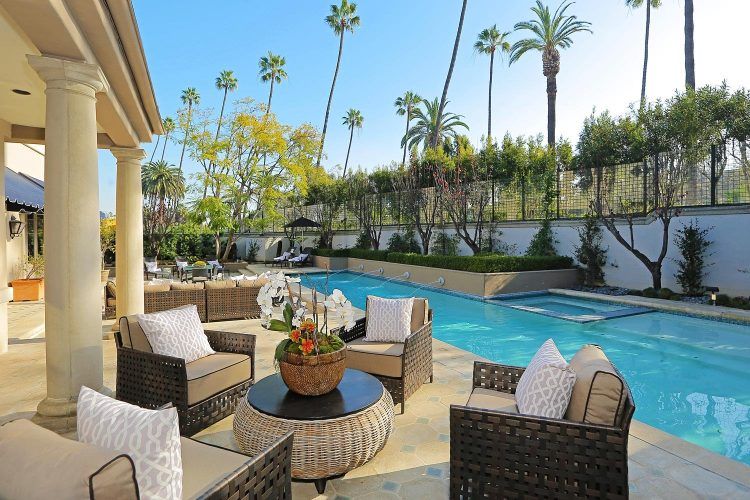 The backyard of this mansion isn't just huge, it has a gorgeous look that is sophisticated, stylish, and perfectly primed for kicking back with a drink and having a chat with friends. The property looks more like it belongs to an upscale resort than a house, but the best Beverly Hills backyards aim to impress. The lap pool is especially inviting, as is the array of plush chairs and seating areas.
4. A gorgeous garden
Here is the backyard of the Greystone Mansion, one of the most well known Beverly Hills backyards. It's a private property that's often rented out for weddings and special events, and one look at it will reveal why it's in such high demand. The garden in this yard is nothing short of amazing and would be a magical place to say wedding vows. Lush trees, ornamental statues, bridges and footpaths — it looks like something out of a hidden countryside rather than a bustling city in Southern California.
5. The French inspired chateau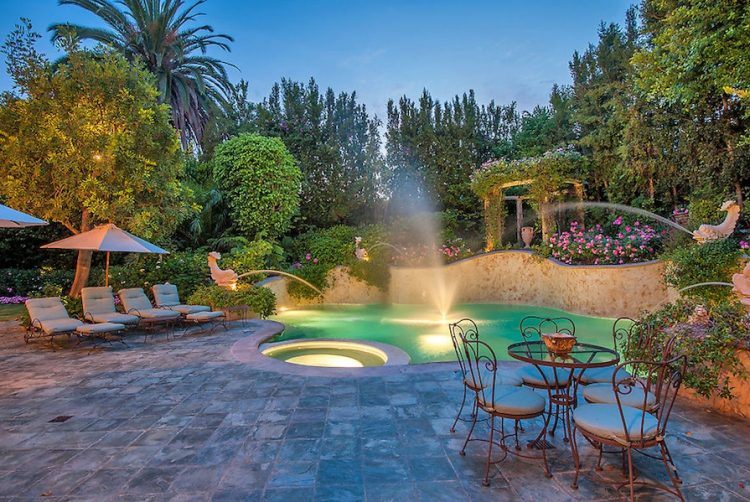 Most mansions in Beverly Hills either have a Spanish, modern, or contemporary design influence, but this one stands out from the norm by flaunting a French baroque aesthetic. The backyard is particularly charming, though also spacious and full of lavish amenities. Several seating areas provide gorgeous views of the surroundings, which include beautiful blooms, towering trees, and manicured gardens. The pool in this backyard is uniquely shaped and has its own spray fountain in the center.
6. Picture perfect landscaping
Seriously, how could the landscaping in this backyard be any more perfect? It's superbly manicured, not a sprig of grass it out of place, and whoever can afford this mansion likely has the cash to keep it looking this way all the time. It's the perfect setting to face the back of the home, which is not only huge but has plenty of beautiful architectural details. Combined with the sparkling pool and effortless flow between the indoors and backyard, this yard provides tons of design inspiration.
7. Mediterranean style opulence
Sitting on San Ysidro Drive is this gorgeous mansion, which has a breathtaking custom designed pool and a backyard that anyone would love to relax in. What makes this backyard so outstanding is that the facade of the house and the aesthetic of the yard meld together perfectly. The style of each is fitting for the other, and all of the details are perfectly placed. It's also refreshing to see a property that deviates from the typical one you'd see in Beverly Hills.
8. A legendary backyard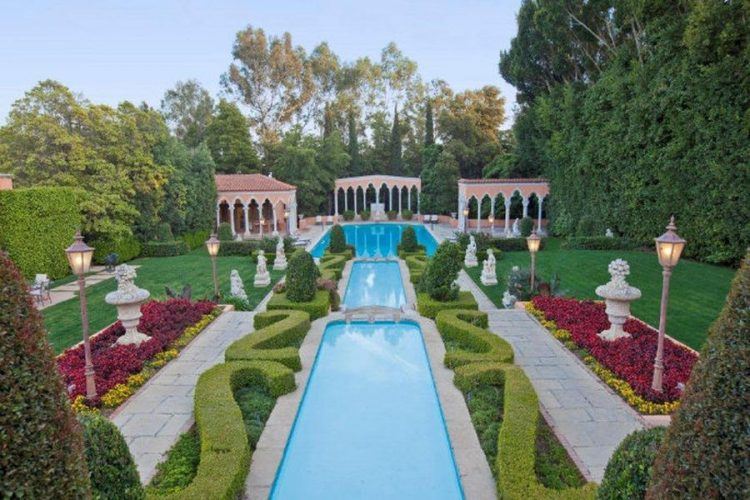 You could say that this is one of the most legendary Beverly Hills backyards because of its looks, but it's actually known because it's where the horse head scene was shot for the movie Godfather. President John F. Kennedy and Jackie O. honeymooned there as well, making the property truly historic. It listed for $135 million and much of its price tag is no doubt due to the house's reputation. However, the backyard of the home is magnificent in its own right. The ornamental landscaping is flawless, and you could hardly wish for a more fabulous pool.
9. Refreshingly whimsical
This amazing backyard belongs to a home that was listed for sale by iconic musician John Fogerty, whose asking price was $23 million for the property. This would be a perfect home and backyard space for anyone who wants a break from the too-straight laced, too-perfect and artificial look that consumes many Beverly Hills backyards. It has personality and charm but isn't short on luxury. The pool features a custom designed mosaic, and vibrant flowers line the backyard fence. One of the best features is the breathtaking view of the city's landscape.
10. Upscale and rejuvenating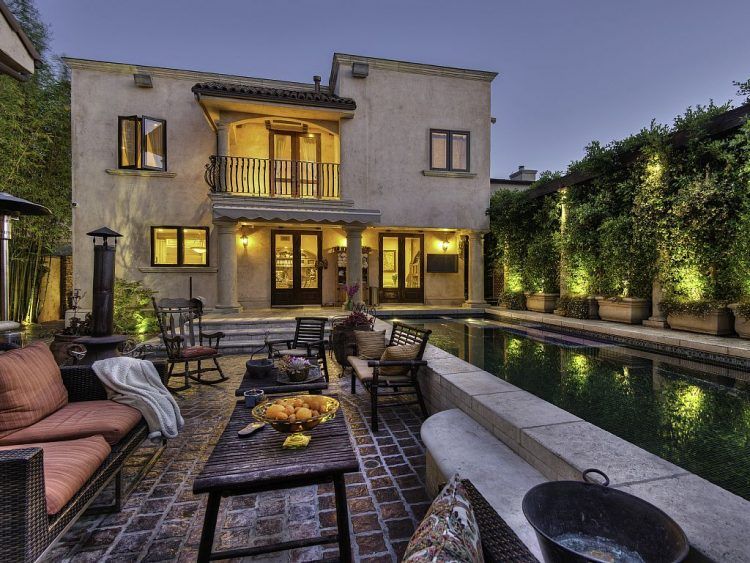 Right next to Beverly Hills' well known Beverly Center is this property with a backyard that's like an exclusive spa. The first thing that's noticeable is its warm, elegant, and stylish appearance which has tons of character. Behind the home is a soothing hot tub, television, lounge and sitting areas, and a wonderful pool. The pool and patio both have electronic covers, making them convenient as well as beautiful. This would be the ultimate party and entertaining space — you could easily picture guests lounging and strolling about, sipping fancy cocktails, and having an amazing evening.