In southern cities like Athens GA, soul food just comes with the territory. With roots below the Mason-Dixon, soul food, also known as comfort food, has been a part of the southern culture for centuries. As a result, soul food is never too hard to find anywhere in the south. With that being said; however, all soul food was not created equal, and sometimes it can be hard to find the restaurant that serves the most delicious food. Sure, having options is a good thing, but it can also be pretty overwhelming when you don't know where to start. Well, finding some good down home cooking in Athens just got a whole lot easier. Here are the five best soul food spots in Athens GA.
Mama Jewel's Kitchen
Recently opened, Mama Jewel's Kitchen is a family owned place that prides itself on providing quality food and quality customer service. The Padgitt family, who owns the restaurant, cooks from old family recipes. Mama Jewel's offers a wide variety of heaping helpings, and the prices are also reasonable with almost everything rounding out at about $10. Once you've finished your meal, you better make room for dessert, because Mama Jewel's also has some pretty good sweet treats including bread pudding and chocolate cake.
image via classiccitytoday.com
Niece's Soul Food Cafe
Relatively new to the area, Niece's Soul Food Cafe is already becoming popular among people in Athens GA. The restaurant has a very casual and relaxed atmosphere and serves a variety of southern favorites including ribs, chicken, cabbage, and ox tails. Although the food at the restaurant is not made to order, reviews say that it still tastes incredibly fresh.
image via Niece's Soul Food Cafe
Mama's Boy
With a name like Mama's Boy, you should already know that you can't go wrong. Mama's Boy is one of the most popular southern cuisine restaurants in the area, and it's easy to see why. The restaurant offers breakfast and lunch and serves all types of sandwiches including breakfast biscuit sandwiches and a pulled pork sandwich for lunch. The restaurant "has been voted Athens' Favorite Breakfast  in 2010, 2011, 2012 and 2013 & Favorite Brunch in 2012 & 2013 by Flagpole Magazine."
image via www.foodspotting.com
Chonell's Home Cooking
According to Visit Athens, "Chonell's is a local favorite for soul food, and prides themselves on having great taste without too much grease or salt. The lunch buffet features soul food standards, while dinner includes options such as hamburgers, sandwiches, wings, and seafood. Chonell's moved into a large, new location in December 2012 and now offers expanded banquet facilities and catering services." Although sporadic, the restaurant has a Facebook page where a daily menu is occasionally updated. Aside from he delicious food, diners have also been satisfied with the prices, which are extremely affordable.
image via www.visitathensga.com
Food for the Soul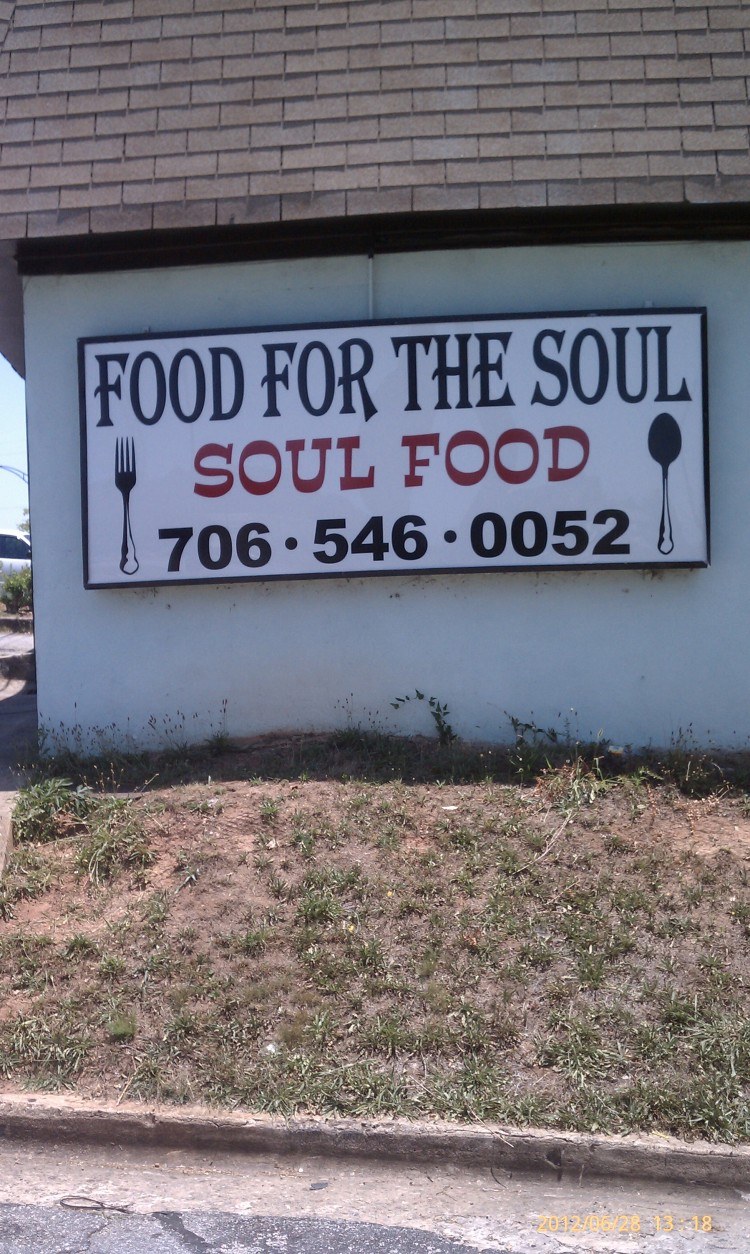 There's nothing better than a restaurant that has sides that are just as delicious as the main course. Well, Food for the Soul is certainly one of those restaurants. This local favorite has served countless satisfied customers, and most people can't wait to come back for more. From fried pork chops to chicken livers, Food for the Soul has all of the southern food your heart desires, and you'll definitely be walking away with a full stomach. According to one diner, the food "So so good!!" and, "Everything tastes so yummy!" If you're in the mood for a good meal, you've definitely got to make some time to check out Food for the Soul.
image via www.marshallscott.com
lead image via thrillist.com