If you're the type of person who likes to spend a lot of time in the kitchen, you probably also enjoy learning about new ways to prepare food. While pressure cookers certainly aren't 'new' when it comes to kitchen appliances, they don't always get the type of attention they deserve. As a matter of fact, lots of people aren't even exactly sure what pressure cookers do or how they work. According to The Kitchn "A pressure cooker works on a simple principle: Steam pressure. A sealed pot, with a lot of steam inside, builds up high pressure, which helps food cook faster." This technique may sound like some sort of modern invention, but pressure cookers have actually been around since the 1600s. All in all, a pressure cooker can be a great addition to your kitchen, but if you're going to invest in one – you want to be as informed as possible and make sure you're getting the most for your money.

What Can You Make With A Pressure Cooker?
Nobody wants to buy something that they won't be able to get much use out of. Fortunately, that's not something you'll have to worry about with your pressure cooker.
Pressure cookers are great because of their versatility. Basically, there are lots of things you can make using a pressure cooker including popular staples like rice and beans. However, pressure cookers can also be used to cook meats and vegetables. The more creative you are, the more possibilities you'll see.
Are Pressure Cookers Easy To Use?
Again, convenience is at the top of the list for lots of people – especially when it comes to cooking. Lots of people simply don't have time to spend hours in the kitchen preparing elaborate meals. So for people who are unfamiliar with pressure cookers, the thought of welcoming a new appliance into their kitchen can be a little intimidating. While pressure cookers aren't exactly difficult to use, there can be a bit of a learning curve due to the way pressure cookers operate.
Unlike other methods of cooking, using a pressure cooker involves the food to be completely sealed for the entire time it's cooking, and the speed at which the pressure should be released depends on what you're cooking. This can definitely require lots of practice and patience.
Once you get the hang of it, you'll likely find that your pressure cooker is your new best friend. Below, we've compiled a list of the three best pressure cookers on the market now. These items were selected based on their popularity on Amazon as well as their ratings from customers.
The 3 Best Pressure Cookers On The Market Right Now
Capable of both pressure cooking and canning, this item is one of the most popular pressure cookers on Amazon according to customer ratings. With a ranking of 4.5 stars, this item is known for being reliable, durable, and easy to use.
Despite being small, this pressure cooker is capable of completing tasks just as well as much bigger models.
If you're interested in learning how to can your own foods, this item will be especially appealing. Using a pressure canner is great for 'low-acidic' foods. According to Tori Avey, "Pressure canning is essential for low-acid foods. If you're wondering which foods are considered high acid and which are low, it's always best to keep a copy of a Ball Complete Book of Home Preserving handy. Lots of vegetables fall into this category, as do meat and seafood, if you're feeling adventurous!"
Not only does this pressure cooker have a 4.5 star rating on Amazon, but it's also one of the best-selling pressure cookers the site offers. The product's description boasts that this item is "the next generation in kitchen appliances" and a central dial makes it easy to use. On top of being a pressure cooker, this device is also a slow cooker, a rice cooker, a yogurt maker, a warmer, a sterilizer, etc. Essentially, this one pot can replace several of your other small kitchen appliances.
The Instant Pot also features a free app that will give you access to hundreds of recipes, personalized grocery lists, and tips on how to make the most of your pressure cooker.
In addition to giving you more options to cook, the Instant Pot's stainless steel design makes it easy to clean and maintain.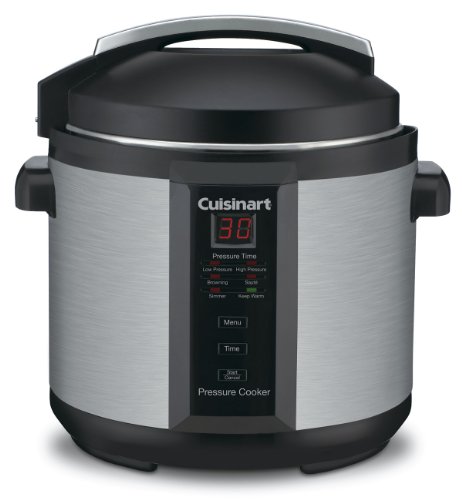 With over 1,400 reviews, this Cuisinart pressure cooker has a 4.5 star rating, and it's easy to see why. Boasting a stainless steel design, this item is not only sleek, but it's also easy to clean and maintain.
When it comes to functionality, this pressure cooker is sure to get the job done. As the product's description mentions, you will "Reduce time spent in the kitchen preparing meals with the help of this 6-quart electric pressure cooker–it cuts cooking times up to 70-percent when compared to traditional stovetop cooking methods.
The unit traps steam inside, which builds up pressure to create hotter temperatures, and its tight seal locks in heat, moisture, and flavor, as well as vitamins and minerals for exceptionally healthy, great-tasting meals like soup, chili, and other one-dish entrees."
You can also utilize the various settings such as low pressure, high pressure, browning, and simmer. This gives you the opportunity to prepare various foods in different ways.
Pressure Cooker Recipes
Once you've decided on which pressure cooker to buy, check out these resources for pressure cooker recipes…
Conclusion
Hopefully now have a better idea of what a pressure cooker can offer you. Not only can a pressure cooker make cooking easier and quicker, but it can also help you prepare your favorite foods in a healthier way. As The Kitchn "The pressure cooker is highly efficient — it uses far less energy than many other appliances, since it cooks so quickly and leverages the pressure powers of steam." All in all, if you already spend a lot of time in your kitchen and you're looking to cut down, or you'd like to get more into cooking, a pressure cooker can definitely be a worthwhile investment.