When most people think of the west coast, they automatically think of California. After all, it is pretty hard to compete with the Golden State. However, the state of Oregon provides a little more competition than most people think. While Oregon may not be full of fast life and Hollywood stars, it offers a chance for a beautiful life right by the coastline. But since it isn't the first state that comes to mind, lots of people may not know where to find the best places to live in Oregon. However, the Beaver State might be the perfect place for a lot of people – it's all about knowing where to look. Here are the best places to live in Oregon in 2015.
Bend
Bend is a great place to live for a number of reasons – but mainly because there's something there for people of all ages and at all different stages in life. Bend had lots of great options for outdoor activity including plenty of hiking trails. The city has also become a popular destination for tourists due to its Mount Bachelor ski resort and the Cascades Lakes. People with children will also enjoy Bend because of its stellar public school system which has a high school graduation rate above the state average.
 (Photo by Johannes Simon/Getty Images)
Beaverton
Sure, it's one of the best places to live in Oregon, but for years, Beaverton has also been considered one of the best places to live in the United States – and it's also one of the best places to retire. Beaverton is also perfectly located to a lot of amazing hiking trails and other outdoor activities, and for those who prefer to walk instead of driving – Beaverton was also ranked one of the most walking friendly cities. Most impressively; however, is probably the fact that the crime rate in Beaverton is more than 30% less than the national average.
 (Photo by Brent Stirton/Getty Images)
Milwaukie
Not to be confused with Milwaukee, this Oregon city is definitely one of the best places to live in the entire state. Like many other cities in Oregon, Milwaukie has plenty of outdoor activity options. But more than that, Milwaukie is currently undergoing a revitalization that includes new apartments and retails stores. And adding more stores is definitely a good thing in this city, because the good people of Milwaukie make about 6% more than residents in other part of the state. As if all of that weren't enough, the crime rate in Milwaukie is also low.
(Photo by Christopher Furlong/Getty Images)
Sherwood
Located southwest of Portland this amazing Oregon city is by far one of the best. With a population of just a little over 11,000 Sherwood has the small town feel that people love, but with just a little more going on. Sherwood is beautiful, and there's plenty of nature to go around for residents and visitors. Aside from that, the city also has a high graduation rate, a low crime rate, and an above average income.
(Photo by Natalie Behring/Getty Images)
Lake Oswego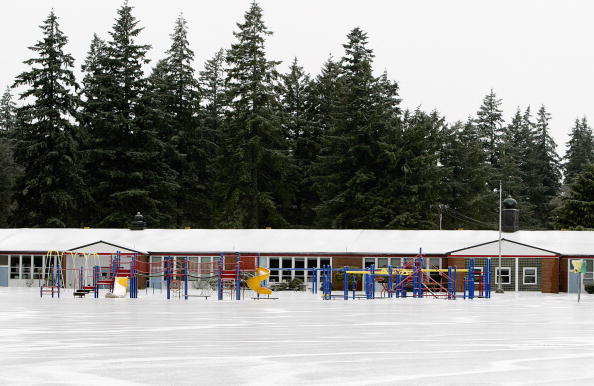 The city of Lake Oswego is easily one of the best places to live in Oregon. It's the perfect place for those who are looking to get the best of both words when choosing a place to settle down. The city has a rich history that dates back to the mid 1840s and has become hot spot for culture and art. Lake Oswego has plenty of activities for residents and boasts several recreational facilities. Lake Oswego also has the highest high school graduation rate in the state, as well as the best home values.
(Photo by Jonathan Ferrey/Getty Images)
Canby
Canby is the kind of place you think of when you imagine Oregon. It's quiet and full of lots of cool art and nature. The city is home to the  Clackamas County Fair and Rodeo which has been taking place since 1907, and is also home to several notable figures including Howard C. Belton and Martha Schrader.
(Photo by Oli Scarff/Getty Images)
West Linn
West Linn may not be one of the most well-known cities in Oregon, but that doesn't mean it isn't one of the best places to live. The city has a rich history and its population has grown pretty drastically over the last several years. West Linn offers its residents a community like atmosphere that allows neighbors to turn into family. For those interested in making money, the median income for people living in West Linn is $84,000.
(Photo by Sean Gallup/Getty Images)
Happy Valley
Who wouldn't want to live in a place called Happy Valley. With a name like that, it should come as no surprise that this city made the list of best places to live in Oregon. Happy Valley is one of the safest places in the state and also boasts the second highest graduation rate in Oregon. The median household income in Happy Valley is over $100,000, and there are plenty of great places to shop.
 (Photo by Chris Jackson/Getty Images)
Oregon City
Oregon City is one of the best places to live in Oregon for one simple reason: it's beautiful. Located on the Willamette River, Oregon City is full of lovely views and hiking trails. The city also has plenty of other activities to offer, and residents of this fine city are also well paid and healthy.
(Photo by Matt Cardy/Getty Images)
Portland
No list of the best places to live in Oregon would be complete with out Portland. This popular city is the most well-known in the state, and is known for being weird – in a good way. Now becoming a hub for hipsters, Portland, which is biggest city in the state, offers the city feel that lots of people love with a pretty reasonable cost of living. Portland has also been the set of several films including Twilight and Gone. For most people who are looking to relocate to Oregon, this city is at the top of their lists.
(Photo by Craig Mitchelldyer/Getty Images)
Lead (Photo by Craig Mitchelldyer/Getty Images)