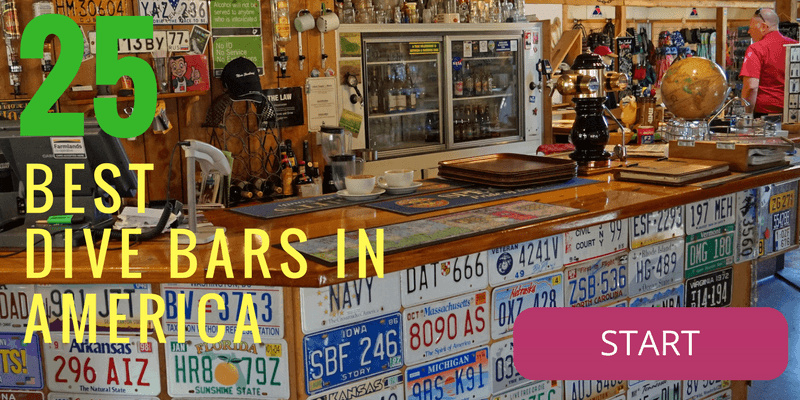 A dive bar is a disreputable bar or pub where local residents gather to drink and socialize. Have you ever walked into a bar, looked around, and thought, "Wow, this place could really use some work?" or maybe "This bar is really one of a kind" or even "I can't believe they are playing that song?" If the answer is yes to any of the above, chances are you were in a dive bar; and if we had to guess, you were probably about to experience a night you would never forget. Of course, if this place was a true dive, at low enough prices for the alcohol, you might have ended up wishing you could forget it, or not remembering it at all.
In order to direct you that dive bar you should be going, I have compiled a short list of more than a hundred of ultimate dive bars in America and rank they based on four categories that make bar a dive. First, it must have a good jukebox, ultimate time wasters such as pool, drafts, darts, or karaoke. Next, is a look at food and drinks offered and their prices? Finally, I consider that intangible, overall character. From seedy salons to ramshackle road houses, these are most beloved dive bars in every major American city. With this information, It narrowed the number to 25.
(Photo by Rick Diamond/Getty Images for Bud Light)

Ginny's Little Longhorn Saloon, (Austin, Texas)
Deep in heart of Austin, lies Ginny, a center of honky-tonk music scene. It offers you cheap beer that you can easily afford. They arrange happy hours for you; Monday through Saturday; and Sundays, the dive bar hosts their famous version of bingo: If the chicken of the week defecates on your number, you get a free drink.
If the chicken of the week defecates on your number, you get a free drink. If you are not playing a round of bingo or enjoying a cheap beer, you are swaying to some of the music of acts like Two Hoots and a Holler or Dale Watson. Ginny's has good people, cheap booze, and a rowdy crowd, which is why it easily grabbed number one spot.
(Photo by Christopher Polk/Getty Images for iHeartMedia )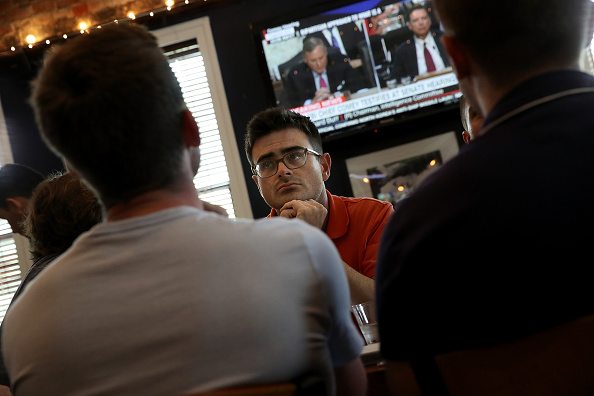 Reel M' Inn, (Portland, Oregon)
Blaring journey over the stereo and dishing out heaping amounts of fried chicken, this place is an ultimate dive bar. Whether you're admiring the quirky and unique décor on the walls slugging back a cold beer for under $5 or enjoying a plate of their endless selection of fried chicken and potato wedges, Reel M' Inn has it all. This place will not break a bank, but it will fill you up and quench your thirst. Be sure to look out for Bill and Sheri Purdy, the beloved owners of the spot, for a memorable conversation about the history of the bar.
(Photo by Win McNamee/Getty Images)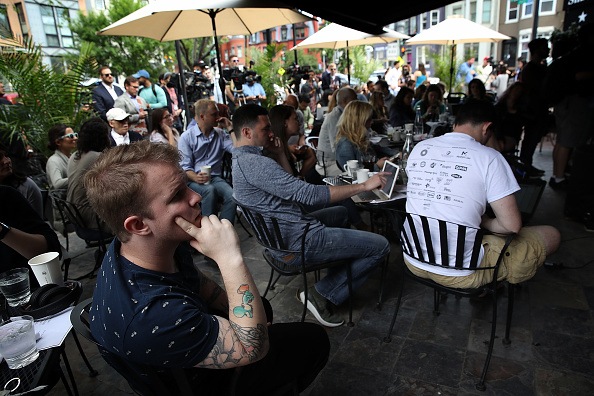 Magnolia Bar & Grille, (Magnolia, Kentucky)
It offers all the essential time wasters: a pinball machine, pool tables, and a jukebox. With a notorious (and arguably disturbing) bathroom that's rarely cleaned, a pole on the dance floor, and a dance party offered every Wednesday, this is the place for wild nights you'll never forget. Assuming you can remember anything the next morning.
 (Photo by Win McNamee/Getty Images)

Charlie B's, (Missoula, Montana)
If you are looking for a place to day-drink, Charlie B's is for you. It opens at 8 a.m. and stays that way until 2 a.m., and there are always regulars here throwing back booze before noon. The bar is home to the famous Dinosaur Café, dishing up some of the most mouth-watering Cajun food in "Big Sky Country." Take a seat at the bar, order one of the famous Po-boys, and sip on a sip on a stiff long island iced tea and it will be sundown before you know it.
(Photo by Alex Caparros/Getty Images for Heineken)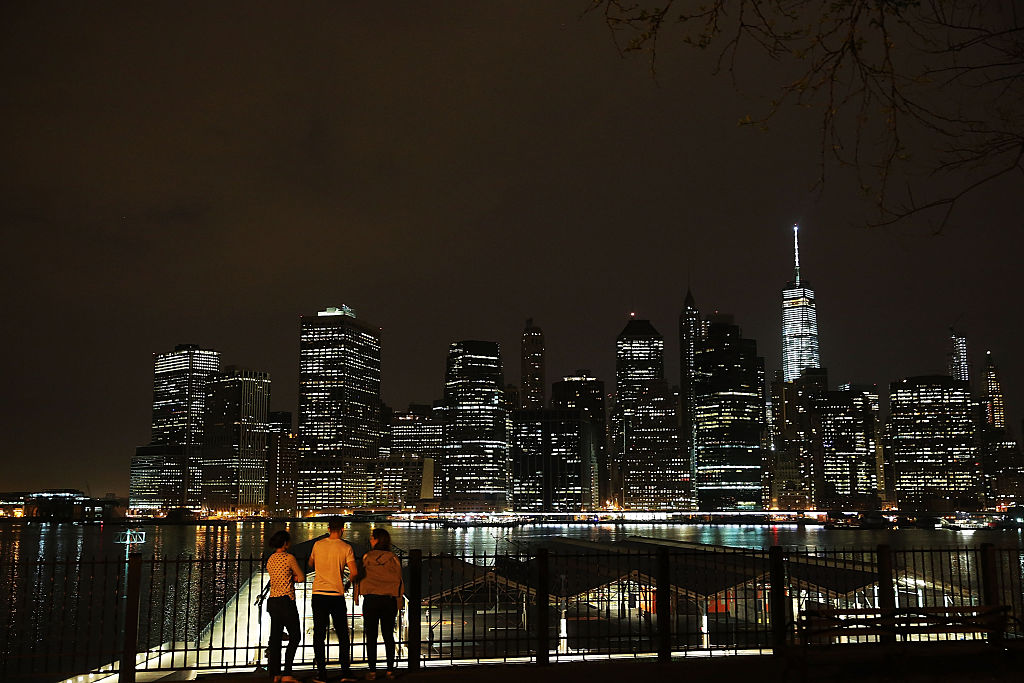 Rudy's Bar & Grill, (New York City)
It is one of most famous drive bars in New York City. If you are a tourist, be sure to take a photo with the legendary six-foot plastic pig outside and ask the bouncer about the many celebrities who used to hang out there. Go to the bar for a $3 pint of beer or $5 glass of wine that comes with a free hotdog. Yes, you read that right: You get a free hot dog with your drink. What could be better?
(Photo by Spencer Platt/Getty Images)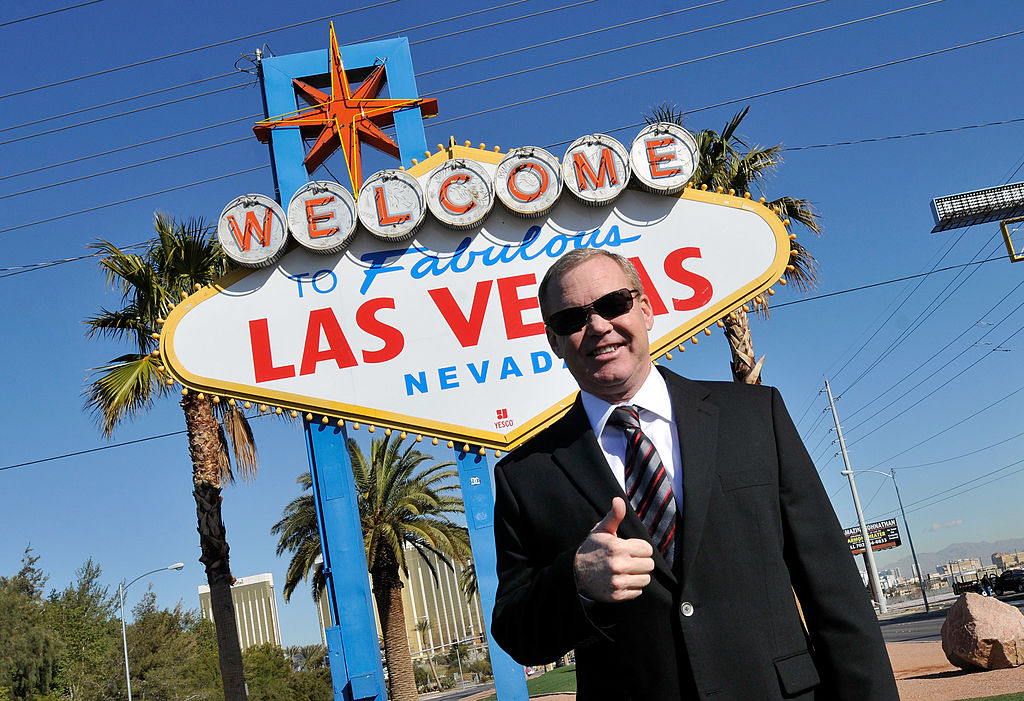 Double Down Saloon, (Las Vegas, Nevada)
It is a dive bar only for wildest drinkers. It hosts rock and punk concerts and their bar is fully stocked, but that is only the beginning. They are famous for two things: their motto, "Shut up and Drink," and their famous "Ass Juice," consisting of a secret, deadly mixture. We are not sure we want to know what is in it. Pay no more than $5 or $6 dollars for a drink and get mesmerized by the colorful, trippy murals on the walls.
(Photo by David Becker/Getty Images for IndyCar)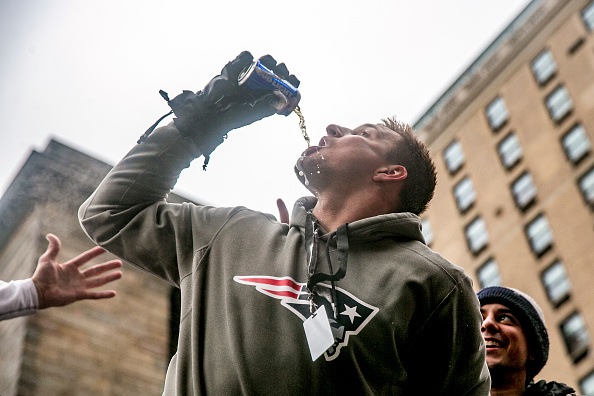 Bubba's Sulky Lounge, (Portland, Maine)
This colorful bar is full of antiques that are hanging from the ceilings, sitting on the bar, and bolted to the walls, which were sought out and collected by Bubba himself. Offering a full bar, "80s Night w/ DJ Jon" on Fridays, and an "Everything Dance Party" on Saturdays, Bubba's is sure to offer a night you will live to remember.
(Photo by Billie Weiss/Getty Images)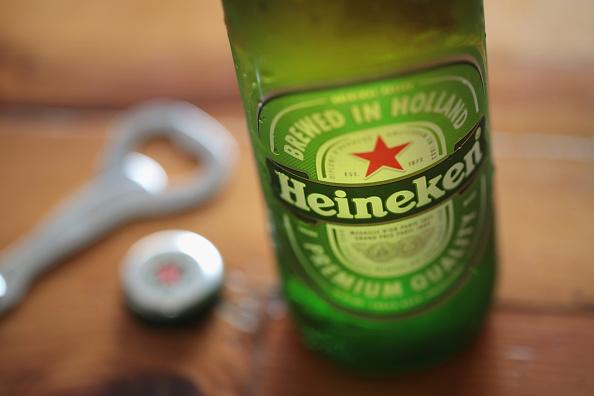 Deep Eddy Cabaret, (Austin, Texas)
It happily serves Texans cheap beer, liquor, wine, and bar snacks all along. It provides old-school televisions (no flat screens here), pool tables, and a jukebox: the ultimate dive bar trifecta. They often serve regulars mini pitchers of Lone Star and wine by the glass, among other drink choices. Munch on some chips, beef jerky or pretzels and sip on a cold one at this famous Austin hangout.
(Photo Illustration by Scott Olson/Getty Images)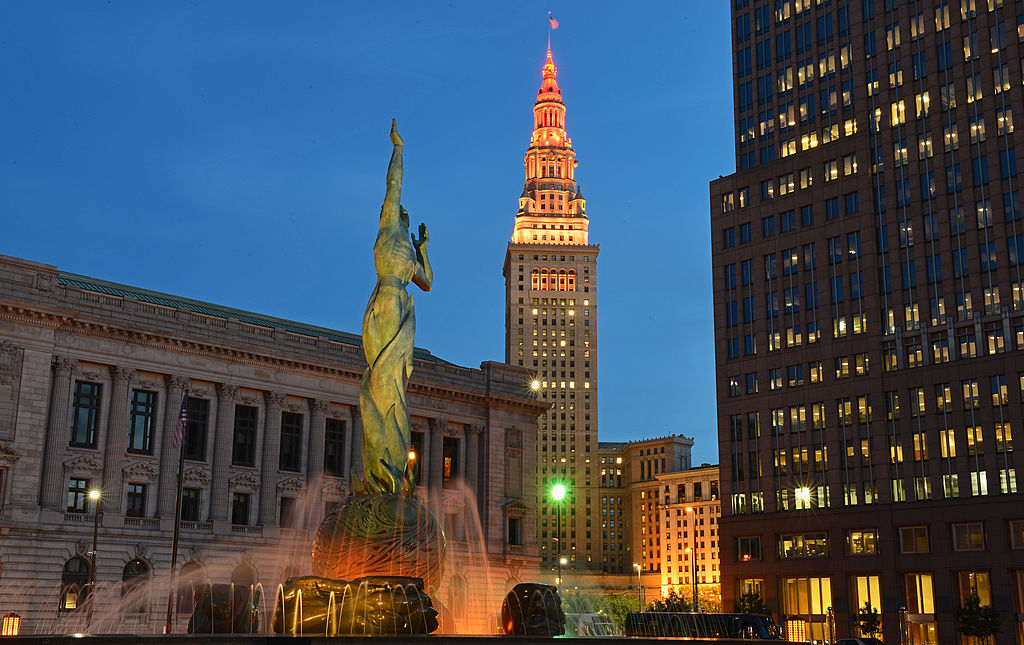 Duck Island, (Cleveland, Ohio)
This comfortable spot offers beer and shots for under $5. They admit that their bartenders are not mixologists but that is only because they do not need to be. In their words, "we know our clientele and we know what they like." It is as simple as that!
(Photo by Duane Prokop/Getty Images)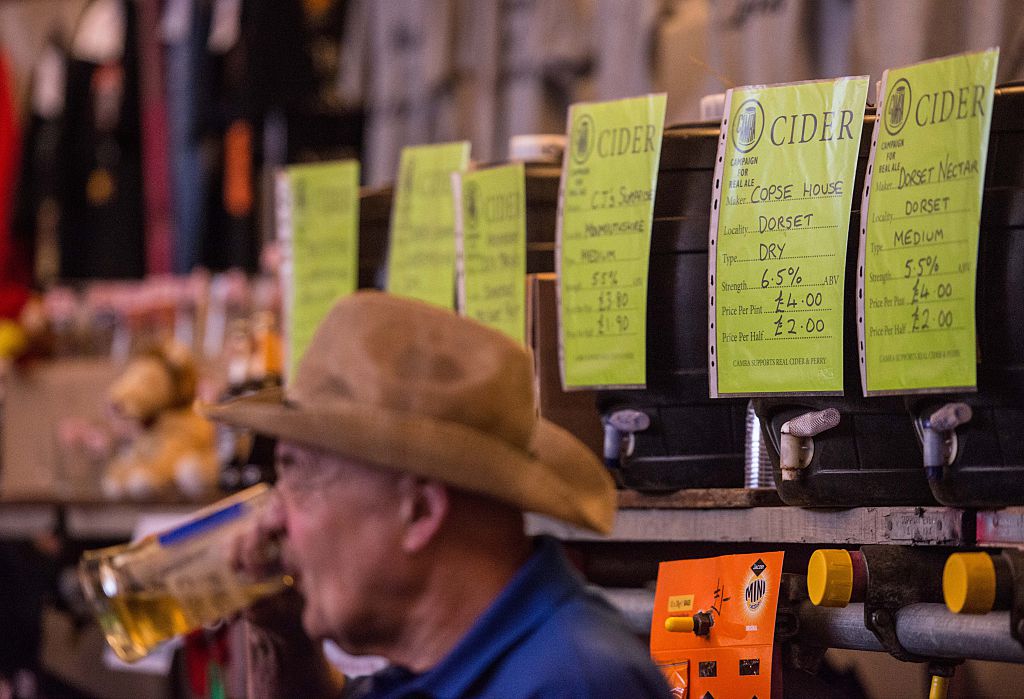 Dry Creek Café & Boat Dock, (Austin, Texas)
Of course, this is not a café and there is no boat dock. It is referred to as grisly roadhouse or saloon. Austin locals take pride in enjoying the view and getting down to the "old school" jukebox at this quirky, beer-only bar.
 (Photo by Chris Ratcliffe/Getty Images)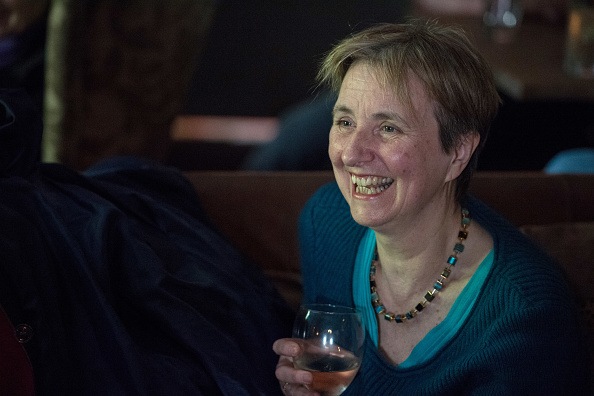 Ernestine & Hazel's, (Memphis, Tennessee)
Slip on your dancing shoes and go to best jukebox in Memphis. Once you dance your heart out, sit down, and enjoy their famous soul burger, a giant patty and bun with onions, cheese, pickle, and their secret "Soul Sauce." This spot is more than just a dive bar with a great burger, though.
(Photo by Chris J Ratcliffe/Getty Images)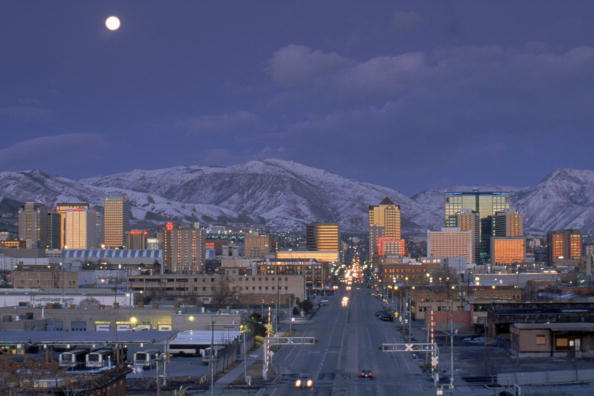 The Bar in Sugarhouse, (Salt Lake City, Utah)
If you are seeking that cozy, neighborhood feel, this is the spot for you. It is exactly like a dive bar fairytale. It is a teeny tiny bar, crammed into a mock gingerbread house. It is filled with city locals knocking down a beer and swaying to the jukebox. Be sure to reserve your seat for the night, for the small size of this watering hole has made it super exclusive over the years.
( Photo by: Brian Bahr/Getty Images)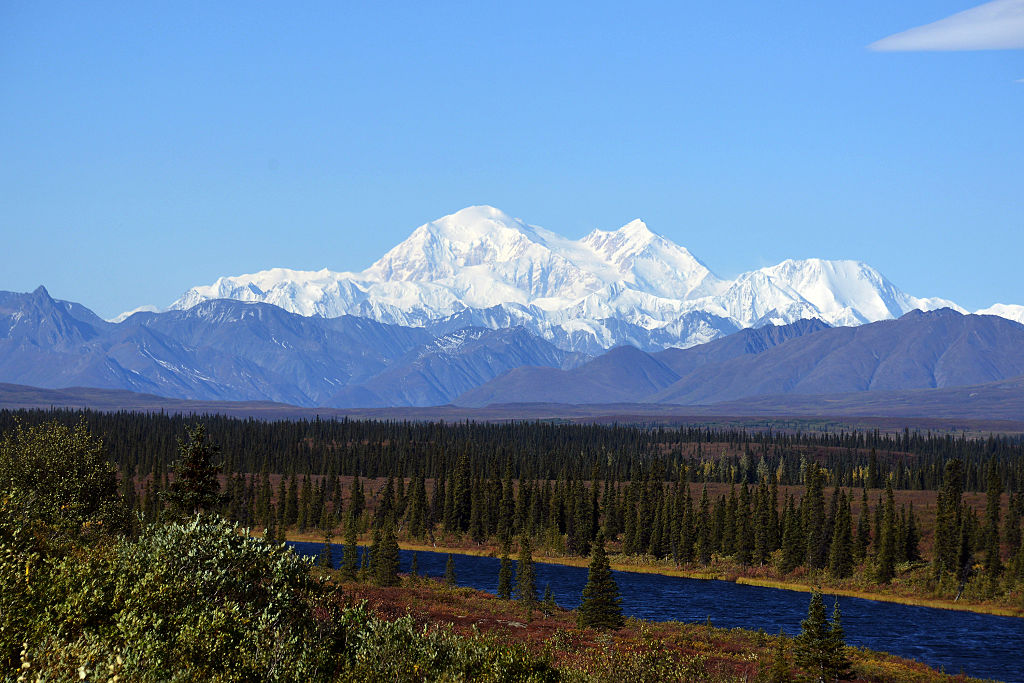 Salty Dawg Saloon, (Homer Spit, Alaska)
It is an emblem of state. Reason being it's is one of the oldest cabins built in Homer. That was back in the year 1897. Originally it served as a post office, railroad station and later a grocery store. Its present location is just next to one of Homer's distinctive landmarks which is the Lighthouse tower.
The lighthouse is full of cool decor which includes dollar bills hanging from the ceilings, life rings, and endless Alaskan memorabilia. The one thousand dollar bills are signed by those who happen to swing by .That culture was started by a visitor who tacked one into the wall. This was because his friend would pass by later. That way he would buy himself a drink. It really makes the dive bar stand out. Ask a friendly bar staff, to whip you up a salty dog, vodka and grapefruit juice, or a Duck Fart.
(Photo by Lance King/Getty Images)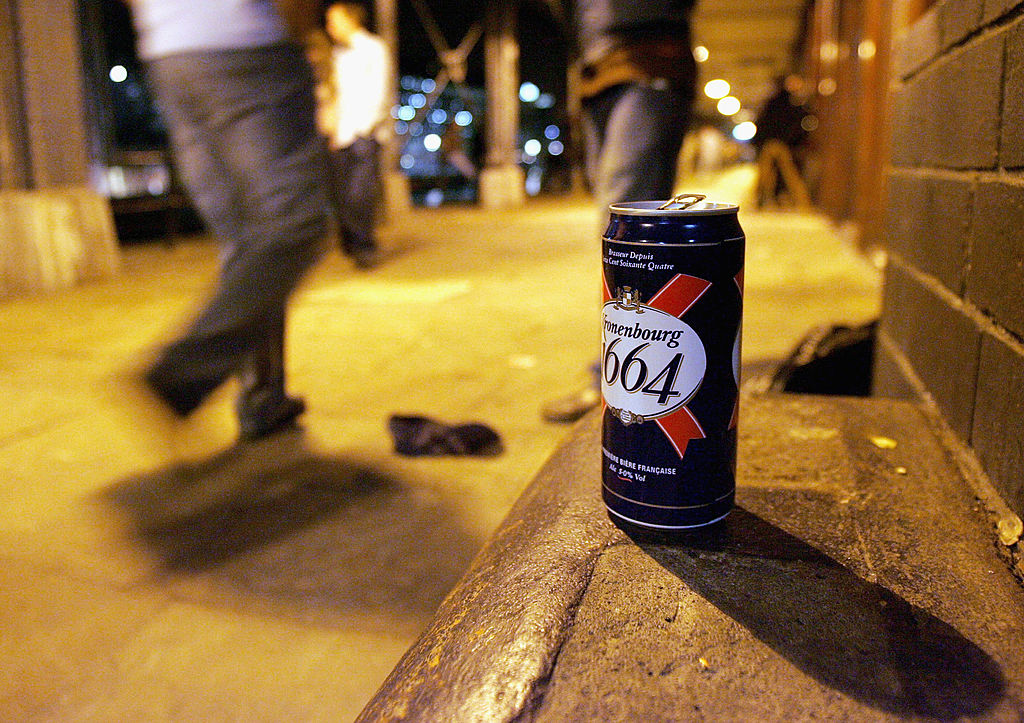 Ace Hi Tavern, (Golden, Colorado)
Any bar that offers happy hour twice a day will attract quite the crowd and Ace Hi Tavern is no exceptional. Happy hour runs 7 a.m. through 11 a.m. and 3 p.m. through 7 p.m. Monday through Friday, allowing locals to enjoy a cheap cold one at their best convenience. Situated on the historic Washington Avenue in Golden, this bar is rich in history and filled with character.
(Photo by Matt Cardy/Getty Images)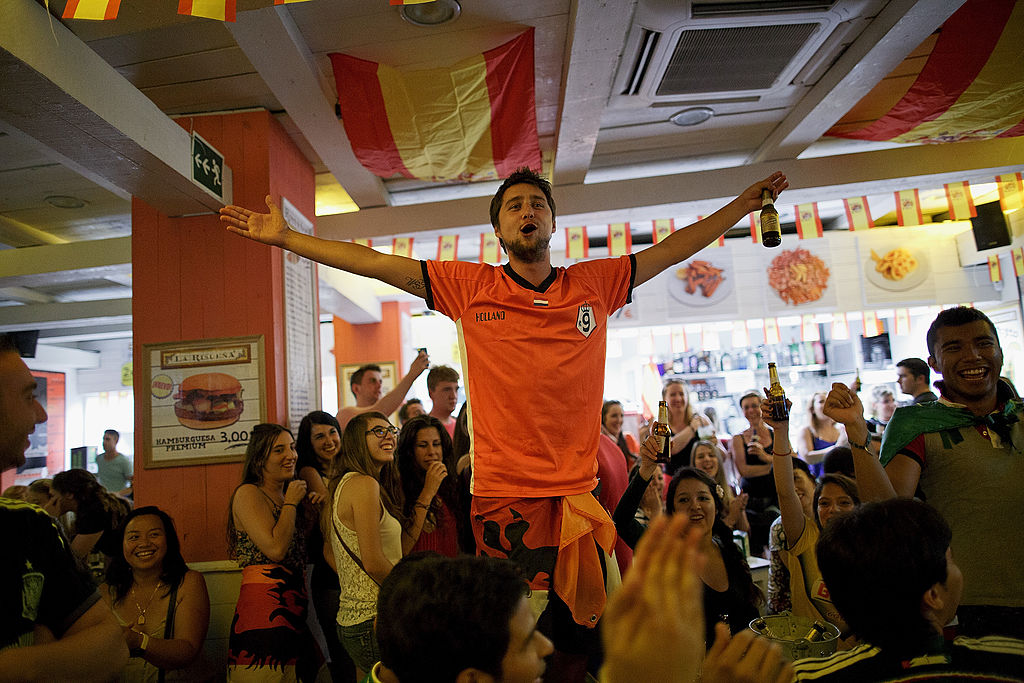 Bad Decisions, (Baltimore, Maryland)
it refers itself as a relaxed cocktail bar, having a handwritten cocktail menu and known for its bacon. Once a month, it hosts a "Bacon Night," featuring cocktails and dinner plates that use bacon in the craziest ways possible. They do not judge. In their words, they are "kind of a big deal with bacon."
(Photo by Pablo Blazquez Dominguez/Getty Images)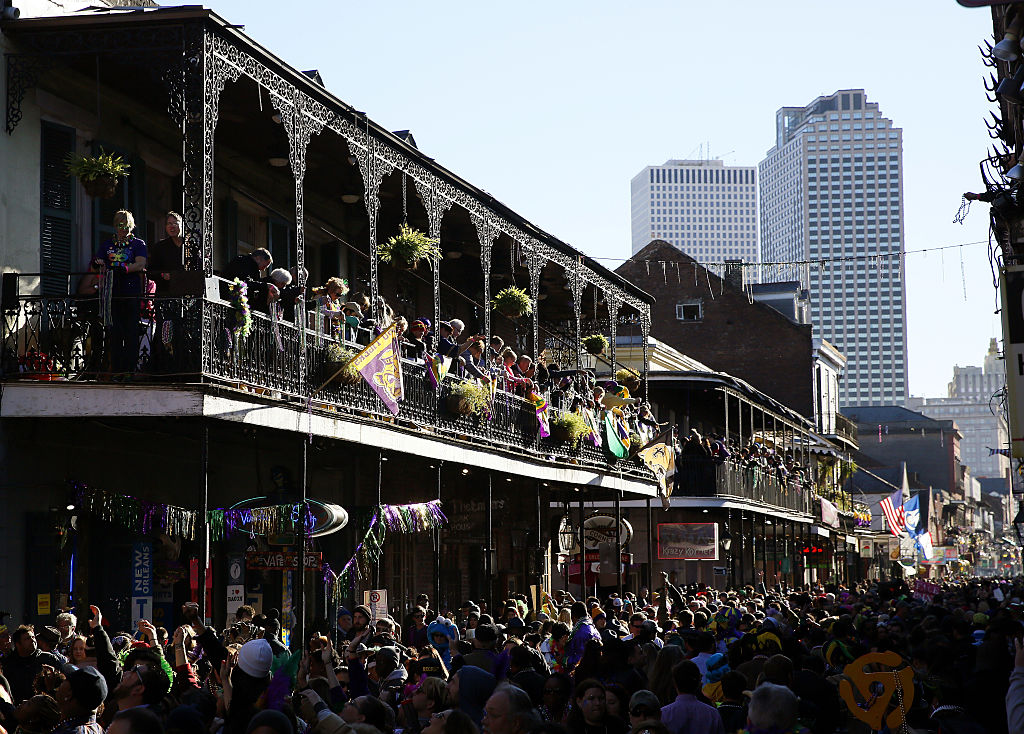 Ms. Mae's, (New Orleans, Louisiana)
When it comes to the regulars at Ms. Mae's anything goes. This spot is great for downing a $2 shot or chugging a $1.50 can of beer with the locals. It is famous for its cheap booze, colorful exterior and rowdy nights. It is one of those dim-lit dive bars in New Orleans that deals not just in booze, but in booze-laden stories.
 (Photo by Jonathan Bachman/Getty Images)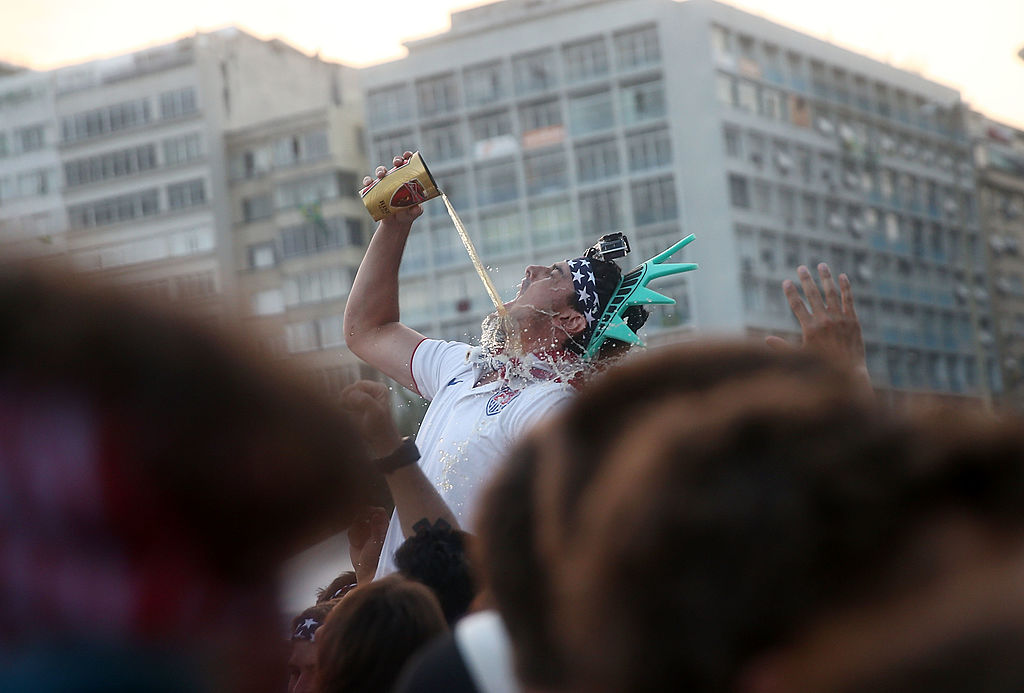 Full Throttle Saloon, (Sturgis, South Dakota)
It is a massive drive bar and largest biker bar. It hosts concerts with some of biggest names in rock and country. If you are not into music, watch the "freak show" or head to the bar and enjoy a cocktail. Be sure to order with caution, as some of them have foul names.
(Photo by Mario Tama/Getty Images)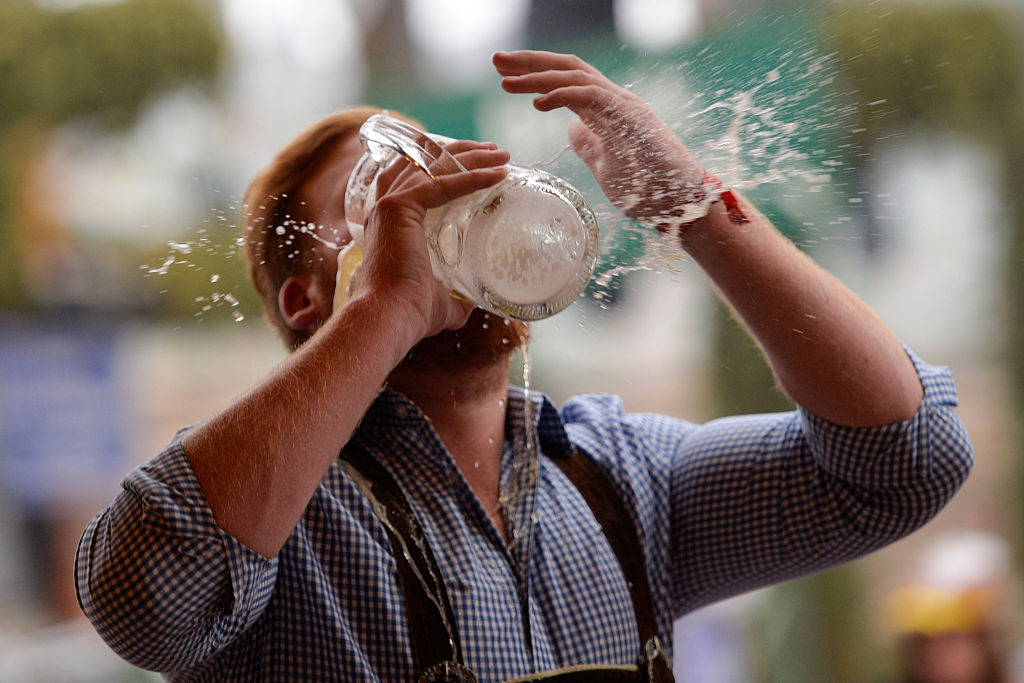 Snake and Jake's Christmas Club Lounge, (New Orleans, Louisiana)
A small late-night local bar opens every night of the year, especially Christmas. It is a tiny green shed-like house, nestled comfortably in the middle of a quaint New Orleans neighborhood. In case you were wondering, yes, this is another Christmas-lit bar, and the beer prices start at $2.
(Photo by Philipp Guelland/Getty Images)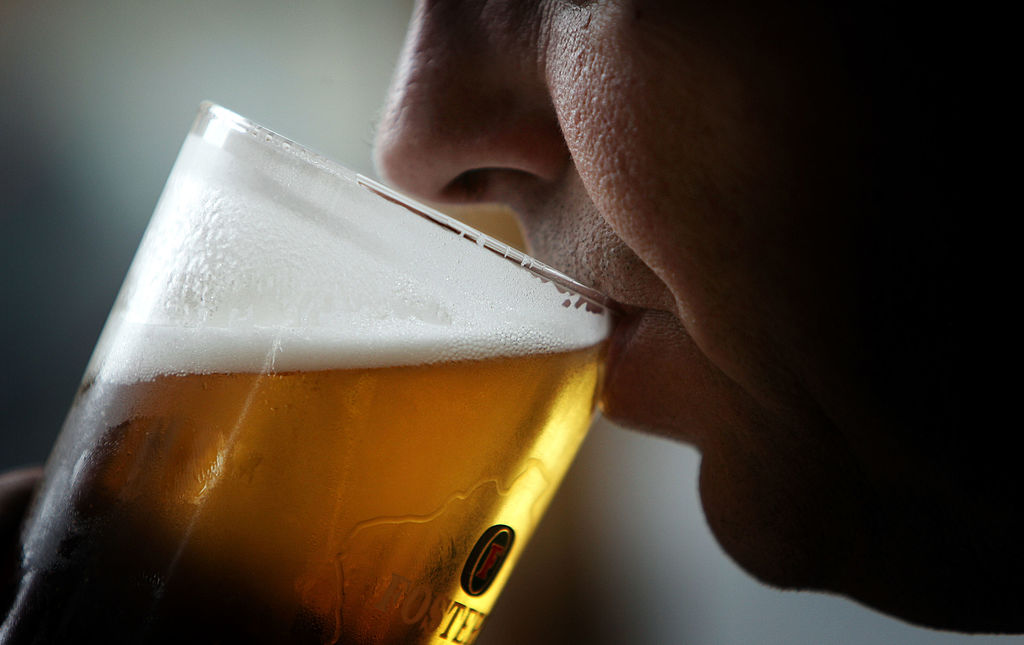 Third Street Dive, (Louisville, Kentucky)
When the word "dive" is in the name, you know it is the real deal. At Third Street Dive, walls have a covering of chalkboards. This way, after having some drink for under $5, Louisville locals can wobble around the bar, write on the walls, and rock out to the punk music that is constantly playing over the speakers.
(Photo illustration by Chris Furlong/Getty Images)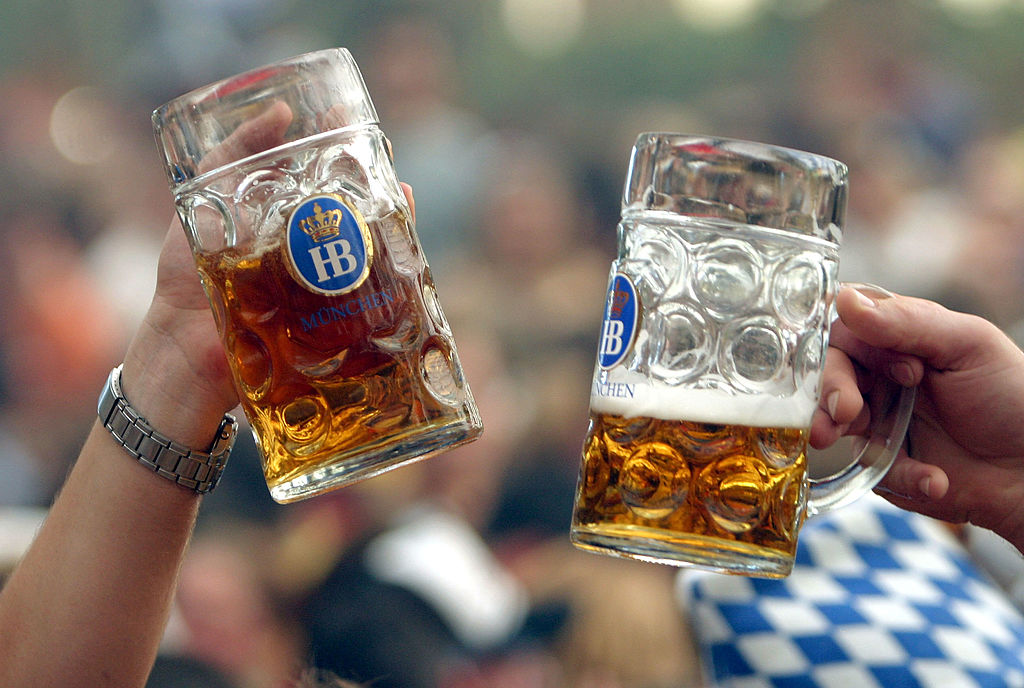 The Sink, (Boulder, Colorado)
It is located in a basement of an ancient frat house and oldest bar and restaurant in Boulder. There is plenty of beer here, of course, but it is best for serving some of Boulder's "best burgers," like the Farmers Market Burger, a grass-fed burger made by executive chef Dave Davis. You might wonder whether a joint that cares about the sourcing of its meat and identifies its chef by name is truly a dive bar but drop into this colorful spot to admire the funky paintings on the walls and kick it.
 (Photo by Sean Gallup/Getty Images)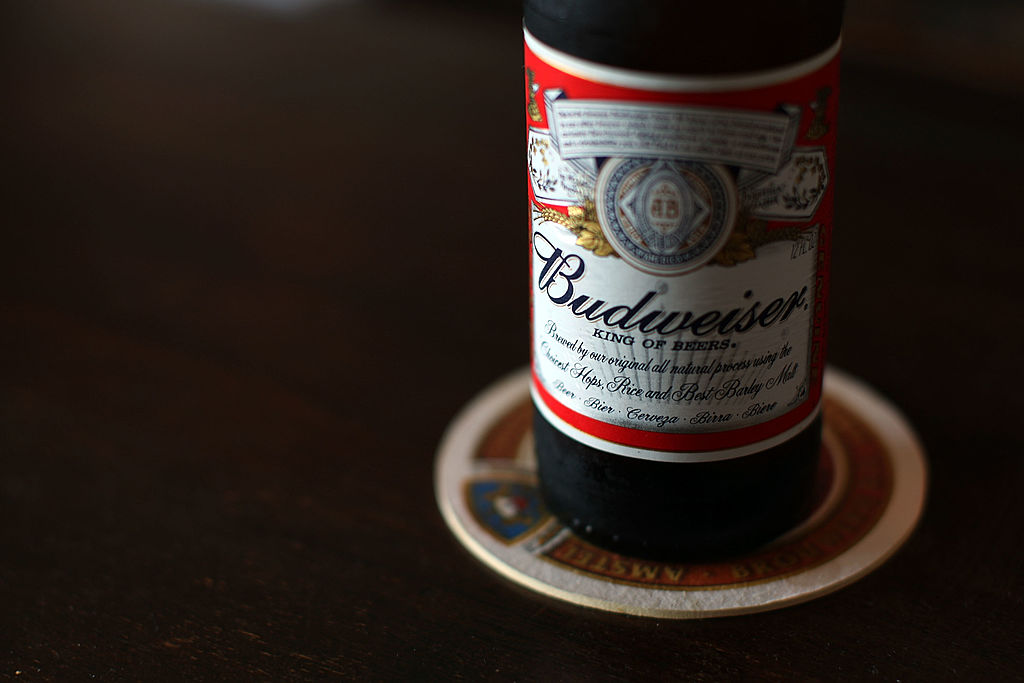 Grady's Route 66 Pub, (Yukon, Oklahoma)
It is all about the music at Grady's. After touring with his band for 17 years, founder Grady Cross wanted to stay put for a while and open a venue where other bands could play. Red Dirt bands predominate here, and Oklahoma locals who enjoy swaying to the music with an ice-cold brew appreciate $2 beer specials.
(Photo by Spencer Platt/Getty Images)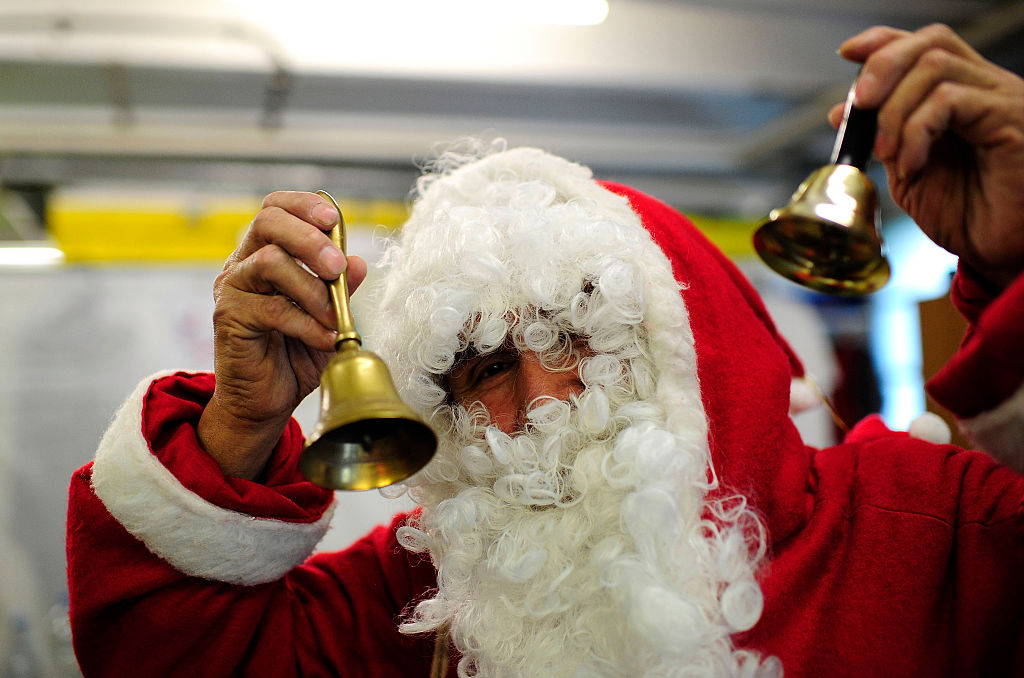 Santa's Pub, (Nashville, Tennessee)
No tabs, no credit cards but an ATM outside. What do you picture when hearing the name "Santa's Pub?" here you will get cheap beers as low as $2 and karaoke every night? It also features Christmas lights, decorations and a bartender with a big white beard. Go to this bar to sing your heart out, and as the people of Santa's say, "Be nice."
 (Photo by Alexander Koerner/Getty Images)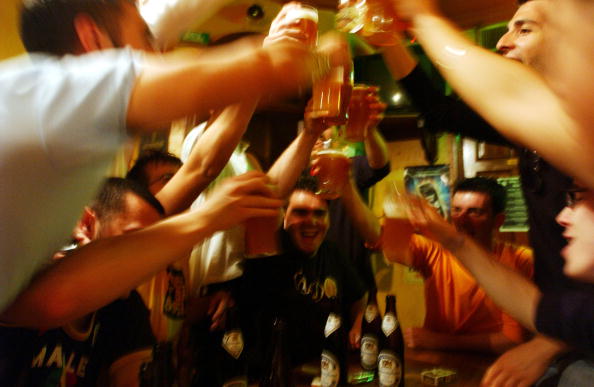 Gil's Fish Camp, (Ocean Springs, Mississippi)
It is a laid-back beach-hut bar with cheap booze, tasty crawfish, and a splendid waterfront view. Six-buck pitchers of shock top, Bud Light pitchers, and late-night happy hours from 10:30 p.m. until midnight. All though it is a bar, you need not worry about leaving the place smelly. That is because it is a non smoking bar. it also has great customer care and you get to interact with people from different places who visit the place often. Gil's Fish Camp is also quite famous for it s sweet and traditional meals while their burger is just out of this world. The best you could ask for. Just in case you happen to be on Legion, Ocean Springs, highly consider having it on top of your bucket list.
You should come and make things all better.
(Photo by Marco Di Lauro/Getty Images)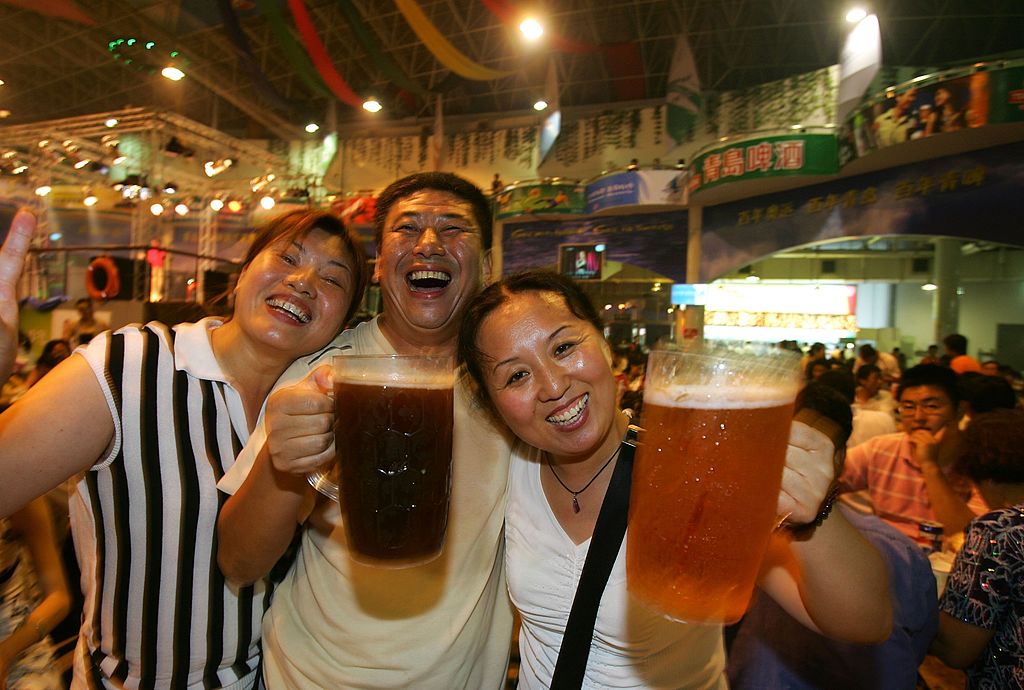 McSorley's Old Ale House, (New York City)
Another major one on our list is the renowned McSorley's. Found in 1854 it is everything you would expect a vintage dive bar to be. The walls are characterized by newspaper articles while the floor is pure saw dust. Waiters and bartenders are of Irish origin. Nothing has ever been altered with thus all items are still there including wishbones which were hung there by men who went to world war two. That is proof enough of old is gold.
If you are a sucker for places with a historical touch then this is the tavern for you. The bar has unique mottos. One is the BE GOOD OR BE GONE while the other is WE WERE HERE BEFORE YOU WERE BORN. Those are just inviting enough. It has two beer choices; dark or light, of their own unique brew that is served until sun rises. The dive is located in Eat 7th street in East Village in Manhattan. If you happen to be on location it would only be advisable if you pass by. That might just make your trip more memorable.
(Photo by Cancan Chu/Getty Images)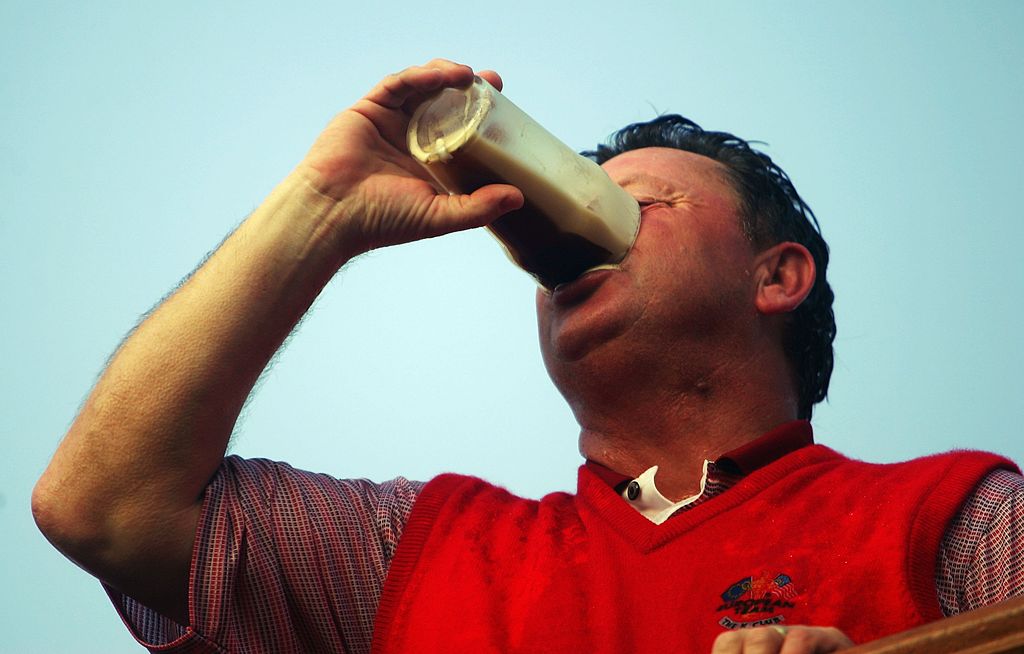 The Buffet Bar & Crock Pot, (Tucson, Arizona)
Hot dogs and old whiskey breath. Country songs playing from the jukebox. A pretty bartender who is in her mid age and Russian men in every corner. Well that is what characterizes this dive bar. With happy minutes every six and eleven pm on Monday, the place is always half full, contrasting your expectations for a dive bar to be on such a weekday.
Located in Ninth Street in Tucson, Buffet Bar & Crock Pot still promises a good time, with pool table access for a quarter, free shuffleboard, and $4 and maker marks drinks. It is the oldest bar in town. Has a lot of different beers and liquor for that person who likes trying different and new things each time. It is open from six to two a.m so no worries of finding it closed.
(Photo by Donald Miralle/Getty Images)