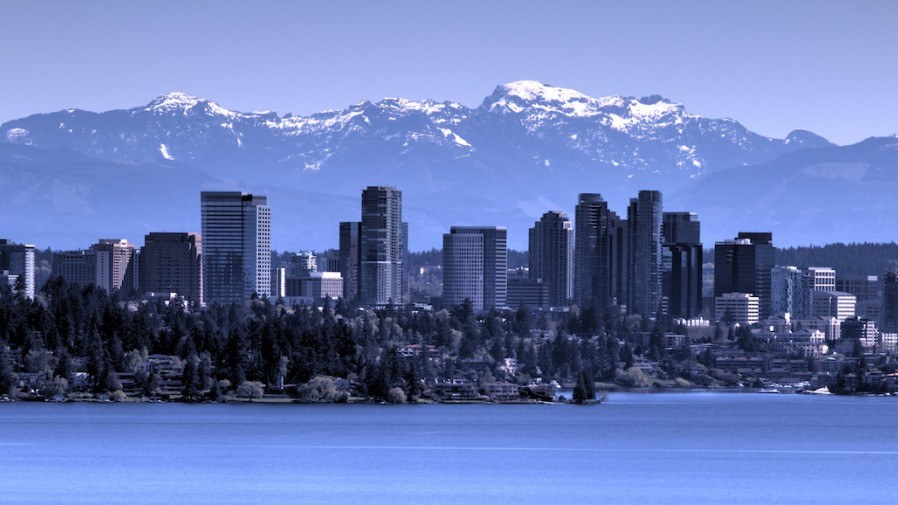 Bellevue is French for "Beautiful View". That is an appropriate name for the city that lays along Lake Washington. The mild northwest weather and views of Mount Olympic and the Cascade Mountains, make Bellevue a beautiful place to live. Its proximity to Seattle and other busy cities in King County help make Bellevue, Washington one of the best places to live in the United States of America.
Bellevue has grown into the third largest city in the Seattle Metropolitan area and one of the largest cities in the state of Washington. Smart business plans, high rise buildings, shopping and dining, and beach and green space development have helped make Bellevue a safe, clean and family friendly place to live. Good schools, low crime and a diverse population help accent the livability of Bellevue. The last decade has seen particularly positive growth of the city. Today, Bellevue is one of the wealthiest Washington communities. In 2008, CNN Money listed Bellevue as the best place to live and launch a business, and the city has been consistently ranked high since.
History
Bellevue was founded in 1869 by William Maydenbauer and incorporated as a city in 1953. The area was left undeveloped and rural until the city was incorporated and connected to Seattle by bridge. James S. Ditty predicted the growth of Bellevue in the 1920s and mapped out a city plan. Ditty envisioned a bridge over Lake Washington connecting the city to Seattle. He envisioned golf courses, an airport and homes and businesses. Within a few decades, Ditty's predictions would come see reality. The Murrow Memorial Bridge and later a second bridge opened up direct access to Seattle. Bellevue would see growth in business and population in the years to come. It has been called the "edge city" and "boomburg". Bellevue has seen significant growth in livability and business during the past decade.
Statistics
Bellevue encompasses 36.47 square miles of land including beachfront along Lake Washington. The past decade has seen steady population growth in Bellevue. The current population is over 140,000. The median household income is $93,000. The median house value is $550,000. The median age of the population is 37 years old.
Bellevue is a diverse and cultural city. It is divided into neighborhoods that blend together. Neighborhoods include Northwest, Southwest and West Bellevue, Eastgate, West Lakehills, Wilburton, Woodbridge, Tam o'shanter, Sunset, Newport, Factoria, Somerset, Bridaltrails, and Sammanish. City planners have developed the land along Lake Washington and created many green spaces and nature trails throughout the city.
Development
Even in the 1940s and 1950s, Bellevue was considered a pleasant place to live. Bellevue Square, a large shopping center, was built in 1946 and underwent a major renovation and expansion in the 1980s. The early 2000s saw rapid development in the city. Lincoln Square and the Brevern projects helped revitalize the city. In 2008, downtown Bellevue saw rapid change. The city was largely unaffected by a failing economy and saw high rise and business projects thrive. Cultural entities thrived. Shopping and dining areas developed recently include The Lodge and One Lincoln Tower.
Bellevue continues to grow and prosper. Several projects will be seen in the near future. The Bel-Red Corridor Project is redevelopment of northern Bellevue with mixed use projects. The Link Light Rail project intends to renovate transportation in Eastside and create urban renewal. With coordinated development of the city, it is easy to see that Bellevue will continue to expand as a livable city.
Economy
Bellevue's proximity to Seattle makes it a great location to live and work in the Seattle, Redmond or other cities in the Seattle Metropolitan area. Several major companies headquartered in the region include Microsoft, Nintendo, fEddie Bauer, T-Mobile, Verizon, Expedia, Valve Corporation, Bungie Games, and Drugstore.com. Bellevue has a busy Community District. Bellevue has 5 major shopping and dining areas. These include The Bellevue Collection, The Shops at Bravern, Old Bellevue-Main Street, Crossroads Shopping Area, and The Market Place at Factoria. Employment in the medical field and educational field are also prevalent in Bellevue.
Culture
Bellevue is a major cultural culture outside of Seattle. The city has developed its lakefront with water and recreational sports. There is a Downtown Park, beach parks, playgrounds and hiking trails. The Botanical Gardens is a popular place for the family to visit. The Bellevue Arts Museum opened in 1975. There is also a popular children's museum, KidsQuest. Other popular spots to visit in the city include Zipline and Aerial Adventure Parks, and Kelsey Creek Park and Farm.
Shopping and dining areas are located throughout the city. Live music and outdoor seating is popular in many restaurants. Some of the dining highlights of Bellevue include the Bellevue Brewing Company, John Howie Steak, Bake's Place, Cypress Lounge and Wine Bar, Fireside at Willows Lounge, 520 Bar and Grill, and the Barking Frog.
Bellevue hosts a variety of annual and bi-annual events. The Bellevue Arts and Crafts Fair began in 1947 and is still held at the end of July each year. In honor of its Strawberry Farm heritage, a Strawberry Festival is held annually. The city also hosts a 24 hour relay each July.
The city of Bellevue, Washington has always been a nice suburb of Seattle. As the town grew and was connected directly to Seattle by bridge and grew to become part of the Seattle Metropolitan area. What was once a quaint but rural suburb of the metropolis, Bellevue grew in its own right. Businesses and housing have been developed in Bellevue over the past decades. Today, Bellevue is home to businesses, high rises, developed neighborhoods and lovely homes. Living in Bellevue has many benefits and is open to many opportunities. The employment rate and median income are relatively high. Real estate is valuable. Low crime and good education help make Bellevue a very livable city. Bellevue's development includes recreation space, museums, theater, shopping and dining areas. Bellevue is growing into a great place to live.