Lighting a candle after a long and stressful day can be a great way to unwind. Smelling the scent of your favorite candle can help put you at ease and promote relaxation. In addition, candles can also be nice accessories to have around your home, especially with the right candleholder. Candleholders come in a wide array of styles, but there's nothing quite like a bowl candleholder. As the name suggests, bowl candleholders are shaped like bowls. These candleholders can help your candle put on a beautiful light show when lit and give your candle a nice place to sit when it isn't in use. Don't underestimate what a bowl candleholder can do for your space. See 10 beautiful bowl candleholders for your home decor.
This item is 100% handmade and can be the perfect center piece for your dining table, especially around the holiday season.
This bright and colorful bowl candleholder is made with durable glass and will look beautiful with a lit candle inside.
Made from high quality Himalayan pink salt, this candleholder is perfect for holding your small tea lights.
This beautiful Selenite candle holder will steal the show whether you choose to put a candle in it or not.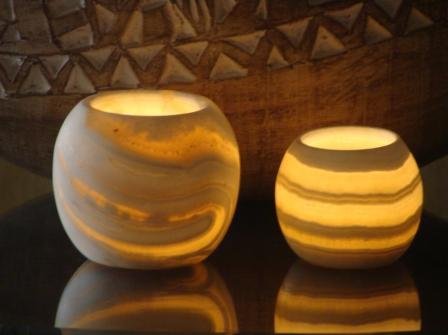 When lighting your candle at the end of the day, this candle holder will be "ideal for creating a soothing and relaxed atmosphere".
Made from solid pinewood, this candleholder is the perfect piece to add to a table or nightstand in your home.
Once you place a lit candle inside this lovely glass holder, you'll definitely fall in love with this item.
This candleholder was made from "beautiful stone round carved from orange onyx aragonite" and provides a rustic atmosphere.
Thanks to an angelic design, this item is perfect for all sorts of occasions including weddings and religious events.
This handle candle holder is unique and attractive making it the perfect addition to any candle lover's home.