Custom drapes can make a world of difference in bedroom décor. Custom drapery will accent your window appropriately and to your specifications. Whether formal or informal, the style you choose will complement your bedroom furnishings and add style, elegance and warmth to the room. Some things to consider when choosing custom drapes are color, fabric, length and lining. The color you choose should, of course, match the colors in your room. When spending money on custom drapery, however, it is best to choose a neutral color.
Not only will a neutral tone blend with the other colors in your bedroom fabrics, a neutral color will not fade in the sunlight as a bright color will. You can also leave your drapery even if you decide to change your duvet or pillow shams. Quality fabric will assure elegant and luxurious drapery. It should not be too light or too heavy. However, heavier material will hang, pleat and drape better than light material. Heavier materials such as tapestry, suede and tweed will keep coldness from the room and, keep the light out as you sleep.
Length and width can be adjusted when custom made. Whether a valence, roman shade, panels or long drapes, custom drapes should accent your taste and the size of your windows accordingly. When hung high, longer drapes will give a room height. When flush with the floor, the look is crisp and clean. Finally, lining and interlining gives drapery fullness.
Following are 10 beautiful custom drapery styles in different bedrooms.
1. Pinched Pleat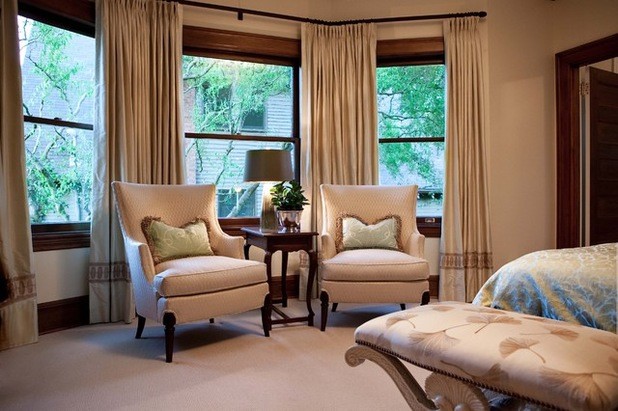 Pinched pleat drapes are elegant. They are hung with curtain hooks that are pierced into the back panel and hung on a curtain rod or ring. Pinched Pleats work well with heavier, textured fabric. The panels can easily be drawn to the sides of the windows during the day to let in sunlight and closed at night for rest. Pinched pleat panels can be paired with shades or not. They work well with tall windows and heighten the room. These drapes are crisp and clean giving a sophisticated, sleek style.
2. Panels with Rings
Panels with rings offer a fresh look to a bedroom. Light colors and quality fabric drape well when hung on rings across a curtain rod. Pinched pleat drapes will fold nicely when opened. This style provides an elegant, country manor appearance to the bedroom. They can be paired with blinds or left alone. Long and draping, these custom window treatments elongate the windows and provide light and space.
3. Multiple Panels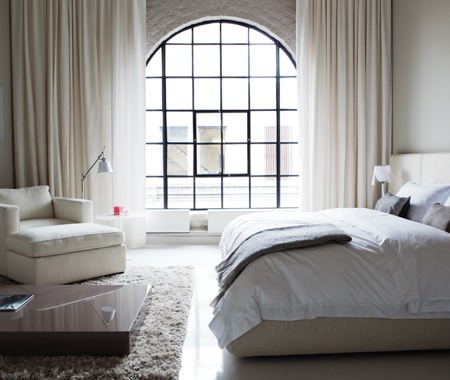 If the window is wide, multiple panels hung on a curtain rod will provide a frame for the beautiful window and bring the view to light. Several long panels in light colors and light fabrics create a peaceful, scene and open look. Lined panels will easily slide closed or open to keep the light out or in and allow for privacy. To soften the looks and create space, multiple panels create a serene style.
4. Tie Backs
Tied back drapes are elegant. They work well with heavier fabric that will drape well when pulled back and flush with the floor when closed. Tie backs bring an air of sophistication to a bedroom and work well on long or short drapery. These drapes can be gently pulled back to frame the window, and tied back with matching fabric or a colorful ribbon or robing. Contrasting ties add ornament to these custom drapes. Add a scalloped valence for added elegance or leave the rod bear for a simpler style.
5. Layered
Layering drapery is an interesting way to create texture in the bedroom. Layer a sheer under opaque drapes. If you choose to mix some color and pattern, use a colored sheer underneath a patterned drape. Add a light, solid color shade to create more depth.
6. Trimmed
Trimmed drapery looks finished and elegant. Whether a thick border, colorful ribbon or fringe, custom
drapes with fringe add character and sophistication to the bedroom. A soft color such as ivory and rich
sateen material are highlighted by silk taffeta trim. Paired with white or ivory roman shades, trimmed
drapes work well on multiple windows, big or small.
7. Mixed Pattern
Mixing patterned curtains is a stylish way to add character, substance and color to the bedroom. If there are enough windows along a wall, chose 2 different yet blending patters and colors to alternate between windows. Use natural cotton fabric that is thick enough to block the sun. The curtain panels should be kept simple and long. They can hang across one long rod to create a uniform appearance. The mixture can be subtle with just enough to give the room a casual feeling.
8. Cornice
A cornice valence provides formality to the bedroom. The valance is stiff and stately. Paired with tied back pleated and fringed drapes, the result is elegance and luxury. If you do not wish to make the room look overly formal or heavy, choose light, natural colors with a touch of texture. The cornice can be plane or have a bit of pattern and color to match the bedroom décor.
9. Roman Shade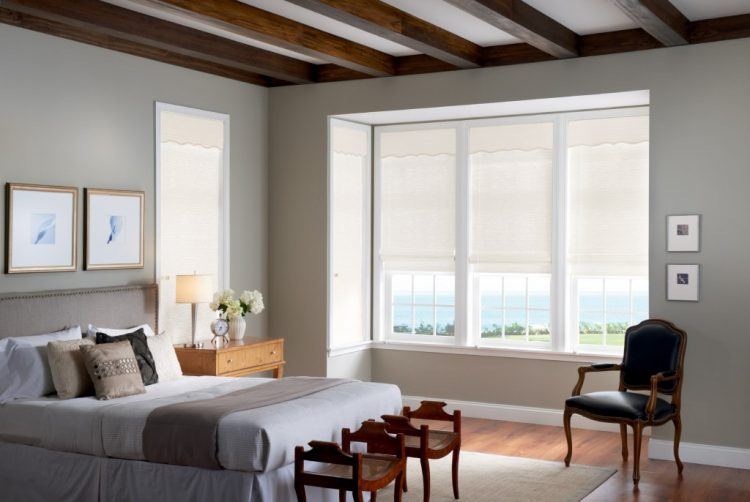 Roman shades are a simple way to dress a window while keeping a spare, elegant style. Roman shades create a space that is both relaxing and sophisticated. Rich fabrics add elegance. Simple patterns and muted tones keep the room tasteful. When decorating multiple windows in a bedroom, this look works well. Heavier fabric will keep out the light when the shades are drawn, and can be adjusted to any length when pulled up.
10. Multiple Treatments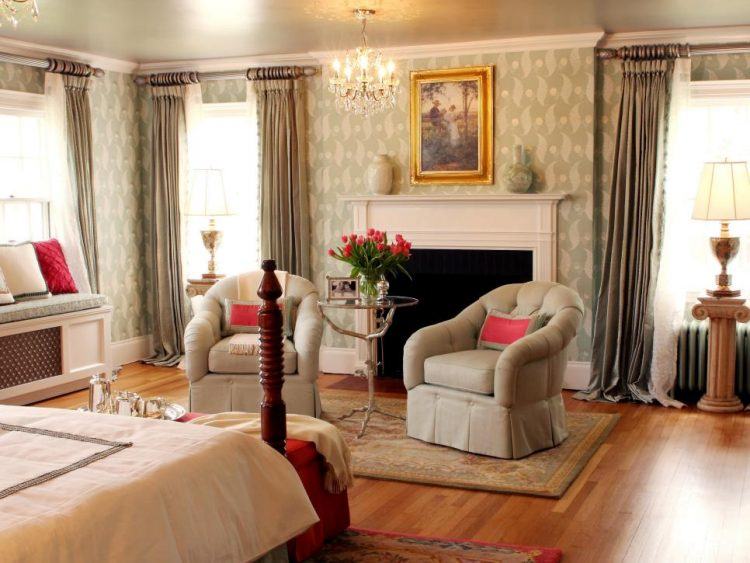 Incorporating several drapery styles is an elegant way to dress a bedroom window. It adds layers and textures to the bedroom. This should be done in neutral and muted earth tones so it is not overdone. Pair sheer roman shades, fringed tied back drapes and a stately valence. The overall look is elegant and sophisticated. The material should be of the finest quality and this should only be done with custom drapery, so it does not appear mismatched.