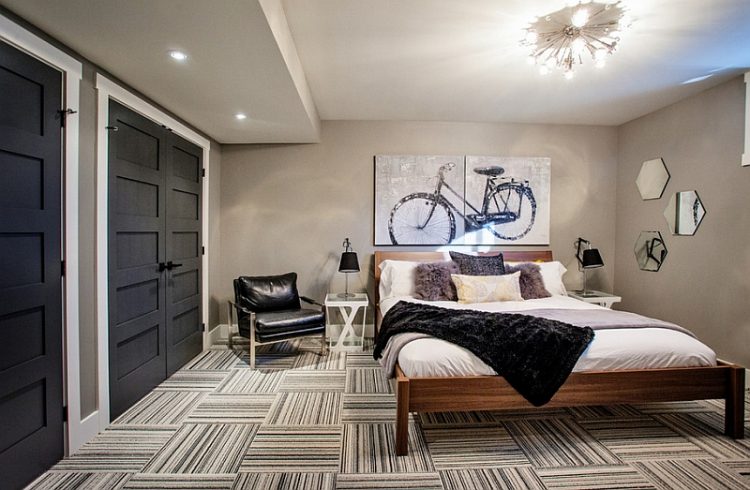 A basement bedroom is one option for creating extra living space. Some people create comfortable guest quarters using previously unclaimed space. Others make space for a growing family, giving someone treasured privacy. There are basic legal requirements for basement bedrooms, such as having windows large enough for emergency escape routes if the basement is not equipped with a walk out doorway. Other considerations include having proper electrical wiring, insulation, plumbing, and flooring.
But given the means and inclination, many are creating luxurious basement bedrooms which are far beyond normal, functional use. These are much more than cozy. They are extravagant, enjoyable retreats. They include top quality construction materials, superb flooring, state of the art electronics, private bathrooms, the most expensive furniture and linens, and designer décor. A style exists for every taste in the world, and options included vary as widely as the people who inhabit their luxurious rooms.
Here are ten extraordinary examples selected for their superb craftsmanship, beauty and unique appeal.
1. Embossed Taupe Accent Wall Room
The rich textures of the carpet on the hard surfaced floor are a lovely contrast to the exquisitely delicate embossed design on the headboard wall. All of the room colors are inspired by this lovely piece of art. The room is lit from several sources, including contemporary oval metallic lamps, ceiling potlights, and a contemporary beam of translucent acrylic which spans the entire width of the room. There is ample built-in storage and a desk and study area to one side. Handsome framed artwork dresses the wall opposite the floor to ceiling bookcase area. The black lacquer frames and bedside stands offer strong accents in the sleek, yet warm, room.
2. Everything Built-In Natural Wood Room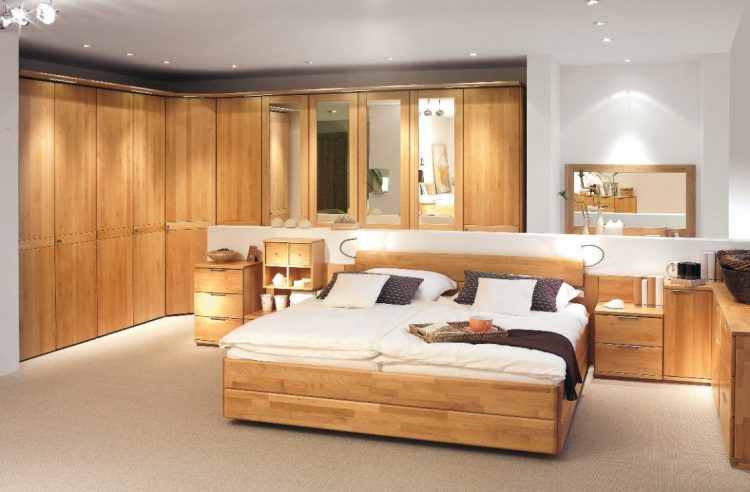 All of the components in this room provide storage and clean lines. There's something elegant about the light woods and simple surfaces. The room is flooded with light from rows of potlights in the ceiling. The entire room is painted in soft grey, with coordinated flooring. White candles, natural fiber woven baskets and touches to textured linens add to the overall restful appearance. Behind the half-wall, there is room for an adjoining bath, extra wardrobe storage and a dressing table illuminated with a ceiling light.
3. Luxury Teen Girl Bedroom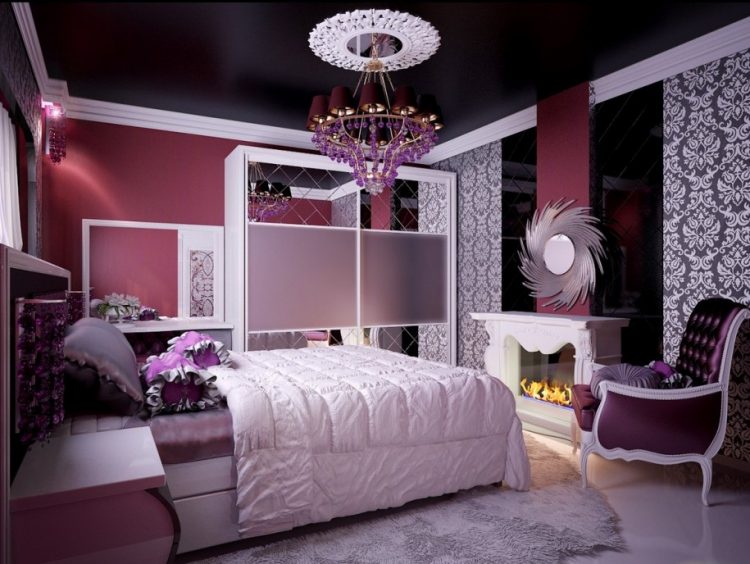 With its white-mantled fireplace, crystal beaded chandelier and bold black, mauve, purple and pink furnishings, this teen girl's room strikes a nice balance between girly and sophisticated. For the girl who has grown up a bit and wants something more refined, this room has a lot to offer. There is built in storage for TV and computer, bedside tables, an elegant upholstered chair for relaxing and multiple textures in fabric, flooring and décor.
4. Teenage Boy's Creative Bedroom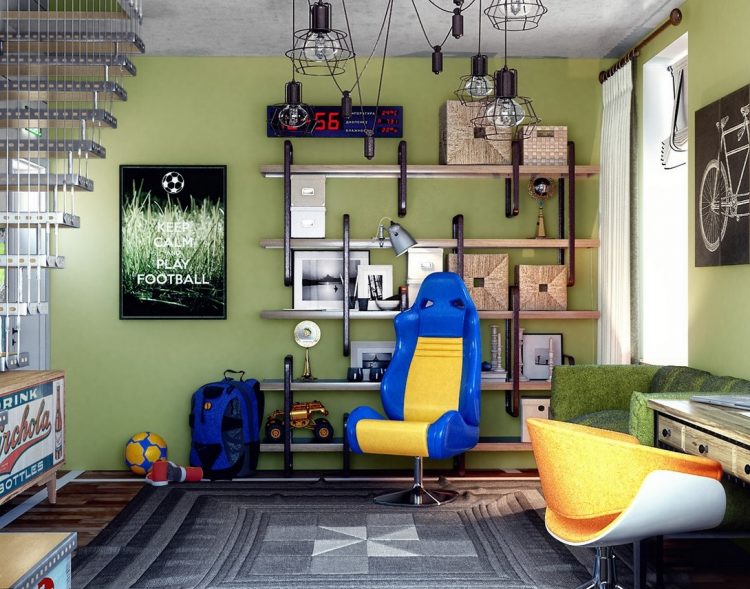 Designed for a walk out basement, with exterior access, this teen boy's bedroom is filled with all the teen-focused luxury, colors, and things he likes. The floating metal stairway descends into his domain. There are bright pops of his favorite greens and blues, with plenty of easy storage space and quirky seating. The sofa doubles as a bed. The lighting is steampunk, with plenty of openwork metal. A flat screen TV over the retro sideboard provides football viewing for casual times.
5. Saffron and Maroon India Inspired Ensuite Room
The rich saffron, marron and gold furnishings in this room lend an air of royal accommodations. The bed is surrounded in its own wallpapered niche, with storage spaces displaying beautiful art objects. Twin canopies flank the headboard area, adding to the appearance of height in the room. An upholstered bench coordinates with the beautifully textured fabrics and framed artwork. A torch shaped lamp adds light at bedside. Additional light floods the room from a light enclosed in the built in niche. The bathroom beyond is tiled with warm saffron colored tiles, gleaming gold fixtures, and white porcelain vessels. A potted palm provides fresh greenery, while a pile of richly textured pillows adds an invitation to rest.
6. The Perfect Contemporary Retreat
There is something magnificent about the use of contemporary white tile flooring paired with stone walls. This basement adds dramatic up lighting behind the bed and chests. The floating white staircase adds to the play of light and shadow in this room. The taupe and brown linens on the bed, with its upholstered headboard add a simple touch of traditional textural elegance. This retreat offers space to add media for entertainment, but the simple bookcase adjacent to the bed speaks of the luxury of spending time relaxing with a good read.
7. White Tufted Headboard Bedroom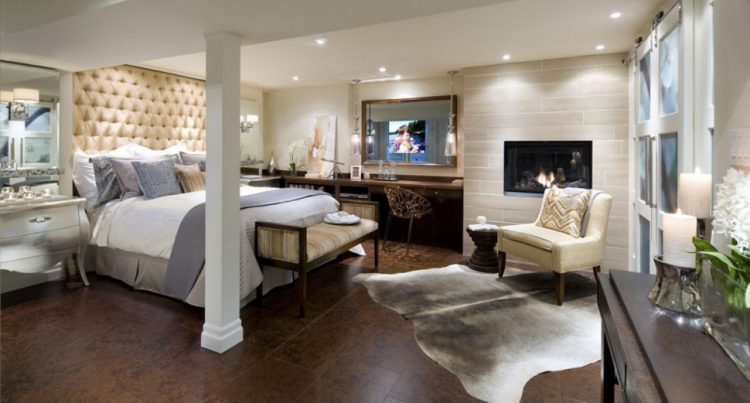 One of the stunning design features in this fully equipped bedroom is the vanilla white tufted headboard. It adds a textural focal point to the room, and extends to the ceiling, which makes the room seem taller. The fireplace, occasional chair in white and natural skin rug offer the sense of comfort, while the sideboards, chests and built in storage areas offer serving areas for beverages and treats. A flat screen TV easily viewed from the warmly tiled room provides relaxing entertainment. White candles, metallic and glass objects add shimmer to the décor.
8. The Striking Red Asia Inspired Bedroom
In addition to being part of an entire basement apartment, this striking bedroom features an accent wall of deep, rich red and high end Asian inspired furnishings. The red wall completely warms the visual space, filling the entire room with an attractive welcoming ambience. The floor is a rich tile with hints of warm tan flowing in deep green black, which invites barefoot walking. The natural grain wood doors are hung flush to the flat white walls, providing easy access to the adjacent bath on one side and additional rooms on the other.
9. Contemporary Styled Woodwork and Tile Bedroom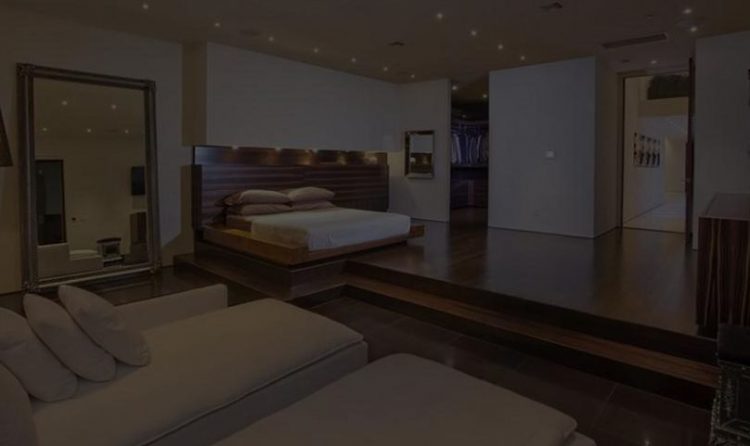 The simple, clean lines of the highly polished wood floor are echoed in the contemporary headboard and chests in this modern bedroom. It has sparkling rows of pot lights illuminating the space, and the lights twinkle in reflection on the tile floor below. The platform bed exudes calm, while the upholstered lounges invite relaxation. An oversized, framed mirror adds to the feeling of extra space, while the natural colors and uncluttered décor add to a feeling of luxurious repose.
10. White on White Crystal Chandelier Bedroom
An elegant white on white color palette filled with tan and taupe neutrals fills this luxury bedroom with a calm and soothing atmosphere. Everything that could be desired for enjoyment is included in this rich retreat. A wide flat screen TV is wall mounted over a natural gas fireplace. The built in wall shelves are filled with a pleasing blend of photos, amenities containers, magazine holders, and treasured objects. The bedside tables feature tall glass lamps with white fabric barrel shades. The round upholstered ottoman, occasional chair and desk chair offer seating options. Additional lighting includes pot lights in the soffits and a lovely crystal chandelier shimmering above it all.