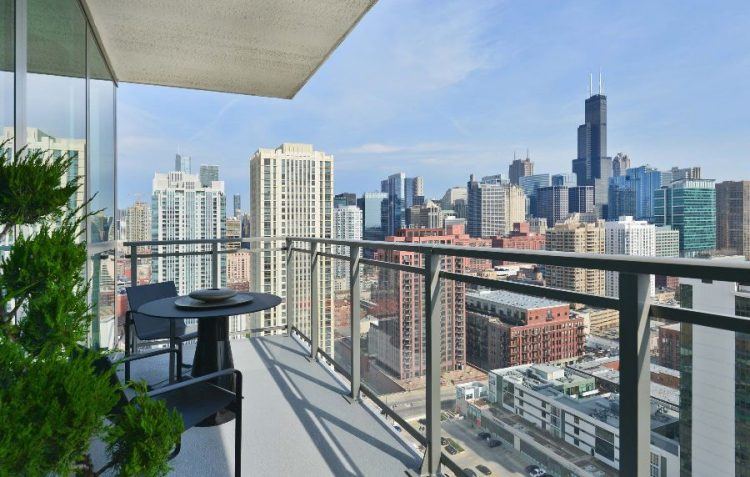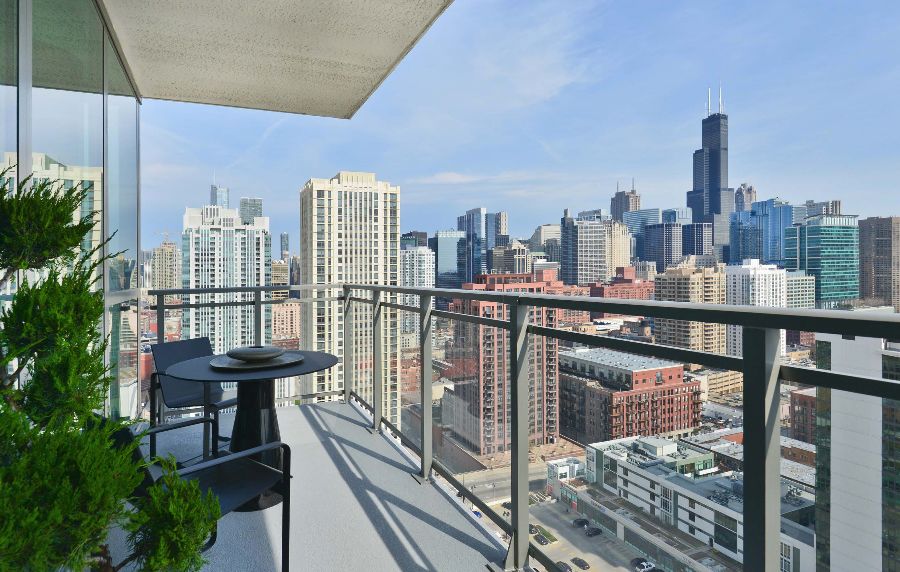 For residents of Chicago looking to rent in the downtown area, there are plenty of options, including apartments and homes, as long as they have the right budget and are not in need of too much space. Unfortunately for those potential renters who are on a smaller budget or are in search of an apartment with more than 1,500 sq. ft., the options are very limited.
Currently, the downtown Chicago real estate market has hundreds of rental opportunities to choose from. While many of them are amazing spaces that boast state-of-the-art interiors and buildings with plenty of amenities, they do rent for thousands of dollars every month. On the other hand, the more budget friendly, less expensive options simply don't offer the space, views, or extras that so many renters want today.
The following takes a look at what you can find to rent in downtown Chicago with a $5,000 monthly budget.
THE LOFTS AT RIVER EAST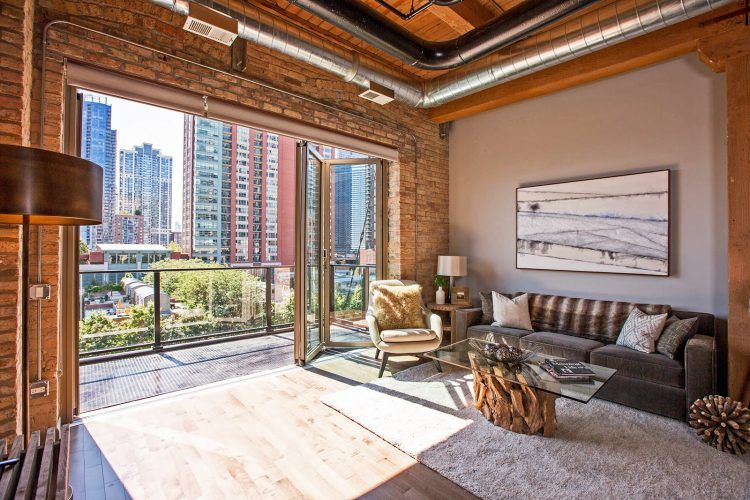 Located at 401 E Illinois St., on Chicago's north side and in the heart of Streeterville, The Lofts at River East is a luxury building offering industrial styled apartments, high-end finishes, and plenty of amenities. For $5,035 per month, you have two options, including a 2 bedroom/ 2.5 bathroom apartment with 1,639 sq. ft., which features a large walk-in closet in the master bedroom, a den, an open main living space, and a terrace. You can also choose a 3 bedroom/ 2 bathroom apartment with 1,350 sq. ft., which features an open living space and a smaller bedroom separate from the other 2 bedrooms. There is no walk-in closet or terrace.
At The Lofts, apartments have keyless entry systems, hardwood maple flooring with carpeted bedrooms, and in-unit washer/ dryers. Residents have access to a 10,000 sq. ft. rooftop deck with wet bar, grills, fire pit, and outdoor theater, as well as athletic room, waterfront lounge, 24/7 concierge, a business center, and gaming room. Pets are allowed, but it is a non-smoking community.
COAST AT LAKESHORE EAST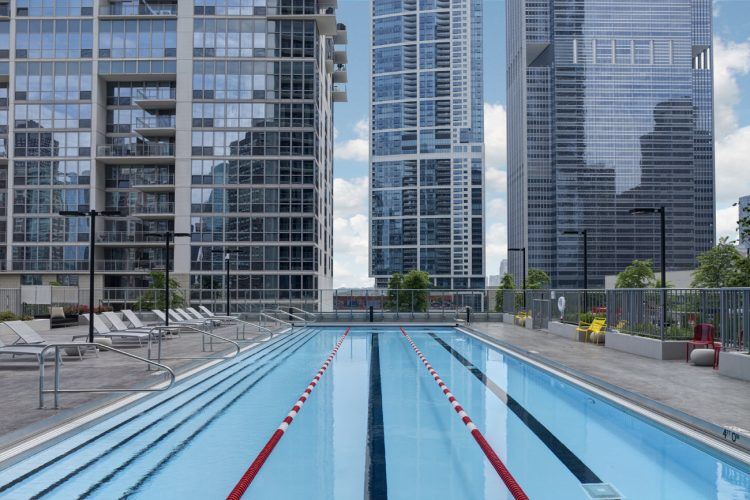 Located on Chicago's east side and in The Loop at 345 E. Wacker Dr., Coast at Lakeshore East is 51-story tower that features a modern design and offers luxury amenities [4]. For around $4,750 a month, you can get a 3 bedroom/ 2 bathroom apartment with 1,442 sq. ft. In addition to rent, residents are also charged a monthly utility and service amenity fee.
The apartment offers floor-to-ceiling windows in the main living space, a sleek kitchen with high-end finishes and stainless steel appliances, a large master suite with spacious walk-in closet, an in-unit washer/ dryer, and 2 spa-like bathrooms complete with marble vanities. A balcony runs the length the apartment and can be accessed from the living room and master bedroom.
Amenities include a state-of-the-art fitness center, tech center, indoor lounge with hot tub, outdoor heated lap pool, private meeting rooms, sauna, fire pit, an in-building dog run with washing station, and a sky garden lounge with full kitchen. The building is 100% smoke free and does allow pets (with certain breed restrictions)
A GREYSTONE 2-LEVEL HOUSE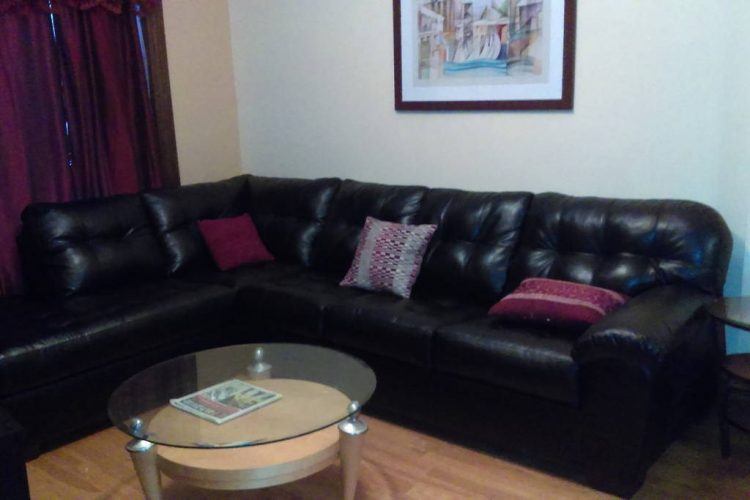 Situated on the south side in Chicago's Kenwood neighborhood, this 4 bedroom/ 3.5 bathroom Greystone is located at E 44th St & S Berkeley Ave. Listed at $5,000 per month, this rental is available for monthly or yearly lease and comes fully furnished. It features a gourmet kitchen, complete with utensils, as well as modern bathrooms and an in-unit washer/ dryer. While the ad boasts that the home is immaculate, most rooms, with the exception of the kitchen and bathrooms, appear dull, dreary, and furnished with older, castoff furniture.
Pets are not allowed, nor does the home come with many amenities, however, it is in a convenient location and doesn't mention a ban on smoking.
A WICKER PARK APARTMENT
Situated on Chicago's west side in Wicker Park, this 2 bedroom/ 1 bathroom apartment with 900 sq. ft. is located at N. Ashland Ave & W. Blackhawk St. The apartment is fully furnished and rents for $4950 per month. The apartment appears well kept and features a modern/ industrialist design scheme that includes an open floor plan, an in-unit washer/ dryer, exposed bricks, an Italian tiled bathroom, and plenty of windows in the living area that allow the natural light to shine in. Both bedrooms are equipped with queen size beds, while the bathroom has a large walk-in shower, but no separate bathtub.
Neither pets nor smoking are allowed and the only real amenity available is garage parking. On the other hand, Wicker Park is known for its artsy scene and hosting numerous concerts and festivals throughout the year, which means they'll always be something to do.
THE PARKER FULTON MARKET
Completed less than a year ago, The Parker Fulton Market is located on Chicago's west side in the Fulton Market neighborhood at 730 W. Couch Place. Here, you can rent a 3 bedroom/ 2 bathroom apartment (Unit D1) with 1,378 sq. ft. for $4,995 per month. The apartment includes floor-to-ceiling windows, as well as a spacious balcony, though the layout is a bit choppy. The top of the line kitchen is complete with granite countertops, stainless steel appliances, an island, and pantry. The bathrooms are pristine with a walk-in shower in one and a bathtub in the other.
The apartment is not furnished and is smoke free, but pets are allowed. (In fact, there is an outdoor dog patch and indoor dog shower on site.) In addition, this apartment has been set up to allow for easy accessibility for the handicap. Access to the building is smartphone controlled with a keyless fob unit entry.
For $4,995, residents get access to plenty of amenities, including gym with yoga studio and smartphone integrated cardio equipment, a penthouse lounge, sun terrace with pool, fire pit, grills, and daybeds, common floor with library, drawing room, and coffee bar, an indoor car park with electric vehicle charging stations, and more.