For those who like to swim, there's nothing more exciting than seeing an amazing swimming pool.  During the warmer months, swimming pools instantly become the go-to hangout spot for enjoying some relaxing time in the sun. While most people are used to seeing the typical rectangle or circular shaped swimming pools, there are plenty of other great designs that can make swimming even more fun.  Whether you water slides, waterfalls, or simply swimming with a view, there are plenty of swimming pools that will suit your interests.  Although these awesome swimming pools aren't likely to be found in you or your neighbor's backyards, they will definitely make you wish they were. Here are 50 amazing swimming pool designs that will blow you away.
1.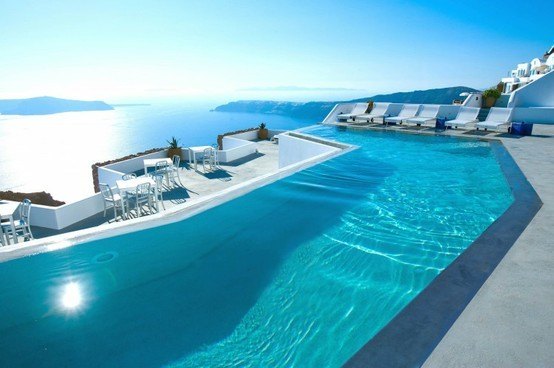 This pool offers an amazing view near the ocean for those who also enjoy saltwater.
(Image via homeadore.com)
2.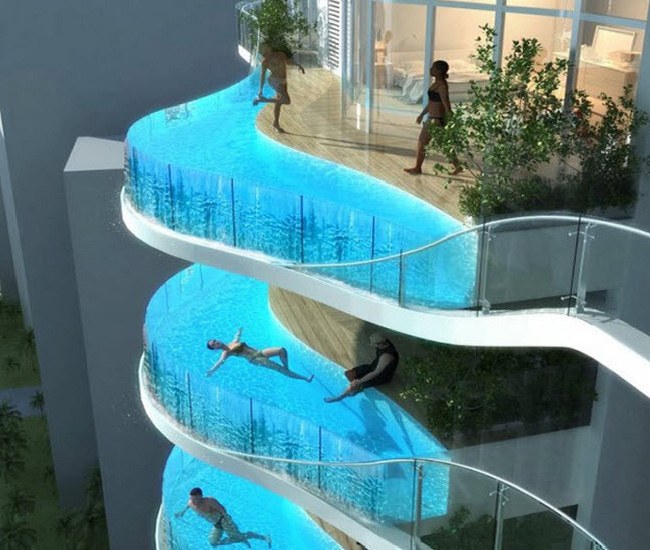 As long as you aren't afraid of heights you can enjoy this awesome multiple-story pool.
(Image via www.wix.com/blog/2013/08/most-amazing-pools/)
3.
For those who like living on the age, this elevated pool could prove to be lots of fun.  For those who would rather stay put, there is plenty of seating available so that you can still enjoy the view.
(Image via boredpanda.com)
4.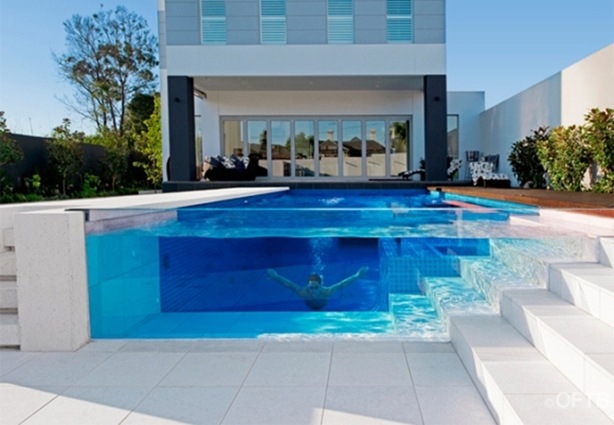 Being able to open your eyes underwater just got way cooler!
(Image via jazzyliving.com)
5.
This pool makes it possible to swim and visit the aquarium in one trip.  With plenty of different features, this pool seems to have something for everyone.
(Image via gizzmodo.com)
6.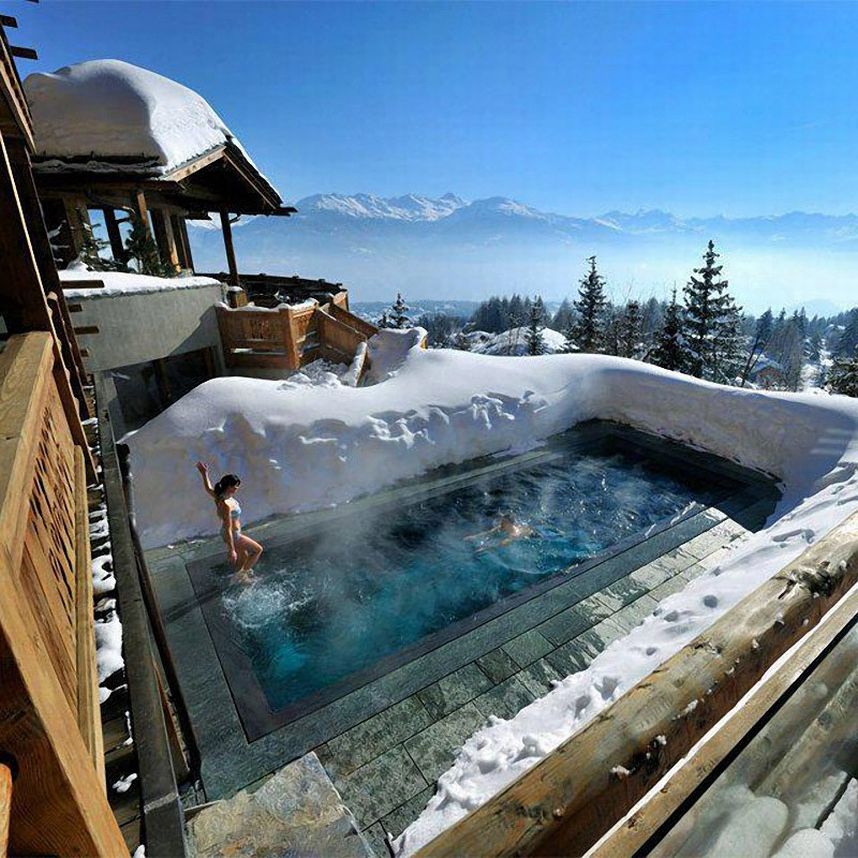 Swimming is typically a warm weather activity, but with a pool like this, it's never too cold out for a quick dip.
(Image via memolition.com)
7.
This pool looks sort of like an underground city and offers different levels for those who appreciate a shallow and deep end.
(Image beautyharmonylife.com)
8.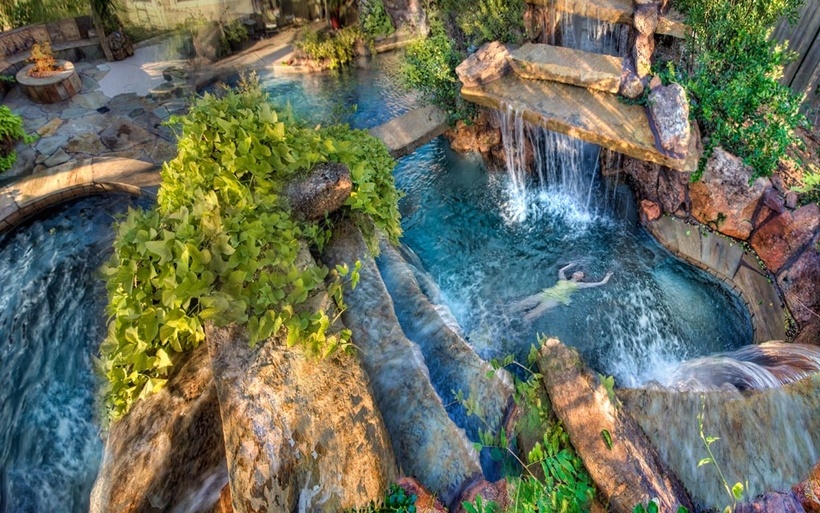 There's nothing like being one with nature and enjoying a good swim at the same time.  This beautiful outdoor pool comes complete with with waterfalls and plenty of places to enjoy the view.
(Image http://nieidealna-perfekcjonistka.blogspot.com/)
9.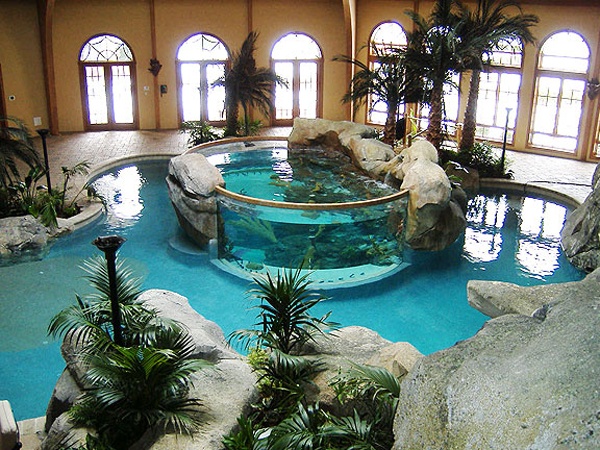 What could be better than a pool within a pool? If you're drawing a blank that's because the answer is nothing.  Although these pools are indoors, they offer a little bit of the outdoor feel.
(Image via onekindesign.com)
10.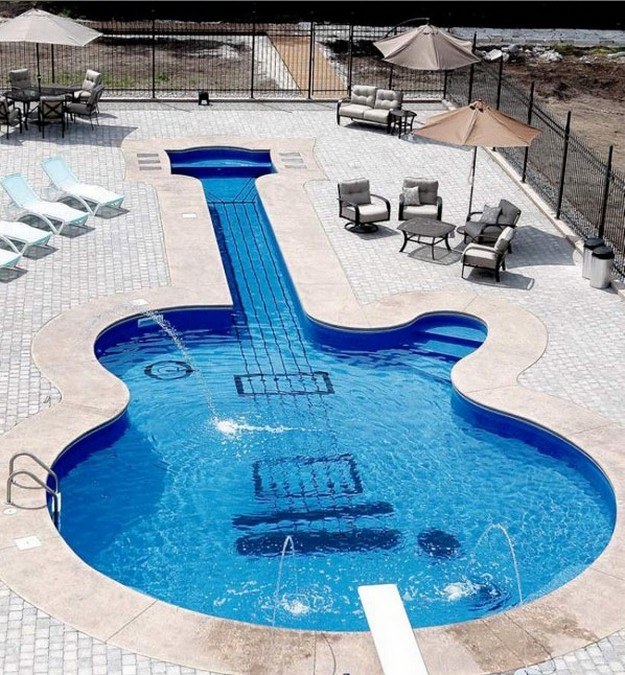 This guitar shaped pool is a music lover's dream come true.  Complete with a diving board, it seems like this pool combines the best of rectangular and circular pool designs.
(Image via homeinteriors.info)
11.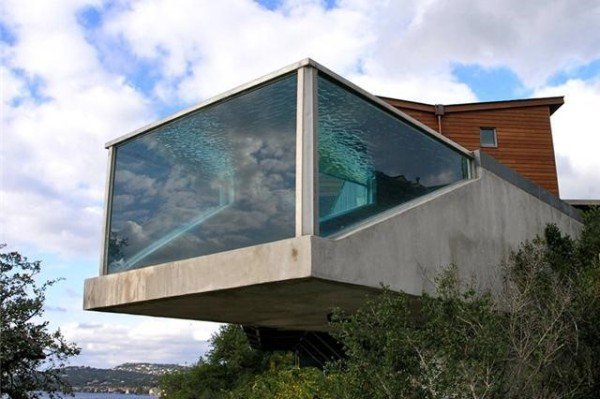 Most people like to enjoy the view while sitting outside of the pool, but this gravity defying pool allows you to enjoy the view while swimming.
(Image via lukehimself.net)
12.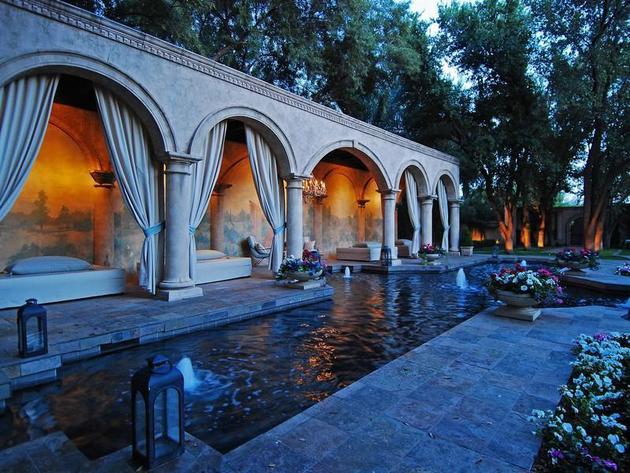 Like something out of a fairy tail, this pool's beautiful backdrop gives off a very royal feel.
(Imagine via frontdoor.com)
13.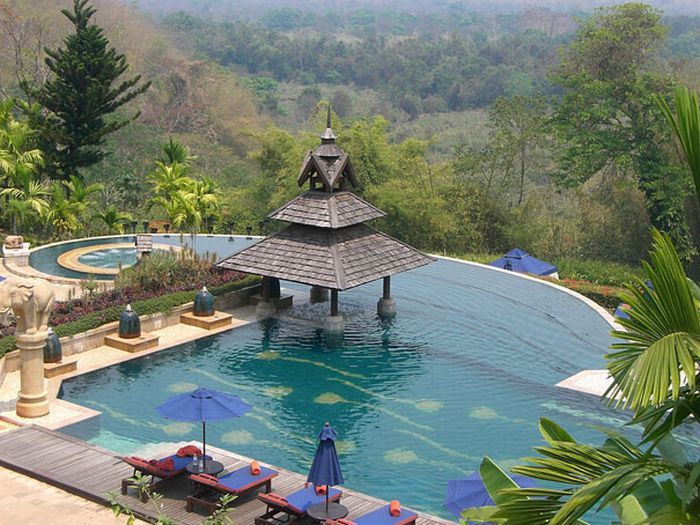 This pool is located above its surroundings to provide swimmers with a great view of the area.  Although swimming is meant to be refreshing in the heat, those who spend a lot of time above water can often find themselves falling victim to the sun.  However, the structure in the middle of this pool will be great for giving swimmers some shade.
(Image via acidcow.com)
14.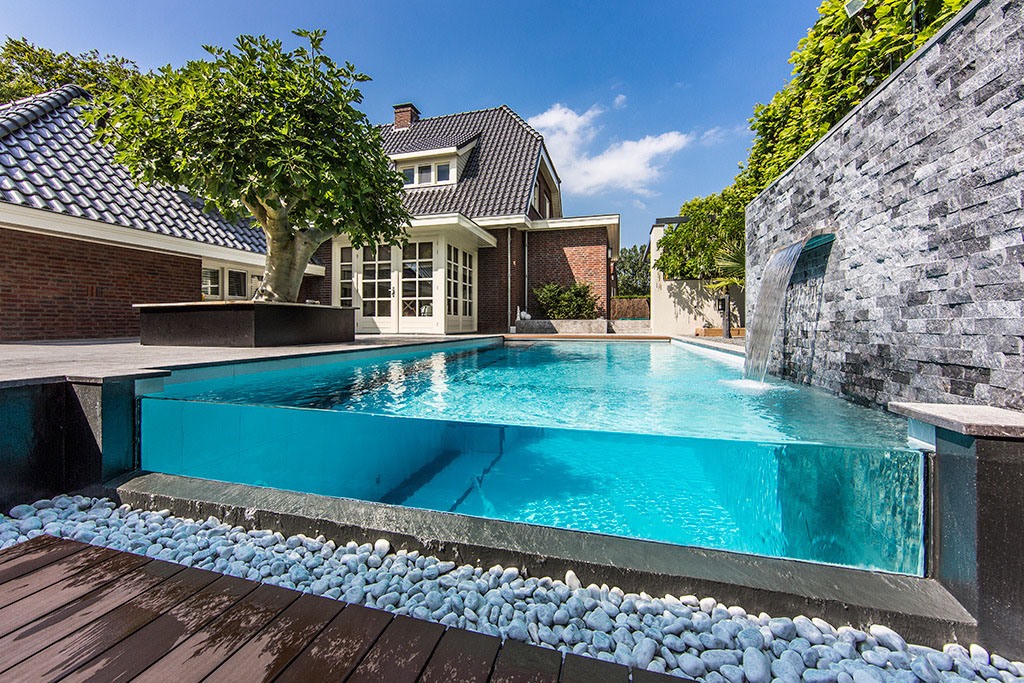 The water in this pool is so clear that it almost looks like there's no wall holding the water in.  This extremely modern design combines the best of everything there is about pools.
(Image via homeinspirations.com)
15.
Water slides are – to put it simply – awesome.  This pool may be in the middle of nowhere, but it certainly doesn't look boring.
(Image via houzz.com)
16.
This foot shaped pool also offers a little pool in each of the toe sections.  This can be great for people who just enjoy sitting in the water.
(Image via www.mofur.blogspot.com)
17.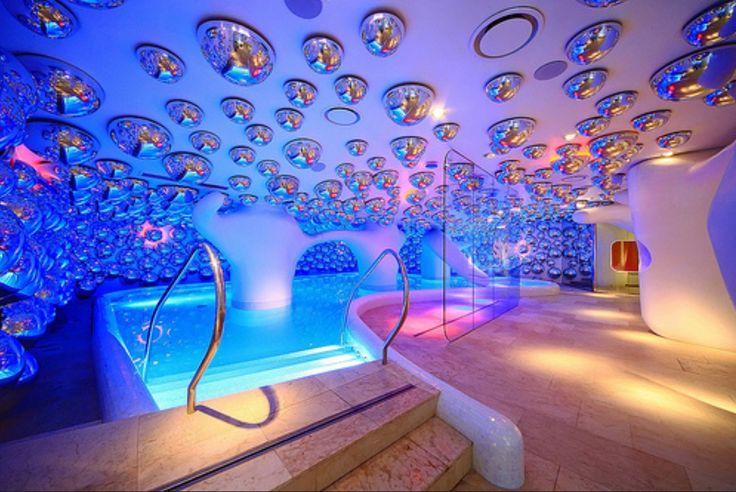 There isn't a whole lot of room to actually swim in this pool, but the cool design definitely makes up for it.
(Image via www.pinterest.com/billsdotcom/)
18.
This pool is cool for both swimmers and onlookers.  There's nothing like having a poolside view while you're actually inside.
(Image via ifitshipitshere.com)
19.
Relaxing by the water is officially cooler than it's ever been before with this pool which provides a shallow puddle-like section for those who want to sit by the pool without getting too wet.
(Image via lasvegasadvisor.com)
20.
Who cares if this pool doesn't offer as much space as some of the others? It's still pretty easy to fall in loved with this heart shaped pool.
(Image via https://www.pinterest.com/maisa13/)
21.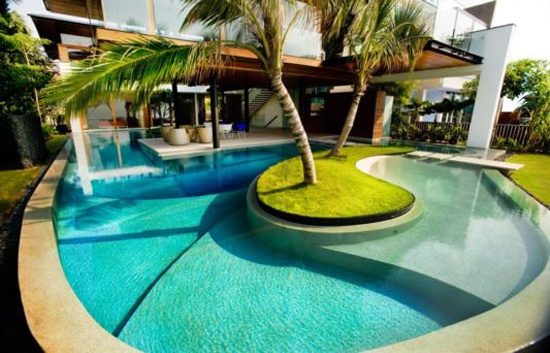 A pool with an island might be one of the best ideas anyone has had in a while.
(Image www.sarah-sue.com)
22.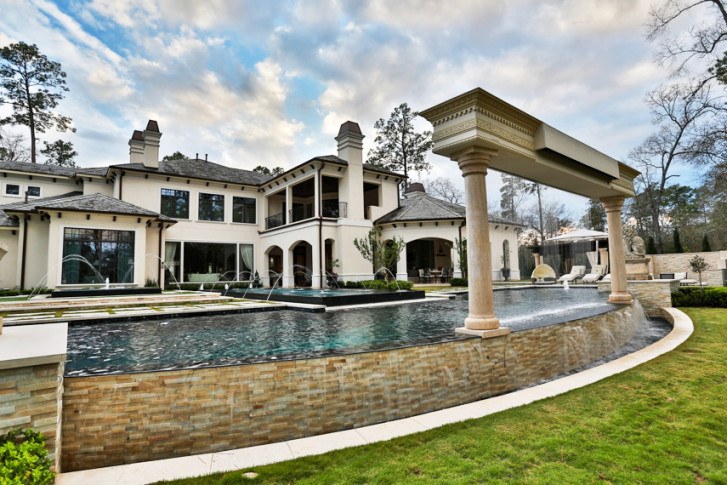 This massive pool covers almost the entire length of the house, and is every bit as magnificent.
(Image via viahome.com)
23.
This pool allows swimmers to remain in the comfort of the indoors while looking at the city's beautiful view.
(Image via list25.com)
24.
If you tend to get thirsty while you swim, this pool is for you.  With several bar stools and a built in bar, this pool seems like a great place to party.
(Image via americanlifestylepoolsga.com)
25.
This pool is simple, yet fancy enough to make a great place to swim.
(Image coolpoolsinc.com)
26.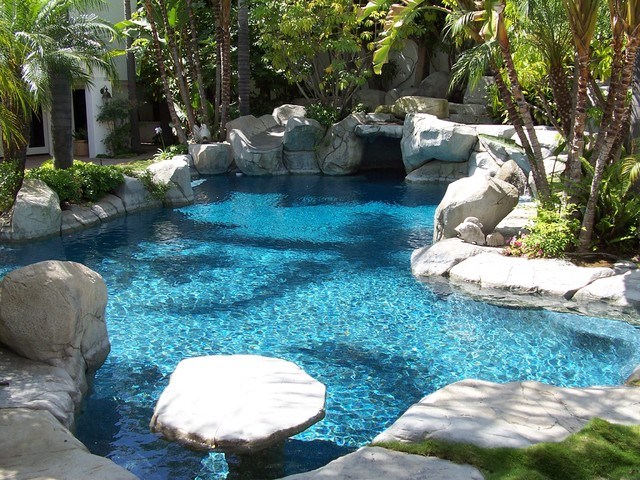 It's pretty rare to see a pool with a cave, but caves can be a great place to explore and relax while taking a dip.
(Image customoutdoortrends.com)
27.
This luxurious pool looks like the perfect place to end a fancy night out on the town.
(Image via bbpoolandspa.com)
28.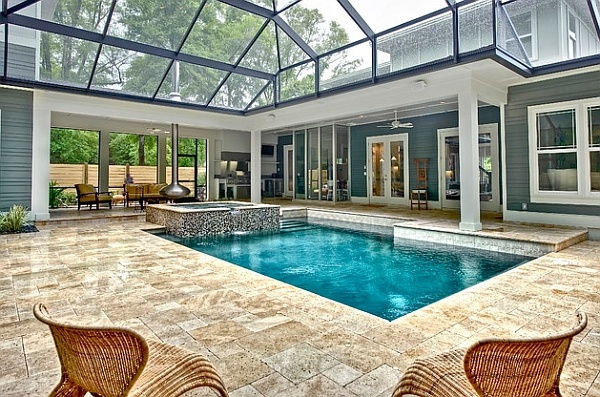 An indoor pool with an outdoor feel is a very smart choice for those who enjoy using the pool all year, but don't want to feel trapped inside.
(Image via decoist.com)
29.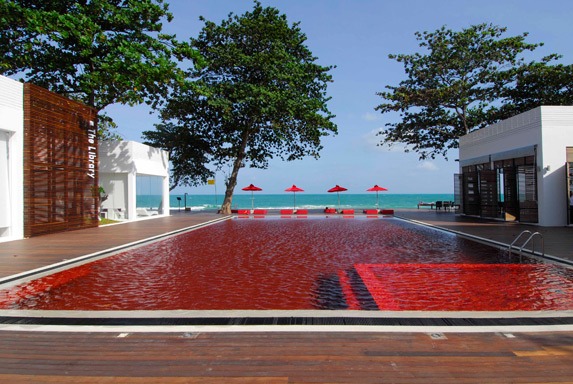 This bright red pool is guaranteed to turn a few heads.  Even if swimming in colorful water doesn't appeal t you, it's still a sight to see.
(Image via youonlyliveonce.com.au)
30.
Two pools for the price of one isn't bad for this island themed pool. With torches and a bridge, this pool looks like it belongs outside of a royal palace.
(Image via farleypooldesigns.com)
31.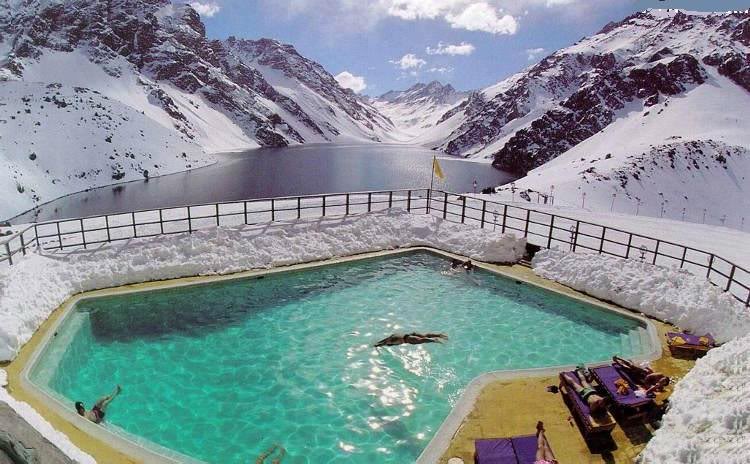 Another pool that welcomes swimmers in the snow, but this time with a top notch look at the surrounding mountains.
(Image via http://sweemoh.weebly.com/pools.html)
32.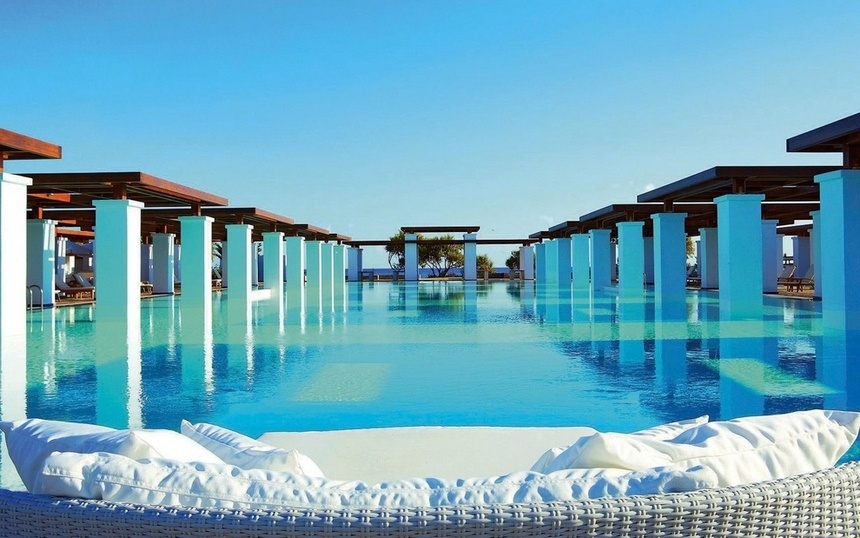 This pool looks like it belongs in a music video. The calm scenery and beautiful columns makes this pool look like a great place to hold a gathering for those who are willing to try something a little different.
(Image via blog.lowcostairlines.com)
33.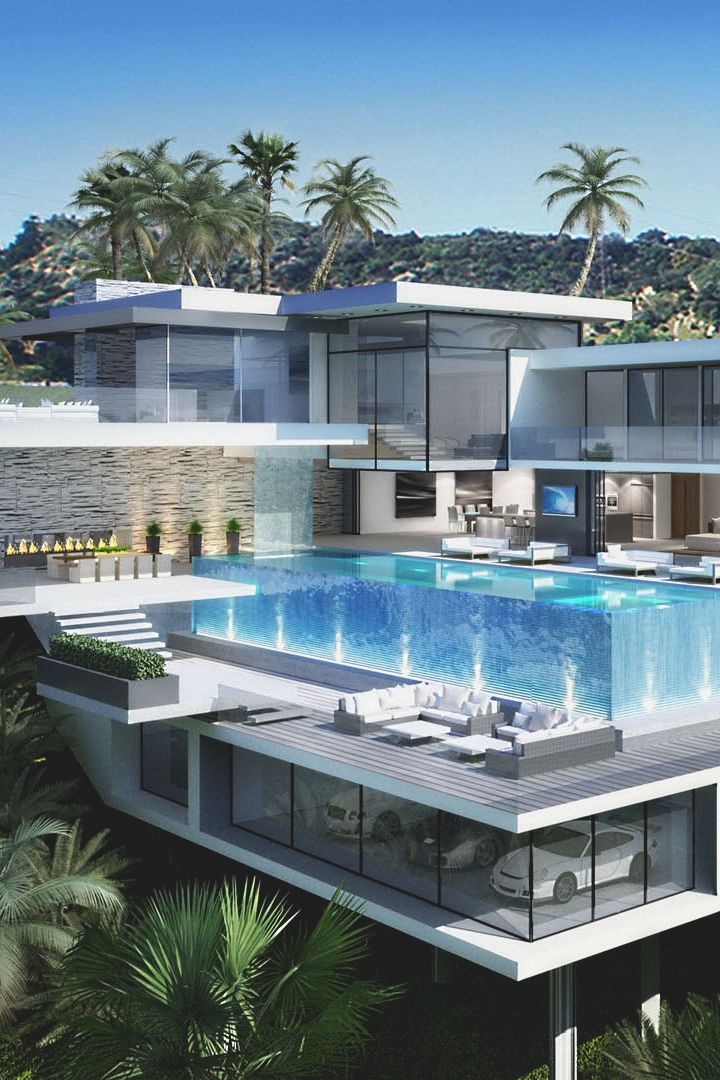 There's nothing wrong with makings pace.  This pool has a car garage underneath, and also features great views of both the home and the property.
(Image via https://www.pinterest.com/gnwcali/)
34.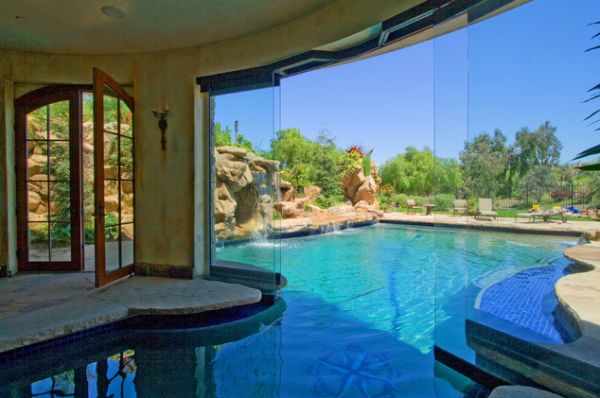 How would you like to look outside of your window and see this every morning?
(Image via homedit.com)
35.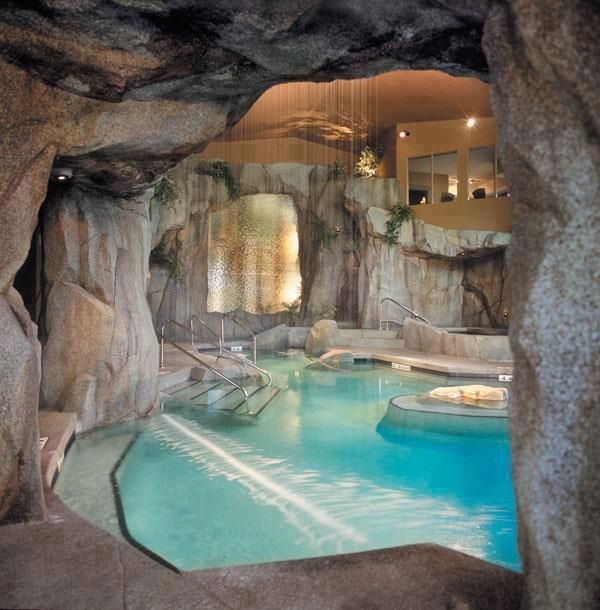 This cave-like pool has a friendly and well let atmosphere that allows swimmers to explore on their own.
(Image via https://www.pinterest.com/Sarahbeck1121/)
36.
It must be nice to go downstairs in your house and have this cute pool waiting for you.
(Image via mojitoloco.com)
37.
What could be more peaceful than relaxing by the water and admiring the sunset?
(Image via architecturedesign.net)
38.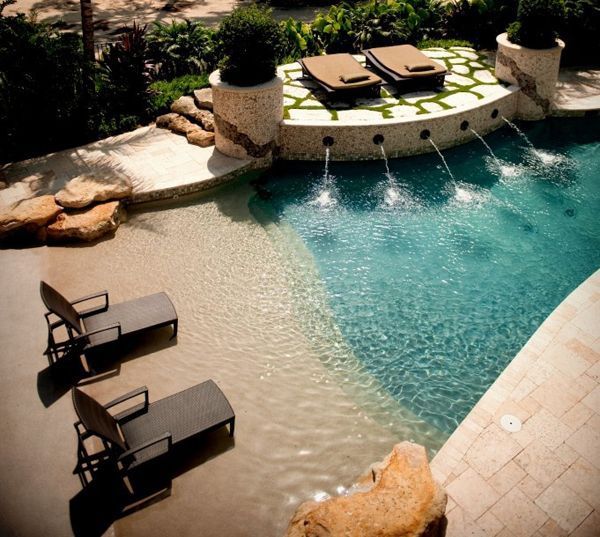 This beach setup closely resembles taking a trip to the ocean. However, for those who can't make it, this seems like a pretty good alternative.
(Image via viralnova.com)
39.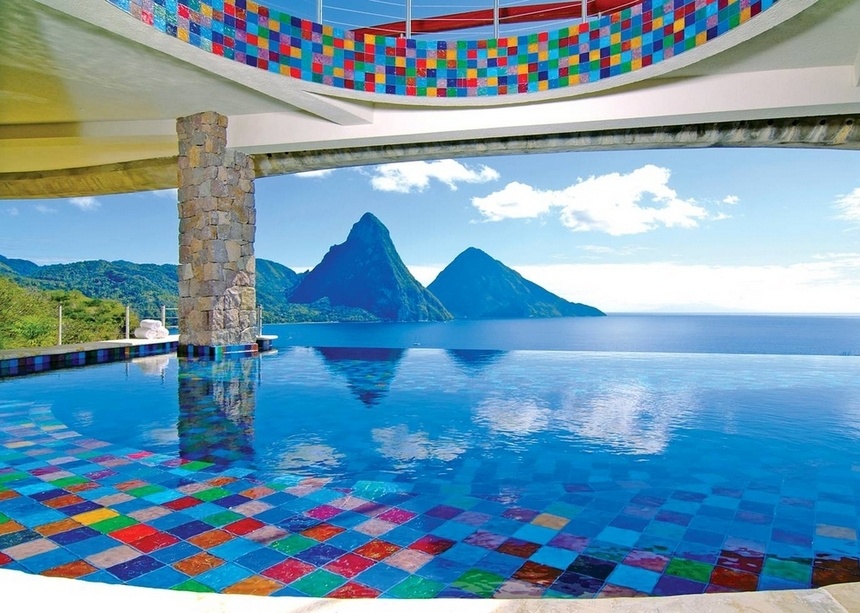 The bright tiles on the floor really add a unique flare to the pool. However, if painted tiles aren't your thing, there's plenty of other things to notice and admire.
(Image via magforwomen.com)
40.
Swimming a lap in this pool may actually me impossible for the average person.
(Image via all-that-is-interesting.com)
41.
With several pools to pick from, this design is extremely impressive.  Even for those who don't like to swim, the pool still offers other ways for people to cool down from the heat .
(Image via https://www.pinterest.com/pauloalanx/)
42.
With several paths leading to living quarters, this pool seems to be accessible by all angles.
(Image via creamdreamgirls.com)
43.
Combined with an outdoor kitchen and a jacuzzi, this pool really does have all of the amenities a person would find necessary to sit by the pool.
(Image via worldofarchi.com)
44.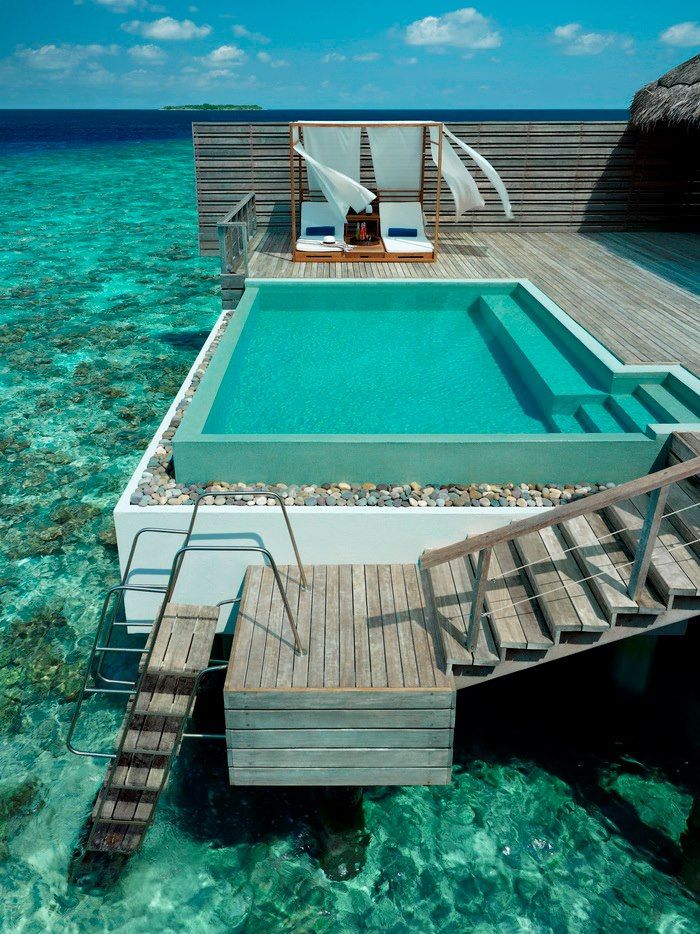 With steps leading directly to the ocean, what this pool lacks in size it makes up for in other areas.
(Image via https://www.pinterest.com/billionairetoys/)
45.
The architecture alone is probably worth more a decent amount of money, and the pool itself is large and beautiful.

(Image via wonderstoday.com)
46.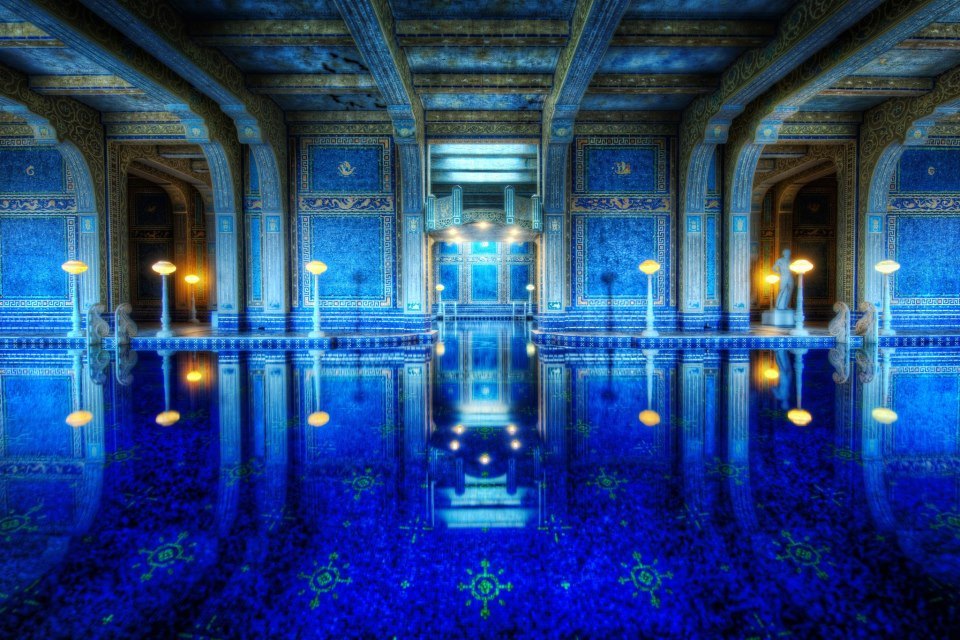 This pool looks like something out of a scary move.  Although actually getting in the water may be a little intimidating, this pool looks like it was ripped right from someone's imagination.
(Image via gadgetreview.com)
47.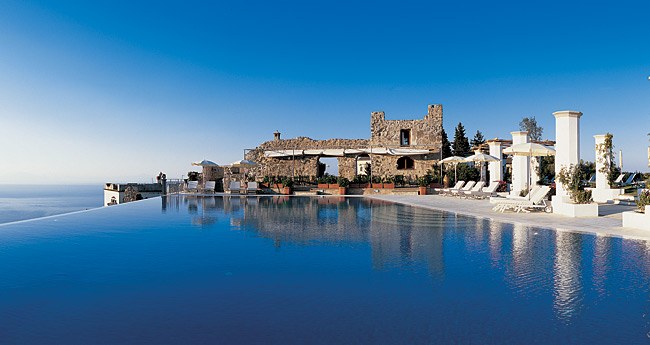 Can anyone turn down a view like this? Chances are, the answer is no.
(Image via budgettravel.com)
48.
This pool towers high above the buildings in the area.  Although being up this high can be nerve wrecking, some insist that they don't feel scared a bit.
(Image via https://www.pinterest.com/gemmajg/)
49.
These bright colors will certainly win some people over, and people don't even have to get into the water to be amazed by this pool.
(Image via thefhd.net)
50.
This pool looks like a very beautiful way to end a long day.  With the perfect lighting and a nice sunset, this pool could easily become a hot spot for couples.
(Image via plantnj.com)
 (Photo by Mario Tama/Getty Images)